Florida Elder Receives Miracles Through Prayers
No letter this week
BUT…
Walker doing SO much better mentally and emotionally. He was
happy and joking and like himself again. It was wonderful to see! God is
answering our prayers and we are so very grateful!
He did share with us however that he's been having some
headache/pressure/pains in his head. The mission doctor hasn't seen anything
like it before and doesn't know what it is. Understandably, Walker is feeling
frustrated that he was feeling so much better and then he started with this
pain in his head.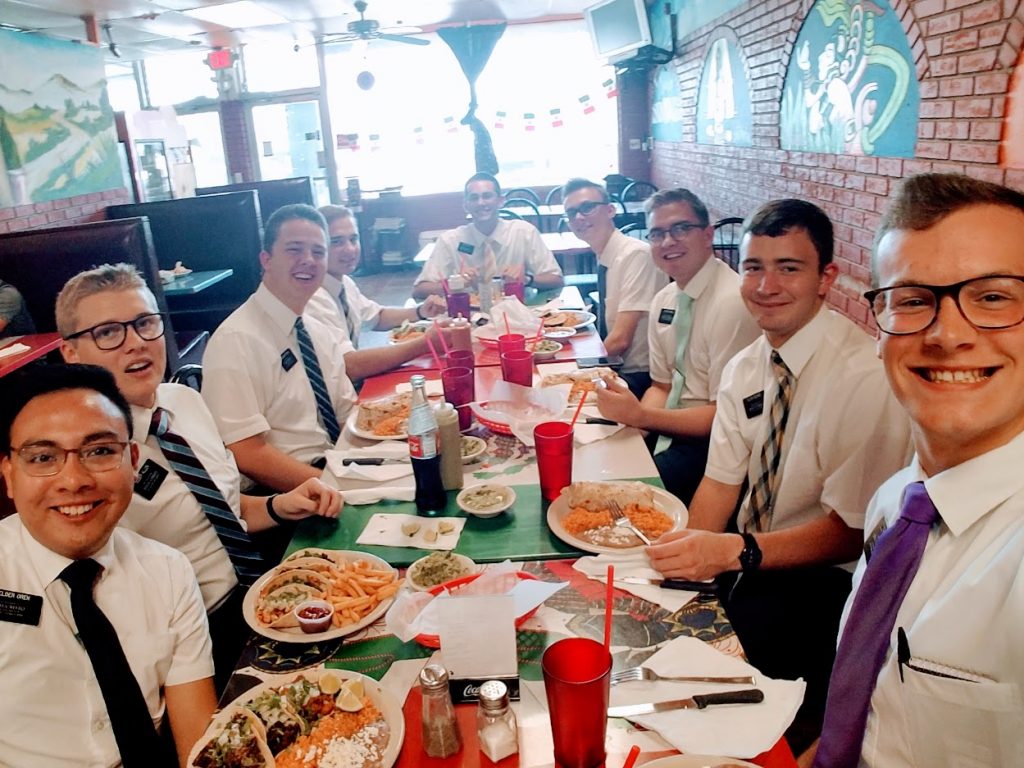 Elder's at their favorite lunch spot, Los Amigos!
My first thought was its stress related. But I don't know
for sure. I suggested some things for him to try as well as keeping a log of date,
time, activity, and symptoms when it occurs. I told him get to the doctor for a
checkup. But that's up to the Mission President to approve.
We're just waiting to hear back from him about his headaches
(that's not what it is but what we are calling it for simplicity). And if he's
going to be sent home. He feels at peace if he has to come home for a while to
get treatment and he plans to go back once it's all sorted out. But we hope he
just starts to feel better.
I just told him how proud we are of him. He's giving it all
he has! He's doing everything anyone could ever ask of him. I'm blown away by
his dedication and perseverance.
What is interesting is he was in the middle of giving a
lesson to an investigator and he said it was going really well, it was a
really good lesson, and he heard the Spirit speak to him. It took him off guard. It came out of nowhere. But it was followed with a
warm and peaceful feeling so he's ok with whatever happens next.
Walker's companion Elder Oren is moving to a new district tomorrow.
He was with him for 2 transfers. Walker is looking forward to not eating rice
anymore. Haha! Since he did most of the cooking they had rice at every meal. Elder
Oren is reopening an area and training so he will likely be the only real
Spanish speaker in his zone.
It's kind of crazy that
any change for Spanish speakers is a district change. With him leaving, Walker
is now the new leader for the Spanish area of Largo. That's exciting!
Him and Elder
Doney will be in a trio again. Their new companion's name is Elder Sanchez. He's
a native Spanish speaker but he also speaks English. Their Ward is also getting
Sister Missionaries!! He only knows Hermana Lizzaro. She's training a new Sister
that he hasn't met yet.
On a sad note, Elder Knell is also leaving the area. Walker
and him have become really good friends. Elder Knell knows Elder Sanchez (his
new companion) he said he's very funny and Elder Knell likes him a lot so he's looking forward to having him in his trio.
😛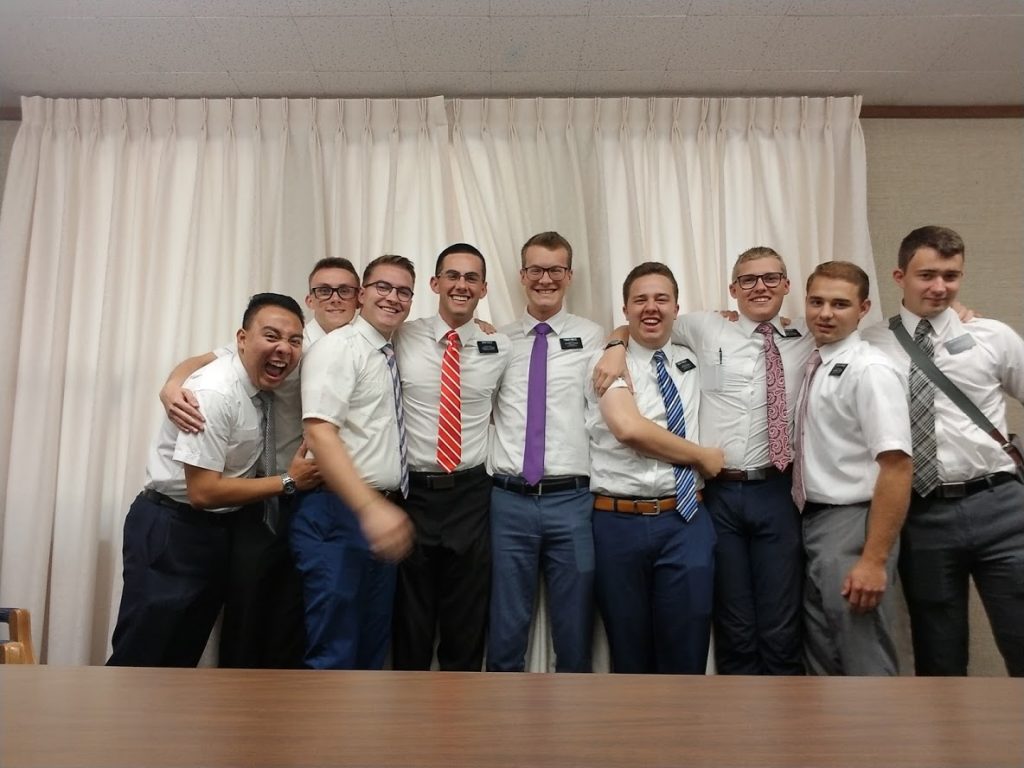 Left to right is Elder Oren, Elder Seal, Elder Knell, Elder Bake, Elder Doney, Elder Kitch, Elder Allen, Elder Austin, and Elder Beard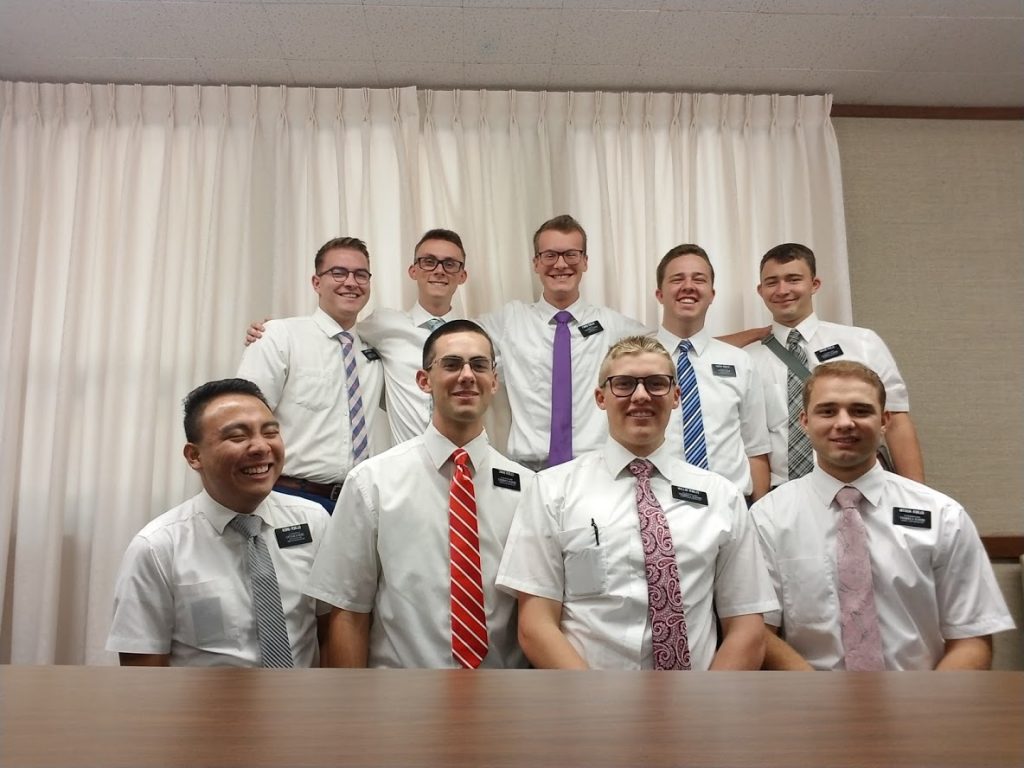 He really likes Elder Bake and Elder Hickenlooper too. They
are staying. He said Elder Bake is the old man. He acts like an old man and he's
from a city with like 25 people in it. He also doesn't like sauce which we can't
even wrap our minds around. We love sauce in this family! He's from Malta,
Idaho. I looked it up to see if he was exaggerating. LOL! He wasn't far off.
The 2010 census said the population was 193.
They met with Carlos this week and taught him about 'why' we
have an Atonement and why it's needed. He has a lot of questions about why we
need an Atonement to repent of our sins. He wasn't connecting the two but they
feel like he's understanding it better now. They also went over the laws of
justice and mercy. He said 2 Nephi 2 explains it well and it's one of his
favorite chapters.
They started teaching lessons to a new couple named Rogelio
and Maria. They are really sweet and interested. They are at the very
beginnings of their faith. They are still learning how to pray but Walker feels
like they are making good progress.
They visited Pedro and Christina. They are recent converts
to the church. They are a much older couple. They live in a 55+ age community.
He thinks they are probably in their 80's. Walker thinks Pedro is super funny. He
makes inappropriate jokes and teases them a lot. LOL!
They found a very sweet lady named Sandra. She is member
from Ecuador but she doesn't come to church. Her husband is not a member and
his name is Angel. He doesn't like the male missionaries coming over. He feels
like they will try to tempt his wife. Which of course would never happen. But
in situations like this, it will be really good to get the new Sister missionaries
in the area this week!
They are continuing to teach Elliot. He watched a
movie about Joseph of Egypt. "Joseph and the Technicolor Dream Coat" and he has
now become fixated on him. Any scripture or story he hears about he wants to
know if Joseph is in it. It's pretty cute. They have been reading the Book of
Mormon with him and every story he's asking if he's in it.
Louis is another individual they have been working with. He's
lost his records and they can't be found anywhere. He doesn't have witnesses so
there is no proof he was baptized. So he's going to have to go through the
lessons again and get rebaptized.
"Caballero", that's what Walker calls him because that is
what was on his mailbox.
😊
He's interesting to teach because he wants proof
of everything but he loves to scriptures. So, it boils down to whatever they teach
he wants proof in the scriptures which is ok. One of the questions he wanted to
know is," Do our resurrected bodies need to eat?" They pointed him to a few
places to look. The problem with this though is that not 'everything' can be
found in the scriptures. Some things have to be taken on faith.
He was on exchange with Elder Knell last week and went to
visit their favorite new converts Jeff and Julia. Walker said they are really
funny, laid back, and welcoming. They say just make yourself at home! If you
want a soda get it out of the fridge. They cooked them up hot dogs and
hamburgers. Jeff really loves studying and finding things about the Gospel. He
shared he found some great things on BYU TV. They were thrilled. He is
definitely invested in the Gospel. While they were there Julia said I need to
turn on "The Voice" so she did. But then Walker said we have a lesson for you
so she turned it off. They were going through all sorts of things with them and
Julia says, "This is way better than the voice!" Awww!! That's so neat! <3
He said Elder Knell asked the other day if they feel like as
missionaries they are living the Mosaic Law. LOL! Missionaries follow lots of
rules.
😛
He's enjoyed "Spiritual Ecology" by Neal A. Maxwell. I'm
going to listen to that this week! He's my favorite! <3 He also suggested "The
Magnificence of Man" and "What's in a Name", by President Nelson.
Jared shared that Grandpa Kitch told us this week that President
Russell M. Nelson (before he became President) performed one of the first quadruple
bypass surgeries on his dad Edward Kitch! He was given only 2 years to live
because of his heart problems. But because of President Nelson's surgical
skills he lived another 25 years!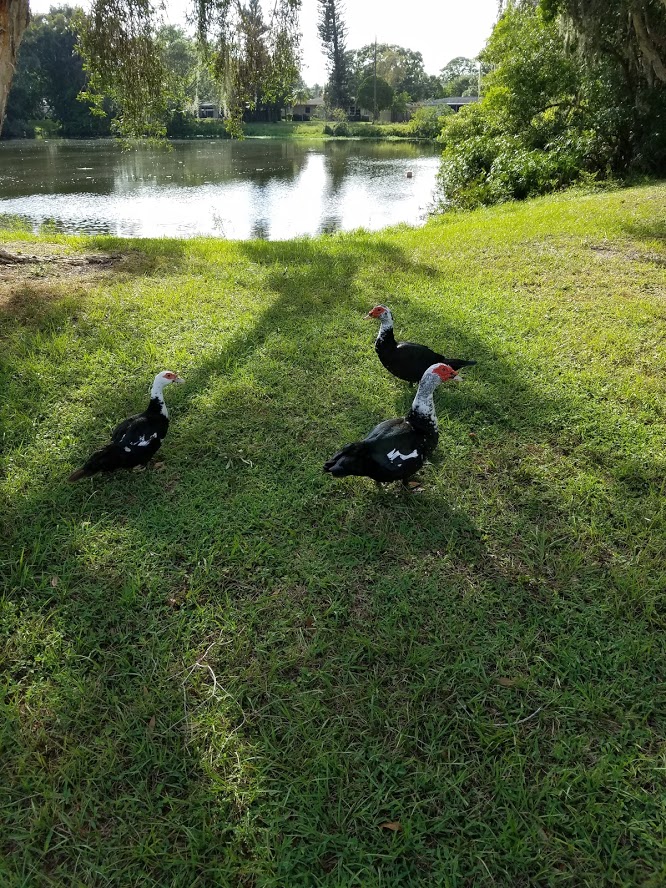 Seriously ugly birds that are native to Florida. They are called Manky Muscovy Ducks.
They look like turkey ducks. Their faces are pretty weird looking. LOL!
Elder Knell gave a Baptism Training. Walker said it was so in depth and great that it was the only training they had this week. He went over everything about
baptism and the Atonement. Each column and then each section covers a subject. And of course the Bonus Round is the Sacrament.
😊
I'm including his notes below. If you want to read on enjoy! If not, this is the end of this week's update. It was a very different week for our Missionary and we are so grateful. We are waiting to hear more from him about his "headaches" and what the Mission President wants to do moving forward. We'll keep you all posted. Thank you for your continued prayers. We feel them, Walker feels them, and God is hearing you!
Training:
He begins with Bruce R. McConkie's' talk "The Three Pillars
of Eternity".
Three Pillars of Eternity
Creation
• Genesis 1:1,2 (the creation)
• 2 Nephi 2:13 (without God there would be no physical
world)
• D&C 93:33-35 (Why we need a physical world)
The Fall
• Mosiah 3:19 (men are fallen except they yield to God)
• D&C 29:40,41 (an explanation of spiritual death)
• 2 Nephi 2:15, 25, 26 (opposition came by the fall)
• 1 Timothy 5:6 (spiritual death comes through sin)
• James 1:15 (above)
• Alma 12:16
(explanation of spiritual death)
The Atonement of Jesus Christ
• 2 Nephi 9:7 (infinite atonement)
• Isaiah 53:3-5 (by his stripes we are healed)
• 1 Nephi 10:6 (we need a redeemer)
• 2 Nephi 2:6-9 (The Messiah fulfils the law)
• Mosiah 3:11(His blood atones for the children of adam)
Commentary:
The creation made possible a physical world to interact with
and made immersion in water possible. The Fall created a mortal world and
changed the constitution of life to have blood in our mortal bodies. The
Atonement made all blessings possible, including the gift of spiritual
redemption.
-Three elements of baptism
Moses 6:60
Blood
• Hebrews 9:15-22 (Blood brings remission of sins)
• Exodus 24:6-8 (Blood of the old testament)
• Leviticus 17:11 (Mortal life is in the blood)
Spirit
• Genesis 2:7 (men are given life through the spirit)
• Moses 6:61(the spirit makes all things alive)
Water
• Isaiah 12:3 (drawing water from the wells of salvation)
• Isaiah 48:1 (the waters of Judah)
• Revelation 21:6 (fountain of living waters)
• D&C 10:66 (living water)
Commentary:
Each of these three elements have a specific purpose. All of
them create or sustain life, and all of them were present at the most important
moments in our existence.
-Examples/ applications of the three elements of baptism
Birth
• Moses 6:59 (reborn into the kingdom of God)
• John 3:5 (born of water and spirit)
• 1 Peter 1:23 (born of incorruptible things)
• Alma 36:24 (we desire that everyone will be born again)
Resurrection
• Romans 6:4-6 (we are baptized in likeness of his
resurrection
• D&C 128: 12-13 (baptism symbolizes the grave in
likeness of the kindred dead and looks forward to the resurrection)
Events of the Atonement of Jesus Christ
• Luke 22:44 (sweat drops of blood)
• Mosiah 3:7 (from every pore)
• John 19:34 (water and blood came out)
• Psalm 69:4 (vinegar and gall)
• Matthew 27: 34 (Vinegar and gall)
• Mark 15:34 (eloi eloi Lama sabacthani)
Commentary:
Baptism is a metaphor for three different events. In the
case of birth the blood is the mother's as the water also, the spirit is our
own. In resurrection we are redeemed through Christs blood and in the place of
water a literal grave, and in the place of blood a purer substance. In the
crucifixion we see Christs body literally deprived of every element, which when
deprived he kept living, because he had life within himself that he gave to us
freely.
– Roles of each person in the baptismal covenant
God the Father
• 2 Nephi 2:11-13 (God ordained laws)
God the Son
• D&C 76:69 (mediates the covenants of salvation)
God the Holy Spirit
• John 14:16-18, 26, 27 (testifies and brings to
remembrance)
God has ordained the law of baptism in water for remission
of Sins. Jesus Christ has given us the ability to take on his name. The Holy
Ghost brings to us the remembrance of all good things
Us
Moses 6:60
• Moroni 4:3 (blessing on bread)
• Moroni 5:2 (blessing on water)
Commentary:
The blessing the water brings through obedience to the
commandments is a remission of sins. The blessing of Christs Blood is
justification, which is being declared innocent before God. The blessing of the
spirit is sanctification which is becoming more like God
– Three sacrifices that make it all possible
All your sins
• Alma 22:18 (Lamoni's fathers prayers)
• 2 Chronicles 4:1-5 (baptismal font in the temple)
Personal comfort for progeny
• Genesis 3:16-18 (conditions of mortality and parenthood)
God gave us his son
• John 3:16
Commentary:
Sacrifices are offered on Altars. At baptism we sacrifice
out obedience, in the endowment we access the full blessings of the Atonement
through the Abrahamic covenant. At Sealing we covenant to make the sacrifice of
having children
Conclusion
• D&C 97:8
Bonus Round; The Sacrament
Water/ blood
• Exodus 30:10
Bread
• John 6:31-35
Symbol of the passover
• Luke 22:19,20
Symbol of the sabbath
• Deuteronomy 5:15