Florida Elder is Sick of the Heat- Moves to Arizona
I mentioned last week was transfer week, but I don't get pictures right away. These were posted later on the Tampa Florida FB group page.

Elder Sanchez, Elder Doney and Elder Kitch are a trio-companionship now.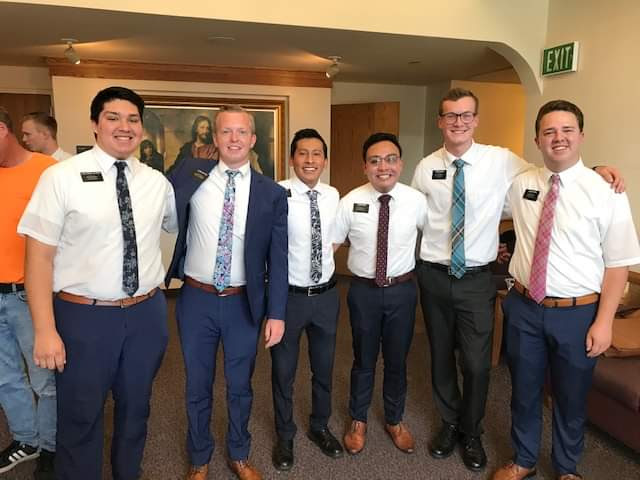 Elder Sanchez, Elder ?, Elder Martinez, Elder Oren, Elder Doney, Elder Kitch
Lots of packing and moving last week!
There have been some recent developments this week. After we spoke to Walker on Monday he was telling us he's been having lots of "headaches." That's what we are calling them anyway for simplicity, but they are more complicated than that.
He's had a constant headache/pressure around the clock. He can't concentrate and he's been having sharp shooting pains as well as tingling and numbness in his face, head, arms and legs. He spoke to the Mission Doctor, Elder Bair, who has been a physician for 41 years, and he said he's never seen anything like it before. Since resources in the Mission field are limited, they recommended that he should come home for further testing and imaging.
This was a hard blow. He was finally feeling better with the depression/anxiety and then this came out of nowhere. He was definitely feeling defeated.
Once the decision was made he was on a plane home fairly quickly. Dr. Bair accompanied him home on Friday night.
We were on pins and needles waiting for him to arrive!!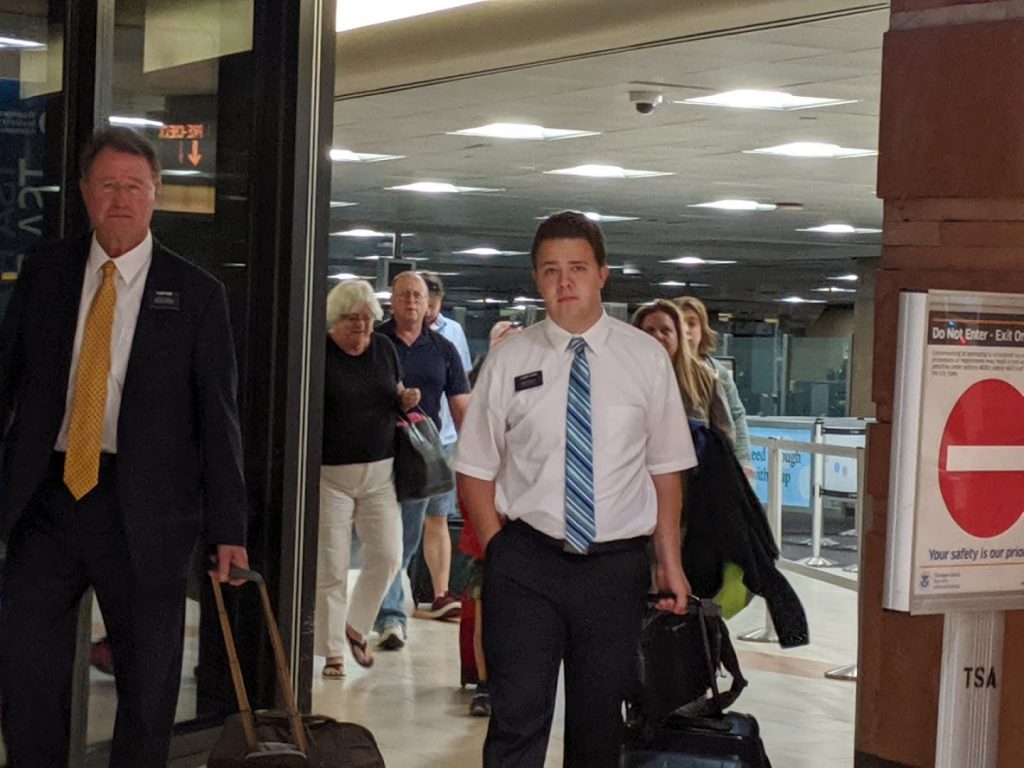 Dr. Bair and Elder Kitch
He was tired but it was SO good to see him and hug him!! <3
After we left the airport we headed straight to President Everton's office at the Stake Center where he reported on his mission and was officially released from his service as a full-time missionary.
This week has been full of tender mercies one right after the other. It's been incredible seeing God's hand over Walker's life. Getting home as quickly as he did. Getting into the doctor when the schedule was full and they made room. Finding out later that the office had to close shortly after we left because of a power outage, yet he was seen before that happened. Getting his MRI scheduled and completed so quickly and a cancellation at the neurologist that will let him be seen next week which is a month and half before they are scheduling appointments right now. Phone calls from family and friends just as they are needed for guidance and support. It has been a whirlwind of emotions but the Lord is providing all that we need right now. Our hearts are full of gratitude for Him and his grace and mercy.
Walker is sorting out his emotions and the feelings of defeat and frustration are turning to understanding, insight, and growth in his faith. The Lord's plan isn't always our plan.
Walker has up to a year to return to his mission if he chooses and his health is in good standing. After a year he will have to resubmit his papers and start the process over again. His Mission President, President Hollingsworth has been incredible through everything. He is such a kind and loving man. We are so grateful to him and all he's done to look out for our boy while we couldn't be with him. He told us, if Walker is able and decides to return, he'll welcome him with open arms! <3