Florida Elder Teaches English to Save Souls
So as a Spanish missionary I have some extra tools in my toolbox. One of which is the ability to offer English lessons as a way to get my foot in the door. We teach them English in exchange for them receiving lessons. Very effective, double blessings.
This week I got to ask one of the people I helped teach on my first day in the field to baptism. And she accepted! Very cool.
I also got to talk to a Mason. Very… interesting conversation. I'd never known how much we can learn from cartoons. He was also a DJ, barber, and landscaper. Quite the triple threat.
Kind of random email, but the work is like that sometimes I guess.


This week I would like to share about Optimism and Hope. On various occasions this week my companion was feeling down. So I helped lift him up. I helped try and change his perspective. Happiness is a choice.
Some things happen for a reason, and we can't change the past. All we can do is look to the future and make the best of it that we can. Take advantage of the time you do have.
We were late several times this week. He decried that we were losing and missing people because of our lateness. I said yeah maybe, but maybe there are going to be people on our way tonight that we wouldn't have met otherwise. That very evening, we ran into a family from Hidalgo. They were very nice and open. They accepted our invitation for English lessons and have already begun being taught.
If we choose to look up instead of down when things get hard, are frustrating, or anything else, we can always find something. Life is what we make of it. Happiness is a choice.
Hasta próxima semana

PS: sorry for going all motivational poster at the end there.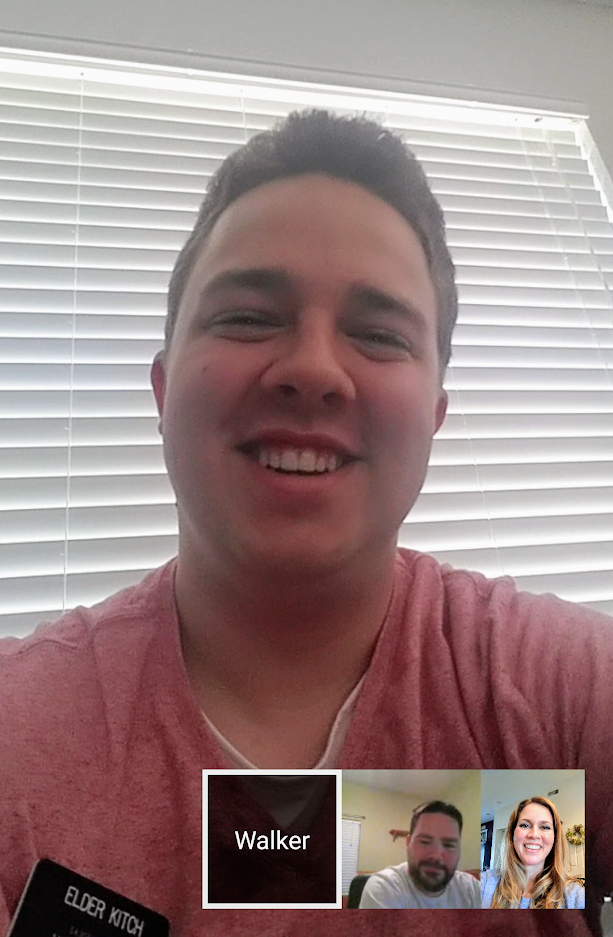 When I hear the Hangouts ringtone on Mondays I get SO excited!!! Our Missionary is calling! <3
He looked tired today. He said working 18 hours a day will do that! He's really doing the Lord's "work"! 🙂 He gets up at 6:30am and doesn't go to bed until 10:30pm. They are busy all the time. They plan out their day each day and are always on the go, but sometimes it feels like they never do anything. At the end of each day, he looks back and wonders what they did all day? LOL!
In his email, he mentioned that they have an investigator who has accepted the invitation for baptism. Her name is Juanita. She's a 73-year young Newyorrican (as Walker describes her). Which is a New York Puerto Rican, a different brand of Hispanic. LOL! Her baptism is set for September 28th! So exciting!
He has two baptisms set for this month. Alondra's is Saturday the 14th and Juanita's on the 28th! Next month he has a young man committed. He mentioned Pistana last week.
I was happily able to return and report to him that I read/listened to almost all of the talks and things he recommended for us to study from two weeks ago! My favorite was by Bruce R. McConkie on Choosing and Eternal Companion. 😊
He went on Exchanges last week. It went really well. He and Elder Ferry were paired together. They are both new, and they don't know what they are doing. Their companions, Elder Oren and Elder Bake, paired up. Elder Ferry and Elder Bake don't typically knock doors. They usually just walk around and meet people on the streets, so that's what Walker and Elder Ferry tried. They didn't have a lot of success. There weren't many people out that day. Finally, they went door-knocking for a bit and didn't have a lot of luck with that either. However a little later, they met this woman outside. She wasn't interested in what they were saying, but her son, Deangelo, came out was curious. He especially liked what they were sharing about prophets. They offered them a pamphlet, but the mom wasn't interested. The son decided to take it, and he gave them his name and contact information. When Walker and Elder Ferry got back, they texted him so that he would have their number, and he responded right away! So that's promising, and he's hopeful that he'll let the English missionaries come back to teach him. Unfortunately, even though Gulf Port is in his area, he was an English speaker, so Walker won't get to follow up with him.
They also met a woman named Faith. She was interested, but a little bit skeptical. She was telling them that we need a government run by God. They shared with her about our Prophet. She replied, He's just a messenger just like you guys. But as they were leaving, she said she was curious about this Prophet of ours and she said she was going to look into him some more. So maybe the seed was planted for her.
They met a man who is Pentecostal. He said that if we don't believe that Jesus is God then we are a cult. They tried to explain that we believe in a Godhead. The Church's first article of faith states, "We believe in God, the Eternal Father, and in His Son, Jesus Christ, and in the Holy Ghost." These three beings make up the Godhead. They preside over this world and all other creations of our Father in Heaven.
Latter-day Saints view the members of the Godhead in a manner that corresponds in a number of ways with the views of others in the Christian world, but with significant differences. Latter-day Saints pray to God the Father in the name of Jesus Christ. They acknowledge the Father as the ultimate object of their worship, the Son as Lord and Redeemer, and the Holy Spirit as the messenger and revealer of the Father and the Son. Where Latter-day Saints differ from other Christian religions is in their belief that God and Jesus Christ are glorified, physical beings and that each member of the Godhead is a separate being. (reference)
His response was "well, then you are a cult." He didn't want to hear what they had to say.
Walker admitted that he can sort of understand how it can be confusing because in scripture it says, I am God, I am Jehovah, I am the Great I am. But for Latter-day Saints (and much of the original Christian world), the account of when Jesus is being baptized by John the Baptist among many other instances makes it clear that they are three distinct Beings.
13

Then cometh Jesus from Galilee to Jordan unto John, to be baptized of him.
14

But John forbad him, saying, I have need to be baptized of thee, and comest thou to me?
15

And Jesus answering said unto him, Suffer it to be so now: for thus it becometh us to fulfil all righteousness. Then he suffered him.
16

And Jesus, when he was baptized, went up straightway out of the water: and, lo, the heavens were opened unto him, and he saw the Spirit of God descending like a dove, and lighting upon him:
17

And lo a voice from heaven, saying, This is my beloved Son, in whom I am well pleased.
When Walker shared this scripture with him and asked how can he be one if he is in the water, he heard God's voice from heaven, and the Holy Ghost descended like a dove. He said, "He's God. He can do whatever He wants." Which, while true, it was at that point that they realized going any further would merely lean argumentative. Jared made an important observation that God's character is not that of trying to confuse us.
While he was out one night, he put his bike on the bike rack on the back of the car. When they got to where they were going, he noticed his front light had fallen off somewhere along the way. He had to go buy a new light, and they aren't cheap either, about $50. That's a lot of money for anyone but especially missionaries. They get an allowance each month to cover food, toiletries, and essentials, but it isn't very much. They do their very best to budget, but as we all know, that can be difficult especially when unexpected expenses arise. A lot of the time, the extra expenses have to be paid by the missionary themselves from their personal accounts. That's what ended up happening. His new plan is to keep his lights in his bag, and when it gets dark, he'll put the lights on. That way he won't lose them again. He said he's out of money for the rest of the "month" which, luckily, ends at the end of the week. We told him we'd help him out and send him some money to help. He is going on Exchanges again tomorrow and they usually end up eating out because they are out and about all day and don't have time to go back to their apartments.
Just before he called us, he made No Bakes! I sent him the recipe last week, so he could make them for Elder Oren who hadn't ever had them before. He left them upstairs to cool while we talked. He was a little worried to leave them because they have some sort of infestation. He can't tell if they are ants or what they are exactly, but if they leave food out for any amount of time they come out and swarm. I can't wait to hear how Elder Oren liked them. 😊 Walker sent us a picture. It looks like they were safe from the bugs at least!
On Saturday, we had gone down to Walgreens to pick up his picture we had printed to place in his Missionary plaque at the church. The girl that worked there asked if it was Walker in the picture. We said, yes. She said she thought so. Her name is Addy, and they worked together at Rubio's for a long time. She asked how Walker was doing and where he was serving. We chatted about working at Rubio's, and she said that he was a great guy. I love meeting people who have worked or gone to school with him. It helps me get a glimpse of who he is outside of our home. Everyone I meet always tell me what a great person he is and how much they enjoyed their time with him. Makes this Momma's heart so proud!
I just loved the story he shared in his email this week about hope and optimism. Elder Oren is so blessed to have him!! 💙 Elder Oren struggles with stress and anxiety quite a bit. And I know that Walker was just being himself as he was helping lift his spirits. Giving words and encouragement to him is just how he lives his life. He was simply sharing a piece of what he has learned himself as he has gone through hard things over the years. He's definitely given his Momma this advice before too. 💕 My heart is so full and I'm so proud of him! One of my favorite quotes from Elder Maxwell (I have so many 😜) is "Empathy during agony is a portion of Divinity". He embodies this. I've seen him struggle and have his plate full of hardships and still reach out to those around him. He is an incredible example to me and those around him of what it is to be Christ-like. 💛 I'm so grateful for the gift I've been given to be his Mom. I told him we pray for him and Elder Oren often. We'll continue to do so and maybe say a few extra to help Elder Oren have a better week this week.
Elder Oren asked him what they should work on this week. Walker said they should work on contacting. They aren't busy enough with appointments and the only way to do that it to find and contact more investigators. By doing this, they were able to double the Standard of Excellence for finding new people. The Standard for Excellence that has been set by his mission president is:
1)

Get three new people every week. A new person is anyone that you taught at least one principle and have an appointment set up/follow up appointment.
2)

Get two people to church every week. People who are not baptized.
3)

Have one baptism date at all times.
These standards are half of what the Mission used to be. He doesn't know how long ago it changed, but they changed it because missionaries weren't able to attain it and were becoming disheartened and discouraged.
They have been doing well! They've been able to meet these standards since he's been out. It's been helpful that Alondra has had a baptismal date for quite some time now. 😛
Everyone laughs at the "getting people to church" portion for the Spanish Elders because the Spanish community loves to go to church, and they are used to it because most were all Catholics at some point. However, he said that it's also difficult getting them there because they work so much. Most of them have several jobs and work on the Sabbath to make ends meet. It makes b
eing in a Branch have its struggles as well. They have a hard time getting people to come to church and serve in their callings. It is very different than growing up here in Gilbert.
What also makes it difficult for the Spanish Elders is that they are trying to find a minority group. The numbers just aren't as high. However, they had a great week, and they found six new people instead of three!
We asked if Hurricane Dorian brought any more rain than usual as it skirted the east coast of Florida last week. Oddly no. In fact, it hadn't rained all week. Which in and of itself is strange because it rains there every single day! Hurricane season isn't over though. It's actually just begun. It goes all the way until the end of November. Hopefully, it will be a mild one for the rest of the year.
He shared a funny story about Elder Knell. He has a "Rich Missionary Test" he gives. He started with his companion Elder Seal, who is from Farnsworth, Utah, and he's very well off. He asked him how many couches he has in his house. He has six. Elder Knell said, "that's too many! You fail." So, then he gives Elder Oren the test. Elder Oren replied, "Two." He passed. Then Elder Oren said, "Wait… you mean at just one of my houses right?" Elder Knell asked, "What do you mean? You have more than one house?" Elder Oren says, "You mean just in my house in America right?" Elder Knell said, "How many houses do you have?!?" Elder Oren said, "I have one in America and one in the Philippines. Let's just keep it like that." Then Walker says, "Elder Oren, anytime you say 'let's just keep it like that' it means you are hiding something! LOL! How many houses do you actually own?!!" He said, "Well… in America two and in the Philippines three." Elder Knell said, "YOU HAVE FIVE HOUSES Elder Oren!?!?!? Elder Seal could put a couch in every one of your houses!!" Hahahaha!!!
He was talking to Elder Hemming (before he left) and Elder Oren. He said, "When you guys teach, you go into 'missionary mode'. Why do you do that? Just be normal. Be yourselves." One thing he was telling Elder Oren specifically was that he needs to let people complain. People want to be heard. They want to talk to someone they can relate to. People don't want a robot or a scripted thing. If you'll just be yourself it will be better.
He's looking forward to the new handbook. He thinks it's called, Missionary Guidelines for Christlike Principles. He thinks it's going to be a big help for missionaries on how to better teach the Gospel.
Walker is excited to go on Exchanges with Elder Knell tomorrow. He likes him a lot. He can be a little abrasive with the other missionaries and teases a lot at times, but he likes to talk deep doctrine and Walker loves that! He's interested to see how he is with investigators.
September 17th will be Walker's first transfer. We're all excited to find out if he'll be staying there or moving to a different area. Will Elder Oren stay or go. It's completely up to the Mission President to decide, so we all are trying to be patient and wait. 😊
The man that they started teaching at the same time as Juanita has been taking lessons regularly and asking lots of questions. They are hoping to invite him to baptism soon. He's very curious and has tons of questions all the time. For example, he said, in the scriptures, they are talking about something that hasn't even happened yet, but they are talking about it. Why in the world is he talking about this? So, they explained how revelation/prophecy works. He wanted to know when the Book of Mormon takes place in relation to the Bible? They didn't have an answer for him right then, but they went home and studied and got back to him. It takes place from near the end of the Old Testament to a little less than 400 years after Christ died. About 600 BC to 421 AD. He always has another question.
He went to church with them, and he expressed that he didn't like how the Bishop was taking the tithing envelopes and putting them in his coat pocket. He said he's totally robbing everyone. They explained that he only collects the tithing and ever opens the envelopes alone. He typically doesn't open them at all. A counselor opens it with a Ward Clerk oversight. The Ward Clerk records the funds and enters all the information into the computer from the tithing slips. Everything is meticulously accounted for. If money went missing, the member would know. But it's easy to see how someone who didn't know how it all works could misconstrue that simple act of placing the envelope in his coat pocket. It just never dawned on me to think of it that way. I'm glad he brought up his concerns so that they could help ease his mind.
Walker mentioned meeting a man who is a Mason in his letter. His name is DJ Chris Hurricane. They met him while out knocking doors. He was very chatty. They didn't have to prompt him much to talk; he wanted to talk. 😊 They asked him about religion, and he said he was a Mason. He said he respects all beliefs. He's read the Bible studied every religion. He was really into Numerology. He said, "Everyone thinks that 666 is the number for the devil. That's actually wrong. The Beast is actually a computer that's in Europe that contains all this information." Walker was like "OK then." Jared mentioned that numerology was actually big in the Old Testament. Then Hurricane went on saying, "Everyone thinks 7 is the perfect number, but they are wrong. It's the number 9. 3 is the perfect number. No, it's not. It's the number 9. Everyone else's numerology is wrong. I know the right one, and it's the number 9. 9 is the perfect number. When babies are born, when are they delivered? 9 months later, because we are all gods. In the Bible it says 'is it not written in your law that ye are gods?'" Walker was like, "Oh! This is going to get interesting. This is apotheosis. This is something we believe." Then Mr. Hurricane went on to say, "God is in us, so we are gods. When I pray, I don't get on my hands or knees or nothin', I just look into the mirror and pray to god in the mirror in my eyes." Walker tried to follow along with him, but in the end, he felt he was so close but just missed it.
Mr. Hurricane continued and said, "Everyone takes the Bible too literally. Everything in the Bible is symbolic. They aren't opening their minds enough to understand how everything is a symbol and none of it actually really happened. Cain is a representative of our mind, and Abel is our hearts. So our mind killed our hearts. People are always talking about how Jesus died on the cross. He didn't die on the cross. He just had a dead way of thinking. And when he was resurrected, what did he do? In Passion of the Christ when they open up that tomb, what does he do? He just looks right up. He wasn't dead the whole time. He just became enlightened, and his thought process was reborn." He was an interesting guy. 😛
Walker's been trying to organize all of the scriptures. He has highlighted and given them 'tags' so he can find them more easily. He said his biggest tag is "extraneous stuff". LOL!
He was able to use one of his favorite Proverbs this week. Proverbs 28:28 The wicked flee when no man pursueth: but the righteous are bold as a lion. He mostly likes the first half. They went running with Elder Bake and Elder Ferry. That's what they like to do for their exercise each day. Elder Oren was having a hard time keeping up with them. So Walker quoted this scripture to help him. Only the wicked flee when no man pursueth!
Elder Knell called Elder Oren since he's the "doctor" out there and let him know that Elder Seal was sick. He asked what he had, and Elder Knell said, "He's sick of me!" Elder Oren asked Elder Seal if he had any dizziness or nausea? "That's a common response to being with Elder Knell. I have the same response." Haha! It was fun to hear Elder Oren get in a good jab for once. The poor guy is always being teased.
They were walking to the gym, and there was this crazy HUGE bird sitting on the bridge. It looked like it was wearing a coat with its wings around it. Elder Oren took pictures of it with his flash on, and this bird was looking at them like it was going to do something to them. Walker was getting ready to run! He wasn't going to stand around when this thing started charging. This was a big ole bird. Hahaha! Elder Oren kept taking pictures of it, and it was looking at him like, "Dude! Stop!" And then it flew away.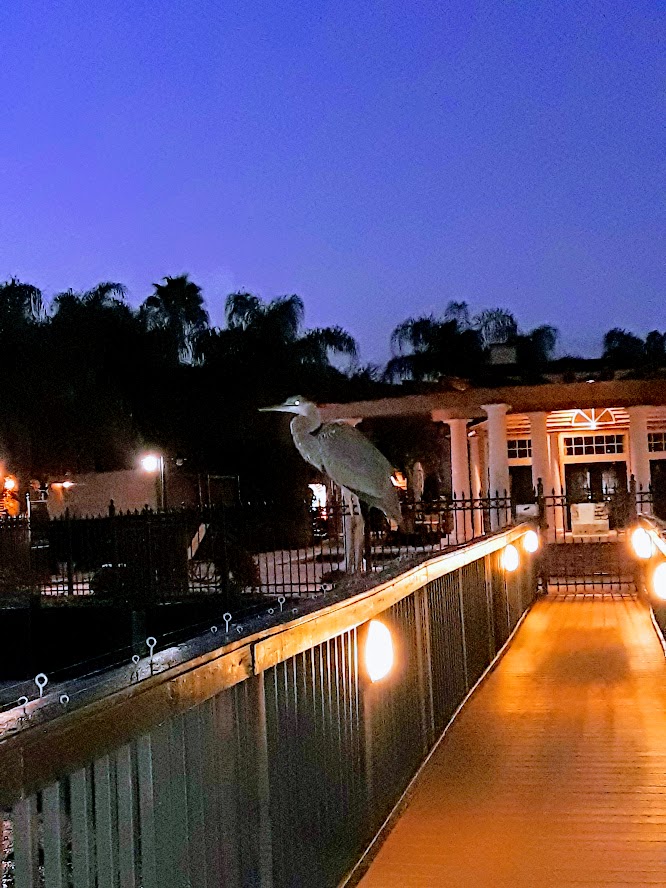 They came home one night, and there was a little tiny lizard on the counter running all around. He scooped him up and put him outside, but then realized he should have kept him to eat all the ants/bugs that they've been having trouble with. LOL! I said, Just go outside and find another cute little lizard. He said he should. They are all over the place there. He also saw a cool frog on the way to the gym. He tried to get a picture of it, but it hopped into the grass, and he lost it. He loves reptiles and marine biology.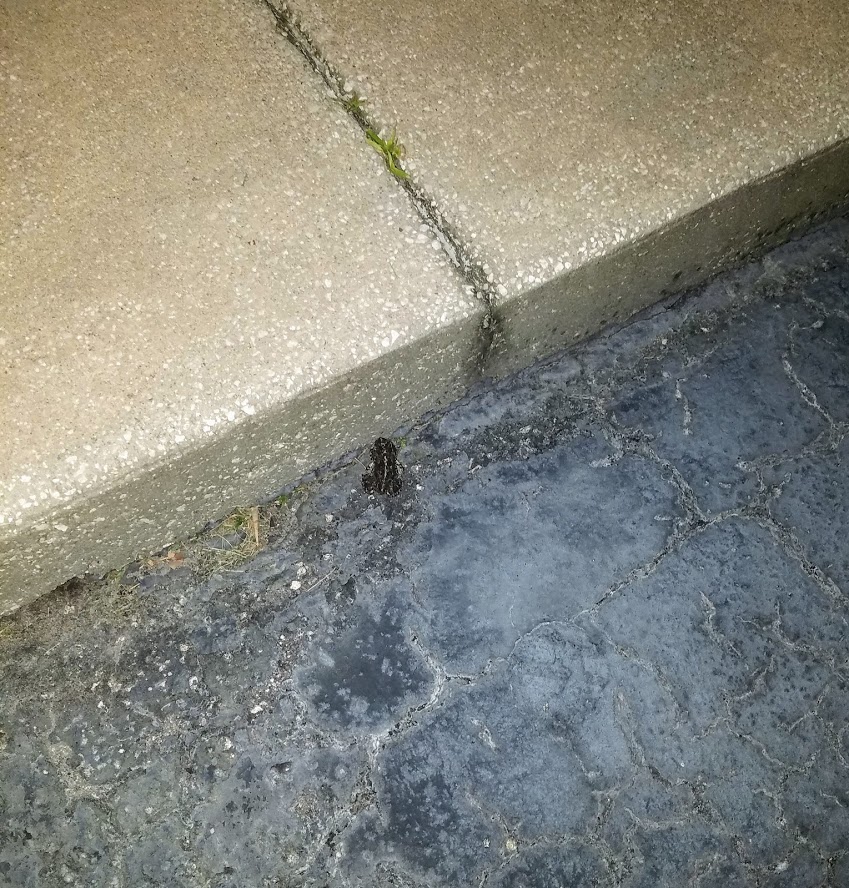 A couple of times this week he felt like he was 'at home'… not like Florida is home, but like he was 'at home' here in Arizona. He said it was really weird. He wasn't sure if it was good or bad but thought it was more bad. He hasn't gotten homesick since he's left. He doesn't know if that's what it is to be homesick. It just made him realize he's in a totally different mindset than he was at home. It made him kind of think about how different he's living his life right now. Elder Oren gets it all the time where he's like, "Why am I here? Why am I speaking Spanish?" LOL! He couldn't say if it was a good different from how he was/is feeling. He knows he's supposed to be there, he likes being out there, but it also made him realize that it wouldn't have been the end of the world if he didn't go out there. It's complicated. We agreed but reminded him he wouldn't have had the enrichment that he's getting. He agreed with that. We said, "End of the world? No. But you'd be missing out on all that stuff too."
He and Elder Hemming had a conversation before he left about the importance of being a missionary. He was explaining to him that he didn't know if everyone is supposed to be a missionary. He just thinks it should be something they prepare for. They should plan to go until they receive an answer that it isn't their path through lots of seeking and prayer, but it's not the end of the world if they don't become a missionary. Elder Hemming believed that everyone, young men and young women, should at least put in their papers for whatever they can do. Even if they can't serve a full-time mission, they could do a service mission. He thinks missions help them to be the best person they can be, and if you don't try, you are doing yourself a disservice that will affect your future. Basically, your future can only be improved by a mission. We agreed with a lot of what Elder Hemming said. and Jared and I have discussed quite a bit about how much growth we've seen in Walker since he's left, even in this short amount of time. It's amazing to watch! Every single week when we talk to him we just see that he's is doing such incredible things and the maturity growth we see week to week is difficult to even put into words. It's just remarkable! Then he says in his humble sweet way, "Thanks". Oh my boy!!! <3
Jared said, "You may not see it. You may not be able to see all the different things that you have been pulling out of it already. But we sure do!! Every week. Every single week we are just blown away by you." <3
The conversation got him thinking about Eli and Alayna. He doesn't know if they will serve. They both have talked about it in the past, but neither one has fully committed to it yet. Jared pointed out that if they don't go, it's not the end of the world. It doesn't mean they can't be amazing adults without it. Walker expressed that he doesn't want them to be members that coast. He wants them to realize that if they were to go on a mission how much they can get out of it if they'll put in. He definitely sees the positive changes that are happening in his life.
It touched my heart that he loves his brother and sister so much that he wants what he has for them. He wants them to have the deep life changing experiences that he's having himself, so they can enjoy and benefit and become who God wants them to become by giving of themselves and serving His children. We mentioned that just by watching him and seeing how happy he is out there he is living his testimony. Actions speak louder than words, and he's living and breathing that example to them and to all of us each and every day. He is impacting all of our lives in profound ways. He really is a modern-day Pioneer for our family. <3 God has been preparing him his whole life for this. I'm pretty sure he was in heaven talking with God, and He told him about his life and what He needed him to do, and Walker jumped for joy to lead the way! He placed him in our family because we needed him, and he needs us.