Tercera Semana (Third Week)
Going into this next week was interesting. We had an awesome Fast Sunday, where we watched a talk by Elder Bednar on The Character of Christ (audio). It was fantastic, and I would recommend. Beyond that, I started teaching fake lessons to our Spanish teachers in Spanish. It was a little rough at first, but it's coming along. Also in the scriptures, I have enjoyed learning some of the character of those writing the various scriptures and trying to understand some of the context of the various events in the scriptures. We also got to talking at one point on Christlike traits, meekness being one that I think is oft misinterpreted, as it's real meaning not being unable to do harm. That is cowardice. Instead, it is the ability to do harm and choosing not to. We also get a little side tracked from time to time and spent a good chunk of an evening doing riddles that we all remember from home. Yesterday was another sick day. I ran a fever and slept most of the day. Finished all of the required memorization though!
Also figured out how to send pictures so here's a bunch.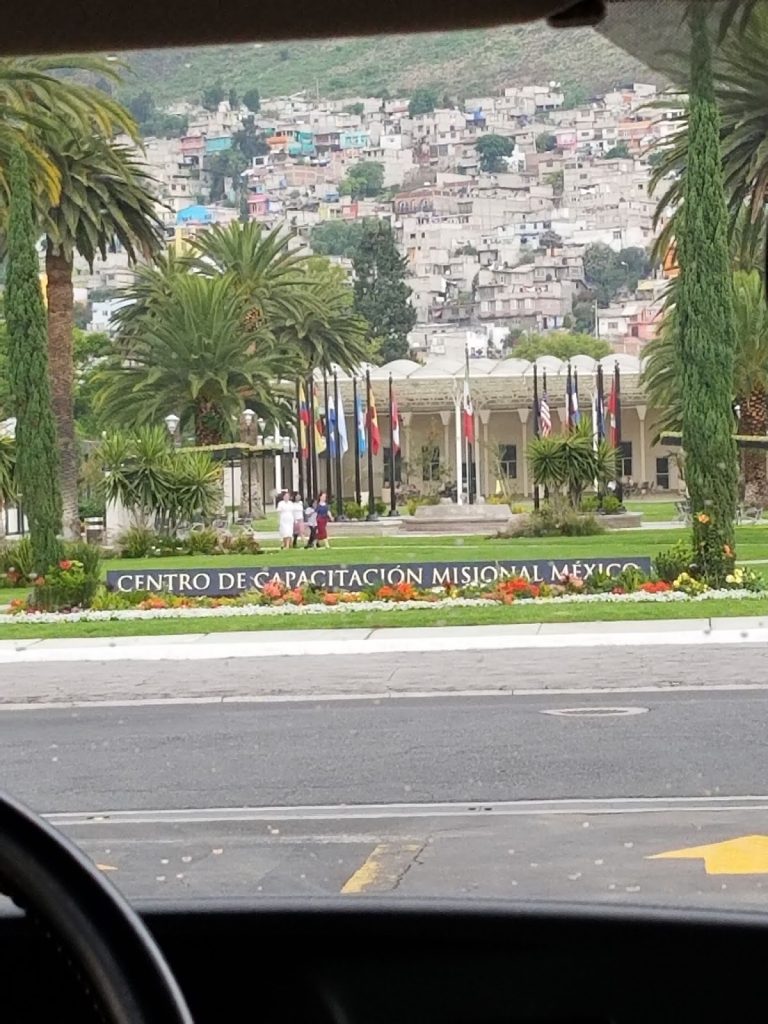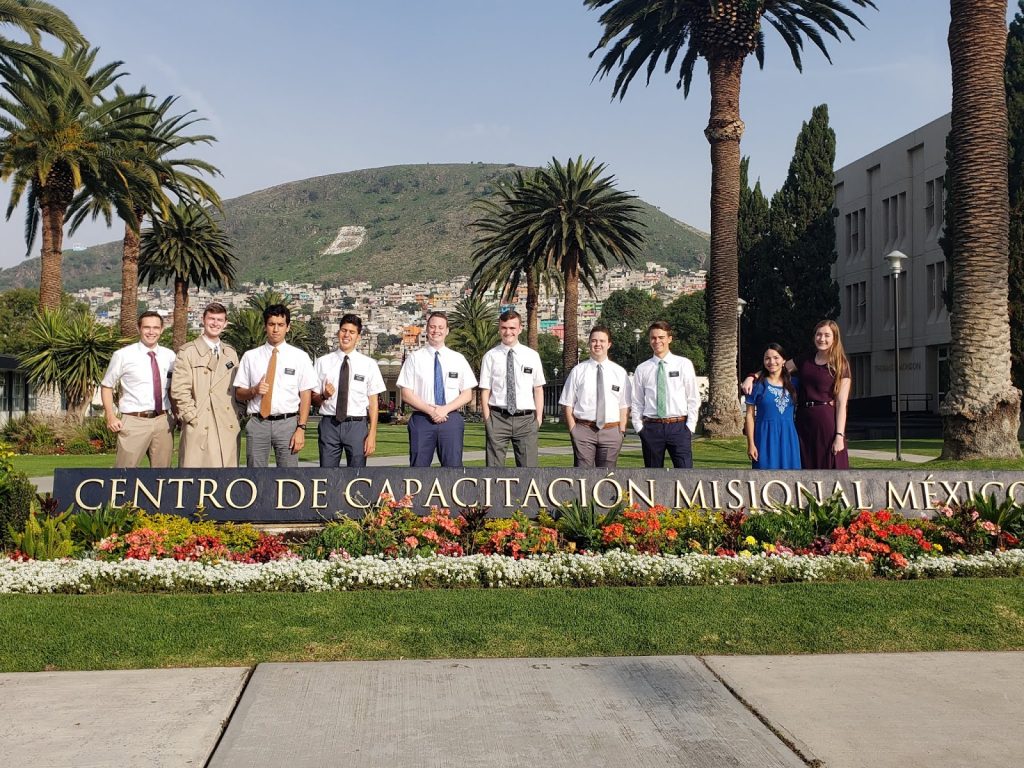 Left to right: Elder Jackson, Elder Hoskins, Elder Moore, Elder Barrientos, Elder Hogge, Elder Thompson, Elder Kitch, Elder Wurtz, Hermana Rose, and Hermana Gerlach.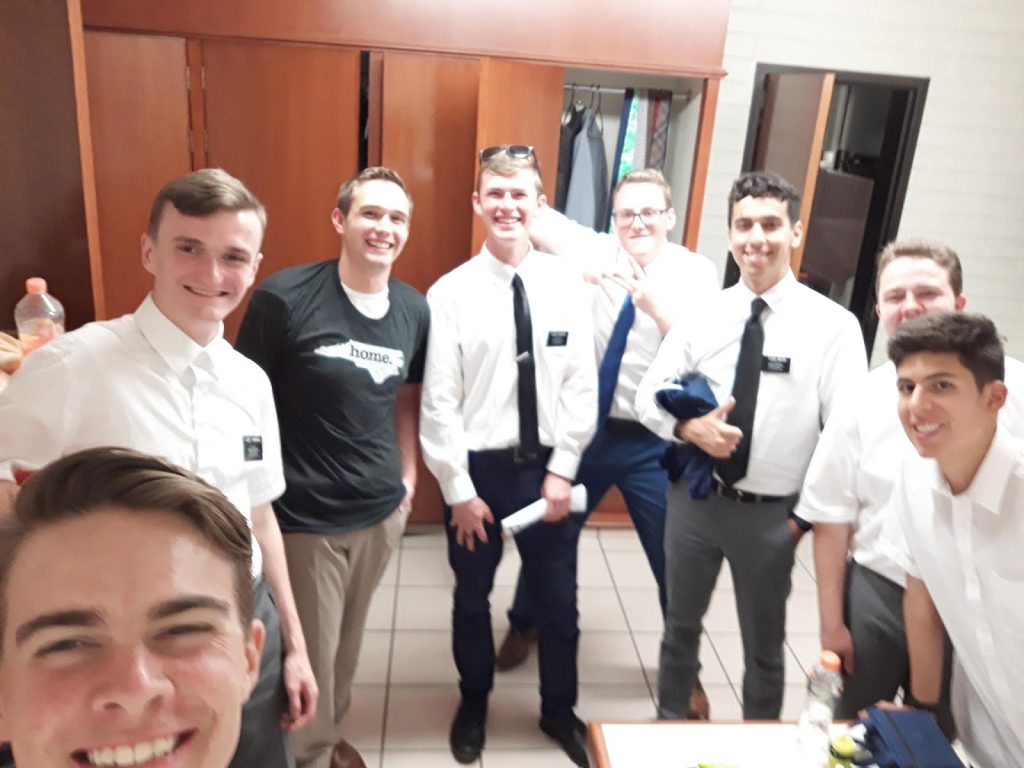 Before Walker's P-Day, we told him that we were going to be out of town and to call us as early as he could. We were so worried that we wouldn't have good cell service, and we did NOT want to miss his call!! Thankfully, he had the flexibility to do it! We got another good, long chat this week!!
There is a clear divide between what he is going to teach and what they enjoy talking about. They want to teach about the most basic stuff with interested people, but they usually get to talking about deep doctrine stuff which would not be helpful with investigators.
Jared said that he looked good, and he said "I have to. It's against the rules not to." LOL!
He asked what were doing in California, and we told him that the Hawk's offered to let us stay at their place for the weekend. We were doing the beach and Disney. Jared said we had to go on vacation so that I wouldn't be so sad. But it's really Dad!!! He has been so sad and felt so torn about going on a trip without him. He's had major guilt-gut! Jared said that he felt like we couldn't go on vacation without him. Walker assured us that we definitely can! LOL!!
While he did get sick this week with runny nose and fever, at least his infected toenail is better.
His Spanish is coming along really well, and he actually spends most of his time teaching and helping others. He doesn't like studying, so teaching and helping others helps him to learn it better. It's actually a great thing for him.
He's been struggling the most with tenses. Past tense & irregular past tense are very difficult. They have past tense, future tense, irregular tense, preterite (past tense), adding "ing" to verbs is a conjugation.
His companion took more Spanish than him and spoke it back home, but Walker thinks they know the same amount. However, his companion is more comfortable speaking it than him. I know he'll get there!
Now that they are approaching their third week, they teach "fake lessons" every single day. In their last fake lesson, he was able to get through it all. It's coming!
Missionaries who don't have phones call home in the computer lab with an app called Llamar a Casa. which translates to To Call To Home. 🙂
There are a surprising number of missionaries whose parents don't want them to call home. Jared and I don't understand that at all!!! LOL! One of the Hermanas
in his District
, Hermana Rose, had planned to not call home, but she changed her mind when she got to the MTC. However, when she called home her dad refused to be on the call. He did not want her calling home. So crazy to us!!! We miss our boy and want to hear all about what is happening. We are so interested in this whole process! The Church wants families to be more involved in missionary work. They want the missionary to teach their own families about sharing the Gospel. Jared and I don't know how we thought we would be able to have him gone for 2 years without hearing from him other than Christmas and Mother's Day! This change for the missionaries is inspired. People who were against it at first and have now had their missionary call home have been able to see how it's a benefit to the missionary and to their families. The Prophet has been helping us all lead our families more and moving the teaching from the Church to our homes. This is a huge step in making missionary work for everyone, not just the set-apart, full-time missionary. We are grateful for this inspired change.
I asked him what his favorite thing he's learned about this week, and he said Elder Moore shared some gems this week. In Psalms, it says it is better to flea into the wilderness than to dwell with an angry and contentious woman. Also, in
Exodus 33,
Moses is put onto a cliff, and God is going to place His hand over him so that he can't see Him. When he removes it, He's not going to let him see His face. He's going to turn around and show him His "back parts". Elder Moore interprets this as God mooning Moses. So when they were asked to give a reference as to who they think God is. That's the one Elder Moore used! LOL!!!
Exodus 33:15-23:
15
And he said unto him, If thy presence go not with me, carry us not up hence.
16
For wherein shall it be known here that I and thy people have found grace in thy sight? is it not in that thou goest with us? so shall we be separated, I and thy people, from all the people that are upon the face of the earth.
17
And the Lord said unto Moses, I will do this thing also that thou hast spoken: for thou hast found grace in my sight, and I know thee by name.
18
And he said, I beseech thee, shew me thy glory.
19
And he said, I will make all my goodness pass before thee, and I will proclaim the name of the Lord before thee; and will be gracious to whom I will be gracious, and will shew mercy on whom I will shew mercy.
20
And he said, Thou canst not see my face: for there shall no man see me, and live.
21
And the Lord said, Behold, there is a place by me, and thou shalt stand upon a rock:
22
And it shall come to pass, while my glory passeth by, that I will put thee in a clift of the rock, and will cover thee with my hand while I pass by:
23
And I will take away mine hand, and thou shalt see my back parts: but my face shall not be seen.


Walker said didn't really understand it, and he asked if he thought God wears clothing? LOL! He didn't really answer him, but Walker expressed his skepticism about his interpretation. Hahaha!!!
We got to quickly see Hermana Rose, Hermana Gerlach, and Elder Jackson as they popped into Walker's video chat with us and said Hi! That was fun to see them in "real life"! 🙂 Elder Jackson said Walkeris awesome and knows sooo much Spanish! 🙂
Jared asked how the structure is all broken down. He said that, at least in the MTC, there are about five companionships (or ten people) in a District. They have five Districts in his Branch, and multiple Branches make a Zone. He "thinks"…
It rains almost every single day. They are inside most of the time, but sometimes they get caught out. Since they don't always take umbrellas they have to get creative in getting where they need to while trying to keep their suits dry.
He received the package we sent and some people were more jealous than others. Elder Moore has been having a rough go of it. He loves meat and since they all got food poisoning he hasn't been too keen on eating the meat there anymore. When Walker's package arrived with a BIG bag of beef jerky he was dying to have some. He was a good friend and shared. Elder Moore said that after he had some he already felt better!! Hahaha!! He said he also got a 5lb bag of pretzels in the box and took them to the classroom to share. When he got sick yesterday he regretted it because he didn't have them to eat while he was sick. 😛
He's taking pictures, but he didn't get one of the box we sent. He said he was planning to but by the time he got it to his room the bottom of it fell out and stuff went everywhere. By the time he got it all cleaned up he forgot. Bummer 🙁 At least the box waited until he got to his room!
Walker's District was trying to figure out how to go to the temple. They sell these cool looking ties that he wants, but to get one he also needs to exchange his money for pesos. Apparently, none of the leaders know how to get to the temple. So weird. Some of the people in his District went to talk to Reception to see if they knew anything, and they said they weren't on the list. They were like "oh" and left. Walker asked if that got on the list. They said, "no." Walker said, "well that probably would have been a good idea!" Oh man… these kids are cracking me up! Haha!
He wore his blue fasting tie on Fast Sunday. Jared and Eli did too. Alayna wore her necklace, but unfortunately, I was sick and missed church. I'm looking forward to joining everyone next month!
They don't do the Come Follow Me curriculum, but every week they have to have a talk prepared in Spanish. They will just call you at random. It isn't even at the beginning of the meeting necessarily. They'll just call you out whenever. No pressure! Yikes!
As far as getting the language, he's always understood more than he's been able to speak. Luckily, you can have everything written down for your talk. Even for fast and testimony meeting, they want you to have something prepared in Spanish in case no one goes up. Once again, they can call on anyone at will. Walker hasn't gone up yet, so he thinks his turn is coming this week.
Jared shared that Acts 1-5 was last week's lesson in Come Follow Me. The last few verses in Acts 2 made him think of Walker so much. It's a step by step of what a new member needs to do. Repent, be baptized for the remission of sins, and receive the gift of the Holy Ghost. He thought it was cool.
Acts 2:36-47:
36
Therefore let all the house of Israel know assuredly, that God hath made the same Jesus, whom ye have crucified, both Lord and Christ.
37
Now when they heard this, they were pricked in their heart, and said unto Peter and to the rest of the apostles, Men and brethren, what shall we do?
38
Then Peter said unto them, Repent, and be baptized every one of you in the name of Jesus Christ for the remission of sins, and ye shall receive the gift of the Holy Ghost.
39
For the promise is unto you, and to your children, and to all that are afar off, even as many as the Lord our God shall call.
40
And with many other words did he testify and exhort, saying, Save yourselves from this untoward generation.
41
Then they that gladly received his word were baptized: and the same day there were added unto them about three thousand souls.
42
And they continued stedfastly in the apostles' doctrine and fellowship, and in breaking of bread, and in prayers.
43
And fear came upon every soul: and many wonders and signs were done by the apostles.
44
And all that believed were together, and had all things common;
45
And sold their possessions and goods, and parted them to all men, as every man had need.
46
And they, continuing daily with one accord in the temple, and breaking bread from house to house, did eat their meat with gladness and singleness of heart,
47
Praising God, and having favour with all the people. And the Lord added to the church daily such as should be saved.


He's getting through the Book of Mormon! He's in Mosiah. He set a goal for himself to read it cover to cover before he leaves the CCM, so he's been reading a lot. He's reading it in English. He said he'd still be in 2 Nephi if he was reading it in Spanish. Haha! Some of the guys have been reading in Spanish with a copy of the English to help them understand it. He will probably go back and read it that way next time.
Eli popped on for a minute to complain about Alayna punching him in the face because they were sleeping in the same bed since we were out of town. It was fun to see Walker and the other two kids laugh together.
Alayna popped on the camera, and Walker noticed how tired she looked. He was also surprised that he hadn't seen Eli flash the blood sign yet. Eli said that Walker wasn't allowed to see graphic images!! Haha!
Everyone in his group is looking forward to getting back to the States. They are all nervous about the food there. Walker said he's not! If he gets sick then he gets sick. 🙂
They have everything there in the MTC. They have a dry cleaner, and they have a guy there who is working as a shoe shiner to help earn money to pay for his mission. He's a local guy. That's pretty cool!!
He was coughing a lot. I told him that he sounded miserable. He hasn't felt fantastic, but he's enjoying his time. He likes the people there and what he's learning about. Not to say that it hasn't been hard, but it's been good. He thought he'd miss movies and things more, but it's actually just the realizing that this is what he's going to be doing for the next two years that has been the hardest part. It's very different than how he's been living his life. Things will be different when he leaves for Tampa too. The MTC/CCM is very structured. He'll have a little bit more freedom out in Florida.
One thing he wished they'd let him do is to talk to some Cubans. He wants to see what it's actually like. He was talking to some Latinos there, and he told them that he'd be teaching Cubanos and they said, "OH! They speak very, very fast!!!" (in a thick Hispanic accent :P) However, apparently, their Spanish is a lot cleaner. So that's nice. Dominicans, on the other hand, speak as fast as Cubanos but less clean than Mexicans. He was told that they speak Ghetto Spanish. LOL!
Jared told him that he knows that there are going to be some hardpoints, but he hopes he can see the good too. We both can already see how he's gaining confidence in himself through this short period of time.
We got to talking about how hard it's been for us to let go and separate ourselves from him but how awesome it is for him to enter this new world. He's out experiencing things we'll never get to experience, and we are so excited for him. He is getting a taste of what it's like to kind of live on a college campus with roommates, and he's learning and doing all these things on his own. It's pretty cool. He said, "well, I'm never actually alone! I'm always with my companion!" Haha! Jared asked if that was hard? He said, "well, there's the bathroom!!!" Haha!!! He said it's interesting. It could be different depending on who your companion was and how you valued your alone time.
Eli chimed in and said that was Bro. Rojas' life hack. He'd just be in the bathroom all the time. Walker said one of the Hermana's sister said she just had diarrhea all the time so she could have 20 minutes alone in the bathroom. haha!
Not much happened this week, so he wasn't sure what he was going to share in his email. I tried to help him think of different things to think about. He said he's journaling everyday. We reminded him to read back over it, and it might spark somethings for him to share. He always has something to say when he's talking to someone, but writing is hard.
His companion pointed out something that he thought was SUPER cool about being in contact with Celestial Beings. They have been talking about Kolob, the star nearest to God, and how all that works and how time works differently in the solar system of Kolob. Earth used to be in the same solar system as Kolob back when the Garden of Eden was a thing. He said not only did the planets position change, but our biology changed. We got blood among other things. He realized when people are in contact with Celestial Beings they experience time dilation. So that's why when the angel visited Joseph three times, it was suddenly morning. Time was flowing differently for him while he was in contact with this angel. That's also probably why people feel exhausted. It's a combination of there being an amount of physical exertion required to be in the presence of a Celestial Being as well as the time dilation. Time is moving faster, but when it ends all of it catches up to you at once. Also, Joseph got to see a wormhole to Kolob when it says, "The angel passed through a conduit out of his room." He thought was really interesting!! We did too! I love how his mind works.
The Pearl of Great Price, Joseph Smith – History 1:43:
43
After this communication, I saw the light in the room begin to gather immediately around the person of him who had been speaking to me, and it continued to do so until the room was again left dark, except just around him; when, instantly I saw, as it were, a conduit open right up into heaven, and he ascended till he entirely disappeared, and the room was left as it had been before this heavenly light had made its appearance.
Jared said, So you guys are talking
deep
doctrine! Walker chuckled and said, "Yeah, but it's the science about how God works. God functions within the rules of science. We may have not discovered all of the science He's created but it's within those laws."
Some people didn't take their SIM cards out of their phones before they came since they
already had Samsung phones
, so they can use it as a regular phone. We had to buy Walker a new one for his mission. He had a Moto before. Either way, they weren't supposed to bring their SIM cards. I guess they haven't talked to them about their phones other than "to use them wisely". They aren't being monitored closely, and they probably don't even know some of the missionaries have them.
He can do laundry whenever, so he has been doing it whenever he has time because doing it on P-day is crazy busy! He called the laundry,
lavandería
, It's so fun to hear him speak Spanish. He sounds so good! His accent is awesome! It's fun to know he's learning it even though I don't understand it! LOL! But since he does his laundry on other days,
he has a little more time on his P-days.
We told him we went to a beach yesterday called Bolsa Chica. We had to Google what it meant in the car. When I told him what it was called he knew right away it was "bag girl". He's so smart! 😀 We all thought that was a strange name for a beach! Haha!!
He said sometimes there won't be different words for different subsets of things. Like there are different words for 'backpack' (mochila) and 'bag' (bolsa). But they use mochila for backpack or suitcase. I guess backpack and suitcase are more similar than '

bag'.
The last time we had talked, he said he was working on memorizing Moroni 10:3-5 and the fourth missionary lesson. They are both the longest and hardest ones. He has them both down now!
Jared asked if

he'll be with Elder Wurtz the whole time or if he'll have a new companion at some point. He wasn't sure. He's a little confused because they came in the same week, but Elder Wurtz is leaving Monday, and he's not leaving until Wednesday. He thinks most of his District leaves Monday or Tuesday. He's the only one that leaves on Wednesday other than the Hermana who will be flying to Tampa with him. But she's not an Elder and she's not in his District. You are supposed to head to Reception without your companion when you leave, so he doesn't know exactly how the companion rules work once your companion leaves. You are supposed to have a companion at all times. He assumes he won't go a full two days without a companion, but he doesn't know. He thinks that near the end they have a separate meeting about how leaving works, so he'll get the info that he needs then… he thinks.
Jared asked if there are some that will only be there three weeks instead of six. The Latinos will only be there for three weeks. There are a couple of Americans who are very fluent in Spanish who will only be there for three weeks as well, but they are all separate from "us Gringos". hahaha!
We had him re-explain the dad joke he shared with us last week because we still didn't fully understand it. You know, us Gringos. We need help with this new language! 😛 The joke was, What animal is the laziest? And the answer is, El Pez (fish). Porque hace nada. means, it does nothing OR it swims. The word for swim and nothing are the same, so it's a pun. LOL! It sort of ruins the joke when it has to be broken down for you, but I'm glad he's sharing them with us so we can learn too!
The phone we got him has a terrible camera. I'm SO disappointed! I LOVE pictures, and I was hoping it would take decent enough photos, but he said it's really bad. 🙁 I'm not sure what to do about that. He won't carry a separate camera. Just too much to deal with. Luckily, they have a group District album that they all put pictures into. That's really cool that they can share them all. The ones he sent were from that album. We knew we weren't buying the most expensive phone, but it still makes me sad.
It looked so green. Walker attributed it to raining… everyday! That helps!! Right now is the rainy season. Half the year is rainy and half is dry, but the temperature basically never changes.
There's apparently a mission in Mexico (he thinks it's Oaxaca) where they don't have any sister missionaries, because it's so dangerous! Yikes! We are grateful that he's not going there! He said that Oaxaca is a black rock that you can shine light through. The inside is white. It's like volcanic rock. He always has little tidbits of information.
It seems that every Mexican name comes from the Bible. Like Pedro and Juan, they are the Spanish translation of the Biblical names. Some of the translations are interesting. Revelations is Apocalypse which translates to the Book of the Apocalypse. That's pretty cool. James becomes Santiago. John becomes Juan. Peter is Pedro. Malachi becomes Malaquías.
His P-day's go until 5pm, so he has most of the day. He still has to wake up at 6:30am, and the P-day doesn't technically start until after breakfast, but they don't have a planned exercise time on P-day. They wake up, get ready, do a little planning and study, get breakfast and then do emails and video phone calls. After calls, they usually go and clean the house. They get graded on how well they clean, but he doesn't know if there are any consequences if they get a bad grade or anything. By then it's about lunch, so they go and eat. Then sometimes they'll play sports. Last week they played volleyball, but this week he sat with the others who weren't playing, and they talked. He says he's just not very good at volleyball. Alayna said, "make your sister proud!" Walker told her that she is definitely more athletic than he is!! 😛 He said they have both court and sand for volleyball. The people typically push playing it the most because it is no contact.
His District made up a parody song in regards to P-day to the Phineas and Ferb theme song. He doesn't know the words though. The Hermanas said they need to translate it to Spanish. We told him they should do it in both and record it for us! He says it's really funny. They push you to use Spanish all the time. They want you to be speaking as much Spanish as you can as often as you can, so some people there they start very roughly translating different songs to Spanglish so they can sing them. 😛 One of the better ones he heard was "I Want It That Way", by the Backstreet Boys. That was pretty good!!! Haha!
Jared asked if he was teaching them any of his esoteric songs. He said no, but surprisingly there is a very wide range of music preferences. Elder Moore loves Bob Dylan. He downloaded, "Trapped Inside a Mobile with Them Memphis Blues" and made that their alarm clock that they wake up to. Dad asked if that was kosher? He said no. LOL! He claims that it doesn't technically break the rules. since there are no romantic overtones. He also claims it is a spiritual song for him. LOL! He'll be heading to Fort Worth Texas for his mission.
Walker has profiles of everyone in his District so that he can remember them. I thought that was clever. He said he'll probably do that with all of his companions.
He spends most of his day in class. From breakfast to lunch they are in class. They have 30 minutes between classes and lunch to do personal things and planning, etc. After lunch, they have about an hour. They kind of got wrecked because they have the late eating schedule. They have breakfast lunch and dinner last. Sometimes they run out of stuff, and they don't get any of it. 🙁 Then they have classes until dinner. After dinner, they have personal time to study, and then it's time for bed. He eats lunch at 1:15pm. Kinda late. He's up for 16 hours a day and sleeps eight hours. They are busy! He gets pretty tired some days. He feels like he's been sleeping pretty well though. That's really good.
His District all go to classes together most of the time. He's with his companion all of the time, his roommates most of the time, and then his District most of the time just slightly less than his roommates.
His companion and one of his roommates, Elder Barrientos, write in their journals every night for a really long time. When his companion, Elder Wurtz, emails home he takes a long time on that too. He doesn't understand how they can write for so long and so much. Walker just can't think of that much to write about. Jared joked and said that would be me. 😛 Walker agreed! Ha! I told him to ask them to share some of the things they are writing and maybe it will spark some ideas for him. Or just look over their shoulder when they email home and copy what they talk about. Hahaha! They get back to the house at 9, they take quick showers, and then they write until lights out at 10:30. He says he thinks they write a lot of spiritual stuff and are able to expand on it. He writes that stuff too but just has a hard time filling up space with that much. Jared mentioned that is is really hard for him to put those things into words too. Walker agreed. He says he usually just puts topics of things he's talked about or thought about during the day. I'm glad he's doing what he can and isn't skipping out on it. He's putting it all in Google Keep. He makes a note per week and adds to it each day.
The first week felt really long. The second week was quite a bit faster, and this week is really really fast. He's heard that the fourth and fifth week also go really really fast, but the sixth week goes really slow because you are just ready to leave. He's going to be done so fast. He's already coming up on his third week. He'll be halfway done with the MTC on Wednesday!
We told him we love him, we think about him, we are so proud of him, we pray for him every day… multiple times a day! We're so glad his toe is doing better. I told him to keep up with his probiotics and get the rest he needs to fight off this cold he's been fighting and if the cold isn't getting better, to make sure he goes to talk to the doctor. Jared shared that he struggles with how much he should tell him that he misses him. He wants Walker to know, but at the same time he wants him to just know how glad he is that he's out there and what an awesome thing he's doing. Jared misses him really bad. His spirit is missed in our home, but being out there as a missionary is also filling our home. We appreciate it, and we are proud of him. We are amazed by his faith and courage and his example to us. He just blows us away. He said, "don't worry. Two years is going to be nothing!!" He's already into his third week, halfway through the MTC. A week after that, he'll be there a month. Then only 23 more of those! Yeah! Piece of cake!!! 😀
He's going to have so much fun out there. He's curious. His companion said that in his own mission there aren't very many Spanish speaking missionaries. It's very possible that he could be paired up with a non-Spanish speaking companion, and he'll have to teach them Spanish. Crazy!! He reminded us Sister Lake in our Stake ended up having to learn Mandarin on her mission, and she served stateside. His companion's mission is in Tucson down to the border and into New Mexico. Walker started wondering if there aren't many there how many will there be in Florida? I said well it will be at least you and the other Sister that's not in your District but we know is going to Tampa with you. But he was previously told that he was the only one coming in with his transfer. That means that there's probably an odd number of Elders out there currently or there will be when he gets there if only one is coming in. We hadn't thought about that. It will be interesting if he has to teach Spanish on his first transfer. I said you better start studying hard!!! LOL! He said that he can teach it because he understands it, but some people just have a really hard time with it. Some people learn words and not the rules, so they just have to write down every single word they can possibly use and memorize them.
In the field we probably won't be able to talk as long as we have been. He's supposed to only have an hour to email and video call. If your call goes over an hour, then you won't get to email. The last two weeks we've been talking for about an hour and a half! They aren't too strict there, but they will be out in the field.
That's it for this week. Another week down!!