Primero y Segundo Semana (First and Second Week) – Elder Kitch's First P-Day!
Walker had his first P-Day! Here is his letter.
So today is my first Pday. Sorry for the delay. The first week here was rather interesting, mostly lots of orientation and meeting your District (or class). The CCM (Mexico MTC) is very pretty, and the weather is very temperate. My district is pretty awesome. We have an Elder that enjoys speaking in Jamesian English, and I love it. My companion is the District Leader, so I am assistant to the District Leader. I go to all the meetings and can participate, but hold no authority. It's a lot cooler than it sounds. After about a week of getting settled in and attending various orientations, we finally started hunkering down into learning… except then there was El Dia del Enfermo (The Day of the Sick). Half of our district and a good portion of the campus fell ill due to what we can only assume is something we ate.


Beyond that first day of the second week however, it's been non-stop gospel and Spanish study, mostly at the same time. It hasn't been too bad though, given what I was told beforehand. I think my two years of Spanish really are helping. We just try to speak as much Spanish as possible whenever possible and google translate what we don't know. My companion and I did get to talk to a Catholic worker on the campus and that was kind of crazy. Street Spanish is much harder to hear and interpret than classroom Spanish. Overall it's been a good two weeks.


Some funny happenings: Our teacher's English isn't perfect, and she accidentally said she'd give us a kiss instead of a quiz. There is a confusing phrase to Spanish speakers we were told on our first day, Su Corbata le abofatea, meaning your tie slaps you to which they respond by slapping themselves with their tie. My companion told me a Spanish dad joke. Que animal es mas perezoso. El Pez porque hace nada. (What animal is more lazy. The Fish because it does nothing. I don't get it either.) One of the Hermanas (Sisters) accidentally asked one of the Elders if he was a woman instead of if there was a woman in the house, so he played along and switched his voice saying "yes it is me, Esperanza. Pues pues pues que tenemos aqui. (Well then what we have here.)"


That's mostly it for these two weeks, I guess. I'm working on getting photos. We're pretty locked down, so we'll see. Until next week…


Elder Kitch
We weren't sure if that's all the contact we'd get from him since his email from the day he arrived telling us he was safely there said he'd "email next Friday". We were beyond surprised and excited when we got a Hangout video chat call from him shortly after the email arrived!!!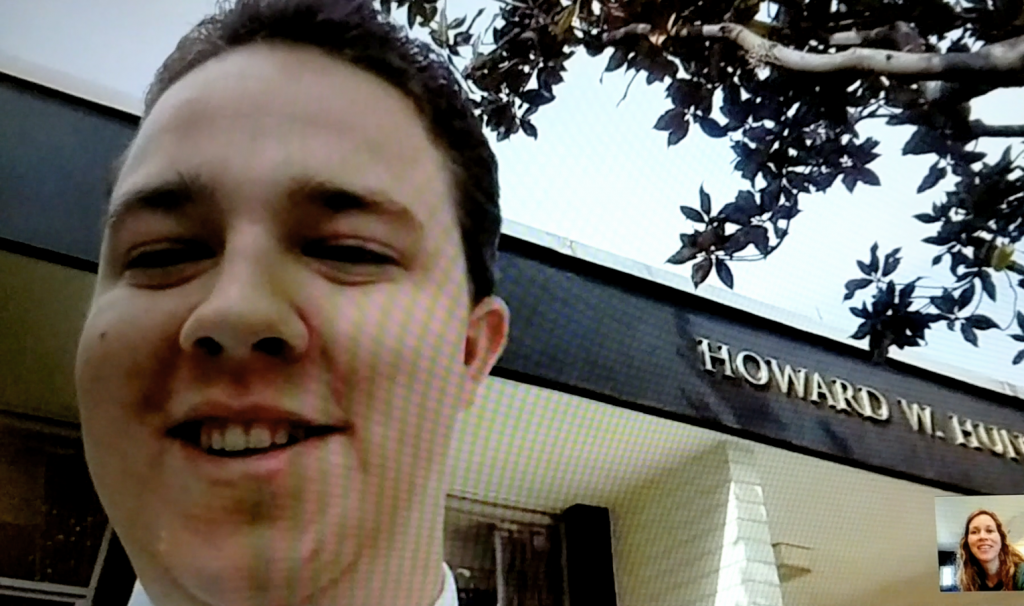 We tried to record most of it. Jared's phone storage filled up, and we were scrambling to figure out how to record it. We forgot to find a way to record on the computer. We are all set for next time though. LOL!
Below is my recap of most of what we talked about.
Today was Walker's first P-Day! He called us on Hangouts, and we got to video chat with him for an hour and a half! It was like Christmas Day! He sent an email as well, but I'm just going to recount what we spoke about since we have his letter.
There was a Sister missionary that was supposed to be flying with Walker to the MTC. She was on his itinerary, but we never saw her the day we dropped him off at the airport. We wondered if something happened or if she changed her mind, but he said she was at the gate when he had to move gates. Her name is Sister or Hermana Noel. They will both be going to Tampa together in August. I'm glad he'll have a traveling companion.
I asked him if they celebrated his birthday on July 1st, and they did have a small celebration. He got some sort of chocolate covered cookie with marshmallow in the middle. H
e liked them.
He told us what they were called, but I forgot. It was in Spanish.
On his birthday, a lot of people got sick. His companion was up all that night. Walker was fine until the next day. Tender mercy for him! They think it was food poisoning. For a brief time, they thought it could be a parasite, but since everyone got better that was ruled out. Thank goodness!!
An interesting story about that night, that was the SAME night I had been woken up by someone standing by my bedside. I thought it was Alayna. It looked like her shadow. They called out to me loudly saying, "MOOOM!" and I replied out loud, "YES!" When I opened my eyes to see what was going on more clearly, they were gone. Even though it looked to be Alayna, I had a clear impression that it was Walker calling me. When he related this story and told us he was sick, I knew it was the Spirit letting me know something was going on with Walker. This experience has reminded me that I need to be more mindful and to pray for him as soon as I get impressions, even if I don't fully understand what is going on or what they mean. It was so VIVID. I should have known. It may sound crazy, but I do get "visitors" from time to time. However, I've never called out to respond to one before. It was very real.
He has an ingrown toenail. They are very common for missionaries. Wearing dress shoes all day long and walking so much makes the perfect environment for them to occur. Toenail surgery is the #1 surgery missionaries get. Hopefully, it doesn't come to that. He went to the doctor there and they gave him antibiotics and anti-swelling medication. He didn't have his patriarchal blessing, nor does the CCM have a record of an up to date tetanus vaccine. I sent him both. 🙂
He also forgot to pack soap of all things! We went over that list 10 times, and somehow soap was the one thing we missed! However, it made for a hilarious story. He ended up having to buy some there. He bought Zote Soap and used it for several days before figuring out that it was Mexican laundry soap, not body soap! Hahaha! He said it looked exactly the same and seemed to work great, and the collars of his shirts were very nice! Oh my gosh… He had us all laughing SOO hard!!!
They get 100 pesos per week which is equivalent to about $5.00 U.S. The Zote Soap was 20 Pesos. He bought Zest after the mix-up!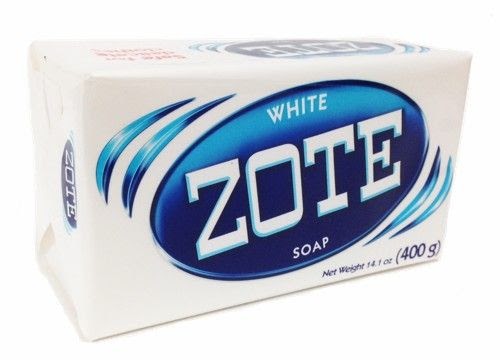 For the 4th of July, they also got to celebrate in a small way with hamburgers! They aren't supposed to focus on other things too much since the Gospel is supposed to be their focus, but they get to do little things that help them feel connected to home. However, he said everyday feels like the 4th of July because on the mountain behind them they shoot off fireworks everyday for the Catholic Saints!
One night they heard several gunshots near the MTC. Mexico can be a dangerous place. I'll be sure to continue to pray for his safety!
Spanish is coming to him. He's got a bunch of the scriptures and lessons memorized already. He is really seeing how his intellect that he sometimes takes for granted is a true gift from the Lord. Some of the other missionaries are really struggling.
One of the Elders in his District likes to talk in Jamesian English. His name is Elder Moore (More?). Walker thinks he's hilarious! One of the things that makes him laugh is every night when he gets out of the shower he says, "Shield thine eyes! For thou can'st behold my glory!!" 😛
When he got to the MTC/CCM there were 300 people. After his group arrived, there were 600. By the time he leaves there are supposed to be 1,000! I guess the biggest rush comes at the end of the college school year. The sister missionaries, especially, are ready to leave right away. They are more prepared/organized and ready to go! LOL!
In Walker's group, they have eight Elders and only two Hermanas.
Walker and his companion, Elder Wurtz, were asked by one of their teachers to help her teach her class since she doesn't speak English very well. That's REALLY cool! He was proud to tell us that.
It's been a little hard a few times. It is sinking in that this is what he's going to be doing the next two years. That hurt my heart to hear a little, but I know it's totally normal. I just hope he can stay strong. I know he can do hard things.
He's also curious what it's going to be like once he gets out into the field. The Spanish is different, fast, and Cuban!!! He sounded nervous about it. I tried to tell him he'll catch on. He's so bright. It will be tough at first, but he'll catch on quick!
He showed us the campus briefly from where he was standing outside. The MTC/CCM was an old school of the Church's. It looks like an old college campus. It was really pretty and very green! It's in a bowl with big hill on all sides.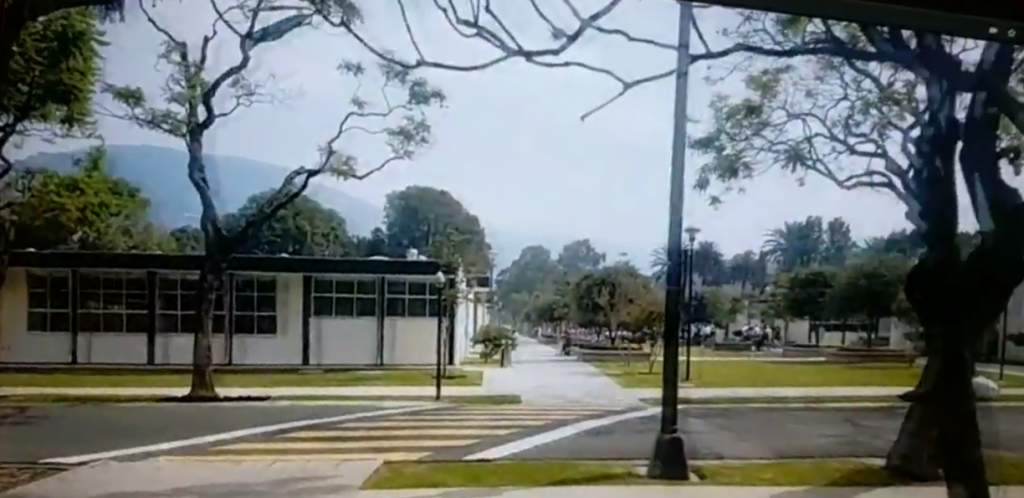 He's been dreaming more, which is unusual for him. He's getting better sleep, which is something I've been praying for. He's always struggled with that. He had a dream that he was being taught Spanish. He doesn't remember any of it, but that's what it was about. That's interesting because, in his blessing, it said he'd dream in Spanish!! The Spirit is blessing and helping him!
He found our letters that we hid in his luggage. He loved them! Alayna's was all in Spanish (she used Google translate), and he can't read all of it yet. He will by the time he's done there!
Walker's companion, Elder Wurtz, is the District Leader. Walker is the Assistant to the District Leader. He's had Walker take the lead on some of the lessons and stuff. It's nerve-racking, but it's good too. Elder Wurtz took three years of Spanish (one year more than Walker), and he grew up in San Diego. He speaks a lot of conversational Spanish back home. He'll be going to Tucson, AZ when he leaves the MTC/CCM!
I told him I missed his hugs. Alayna had mentioned the other day that I've been giving lots of extra hugs to her, and I told her I guess I'm missing all the hugs Walker used to give me! He used to hug me constantly, and I loved it!
Some of the missionaries who don't get to have a cell phone were getting upset with those that do. (Walker is one of the ones that does.) Looking up scriptures and Spanish words in paper books is so much slower than on their devices! LOL! They were saying it wasn't fair and to make them use paper! Haha! I said well, you have to know how to use the tools that will be available to you when you are out in the mission field! LOL!
The food is pretty good. They serve a large variety of things. Most of the people who got sick have chosen to avoid a lot of the main meal meat options, but Walker is all in! He said if he's going to get sick, he'll get sick. The food is too good to pass up! Haha!
He also shared that in the First Vision where Jose Smith says Jesus and God defy description, in Spanish it translates to, they don't admit description. He that that is awesome. I'll have to get him to expand on that more next time.
They've been playing volleyball for their exercise time. It's the only sport/exercise they can do as a group with the Hermanas since there is no contact. He says he isn't very good at it though. I told him he should have taken lessons from Alayna before he left! Ha!
Eli told him that he got the job at Rubio's on Wednesday. When he went in last week, he told them he was Walker's brother, and the Hispanic ladies said, "Oh WALKER!!!" When they asked where he was and Eli said, "Mexico," they said, "MEXICO!!!" It was really funny! When he had his interview, the manager said, "If you are Walker's brother this is really just a formality. I have no worries about you." Walker thought that was pretty neat! We all did! He's such a good example to our family and his integrity and reputation are admirable.
We can send packages. His Great Aunt Jean Ashby told us about a service down there in Mexico that we can use. They can get it to him next day Monday-Friday. By using them, we'll also avoid paying extra fees/taxes since it's local. When we hung up Alayna helped me pick out a cute box and ordered all his favorite treats that should arrive Monday. The website is hhtps://missionarypackagemx.com. I hope he can take a picture when it arrives. They are pretty locked down, so we'll see! We got him Kit-Kats, Twix, Pringles, Jerky, Pretzels, Dr. Pepper, Flaming Hot Cheetos, and Brookside along with a note saying, We love him and to be a good friend and share! LOL!
I think that pretty much covers everything. We got off the call and my cheeks hurt from laughing and smiling so much! I sure miss my boy! He just brightens my life SO MUCH! The whole rest of the day has felt magical. I've been on cloud 9! Knowing that he's thriving even though some moments are hard is exactly what I hope for him. He can do hard things! Especially with so many people here at home and on the other side of the veil praying for him and helping him!
I can't wait until next Friday!!