California Vacation- Day 2
After staying up late chatting with the Hawk's we got up bright and early the next morning to head up to Santa Monica Beach. None of us have been there before and we heard the Pier is a fun thing to check out with all of it's carnival rides and games.
The weather was predicting rain everyday we were there. But just before we left it said Sat. would be mostly cloudy with some sun. We really lucked out or maybe it was all the prayers we offered asking for sunny skies! LOL! 😛 The sun came out and the weather was perfect all day…actually for our entire vacation! Thank you Heavenly Father!! <3
I love sitting on the beach people watching, listing to the waves crashing, walking along finding treasures. It's pure heaven!
Since Sat. was the only day with any chance of sun we decided to take family pictures. I'll post them after I'm done editing them. For now here are a few snapshots from my cell phone. 🙂
As we were walking over to the Pier we saw the rings. There was an older gentleman there who took the kids under his wing and was teaching them how to do it. Eli did SO good!!!
He made it all the way down….
And back….
Until…..
On the VERY last ring he missed it! Hahahaha! It was funny but not funny! 😛 He was so bummed.
Then Alayna tried it. The older gentleman is on the left in the hat. He was a crack up.
She did pretty well. It's definitely easier if you are taller. Your wing span is longer. It was fun to watch though! 🙂
Pictures always take longer than I expect. Afterwards we headed over to the pier and checked out the rides. It was pretty expensive. Just for our family to ride the Ferris Wheel it would have been $50.00. So we just looked around, bought some cotton candy, and left to grab some lunch.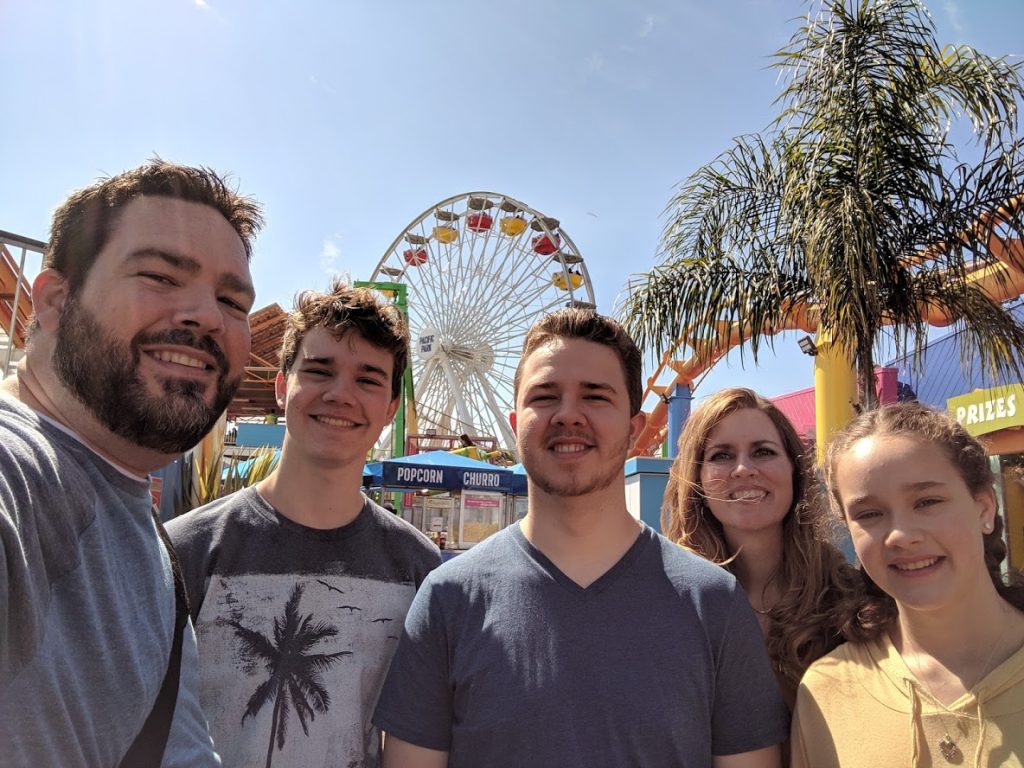 For lunch I had read about this Cuban cafe & bakery called Porto's. I really wanted to check it out especially now that Walker is serving in Tampa and there is a good sized population of Cuban's there. We wanted to try some of the foods he might be getting to enjoy! 🙂
When we got there after 1pm the parking lot was full. We circled around the block a while and finally found a spot. We had no idea what we were in for when we got there. Our only indication that it might be delicious is the line of cars behind us still trying to find parking too! We thought Porto's was a little hole in the wall place. I didn't do much research on it before hand. We were BLOWN AWAY when we got inside and the place was wall to wall people. I'm not joking!
Then we caught a glimpse of all baked goods and we were in sensory overload!
I mean….I'm drooling just looking at these again!!!!!
Everything looked amazing! We pretty much bought one of everything too! LOL! I wish we had gotten a picture of the two giant boxes of pastries we got. We ate Cuban sandwiches there which were delicious and then took our dessert to the park down the street to enjoy. It was a little cold and we were shivering and stuffing our faces so fast that pulling out the camera wasn't even a thought! Ha!
We attempted to go up to the Griffith Observatory and hike around and get a pic of the Hollywood sign but the parking there was even crazier than at Porto's so we decided to go to The Last Book Store.
It's a used bookstore that is housed in an abandoned bank. They had some fun artsy displays and a maze of books. It was an impressive collection!
Pretty much everything we chose to do was an idea off of a random "things to do in L.A." Google search. I usually spend hours planning vacations, trying to make everything perfect, finding all the best deals, but I didn't plan this trip at all this time around. I just wanted to see where the wind took us. 🙂 Somethings worked out, some didn't. But it was a fun adventure!