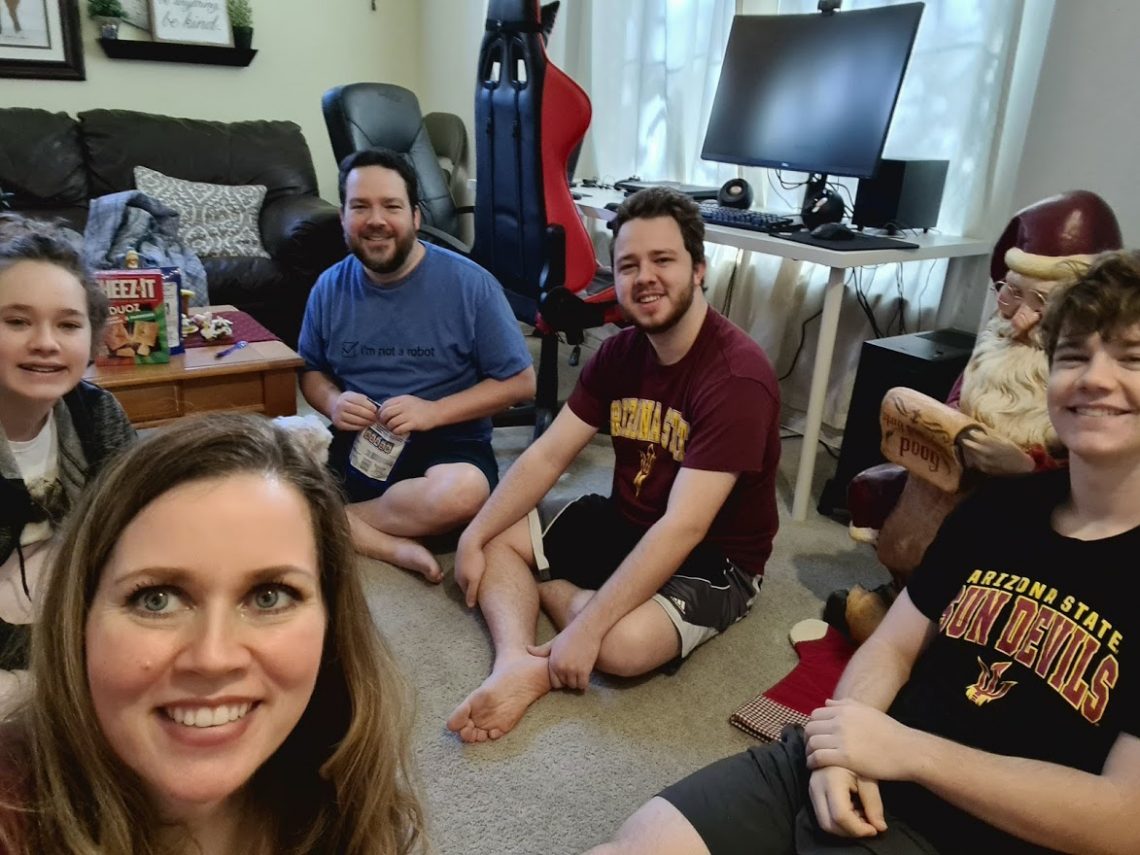 We had a nice low-key Christmas. We have all teenagers and a 20 year old now so we actually had to go and wake THEM up this morning to tell them Santa came! LOL!
Before we start into Christmas morning I actually got this awesome set of new pot/pans earlier this month…it was my bday/Christmas gift. 🙂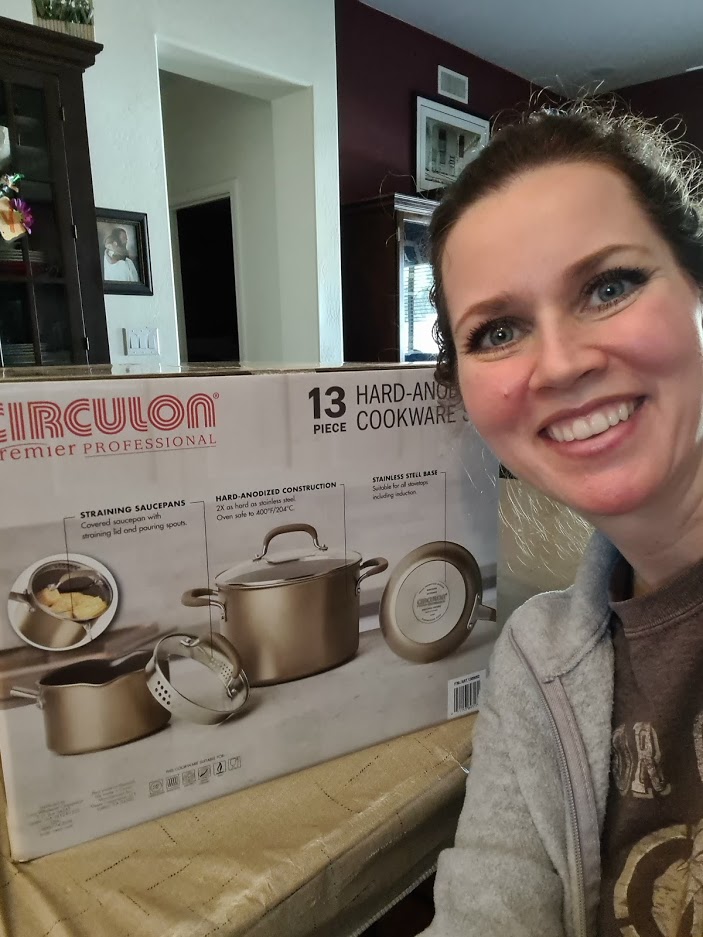 I made tons of cookies and salsa and delivered them to our friends.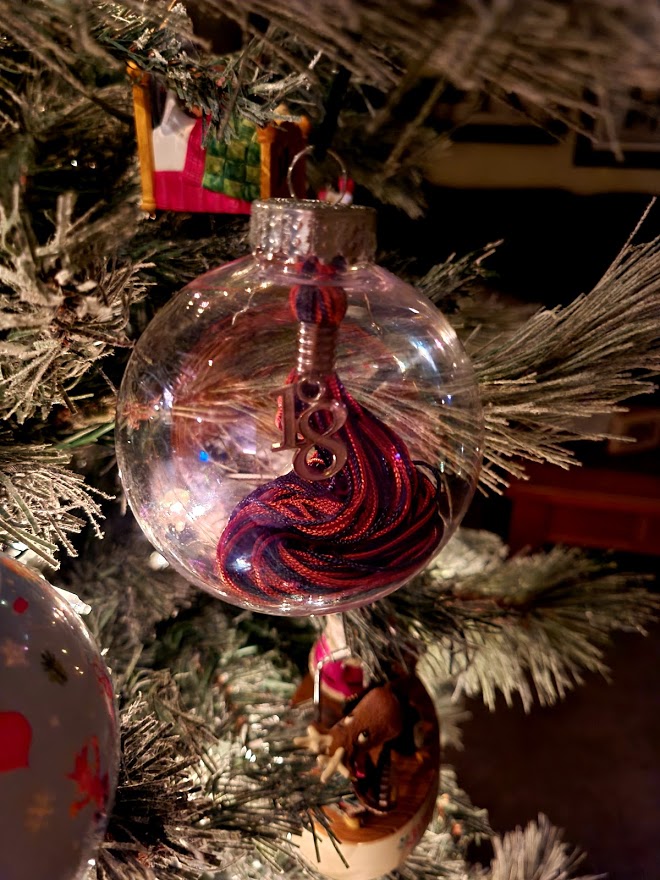 My friend shared this great idea of putting your kid's graduation tassel in a clear ornament so you can see it every year instead of it being stored away in a box you'll never look through. So we made one with Walker's high school graduation tassel. I love it! I'm going to do this with all the kid's H.S. and college tassels now. 🙂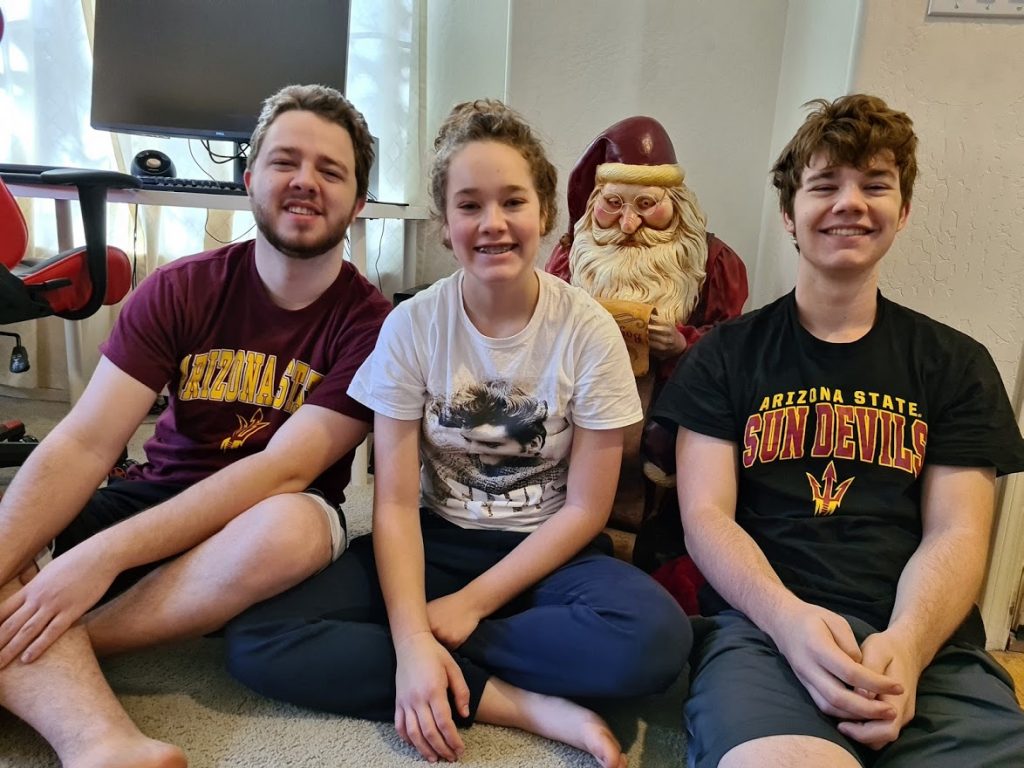 Our traditional photo with Santa. 😛 LOL!
I'm so proud of the boys getting accepted to ASU. Walker is a Junior this year and Eli will be starting his Freshman year in the Fall 2021! They opened their shirts last night and I surprised them with my shirt this morning. They think I'm a dork but I don't care! Haha! I am super proud of them! <3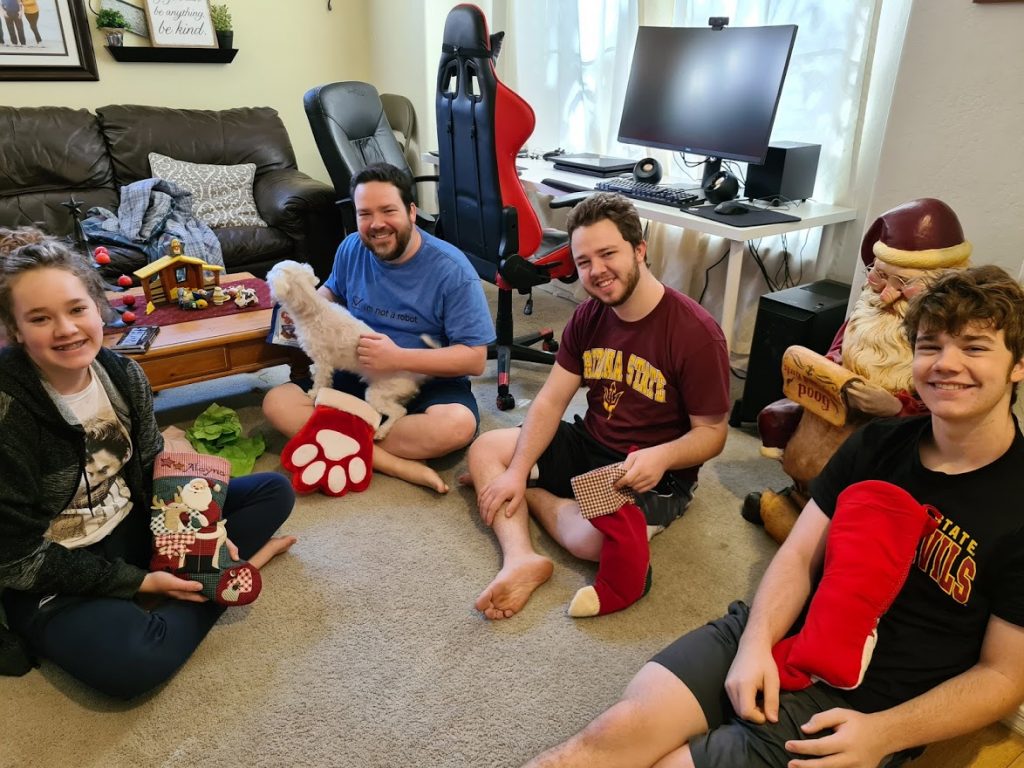 It's hard taking selfies sometimes. I need a selfie stick or something. LOL!
It's hard to see but top left to right: ASU key chain, shower speaker (from Mamaw and Pampa), fig jam, a beard grooming kit (from Alayna) and 12 Rules For Life (from Eli). Not pictured are airline tickets to Utah to go hang out with is best friend Chase in Utah for a week.
Resistance bands (from Alayna), Basic Fantasy book and thermal paste not pictured (from Walker), Protein Shakes (for those BIG muscle gains 😛 ) and Peanut Brittle (from Mamaw and Pama), and he also got cash (not pictured).
Hair dryer diffuser, World calendar, hair brush, thread wallet (from Eli), yoga mat, lights for her bedroom, a phone arm band for running (from Mamaw and Pampa), and Walker's gift hasn't' arrived yet. I'll update later.
Sammy hoping whatever Jared is opening is for him. LOL! His mom sent a puzzle made from the last family reunion picture in 2016, along with cookies, and more peanut brittle. Jared also got a box of pecan sandies from Alayna. 🙂
Alayna knows just what her Momma loves!!! <3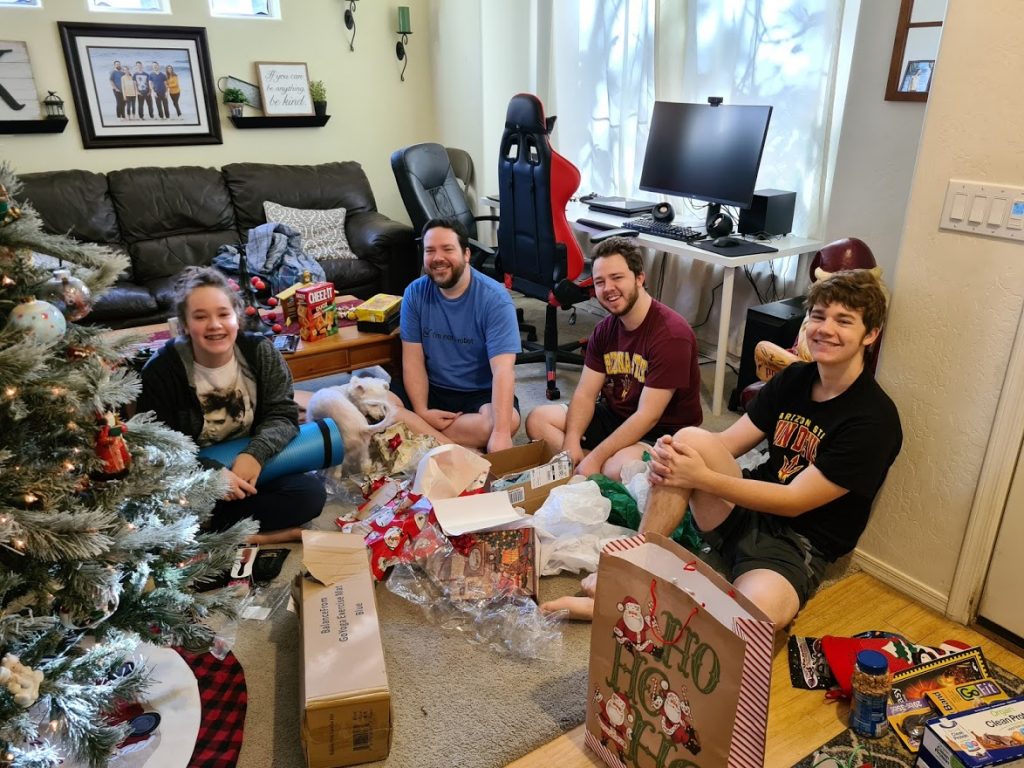 The aftermath….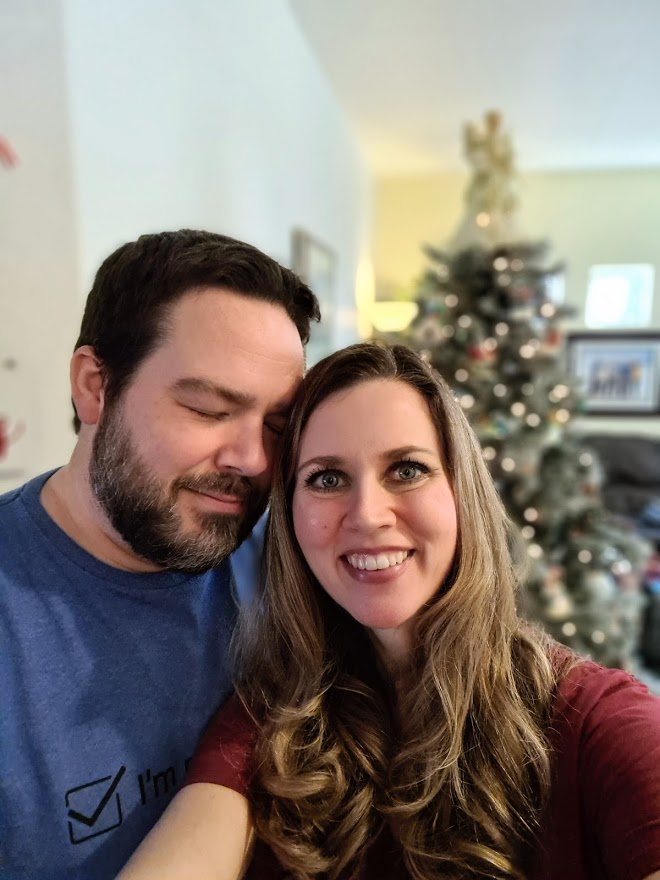 Love my guy! <3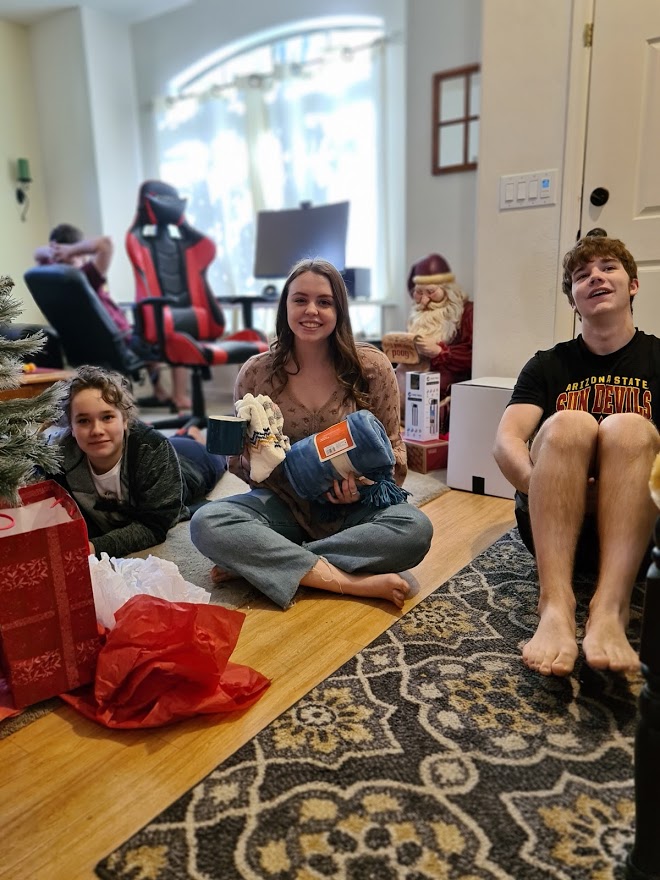 Brynne came by a little later to open her gift and then we had breakfast. We had cinnamon rolls, breakfast potatoes (which I FINALLY perfected after 30+ years of never getting them right…Christmas miracle!!! Haha!), bacon, eggs, ect.
The rest of the day was spent hanging out and relaxing. It was perfect!
Merry Christmas!!!!!