Record Breaking, Balm to my Soul, & a Little More Patience
Thanks again, 2020. 🥵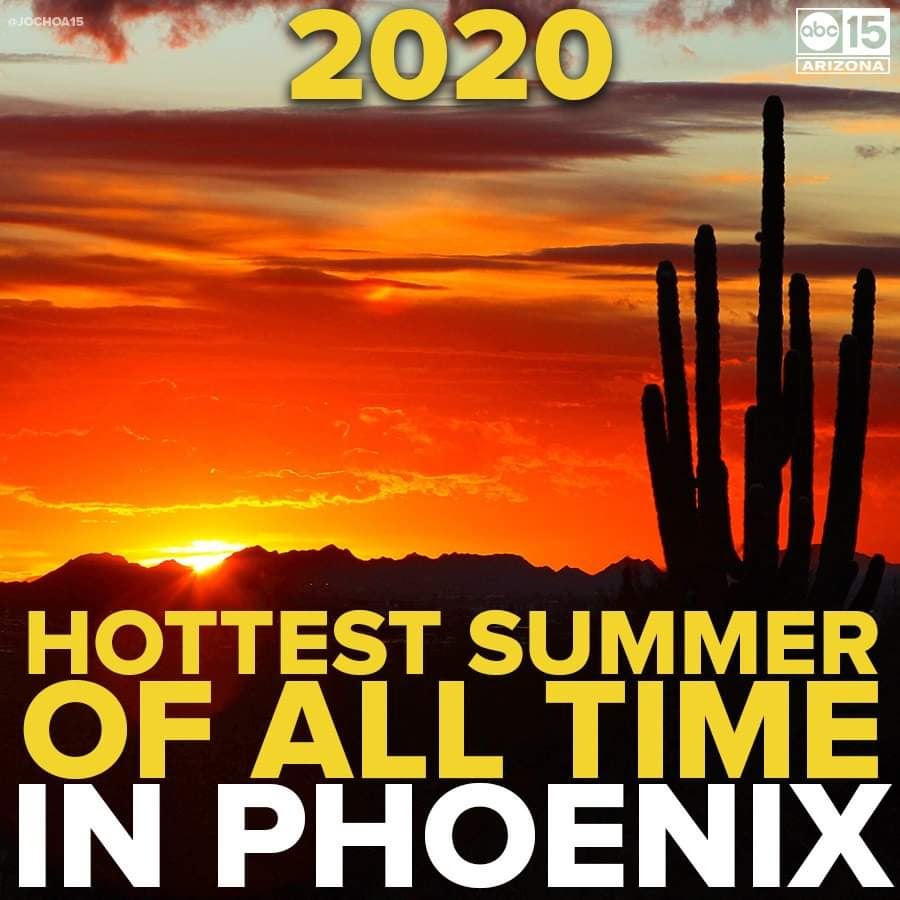 According to the National Weather Service, this is now the hottest summer to date in Phoenix. My electric bill will also confirm this statement!!! Yikes!!! We are currently on day 42 as of 8/18. And it's not over yet…
However, we did get a little reprieve from this unbearable heat on Monday night. We finally got some much needed rain!
In the desert we get these huge walls of dust that roll in first (called Haboobs) and then the rain follows. Jared and I sat on the back porch for quite a while enjoying the cooler temps and listening to the rainfall. It was magical! It was a balm to my soul. Do you ever ache? Like physically, emotionally, and spiritually ache for the rain, the beach, the mountain air? I do!! And with being stuck at home sooooo much, just a little rain felt like a huge gift and blessing and enough to carry me through a little while longer. <3
In other news, the Gilbert Public School Board had a meeting last night (Aug. 18th) and it ran for 6 hours!! 😱 Parents and students stood up and spoke about their thoughts about opening schools for in person learning. After the loooong meeting and discussion here is the preliminary plan.

Starting Sept. 8th, in person learning will start with a hybrid school schedule. Two days in person, two days self paced, and one day Zoom meeting. As long as we stay in the green zone, schools will completely open up at the end of next month on September 21st.
This was NOT voted on yet. If we meet the benchmarks that are being released this Thursday. They will vote next Tuesday to confirm the reopening plan week.
For the 2 days a week on campus, teachers will teach the lessons in school twice as they will group students by last name: A-L, M-Z. Only half the kids will be on campus each day depending on the letter of their last name.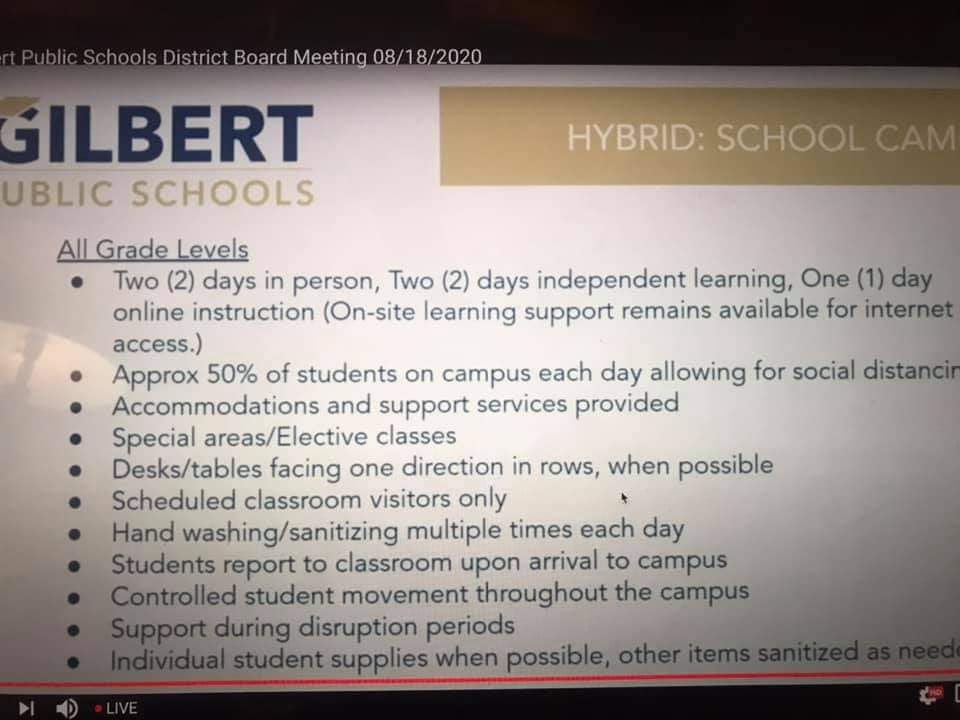 Below is the Benchmarks from last Thursday. We are moving in the right direction but still haven't met the percent positivity.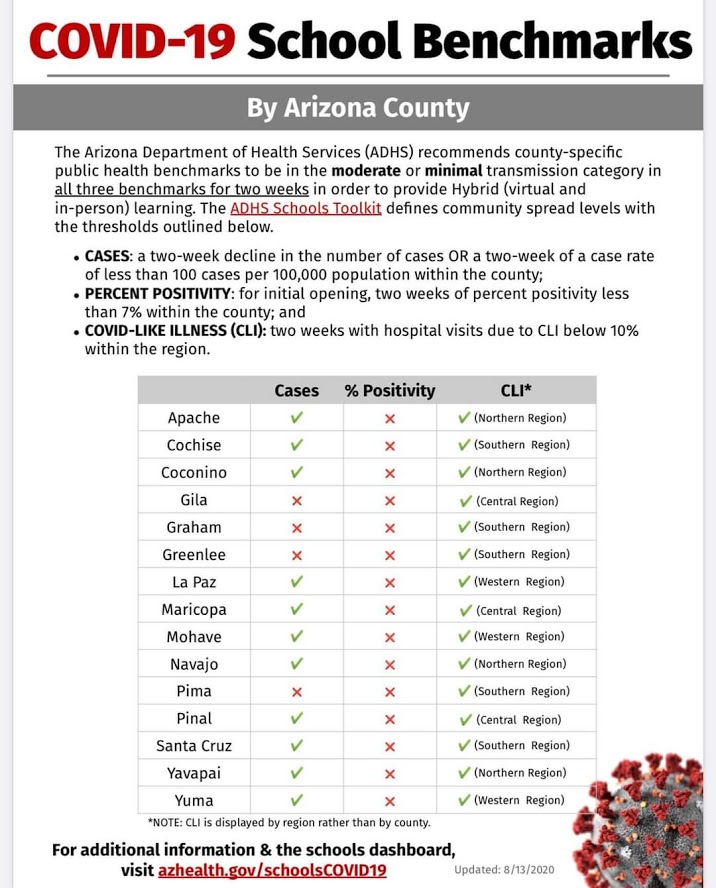 The kids are chomping at the bit to return to school. I keep reminding them it's not going to look like it did before. With all the safe guards and health protocols they have to implement to keep everyone safe, it's going to take some adjustments.
One of my big concerns is, once there is an uptick in cases will they be closing campuses again and then when numbers go down close them and then open them and then close them? That seems like it will make learning difficult. But what this pandemic has taught us it we need to be patient, flexible, and do the best with what we have placed before us at the moment.
I'm grateful for this measured opening. Taking conservative steps into this process feels like a good compromise for everyone. I'm sure plenty would disagree with me, but I think it's giving people on both sides of the issue a little bit of what they want. 🙂 I'm sure the members on the GPS School Board are exhausted as they have been working on finding solutions to so many complexities about this situation.
At home, I'm doing what I can to help boost the kid's immune systems. 🙂 Sometimes the simple solutions are the best!! Laying out a little post-it note for each kid with their supplements reminds them to take them and I can see who "forgot". LOL!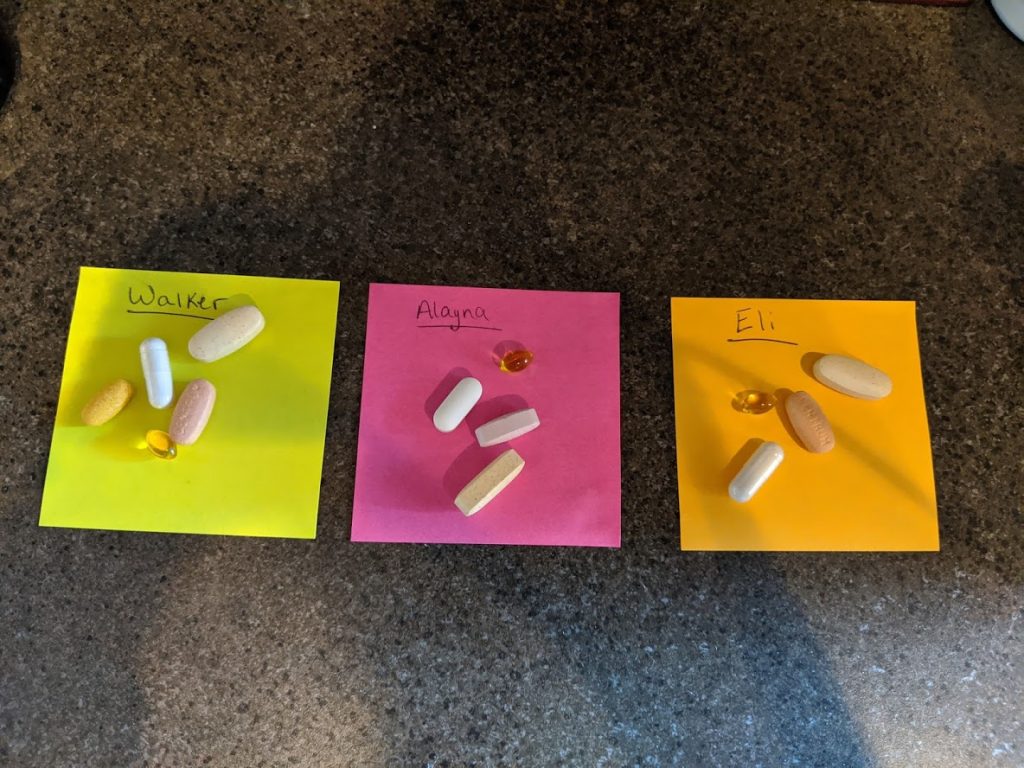 Apparently this chair has become Eli's homework folder. 😛 Just looking at that worksheet makes my head spin. I don't know how he understands any of it. But he does!!! He's a smarty pants. 🙂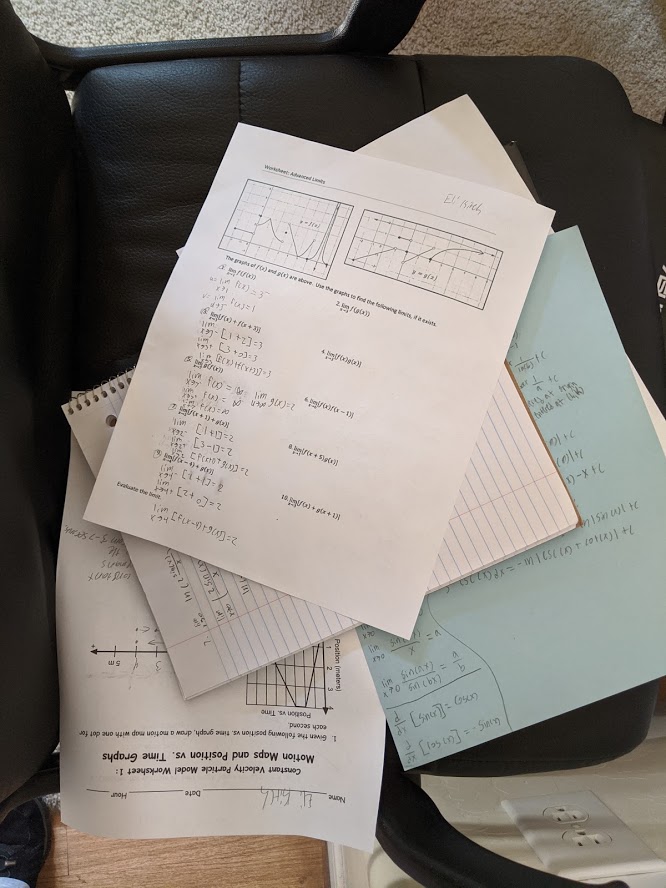 And sometimes you just have to poke a little fun at the irony of things. 😛 LOL!!