Swim Meet- Championships!
Here we are again for another swim meet! Last night was the Championships! The final meet of the season. It was another hot, humid, sweaty night! LOL!
The whole family came out to cheer Alayna on! 🙂
50 Backstroke…..
50 Breaststroke….
50 Butterfly….
Alayna did pretty well but not as good as she was hoping. Backstroke was the only event she had a chance at medaling in. To medal you must be in the fastest heat and place 1st, 2nd, or 3rd. Most events had 2 heats going into the Championships. Backstroke was the only event she qualified for the fastest heat. And unfortunately, she didn't place high enough. Last week she was in 4th place and we were crossing our fingers she could pull up her time to squeak into 3rd. But sometimes athletes just have an "off" night.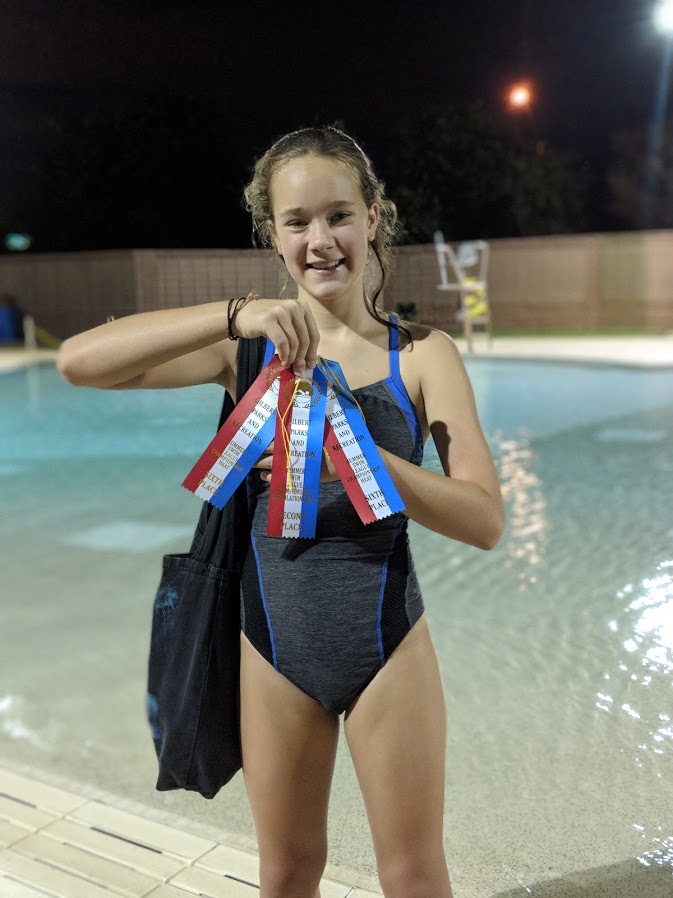 6th place- Backstroke
2nd place- Breaststroke
6th place- Butterfly
But winning isn't always everything. More is learned from our "failures" than our "successes". It teaches us to dig deeper into ourselves to try harder, examine ourselves and how we can improve in different areas of our lives. It teaches us humility and meekness. In sports, it teaches good sportsmanship and the art of accepting not everyone is a winner. Especially in this "everyone gets a trophy for trying" world we now live in. It's such a disservice to our children. It's a rude awakening when they grow up and find how tough it is out there. Our failures teach us to try again and not give up. They teach us to problem solve and think! They teach us to reflect and grow and change.
Of course winning is more fun and it feels much better to win! I'm not taking anything away from that. 😛 But life is full of ups and downs. Since it's a roller coaster, it's better to learn how to hang on through all the twists, falls, and drops so that when you reach the top the view is that much sweeter! <3
Great season Alayna! We are proud of all your hard work and dedication this summer!
In the 11+ age group they don't list the kids the same as the younger kids. They just lump them all together even though they still compete in 2 yr. age brackets. Alayna competed in the 11-12 yr. old age division. She's 11 and on the younger side of age bracket.
I was only able to see how many girls she competed against by looking at the Prelims Program which isn't an accurate number of all the girls that did swim team this summer but it gives us a number nonetheless. 😛 There was a total 36 girls this season. She is a strong swimmer! These were her standings for each event. 🙂