Alayna Took a Turn for the Worse
Sunday was General Conference. That was a blessing. Our family was able to stay home and be spiritually fed. Alayna had the chance to rest and be pampered all day. That evening Jared and I went to our Financial Self-Reliance class and by the time we got home around 8:30pm Alayna had taken a turn for the worse.
She had been running a high fever of 102.7 and her cough was non-stop. All the Urgent Care facilities were closed. We weren't quite sure if we could give her ibuprofen and it would help her or if we should just take her to the ER?
I have a hard time making that call because of my PTSD. I can't be unbiased in my thoughts so we just asked her how she felt and she made not two bones about it and said she needed to go. I'm SO glad we listened to her!!!
There were so many tender mercies along the way. The first being that we walked into the ER and we were the only ones there! They took Alayna back immediately and she got a bed.
The doctor came in and assessed her, gave her Tylenol on top of the Ibuprofen I'd already given her at home to help the fever to come down. They got her into x-ray and the doctor said the image showed a "significant pneumonia". Oh…my poor sweet girl….. 🙁
They said they wanted her to stay over night to keep an eye on her. Mercy Gilbert Hospital has a Phoenix Children's Hospital Wing and they take non-critical patients. We were grateful we didn't have to transfer hospitals.
After a couple of hours the fever responded to the medicine. They got a bag of IV fluids in her and she was starting to perk up. Enough that she was finally hungry!
She's never had an IV before and the nurse asked her which arm she wanted it in. She was a trooper and handled the IV placement like a champ! However, she said to put it in her right arm….she's right handed….that made everything more difficult because you can't really bend the arm. So Dad came to the rescue and went to the cafeteria and got her a chicken sandwich and then helped her eat it! LOL!
I'm going to post what I put up on FaceBook.
Update Monday: Alayna was admitted last night. She's still having difficulty breathing and coughing a lot. 😔 IV antibiotics are being administered. Fever needs to come down and stay down. She'll most likely be staying another night. Thank you for everyone's prayers. Please keep them coming. Our family is feeling them! Thank you! ❤️❤️🙏🙏
Another "coincidence" is that Alayna just started playing for a new volleyball league. Her new volleyball coach is the Administrator at Mercy for Phoenix Children's Hospital. She saw Alayna's name on the list and she came right in and checked on us personally throughout her stay. She made sure she was very well taken care of and that she had all the Popsicles and snacks she wanted. 🙂 It was such a blessing!
Her nurses were great! They took such good care of her. This picture breaks my heart. Just look at her red little face. The fevers were really high and took a long time to bring them down. The antibiotics just weren't doing their job well enough.
Update Tuesday: She had a really rough night. Fever spiked again and coughing fits were non-stop. Sleep is so needed for healing but is almost impossible. Any small nap she can get feels like a miracle! The doctor has doubled up her antibiotics hoping it will kick this terrible infection. It's been a long week and a half. 😔 Please continue to pray for her. Thank you all for your love and support. We've been reading her all of your comments and messages. It definitely lifts her spirits. ❤️
On a side note: Isn't that blanket and lamb so cute???? The blanket was handmade (and looks like candy corn…fitting for October! 🙂 ) and donated to the hospital. Both were hers to keep! So neat! <3
Clever way to drink your water! LOL!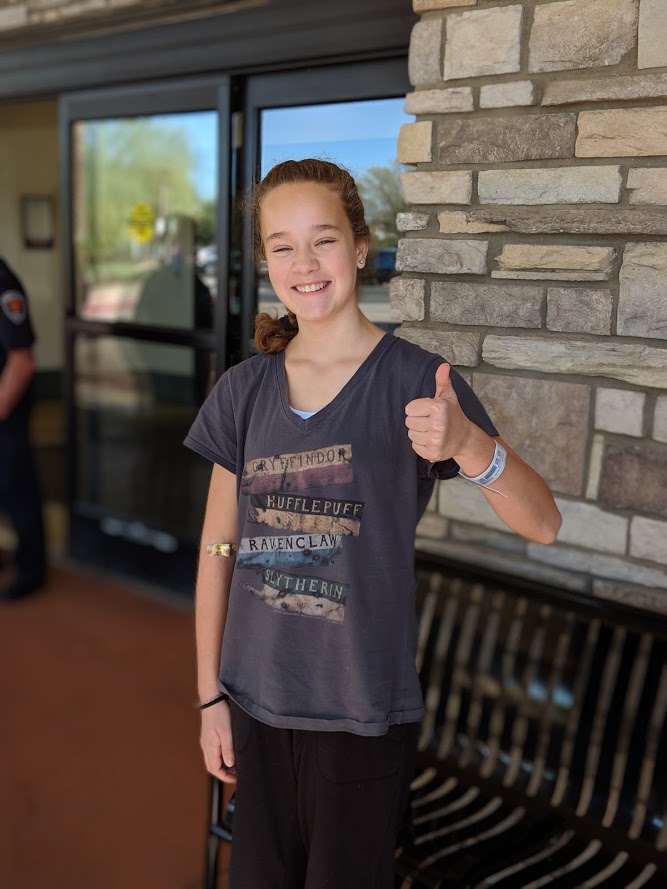 Leaving the hospital. I think the adrenaline from being able to finally go home kicked in. We hadn't seen a smile like that in over a week and a half!
Update Wednesday: Yesterday's adrenaline wore off. She's been exhausted all day. She woke up at 5am with coughing fits and couldn't sleep. Thankfully she was able to get a nap later in the day.
So many people have been calling, texting, sending gifts, food, treats and well wishes. It's been overwhelming and humbling! We are so grateful for all of the prayers, faith, and love being sent our way for our little girl.
Update Thursday: Alayna is doing better. Her fevers have stopped but she's still having difficulty with the horrible cough. It prevents her from getting much sleep. But with pneumonia the cough can last for weeks they said. She wants to get up and play but at the same time she gets worn out really quickly and too much exertion brings on coughing fits. We are grateful she's home though and getting a little better each day. ❤️
As I write this it's now 1:19pm. She is still asleep! I'm not sure if she got up at all last night. She didn't come in and wake me up for anything. I'm hoping she's getting the rest her little body needs and will feel much better when she wakes up!
Update: It's 1:35pm. She finally woke up and she's feeling SO MUCH BETTER! She said she only woke up once last night but was able to go back to sleep pretty quickly! She's has big smiles and her color looks much improved. I think she's finally turned the corner and will be back to he old self soon! Hallelujah!!!