We are quickly approaching 14 years living in our home. It's pretty crazy how fast the years have gone by! As the saying goes, "The days are long, but the years are short." It's sooo true!
Here are some pics of the house as it was under construction….
I remember so vividly the anticipation Jared & I had when all the paperwork was signed and Scott Homes had a tentative completion date! We would drive by the house about once a week to see how far along they had gotten. It was so much fun!
Walker was just a tiny little guy. We moved in the day before his 1st b-day! June 30, 2001. We celebrated his milestone in our new home!
Fast forward several years, we now have Eli and Alayna who complete our family. We've had a few dogs; Jessie, Sassy and now Sammy.
All of our children have had everyone of their birthdays here. They've lost their first tooth, had their there baptisms here, and they each have grown like weeds!
This is Alayna's 1st Day of Kindergarten! How precious is that face!?!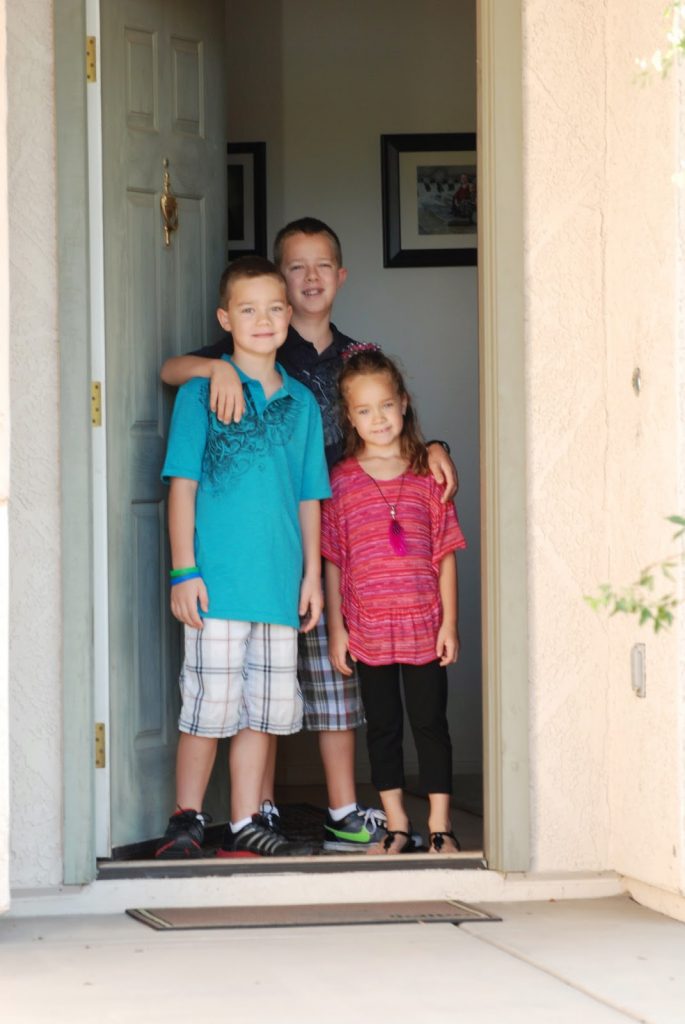 (Alayna Kinder, Eli 4th, Walker 7th)
I adore this picture so much! <3
This was the day Walker received the Priesthood. Eli will be 12 next week and he will be able to receive the Priesthood as well. Another family picture will of course be in order. 🙂
There are so many things over the years that have happened through the door of this home. We've come and gone countless times. Individually and as a family. School, work, family reunions, piano lessons, football games, t-ball games, family dinners, band concerts, school performances, playdates, dance classes, church, scouts, achievement days, birthday parties, grocery shopping, doctor appointments, going to deliver babies, bringing those babies home, dances, so many wonderful and beautiful days of coming and going. And there are many years ahead that we look forward to experiencing.
Over the weekend we realized that that door that has ushered us in day after day was looking a bit sad. We felt it was time to give it a little make-over. It was the least we could do…. 🙂
So after a quick trip to Home Depot and a couple of hours of love and attention our front door is ready for many more years of memories!
We are so blessed to call this place home!! <3