Eli is Running for Student Council Secretary
Eli is running for Student Council Secretary!
There's a lot of work that goes into running for office. In fact, there's a whole packet he has to complete! He has to get 2-3 teacher recommendations, signatures from Primary & Senior Grade students, write up an essay stating why he would make a good candidate, make 2-3 posters to hang in the school, and write a speech for the announcements on Friday. Whew!!!
Here is is essay:
I see
myself doing great in the secretary position for the following reasons. First,
I see myself fulfilling the secretary position because I can keep things
organized, and I will make sure council members know all that they need to know
as well as information from student council meetings gets out to the proper
people. I will make sure that nothing is crumpled, ruined, or stained, and I
will always keep track of everything.
I would be
the best person for the job because I can do all of these things, and I have
proven to turn in my work on time. I think the most difficult part of the job
is to make everything nice and tidy. I look forward to helping to lead my
fellow students, and working with the other student council members.
I think
that all student council members should be a good role model because if you set
a bad example then the younger kids might follow you – this can also be
beneficial if you are a good example. I think that a good role model should
have character, respect, kindness, good grades, be fun, and funny. These are
all the reasons why I think that I am the man for the job.
He wrote that all by himself! He'd be a GREAT Secretary! 🙂
Below are the posters we worked on over the weekend…..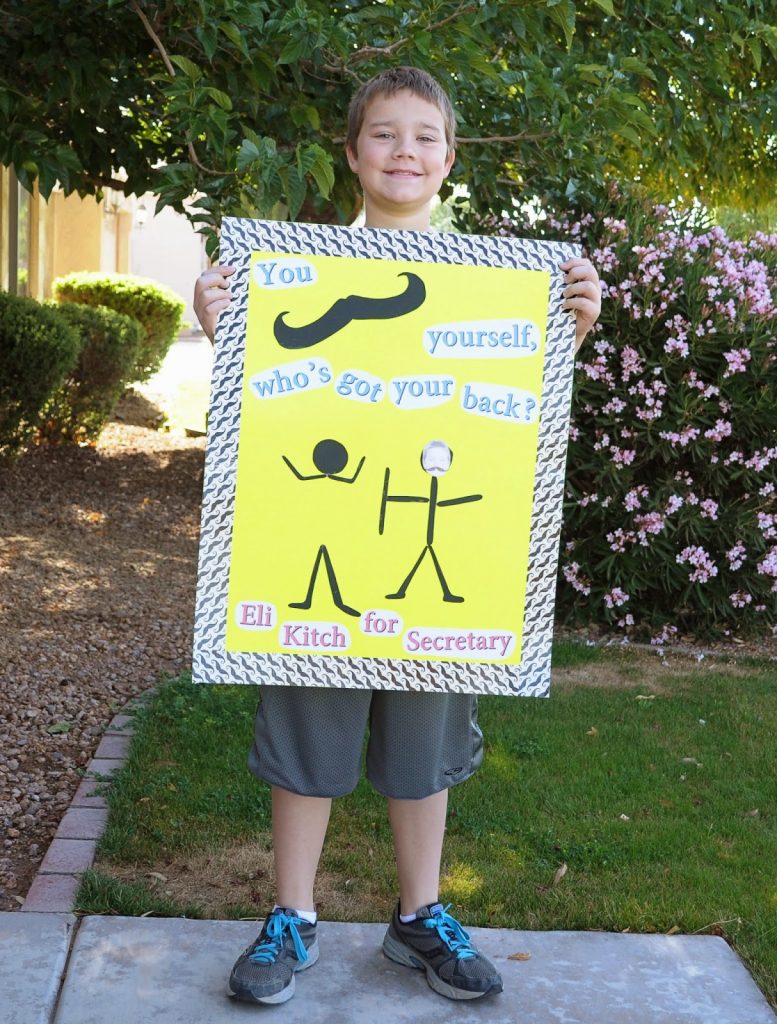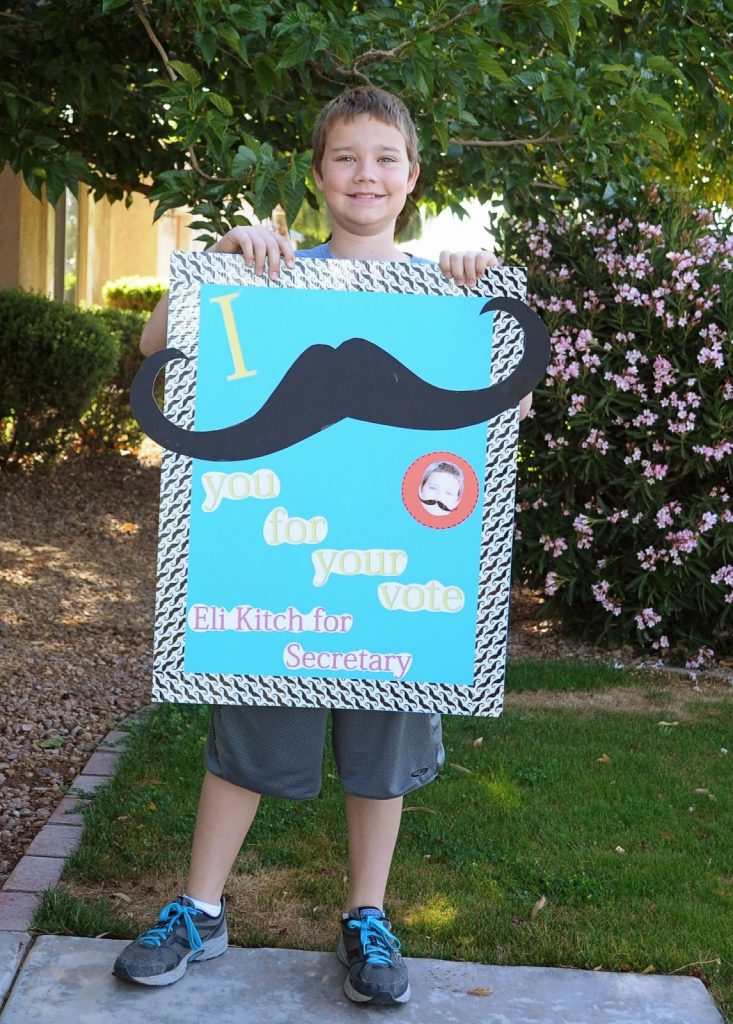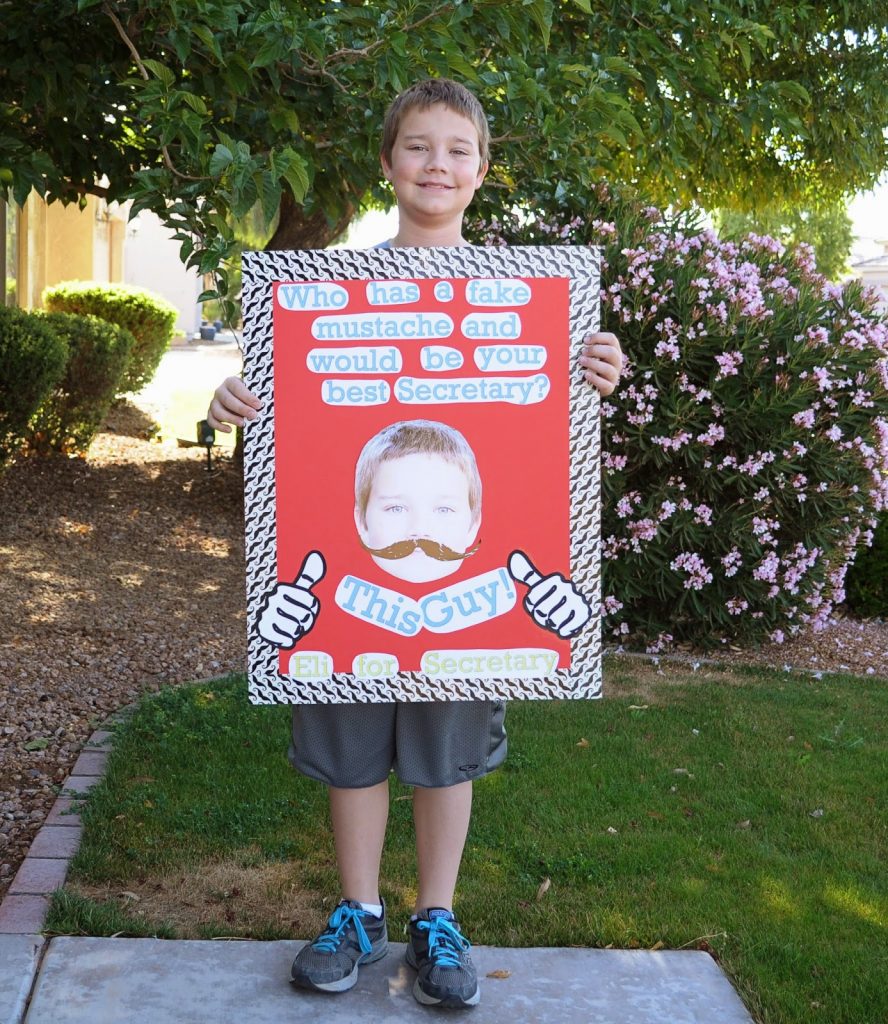 We plan to make stickers for him to hand out to the kids at school to remind them to vote for him and then he only needs to write his speech that he will deliver on Friday. When it's finished I will post it here. 🙂
The speech:
Hi.
My name is Eli, and I "mustache" you who would be your best student council
secretary. I think that I will make the best student council secretary because
I will always do my best, be on time to meetings, and make sure that everyone
knows all that they need to know. That means everyone, not just student council
members or teachers, but the rest of the students will also know things that
you need to know too!
To
help you get to know me better here are a few things about myself. I am
currently a Peace Helper here at Settler's Point. I have excellent grades, and
have participated in Academic Night for the past two years. I play the
saxophone in the band, and have been in the school chorus since 3rd
grade. I am also a member of the Boy Scouts. As a Scout I am trustworthy, obedient,
brave, clean, and a hard worker all around. And I will always have your back.
One
example of these things, is when my mom needs me to help out, I will usually
leap up to help. Whenever I need to take care of my sister or help my brother I
do. Each week I clean the house which has helped me build a good work ethic as
well.
One
of the main things that I think a student council member should know is how to
handle responsibility. Through my experiences in the different clubs and
activities I am a part of, l have learned this skill. If you want the best
candidate for Student Council Secretary, vote for the guy with the fake
mustache!! Thank you.
Keep your fingers crossed!! And remember….Vote for Eli Kitch for Secretary! 😀
Update: Results are in…Eli gave his best effort. I was lucky enough to be at the school and watch him give his speech. He did a great job! After a week of deadlines, essays, hard work, and campaigning the school voted and to our disappointment Eli did not win.
I will say, he handled the news VERY well, with such maturity and dignity Jared and I are so proud of him! Sometimes it's tough when you work so hard for something and for whatever reason you aren't able to reach your goal. But as a part of life we learn lessons not just in attaining the things we want but in the journey getting there. When we sat down with him when he go home and discussed how everything went today we just were amazed by his attitude! Truly a great moment for Mom and Dad. We'll get 'em next time son! 😀