Florida Man Arrives – First Week Out In The Mission Field!
First week in the field down. I arrived on Wednesday after two extra days in the wonderful CCM. We were extraordinarily bored with no real purpose for those two days. Needless to say, I was ready to leave. Not to mention receiving surgery last Monday for my toe.


However, after an entire day traveling and flying, I finally arrived to the welcoming Mission President. I came in with a somewhat large group of missionaries of around 18 total. Everyone in the offices were awesome, and I look forward to working with them. After an evening that went a tad late getting to know some about the mission and the President (he's more energetic than me and a really funny guy) resulting in little sleep, I went to a short meeting for more of the technical stuff and then met my companions.


Elder Hemming and Elder Oren are excellent guys and couldn't be more different, but both are united under a love of the gospel. I couldn't have asked for better trainers. The first day out, I got to participate in two first lessons and they went really well. I didn't participate too much (they're in Spanish of course), but they were really great. In the second, the people asked for blessings without any prompting from us. I know the spirit moved upon them to ask for that, and the room was filled with the spirit for sure. On Saturday, we got to attend a baptism for a convert of a missionary who had just finished his service. He returned to perform the baptism for her. That was really cool and inspiring for me. I got to bear my testimony, and it was really spiritual and all, but more importantly they took us out for Korean BBQ afterwards. Score!


Sunday I got to meet my branch and everyone was extraordinary. So nice and friendly. I also found out at the last minute that my companions and I were singing so… In our branch, we also have some members that speak English. As missionaries, we are supposed to translate. Apparently I'm going to start doing that next week… But yeah the branch is really cool.


My companions are super fun and supportive which is really nice, especially for my first companionship. At one point, they were trying to demonstrate how, when contacting and talking the first time, you can make a conversation out of anything. Por ejemplo (for example), one man had a pineapple welcome sign. We knocked, and the first thing we said was "we saw your pineapple sign, are you from Hawaii?" He wasn't, but we got a 20 to 30 minute lesson on growing pineapples.


I'm excited, if you couldn't tell, I've written a veritable novel especially compared to normal. My excitement has assured to me what I knew all along, serving a mission is what I'm supposed to doing. I'm excited to be out here actually doing it and can't wait for more.


Hasta proxima semana (Until next week)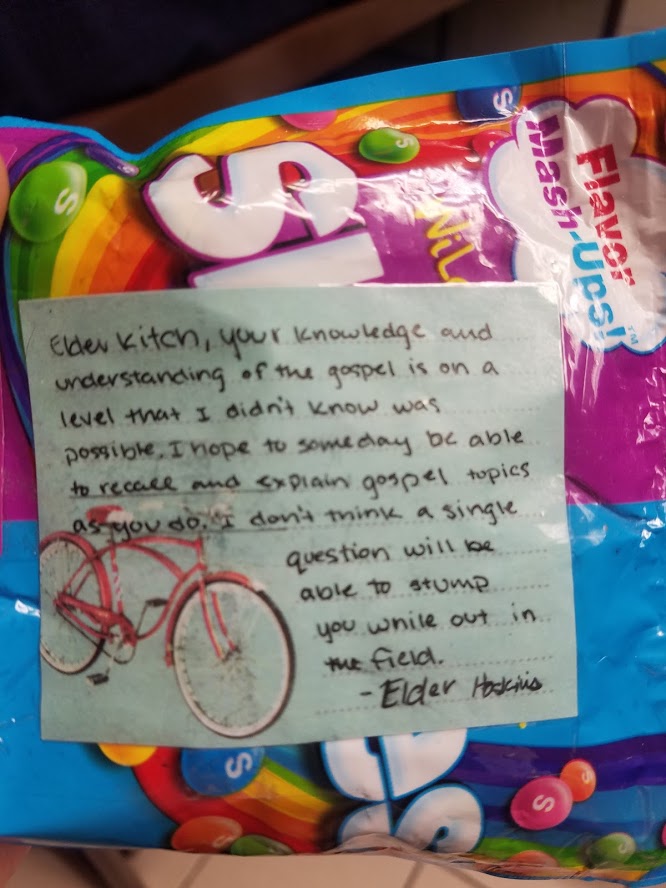 A thoughtful parting gift from Elder Hoskins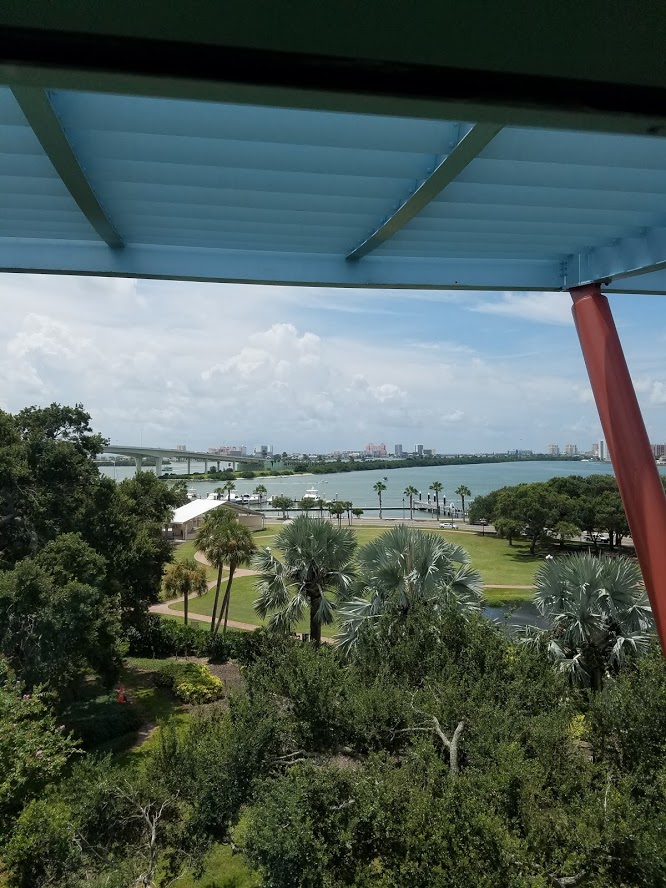 Traveling pic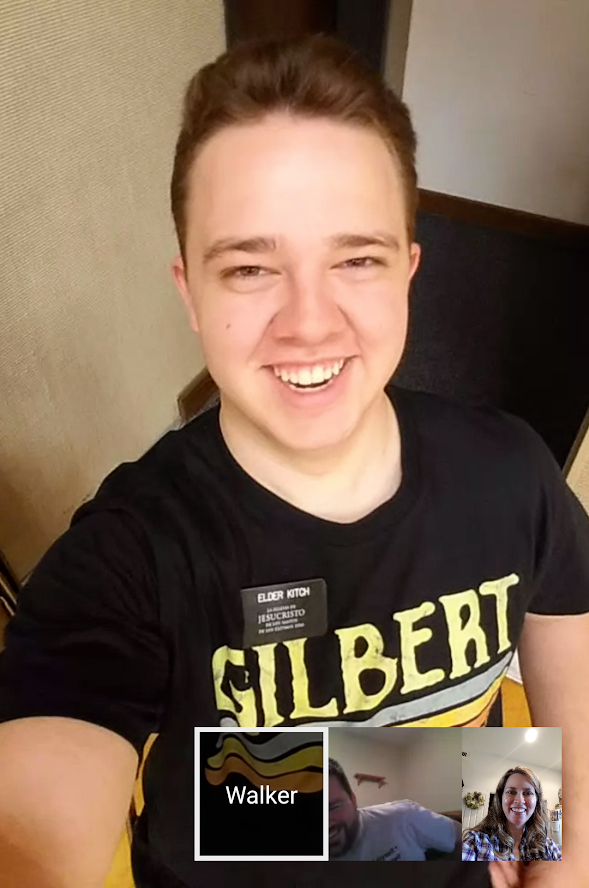 Walker sporting his new Gilbert, Arizona t-shirt that the Christiansen's sent for him to open
when he arrived along with some other fun goodies!!
Two days before he left the MTC/CCM, he went with his temporary companion to see the doctor again for his toe. There was a different doctor there this time, and after assessing the situation, he said we are going to go ahead and do the toe surgery. He actually spoke some English which was really nice! The other doctor and Walker have been struggling to understand one another. After he performed the procedure, he went into the hall and was discussing Walker's case with the other doctor that had been treating him previously. He could hear and understand bits and pieces of what they were saying. It boiled down to the treatment that they have been doing for the last week and a half had not been helping at all. They were freezing the area, and now he's had three rounds of antibiotics in seven weeks!!! Makes me so nervous!
The doctor did tell him that he was ustedes es muy valiente (you are very brave). LOL!! <3
In his mission in Florida, they have a nurse that is checking in on him and making sure everything heals properly. They also have a doctor that she can refer to if she has any concerns, and they even have an orthopedic surgeon. That put my heart at ease to hear that they have staff on hand if he needs anything. He does, however, still need to figure out what to do about finding a pulmonologist so he can order new equipment when he needs to for his CPAP.
So the surgery he had was the reason why he had Crocs on in the photo when he first arrived. He was hoping they wouldn't be seen. 😛
His flight went well. The Hermana, Hermana Noel, that flew with him had taken an apple with her from Mexico and forgot it was in her bag. When they got to Florida, they had to go through a bunch of extra security because she had forgotten it was in there.
There was a huge shipment of missionaries that came that same day. A total of 18 of them. The Sisters went to the mission home that first night, and the Elders went to different missionary houses.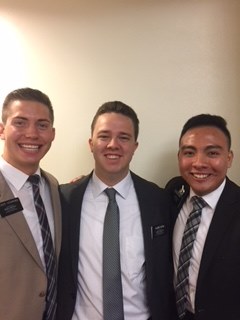 Elder Hemming, Elder Kitch, Elder Oren
His companionships will mainly all be Spanish speaking, but they sometimes do "zebra" companionships. Which means just what you think, a Spanish speaking and an English speaking companionship. As he mentioned in his letter, he has two companions, Elder Hemming and Elder Oren. Elder Hemming is actually serving in Mexico. He was been out for a year and lost his Visa, so he had to go back to the States until they could issue him another one. He will be returning in two weeks. Elder Oren has been out for six months, and they will continue as companions. These two Elders are "very" different than each other. Elder Hemming is more of a jokester/prankster and Elder Oren is more reserved. They get along, and they are very good friends, but they have had to work at it. When we asked how he feels about each of them, he said they are just so different. The experience with each would be so unique. He probably would prefer to have Elder Hemming stay, but he said he feels Elder Oren will probably be better for him. 😛
Elder Oren plans to go to school to be an anesthesiologist and when asked his greatest dream, his answer is:
1) Classic – rich and famous!
2) To be the most attractive anesthesiologist in the world! Haha!
Walker asked are there many of those. He said, "No! So as long as I can make it through anesthesiology school I'm set!"
Jared said, "it's a bonus service he adds… Seeing his beautiful face as you drift off to sleep." LOL!!
This morning these two Elders had some shenanigans between each other. Walker has a spray bottle to do his hair, and Elder Hemming has been taking advantage of that. He's been snatching it and spraying Elder Oren. Today they broke out into an all out war!! It started out with one of them chasing the other around with a toilet brush. (Barf!!)
And ended in bloodshed. Elder Hemming was chasing Elder Oren around, and Elder Oren ran and barricaded himself in the bathroom. Elder Hemming yelled, "I'm coming in!" And Elder Oren said, "Give me 10 seconds!" Elder Hemming said, "Fine." After 10 seconds, he cracked the door and looked in the mirror. He saw Elder Oren holding a huge amount of both plastic and wire hangers (an obvious pick since he didn't have any ranged weapon). Elder Hemming said, "Ok I'm going to open it." He opened it and quickly ducked out of the way as all of the hangers go flying across the room!! Elder Oren grabbed another handful of hangers and starts chasing him around and scored a pretty good hit. Elder Hemming said, "Elder, you have shed my blood." Hahaha!! Oh man, these boys!!! 😛 Since Elder Oren is the "doctor" he said, "Ok, let me look." Elder Hemming was like, "No! Don't touch me!" (in a mock little kid tantrum).
Walker is always so happy, and he's already gotten the comment, "Does he ever not laugh?" If you know him, you know the answer! He's 'always' laughing! <3 He's heard this a lot throughout his life. 🙂 His positivity and hugs are sorely missed around here! Jared mentioned that Alayna has been trying to help me out by giving lots of hugs, but last night I told him that my arms are feeling empty. I sure miss my boy! <3
We told him to keep an eye out for Elder Scott. H
e just arrived in the Tampa Mission as well!
His Aunt and Uncle, Jill and Andrew McKee, are in our Ward, and Walker and their son are good friends. Small world!
He's doing really well. He's so happy to be out of the MTC/CCM! He's ready to get to work! 🙂 Before he left there, he was able to say goodbye to Elder Schnepf, who is also from our ward. He will be heading to Argentina in a couple of weeks.
Sunday was his first time meeting his Branch which is a Spanish Branch. It's not big enough to be a Ward. It was very different attending such a small congregation. It was interesting with such a small group, especially compared to Gilbert! Even though it's a Spanish Branch, there are English people who come and attend. The Missionaries interpret for them. He was told that it's "his turn" next week! The first speaker on Sunday was a lady who spoke SOOO fast! The Missionary that was interpreting for her was struggling to keep up and understand her. Wow!!!
The members are so nice and they didn't realize that he had just arrived, so they came up to him and started speaking Spanish to him right away. He was like, "What?" LOL! He said when people talk to him they are a lot harder to understand than when they are talking to someone else. I'm sure he is just a little nervous when they are talking directly to him and that can make things harder.
He did say, however, that they have been telling him that his Spanish is really good for just getting into the mission. Apparently, one of them said he didn't start conjugating sentences for the first little while. We're so proud of him!
I shared with him that I had a neat experience on Sunday in our Ward in Sacrament. We've been going long enough for people to have their favorite pew and where they like to sit. This week as the meeting was starting, I noticed that we were surrounded by different people. People we love and are good friends with, but we just don't normally sit by. Two rows in front of us were the Ramirez family, then the row in front of us was the Pena family, then us, and behind us was the Rojas family. It made me pause, and I realized that we were sitting by Dominicans (Ramirez's), Cubans (Pena's) and Mexicans (Rojas's). I immediately turned to Jared and told him that I felt the Lord was giving us a glimpse of what Walker's first Sunday out in the mission field feels like for him! It made my heart so full! It was a small and tender experience that the Lord used in my life to remind me that He is SO very aware of Walker and our family! <3 He thought that was really neat too. 🙂 However, h
e did say that it's not as Cuban populated there as he thought it would be. It's a good melting pot of Peruvians, Mexicans, etc.
In the photos of when Walker and Hermana Noel first arrived with their Mission President and his wife, we noticed his hand was not fully formed. Walker said he was born that way, similar to Brother Packard in our Ward. President Hollingsworth actually has a lot of fun with it. A lot of missionaries who arrive come and give a handshake and, rightfully, look him in the eye and aren't expecting the handshake to feel the way it does. Some of them are surprised and say, "What was that!?!" LOL! Apparently, he only has two legitimate fingers, and they are crooked. I asked if that happened to him. He said no. It was like Brother Packard, so he didn't think too much of it.
President Hollingsworth was also in a Bishopric, and the Bishop also had a hand that was similar. He had lost three fingers in a hay baler accident. They claimed to be the Ward with the least amount of fingers. Haha! They would play pranks on people. When new people would move into the Ward they would shake their hands and lean in and say, "Don't drink the water." And then the other one would come over and say, "Don't drink the water." Hahaha!!!
He really likes the Mission President and his wife. They are really good and really nice. <3 They like to have fun, but they also mean business which is a good balance.
1st Area – highlighted in blue.


His area is around Largo, Florida. It's a big area for a missionary, so they always have a car. They are limited with how many miles they can drive though. To try to save miles, they drive to the general area they need for the day and ride around from there. They can ask for more miles if they need them and typically it gets approved, but he actually likes riding. He's on the little peninsula on the west side of Tampa Bay. The area includes St. Petersburg on up. It's the whole peninsula. They go all over it since they are Spanish speaking. It also includes Clearwater, where Scientology is headquartered.
They rode bikes the first day. It's a really nice bike, and he actually enjoys riding around. He hopes he can do it often. They also taught two first lessons. He was able to talk a little in them and share his thoughts, but he didn't really answer questions since he's still learning the language. Pretty neat to be able to proselyte and share his testimony on day one!
At the second appointment, the investigators asked to receive blessings. They asked on their own which is awesome! Walker was able to participate in that as well. He anointed. He just needed a little help but was able to do it. 🙂 The investigators thanked them afterward and were really nice. The appointment was actually just with a man, but his neighbor happened to be there, and she just decided to stay for the lesson. The man ended up coming to church on Sunday as well, and he said he really liked coming to church! <3
There is another investigator who had a baptism date set a while back, but she changed her mind. She loves having the missionaries over and really wants to go to the Temple. Her husband passed away, and she wants to be sealed to him, but she struggles with attending church. She said she gets really hungry and bored. Hahaha!!!! I told him to tell her that people bring snacks all the time and now church is only two hours. 🙂
He also attended a baptism already. The husband was already a member, and the wife was the one getting baptized. They are both doctors. It was English speaking, and they had him go up to bare his testimony! He is really getting in on this quick. My heart is overflowing! I know a lot of this stuff is way outside of his comfort zone, but he's leaning in and giving it everything he's got. We can already see so much growth in him. It's so neat to witness. <3
After the baptism, the couple invited them out for Korean BBQ. I guess when you are doctors you can do things like that. 😛 He's never had Korean BBQ, and it was a big highlight for him. It was delicious!
The weather is hot and wet. Welcome to Florida! It actually hasn't been bothering him that much. He's just sweating constantly. 😛 It's very green and kind of swampy. They have a lot of lizards, frogs, and squirrels all over the place. He's seen some cool crane looking birds and LOTS of bugs!!!
Elder Hemming popped into the call and said hello! He said Walker is awesome, and they love him to death. I said "that's good to hear and he's been saying good things about you too." He said "don't worry I'll pay him later he's lying for sure!" LOL!!! He said the Walker is an amazing man, and we've raised a wonderful son. And to keep up the good work! 🙂 That was neat to hear!!!<3
They already did their shopping today. Elder Oren considers himself a bit of chef, so he likes to do the cooking. Walker likes that setup pretty well. He'll buy whatever they need if he'll cook it up. 🙂 He's actually been fed a lot since he's arrived. He doesn't know if that's normal though. He's enjoyed being in members homes, especially when they are great storytellers.
He shared with his companions that he can be shy. He's not the greatest at contacting and knocking doors and talking to people on the street. It just feels weird to him. It takes him a little time to warm up to people. There have been times in his life where that hasn't been the case, but right now it is. So they were working with him and trying to help him with this. Sometimes it isn't easy though. There was a lady that stopped them in the street and started yelling at them saying they needed to live the Bible not just preach it. He wanted to tell her that he agreed with her, but she wouldn't let him get in a word. They stood there and smiled and when she was done they told her to have a good day and she left.
They have been showing him how he can make conversation out of anything. That has been an interesting experience for him. The pineapple conversation he shared in his letter illustrated it perfectly.
We told him that Eli is getting more hours at work, and he had to close the other night for the first time. However, he'd never closed before and neither had anyone else on shift so that was a fun experience. Walker said, "that's so bad! Classic Rubio's." LOL!! We told him about Alayna's 4 on 4 volleyball tournament on Saturday. She rocked it! She had parents and one of the coaches from the club who sponsored the tournament trying to recruit her. Walker was impressed! We told him her tryouts are next week and all she wants in life is to make the Junior High team, so if he can remember to say a prayer for her she'd be grateful! We also shared that she got up on Fast Sunday and bore her testimony about him and how great he's doing and how much she misses him. People are still coming up to her and telling her how much it moved them and how they loved hearing from her. She definitely loves her big brother!! <3 We also could tell him now that she was called to be the Beehive President in Young Women. He thought that was really cool.
I asked him if he needed anything. He said he thinks he has what he needs. I asked, "how about a Costco size bag of Brookside?" We all just laughed. That's the running joke now. That bag we sent him was enormous. He wasn't able to finish it before he left. He had to give it away. He was eating some and sharing with his roommates every night! Haha!! He can go a while without any more! 😛
He shared that before he left on his mission he never really enjoyed reading/studying the scriptures, but he loves it now. It's funny because it's really a new thing for him and everyone keeps telling him how impressed they are with his knowledge of the doctrine, his understanding, and interpretations of things. In the MTC/CCM, besides Elder Moore, people would go to him for insights. He thinks that's pretty cool. But I've been telling him this for years! He soaks up knowledge! He has learned in church all his life and in Seminary, and he'd always share really awesome insights and facts with us during our family scripture time. I said, "I know I'm your mom, so I don't count, nut I'm really happy you are seeing it for yourself with other people! I LOVE to learn from you!!"
Then the conversation took a sharp turn about teleportation and what happens to your soul during the destruction and rebuilding process. Guess who started that conversation… thanks Dad/Jared! 😛
His new favorite hymn and topic of study is If You Could Hie to Kolob. He hadn't really studied Kolob before he left, but now that he has, he thinks it's so interesting and cool. He really loves what it teaches. I told him we'll have a Family Home Evening on it, and we'll return and report next week! 😛 He also loves the Battle Hymn of the Republic. He is happy because it's not in the patriotic section of the hymnal, so it has a better chance of making the cut in the revision that is coming. I guess all of those types of songs are going to be removed since we are a worldwide/international church. Even though it was written during the Civil War for the Civil War, it's technically not an "American" song because it says "God's army" not "American army". He's sad that Hie to Kolob isn't translated into Spanish but the Battle Hymn of the Republic is. 🙂
Here are the lyrics for If You Could Hie to Kolob:
1. If you could hie to Kolob
In the twinkling of an eye,
With that same speed to fly,
Do you think that you could ever,
2. Or see the grand beginning,
Where space did not extend?
Or view the last creation,
Where Gods and matter end?
Methinks the Spirit whispers,
"No man has found 'pure space,'
Nor seen the outside curtains,
Where nothing has a place."
3. The works of God continue,
And worlds and lives abound;
Improvement and progression
There is no end to matter;
There is no end to space;
There is no end to spirit;
4. There is no end to virtue;
There is no end to might;
There is no end to wisdom;
There is no end to light.
There is no end to union;
There is no end to youth;
There is no end to priesthood;
There is no end to truth.
5. There is no end to glory;
There is no end to being;
There is no end to glory;
There is no end to being;
Text: William W. Phelps, 1792–1872
Music: English melody, arr. Ralph Vaughan Williams, 1872–1958, from the English Hymnal. Used by permission of the Oxford University Press. Making copies without written permission of the copyright owner is prohibited.
Somehow he let it slip that he played the piano when he was younger. Their Branch is so small that he may have to help out and play. He hasn't practiced in years. I told him I knew he should have kept up with his lessons! LOL! He said the missionary that was helping out now really didn't play until it was required of him. The Lord can magnify any talent that He needs us to use in His service! I said, "I hope you practice now before they call on you!" 😛
He is absolutely having an amazing time! Seeing his smile and hearing about everything that he's been doing the last week really showed us how much he's growing and learning and loving this experience. It's an incredible transformation to see even this early on. The Lord has plans for him. I feel it. He's going to do great things for the wonderful people of Florida!