This year Easter has felt more meaningful to me. I have been looking forward to it for weeks. Alayna and I dyed some Easter eggs together. She's the only one who still enjoys this tradition. My kids are growing up. 🙁
Alayna made the cutest bunny egg and right as she picked it up so we could take a picture of it she accidentally dropped it. So sad… 🙁
Last year I discovered Hyacinth flowers. If you never have had the opportunity to smell these AMAZING flowers you need to run not walk to your nearest flower store and do it!!! They are everything Spring should be!!!
Alayna let me curl her hair and she looked like such a young lady! I had to snap a few pics! 🙂
We headed to church at our normal time. I know a lot of other faiths have a Sunrise Service for Easter but in the LDS faith we go to our Ward at our regularly scheduled time. For us that's at 11AM.
The kids were being especially sweet to each other this morning and I needed to remember them just as they were!
Singing a Hymn together…so sweet! <3
The Primary children sung a special musical number called "The Miracle". I always love when the little children sing. They are so funny to watch especially the really little 4 year olds! They all sounded beautiful!
Sacrament meeting at church and Young Women's was especially beautiful and powerful to me as both were centered around Christ more than usual. I loved hearing again all about my Savior's Atonement and His love for me and each one of us. My heart was so touched and my soul renewed as message after message spoke about His Perfect Love. I'm so grateful for my Savior!
We had Easter over at Mom and Dad's house. Jared smoked a beef brisket for 16 hours and made a homemade BBQ sauce to go with it. The rest of the family brought sides for the potluck. The brisket turned out really good! Jared is getting pretty awesome at smoking different meats. 🙂
I saw a picture the other day for an Easter centerpiece that had my Mom and Dad written all over it! I sent it to Dad and he loved it! He said if I got the bunnies and grass he'd provide the Godzilla! My parents are HUGE Godzilla fans! Nothing says Easter quite like this!!!
Hahaha!!!
After we were sufficiently stuffed, the kids had their Easter egg hunt!
I think Eli was being blinded by the sun! LOL!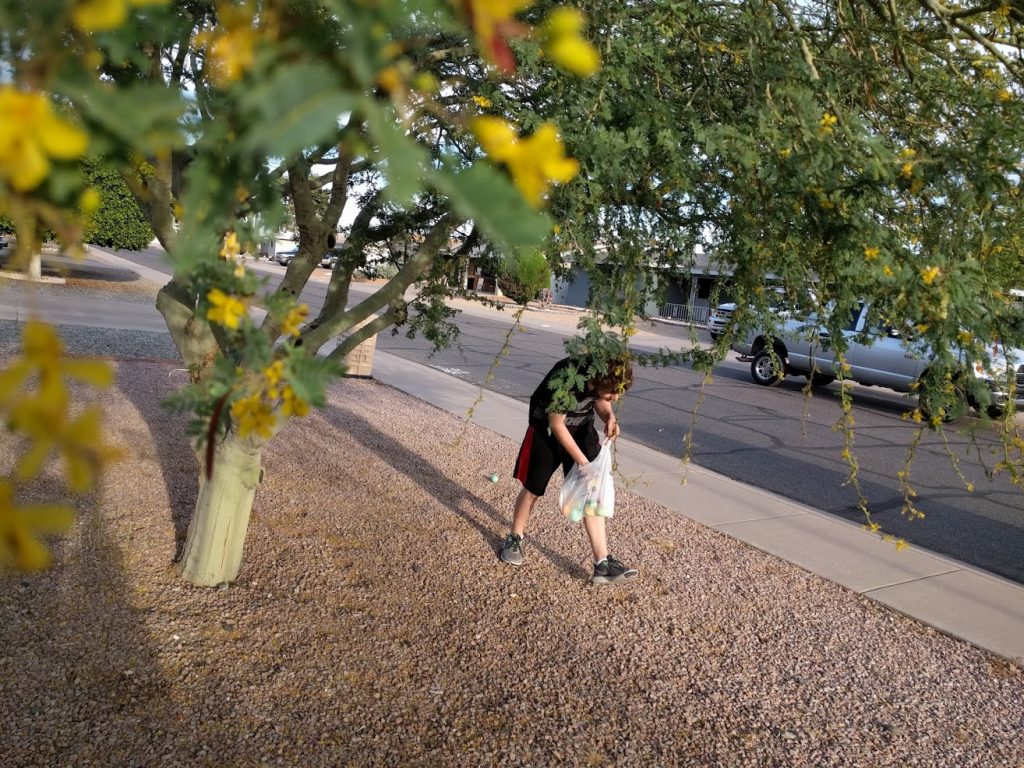 Jared was taking pics of the kids for me. He loves the uber, super, close up! LOL!!
Walker didn't hunt for eggs this year. I know he's 16 now but still….makes me a little sad that he's too old for these traditions. 😛
I couldn't remember the last time we took a family picture with my parents. I think we need to try to do this more often.
After taking the picture we realized that Robin's shirt was giving Mom a helmet and Boog was still wearing his sunglasses. 😛 I guess we need more practice.
This is a little better! 🙂
I look at the 5 of us and I think, do any of us even look alike??????
Jared and I were trying to take a few pics together too. I love how much he's laughing in that pic! 😀
It was a really nice day celebrating the day of our Savior's Resurrection and spending time together with our family.
Happy Easter!!!