The Last (Whole) Family Temple Day!
Yesterday we went to the Gilbert Temple as a family to do baptisms. It was the last time we all will be able to go to the temple together as a complete family for 2 years!! I know I sound like a broken record, and most of my posts are all these "lasts" until Walker leaves, but I know so much is going to change by the time he returns. These people in this photo won't be the same.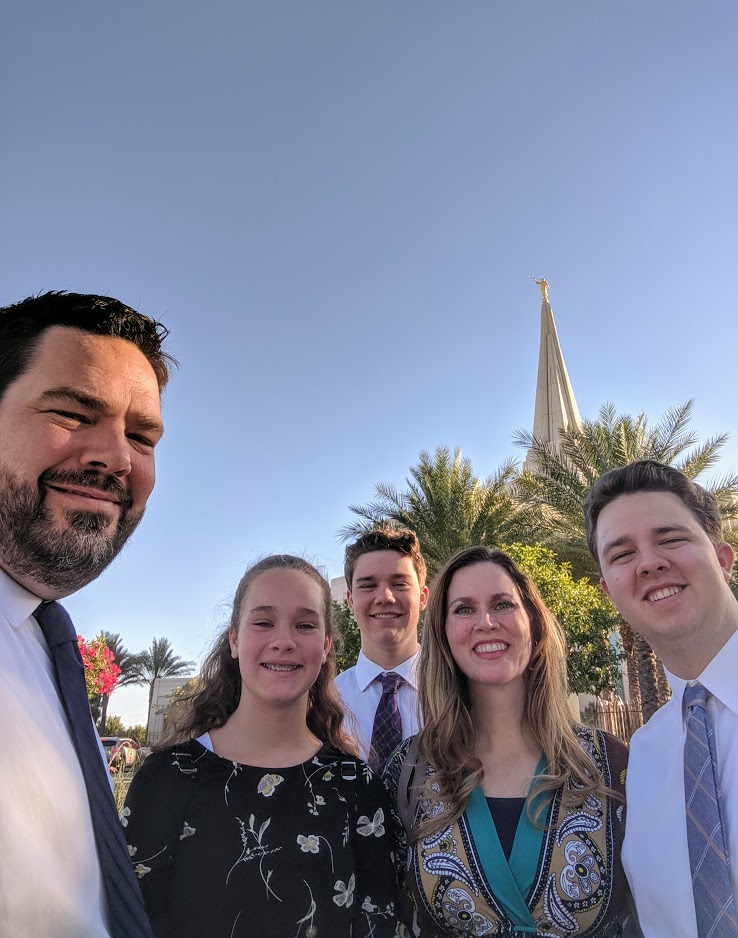 I don't know if every parent is so emotional when their 1st born leaves the nest, but I have been really struggling. The last couple of days the reality has hit me hard!! The anxiety and pull on my heart has been brutal. This morning I asked Jared why are we letting Walker do this? So far it's been hard financially and to my heart!
But I know the answer…..
It's what the Lord wants.
It's what Walker wants.
It's what the people of Tampa, Florida need.
It's going to be a tremendous blessing for everyone.
In Oct. 2001 General Conference, W. Christopher Waddell, Of the Seventy gave a talk called, "The Opportunity of a Lifetime". I want to share a few parts that spoke to me.
"Your mission is a training ground for life. The experiences, lessons, and testimony obtained through faithful service are meant to provide a gospel-centered foundation that will last throughout mortality and into the eternities.
President Thomas S. Monson has taught: "Missionary work is difficult. It taxes one's energies, it strains one's capacity, it demands one's best effort. … No other labor requires longer hours or greater devotion or such sacrifice and fervent prayer" ("That All May Hear," Ensign, May 1995, 49).
As a result of that sacrifice, we return from our missions with our own gifts: The gift of faith. The gift of testimony. The gift of understanding the role of the Spirit. The gift of daily gospel study. The gift of having served our Savior. Gifts carefully packaged in worn scriptures, tattered copies of Preach My Gospel, missionary journals, and grateful hearts.
The Lord knows you and has a mission experience prepared for you. He knows your mission president and his wonderful wife, who will love you as their own children and who will seek inspiration and direction on your behalf. He knows each of your companions and what you will learn from them. He knows each area in which you will labor, the members you will meet, the people you will teach, and the lives you will impact for eternity.
Through your devoted service and willing sacrifice, your mission will become holy ground to you. You will witness the miracle of conversion as the Spirit works through you to touch the hearts of those you teach.
As you prepare to serve, there is much to do. Becoming an effective servant of the Lord will require more than being set apart, putting on a name tag, or entering a missionary training center. It is a process that begins long before you are referred to as "Elder.""
Walker truly has been preparing for this long before now. From Nursery (18 months old) to Young Men's (18 years old) he's been learning and growing in the Word of the Lord. For as long as I can remember he's talked about "when I go on MY mission". It's never been a question in his mind. His faith strengthens my faith. His testimony is unwavering. His love for others runs deep. He exemplifies what it means to have charity. Giving and serving come naturally to him. He's also an INCREDIBLE teacher. It's a gift he's been given. And he loves his Heavenly Father and Savior with his whole heart. So, choosing to go on a mission was never a difficult decision for him. It's always been something he knew he'd do.
When he leaves he will take a piece of my heart with him. How can it be any different? He's been apart of me for 19 years. From the time he was growing in my belly until now he's been apart of me. But I know as much as he's been mine, he is the Lord's. He is His son that he's allowed me to care and love during this tiny space of time here in mortality. Letting go and letting him return into the Lord's care to serve, love, and teach His children in Tampa is the least I can do to show my love and gratitude for all the years I've been blessed to know, to love, and be taught by him.
It's not easy. I hope with time it will get easier. This growing and stretching process is a refining process. It's tough stuff!!! I pray as I seek after Him and the help of the Holy Ghost I will grow and overcome anything that will hinder me. I know the Lord loves me and my family. He is aware of everything we are going through as we prepare to send "our" missionary off. I'm so grateful for His abiding care and concern for us. I know missionaries have a special place in the Lord's heart and He will consecrate Walker's efforts. These next 2 years are going to be an adventure. I guess it's time to buckle up and enjoy the ride!