It's been a LONG month! We've been waiting and waiting what felt like years and today it FINALLY came!!! Walker's Mission Call arrived!
With all the changes in the Church recently mission calls actually come a lot faster than they use to. But when you expect it to come quickly and you still have to wait a month it makes it difficult to remain patient! LOL!
Walker's call arrived in a text and an email. There was a link he logged into and viola! Everything he needs to know for his call is right at his fingertips!
All month I've been on edge. Waiting isn't my strong suit. Waiting and the anticipation of the unknown are a recipe for one ball of nerves Momma! LOL!
As soon as I got word it had come all of the nerves, worry, and fretting melted away. Complete peace washed over me and I was pacified. The Spirit comforted me and I felt that everything was gong to be ok.
Since we were all so excited it came we couldn't wait a moment longer. We let family and friends know he was going to open his call tonight @ 6:30pm! It was short notice so a lot of people couldn't make it or were ill. But we streamed it over YouTube and Face Book Live so everyone who couldn't come could watch from home.
Look…it's us!!! On Jared's sister's TV in Texas!!! Technology is amazing!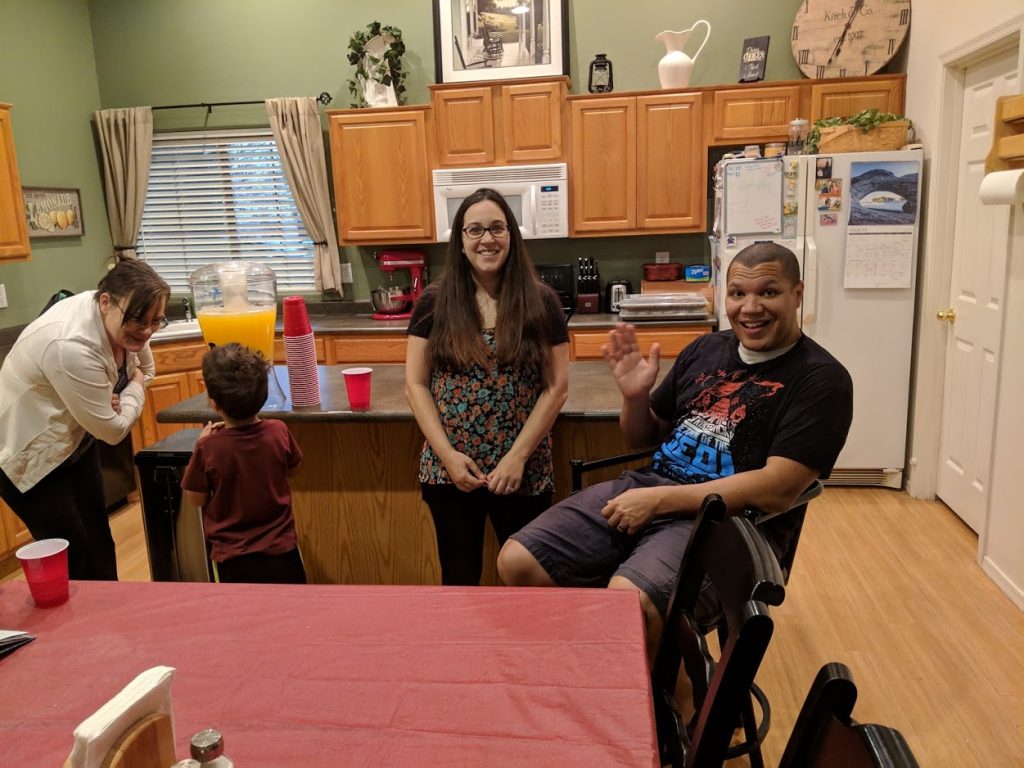 The Pielmeier's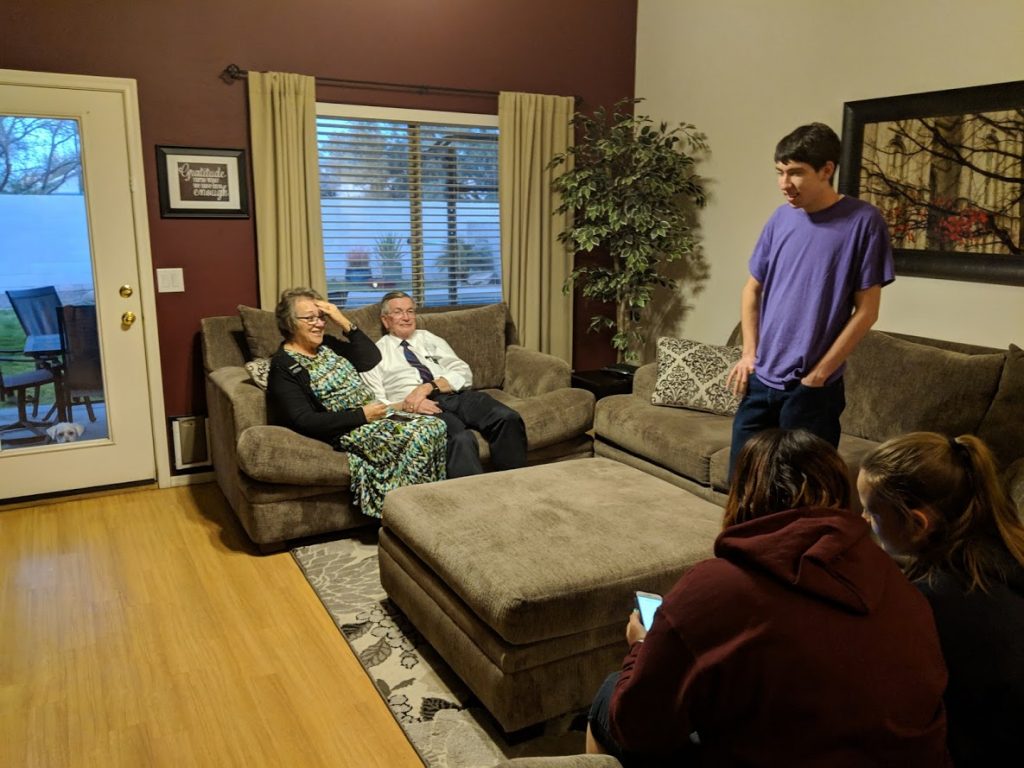 The Ashton's and Alex.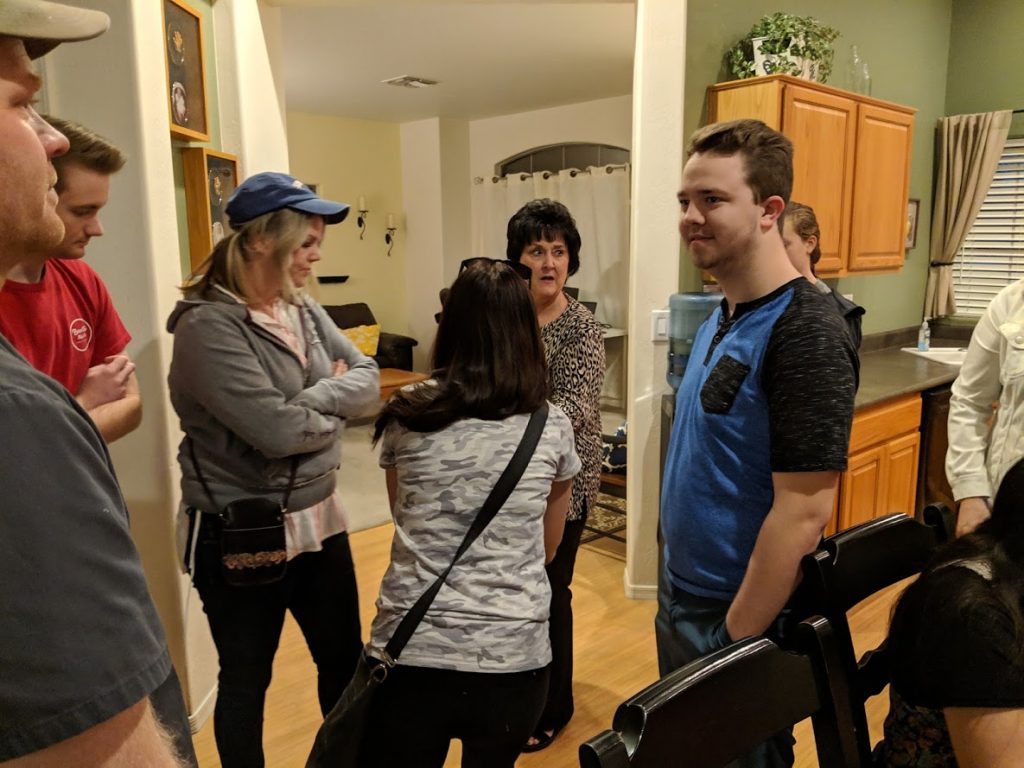 Left to Right: Bro. Durfee, Gavin & Lynda Trudeau, Sis. Curtis, Sis. Lamerouex, and of course Walker. <3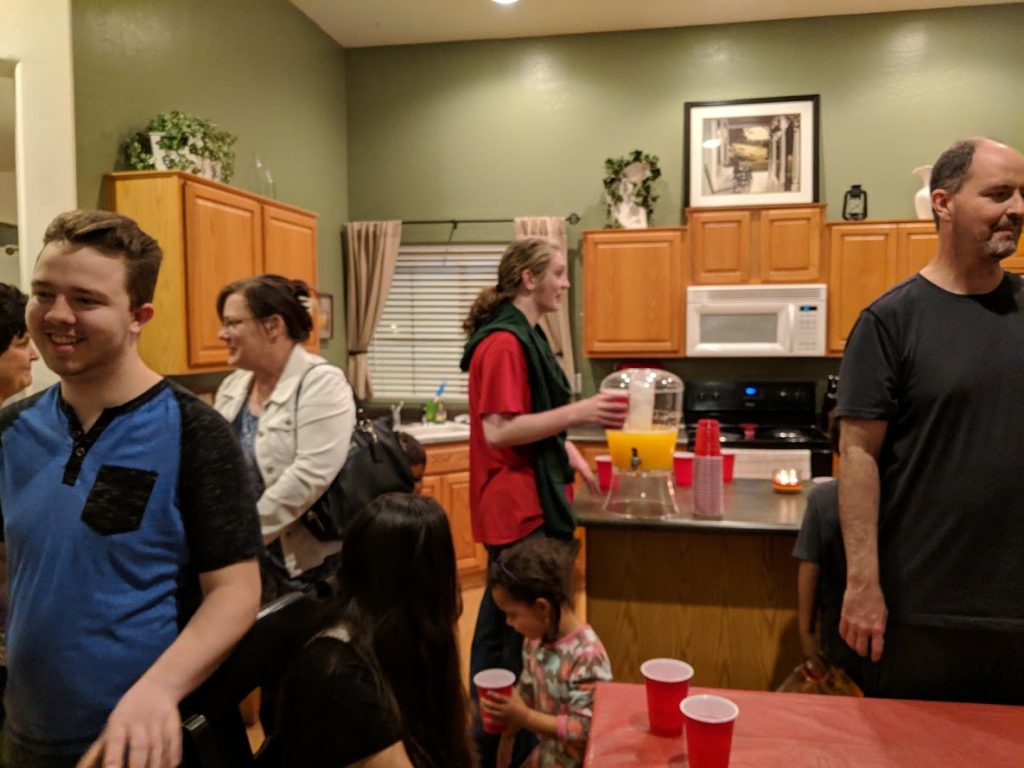 Left to right: Walker, Sis. Watt, Jeffery, Bro. Watt
Walker and Alex are the last of their old Quorum to leave on their missions. Walker decided to do a year of school first and Alex had to wait because he had to get braces put back on for several months. He just got his call a few weeks ago. He's going to the Nogoya, Japan Mission at the end of this month! I'm so thankful they've had each other during this time. They have been friends since they could barely walk!
We're all getting ready…….
Drum roll……..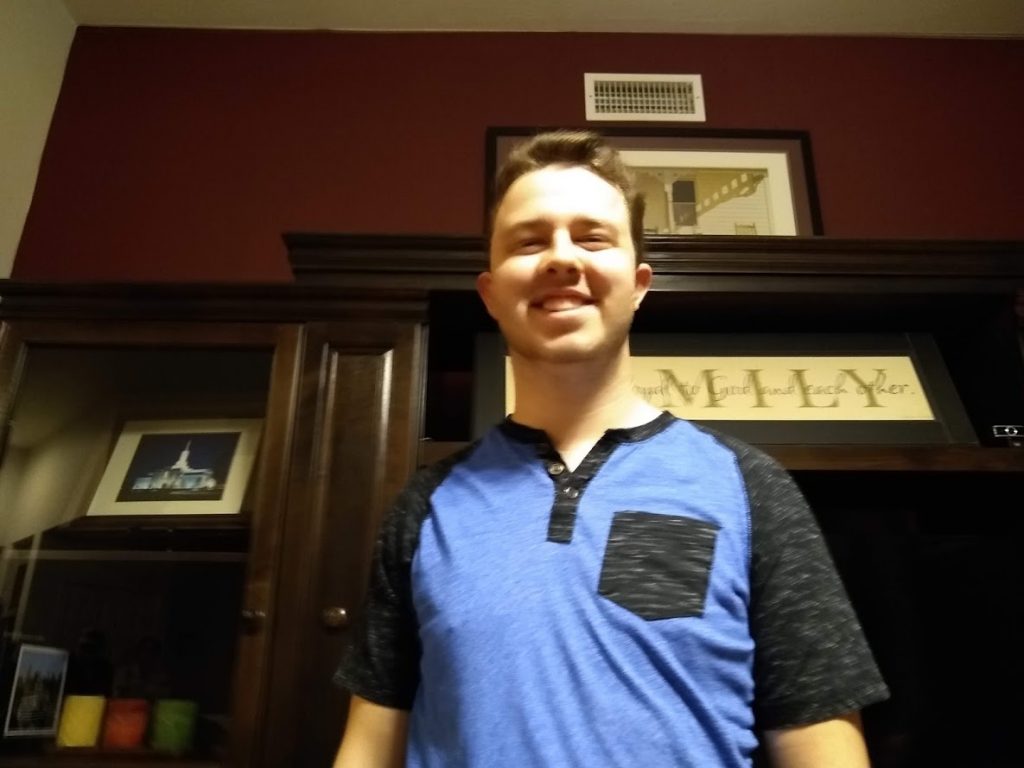 And in under 5 minutes it's done! LOL!
Can you see the joy on my face!!! I'm so excited for him!!!
I can say that "now". Before everyone kept telling me how "exciting" it was. And asking me if I was "excited" for him. Honestly, I wasn't. My nerves were tattered. I struggle with the unknown and this was definitely a test for me. I could say I'm proud of him or happy for him…but excited wasn't the emotion I had. LOL!
It's all part of the fun to get people to guess where the missionary will be serving. So I put out a post asking for just that. We had lots of different guesses from everyone.
Jonita: "I just keep thinking foreign…far away, but id on't know why I think that!"
Jennifer Bousquet Fish: "Fiji!!!"
Kristen Stone: "Canada"
David Pielmeier: "England or the Philippines"
Janna O'Loughlin: "I'm going to guess somewhere in the USA"
Allen: My guess: "Spain/Portugul…that general area of the world."
Alex Flores: "Ittoqqortoormiit, Greenland"
Hollie: "Venezuela! I dunno, that was the first one that came to mind."
Troy Anderson: "Omaha!"
Alayna: "Japan"
After the big reveal everyone chatted and mingled for a bit.
I think Jared is happy too! 😉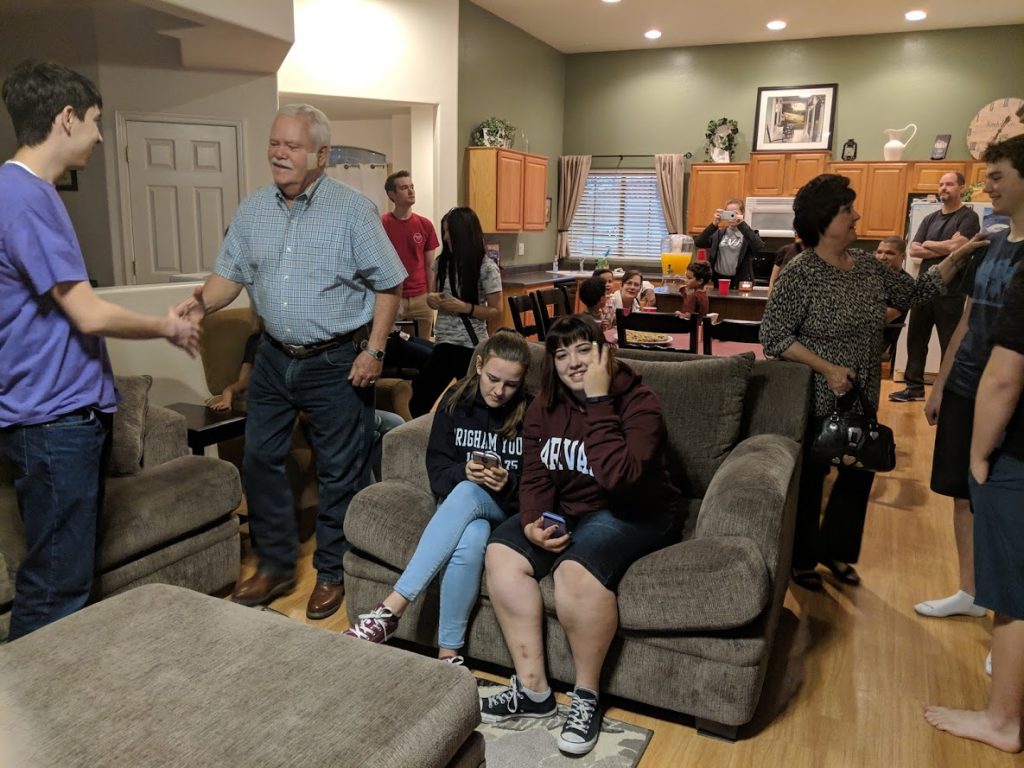 Megan and Claudia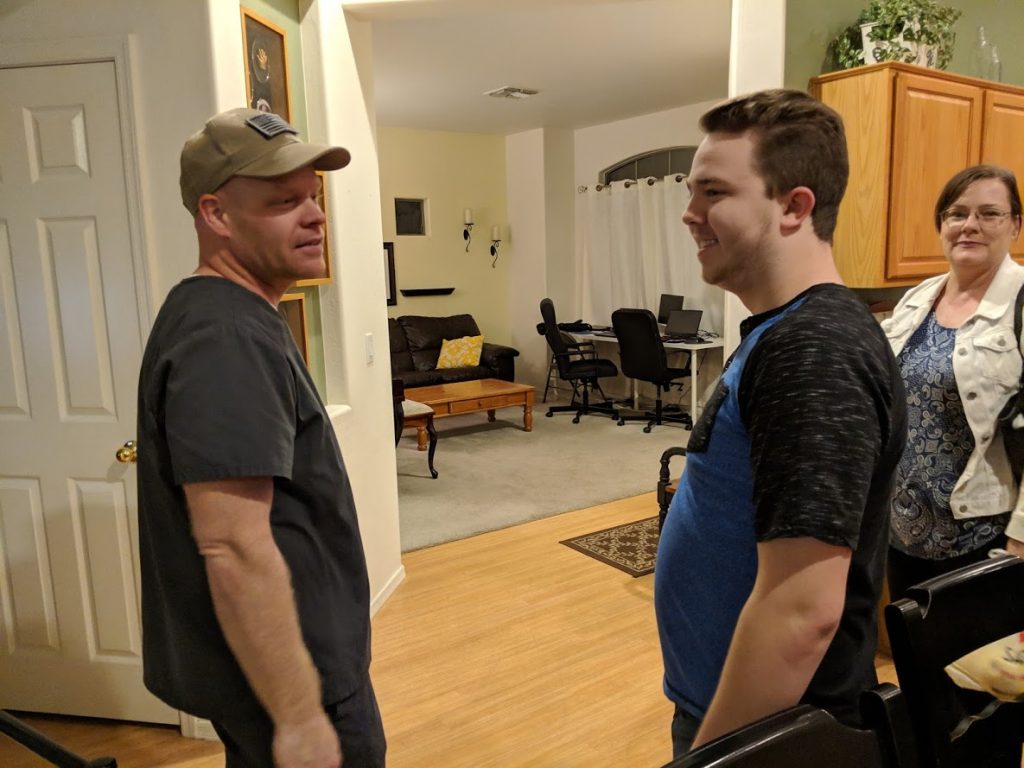 Bro. Durfee has been a wonderful mentor for Walker. He was his Deacon Leader and when Walker earned his Eagle Scout he gave his Mentor Pin to him. <3 So of course we were so happy he could come be apart of this special night too!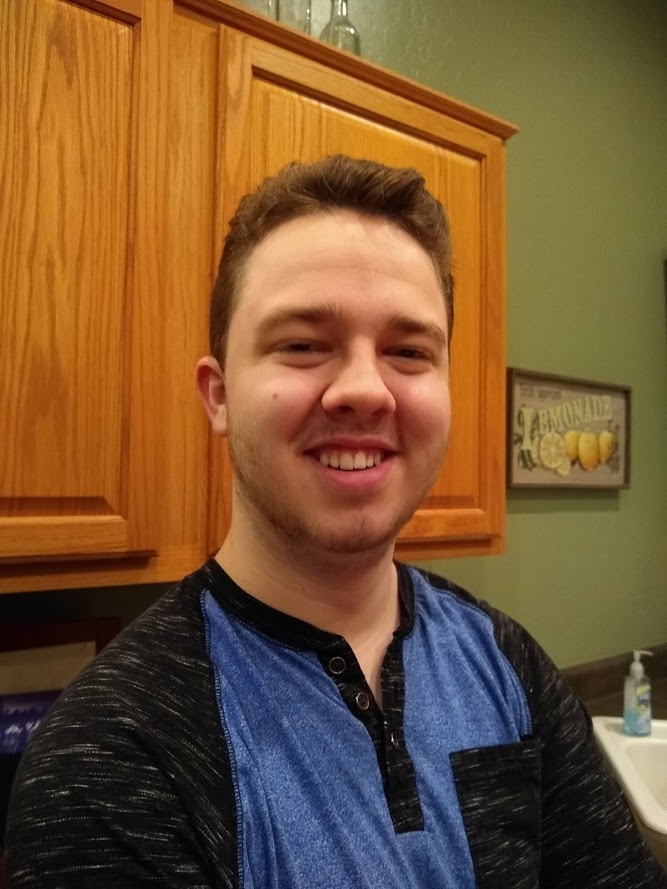 Walker is looking forward to serving the Lord for 2 years. It's a sacrifice. Not many young men would be willing to put their lives on hold to serve in this way. Walker has always put others before himself. He is a Christlike example to me and to our family. He wants to share his testimony with others so they can find the true meaning of happiness. He wants God's children to know they are loved and He is aware of them and can help them if they come unto Him.The beautiful thing about serving is you have the opportunity to help others, but Walker is also going to be blessed, and he's going to grow and learn so much about his Heavenly Father, Savior, and himself.
There were a lot of family/friends that watched from home. I wanted to document their reactions too!
We've actually had 4 people tell us now that they had someone in their family serve in this same mission!!! <3
The message below is from Walker's Great Aunt Jean. she is one of the sweetest people I know. I love her to pieces!! Her words made me tear up!
There you have it!
In less than 4 months Walker will be off on the Lord's errand. So very proud of you Walker!! <3 Congratulations!