We had our Ward Camp-out over the weekend up near Payson. The weather predicted it would rain. We were a bit leery about going, but decided to be brave and beat the heat and head towards the pines. 🙂
We left after the kids got home from school around 4pm. It was cloudy with patches of the highway wet where it had already rained before we got there. When we entered Payson we saw some pretty rainbows! 🙂
Eli was feeling a little carsick. He's learned he can't read while traveling. Poor kid. I used to get soooo carsick as a kid. Unfortunately he takes after me. 🙁
We also saw this "sweet ride"!!! I had a Maverick in High School. It was this same exact color but mine was a 4-door and it was a clunker!! LOL! I had to take a picture of it…it brought back so many memories! 😀
We stopped and grabbed some dinner by which time Eli was feeling much better. The Dramamine kicked in and the fresh air really helped. Then headed the rest of the way to camp. It's just a few miles north of Strawberry but before you get to Happy Jack in Long Valley.
It was a GORGEOUS evening!
By the time we got to camp it was dark. The forest is pretty thick with trees and the dirt road was wash boarded. The last time Alayna went camping was when she was like 3 or 4 at another Ward Campout held in the Desert. She doesn't remember it.
As we drove further into the forest Alayna's eyes were as big as dinner plates! I asked her what was wrong and in her sweet little voice filled with uncertainty she says, "Are we safe? Are we going to be eaten by a bear???" Oh my gosh..it was so funny and precious all at the same time. We all cracked up. We assured her she would be fine. But she wasn't too quick to accept any reassurances. LOL!
We found a place to park and set up the tent and as we are pulling things out of the van it began to POUR rain! It was crazy town! Jared and Walker worked as fast as they could to get our giant 12 man tent set up. Which is over 20 years old. Despite their best efforts the inside of the tent was drenched with water. And wouldn't you know it…about the time we finished getting everything done…the rain stopped!!!
We had a nice fire pit that everyone gathered around in the center of the campgrounds and that evening we had a musical number by the Schnepf's and a devotional by Bishop Hawk. The kids played night tag and made s'mores and played until they passed out.
Jared is such a sweet husband that he put a twin mattress in the back of the van and Alayna and I slept in the comforts of Big Red. Jared, Walker and Eli slept in the tent.
It rained all night long. In the morning we woke up and found this little guy stuck to the window.
Alayna named him Toby.
We laid there for a while and just watched the rain run down the window and soaked in all the refreshing sweet rain-washed air. It was a beautiful morning. 🙂
Jared and the boys had a bit of a different night than us…..Did I mention that our tent is over 20 years old? And it did NOTHING to keep them dry? Jared said water was dripping on their faces all night. Water was coming in through the walls and everything was soaking wet. We put the van bench seat in there, the food, etc. It was all soggy by morning. I felt terrible…..
I asked him why they didn't come into the van with us and he just said he didn't think we'd all fit. I wish he would have let us try to see first. Poor guys. Walker's whole side was soaked through, Eli's shoes were goners, it was water of epic proportions…we felt a little like Noah and the Ark! LOL!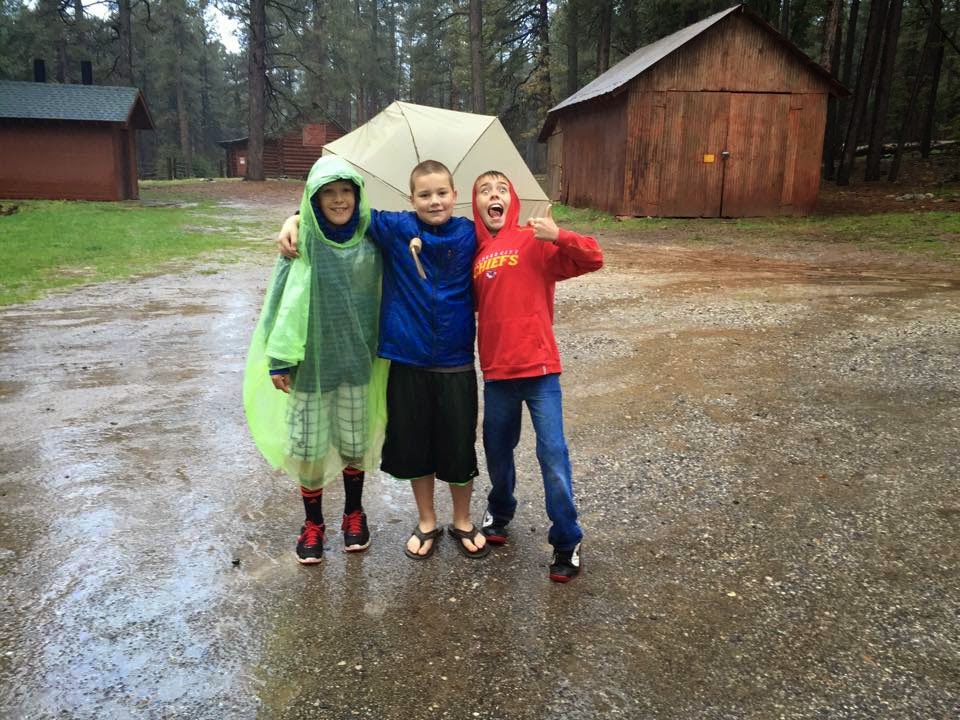 Notice Eli is wearing Jared's flip flops!! Hahaha!
We didn't let it get our spirits down though. The kids were more than ready to run out and play in the rain before breakfast!
Little Miss found a special friend named Wormy. 🙂
Alayna and her friend Morgan were trying to get the worm to crawl across a deer bone they found in the woods.
Apparently there was an entire deer skeleton left here. The girls were fascinated!
Morgan, Emmy, & Alayna
Our very own Catalina Ward Hillbillies! LOL!!!
I just couldn't get enough of how beautiful it was up there. I needed some good ol' fashioned out door, soul lifting, fresh air!
Stunning!
As you can see the rain let up after breakfast and everyone was able to pack up with out complications. Jared and I look a bit tired but we were still smiling. 🙂 You can see the crummy tent behind us. We ended up packing it up and throwing it out!! We'll never see that piece of junk again!
Thankfully I thought to bring a towel. It got it's workout trying to sop up all the water overnight!
Eli LOVES camping. He loves being outdoors at all times. He was in hog heaven the entire time!
I'm in the Primary Presidency and we were in charge of coming up with some activities for the kids. We decided on making Whirly Gigs or Buzz Saws. Alayna is coloring hers. I think the sun was a "bit" bright in her eyes…LOL!
You thread a string through the holes and tie the ends together. Then you twist and pull them it spins. It a toy the Pioneer Children use to play with.
Walker and the older kids hanging out…
Chase reallllly loves Walker!! LOL!!!
They are really good friends. I love that they have each other.
Chase was trying to chop wood. Jared, myself and Bishop Williams (his dad) were watching. We were mostly in fear he was going to chop his foot off.
This homemade swing was the hit of the party with all the kids. No matter what their age!
Aren't flames cool looking?? This fire pit dried many buns over the weekend! LOL!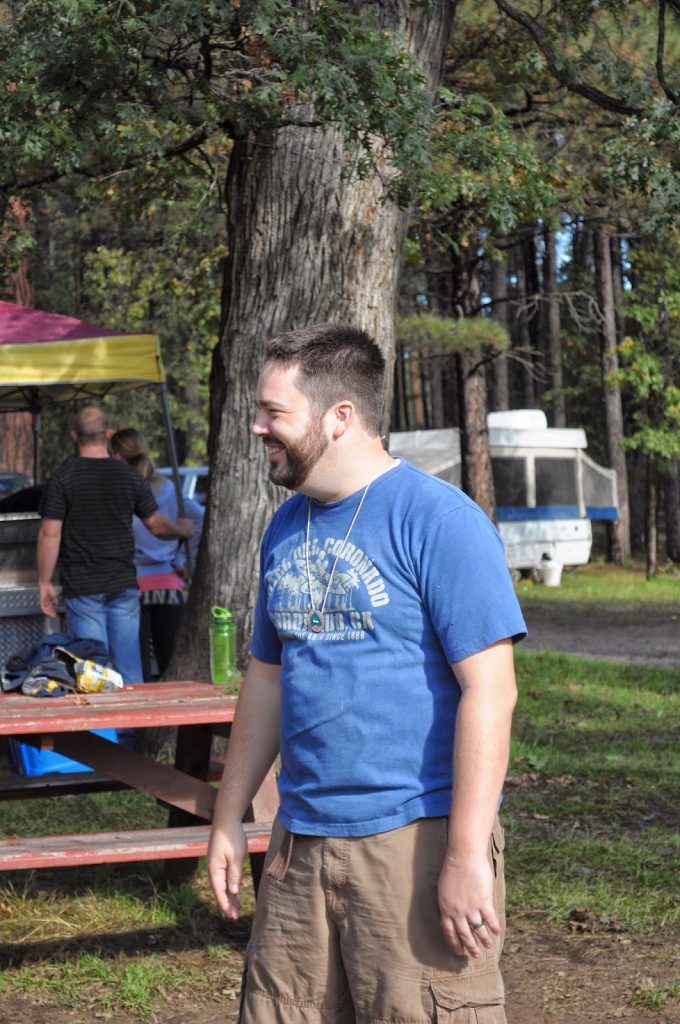 If you look close you can see Alayna's finished Whirly Gig around Jared's neck. 😉
My handsome man!
Jared chatting with Bishop Williams.
We had to be packed up and out by noon. We only had it reserved until then. Most of the families left right after breakfast. We were one of the very last families to leave. We played card games, ate way too much junk food and played for as long as we possibly could.
By the time we left another storm was brewing and it was getting pretty cold.
We stopped in Payson again for lunch and headed home. When we were on Gilbert Rd/Elliot a HUGE monsoon hit. The rain was so heavy and strong it was like someone took a fire hose and was spraying the van. We couldn't hardly see the car's tail lights right in front of us. The streets were flooded immediately and we were spraying water wakes as we drove. We've had SO much rain this year! I've never seen so much water in all my life living here in AZ!
We got home slowly but surely and it continued to down pour. We unloaded the van and I began what turned out to be 3 days of laundry!! Hahaha! Go camping for one night..come home with 3 days of laundry..sounds about right! 😛
It was a fun family trip with our awesome Ward family! It's given us all the bug to go do it again real soon! 😀