Uncle Barton Merrill Smith
My Great Uncle Bart passed away. He had had a heart attack on December 10th, 2011, just after giving away my cousin Kerry McCarthy at her wedding. They performed a triple by-pass on him the following day, and he progressed to the point of being able to be transferred to a rehabilitation center. However, he had an up hill battle before him. He smoked and drank most of his life and this complicated his recovery. He suffered through withdrawls and he came down with pneumonia. His lungs were so compromised they had to put in a tracheotomy tube to assist his breathing. Since the tube was in his airway he wasn't able to speak. This also prevented him from being able to eat solid food, so he had to use a feeding tube as well.
He struggled with his recovery and even though the medical staff was optimistic, on the morning of February 2nd, 2012, he had another heart attack and they were unable to revive him. This came as a shock to our family as you can imagine. To complicate matters he didn't leave a will or power of attorney, and it sort of fell to my parents and my family to sort out his affairs. The past week has felt like a marathon preparing for the funeral, sorting out his belongings, and trying to find his two daughters since they are the "next of kin".
Thankfully, we were able to find one of his daughters Carri Anne (Smith) Darland. Her and her husband Mike live back east in Indiana, and they were able to fly out for the funeral. It was so wonderful to get to meet them both. However, I wish it were under better circumstances. I know they felt so overwhelmed with the news of the loss of her dad as well as all the information we were throwing at them. She said they spoke every so often by email or phone, but hadn't actually seen one another since she was a little girl.
We held the funeral at our ward building and I can't express my gratitude enough to everyone that helped us put the service together. The Relief Society sisters are wonderful women that are always willing to pitch in in the time of need. I love the women in my ward and their generosity and willingness to serve me and my family.
I wanted to keep a record of everything from the past weekend and so this post is helping me to do that.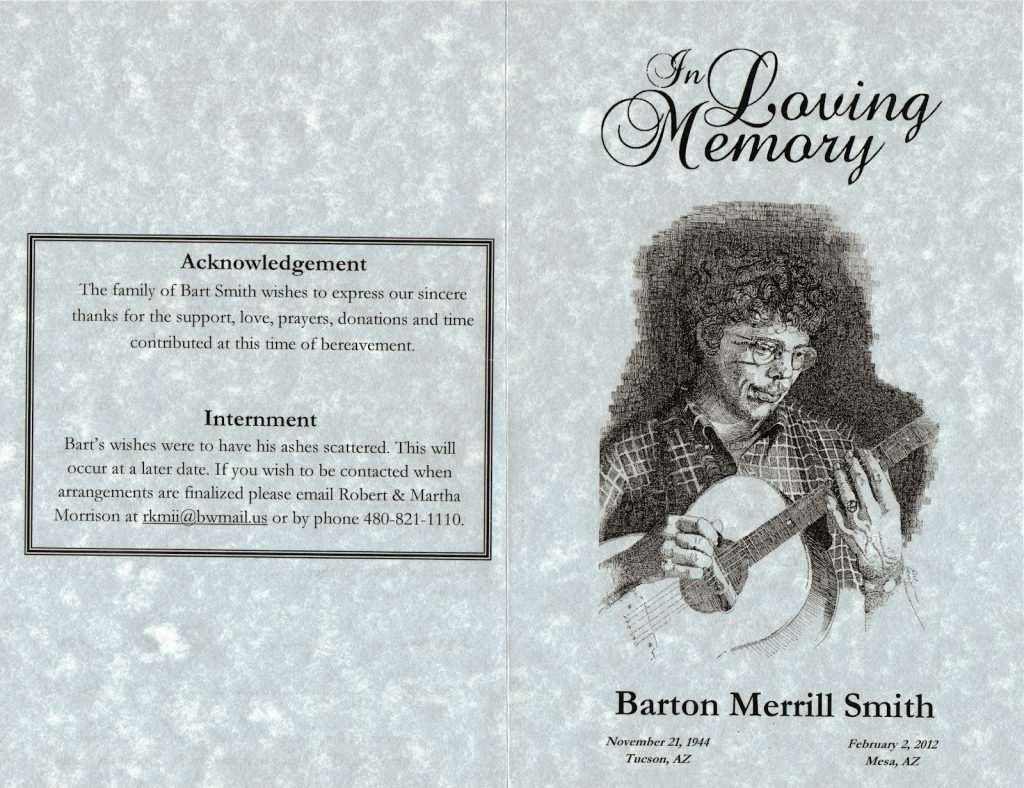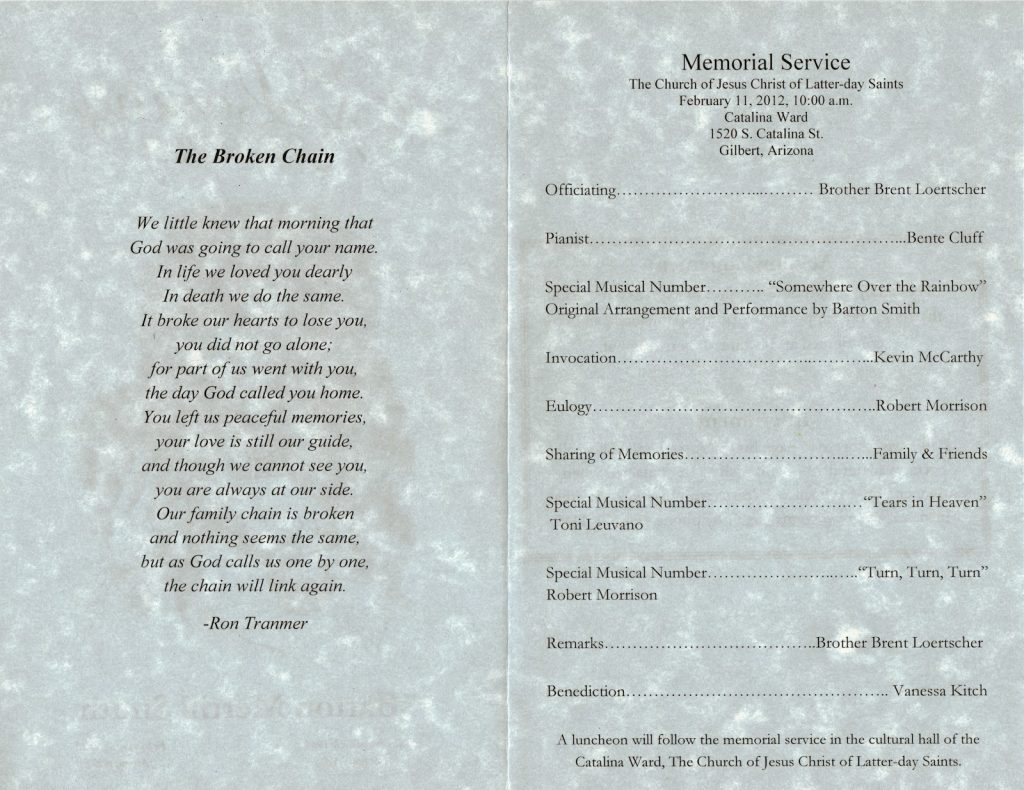 Program.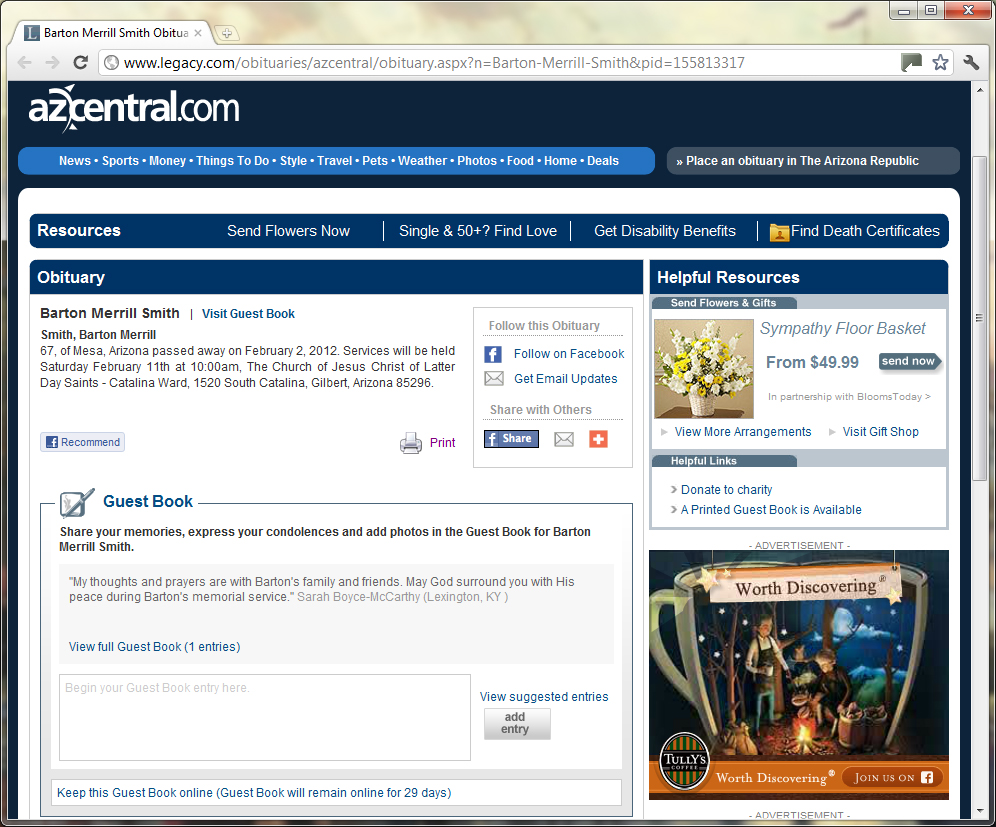 Obituary.
Below are pictures from the luncheon: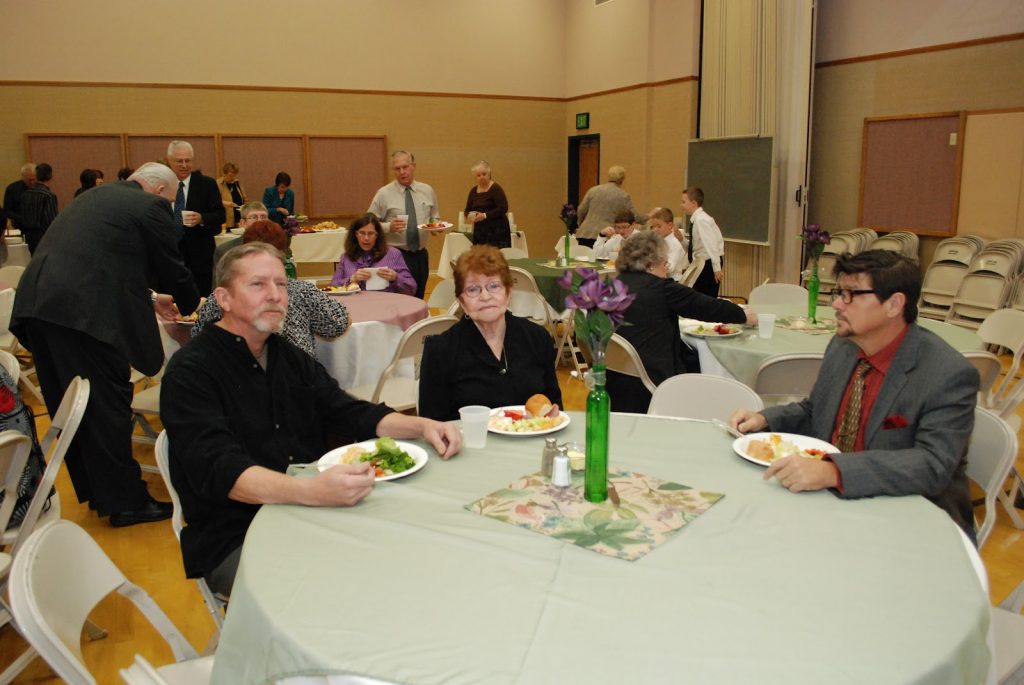 In the center is my Aunt Toni (Delta Lee (Smith) McCarthy) Wilson with two of her 11 children. Shawn McCarthy is on the left and Kevin McCarthy is on the right. Aunt Toni is Uncle Bart's sister. Her and her brother Jay are the last of the 6 brothers and sisters still living.
These two women were friends of my Grandmother Donher (Smith) Bernal. They took her to the hospital several times after she had accidents on her motorcycle. They even drove her to the hospital when she delivered my Mom. 🙂
The cousins…Dylan Mullins, Eli and Walker Kitch.
This is the Merrill side of the family. I need to get with my mom to record who everyone is…:S
Center is Mike and Carri Anne Darland. Uncle Bart's daughter and son in law.
More cousins..Alayna Kitch, Hollie Mullins, and Isaak Morrison.
My brother Robert K. Morrison III.
Center/left is Patty (McCarthy)…Aunt Toni's daughter & her husband Jay. On the right is her daughter Toni Luevano.
Center is Logan McCarthy his dad is Shawn on the right.
Rhetta McCarthy another one of Aunt Toni's daughters. My dad Robert K. Morrison III and my mom Martha Lynn (McClendon/Bernal) Morrison.
My mom's 1/2 sister Mona (Bernal) Pruett on the right. Two of her daughters Renae Foster (left) Monica Smith (center).
Monica (Pruett) Smith's daughters. Brisa (left) Rayna (right).
Rhetta and her granddaughter. Joann Mendez's daughter.
Joann Mendez and family. Rhetta's daughter.
Bill and Bonna Smith. Bill is Uncle Ben's son. Tammy McCarthy, Kevin McCarthy's wife on the right.
Kim (Smith) Riggs with her mom Dorothy Smith. She was married to my Uncle Ben until he passed away in 2007. He was Uncle Bart's brother.
Front Row: Dylan Mullins, Walker Kitch, Eli Kitch, Mendez, Mendez, Rayna Smith, Brisa Smith, Isaak Morrison, Alyana Kitch, Alex Morrison.
2nd Row: Vanessa Kitch, Mona Pruett, Toni Wilson, ?, Carri Anne Darland, Elizabeth (Merrill), Darla (Merrill), Louise (Merrill), Renae Foster, Martha Morrison.
3rd Row: Jared Kitch, Joanne Mendez, Baby Mendez, Rhetta McCarthy, ?, ?, ?, Shawn McCarthy, ?, Hollie Mullins, Monica Pruett Smith, Amber Morrison.
Back Row: Mr. Mendez, Bill Smith, Bonna Smith, Mike Darland, Logan McCarthy, Robert Morrison III, Robert K. Morrison II, Robin Mullins.
This is wonderful group shot of 'most' everyone that attended the funeral. Unfortunately, several families had already left before we took this picture.
Sunday we got together with Mike and Carri Anne before they headed back home.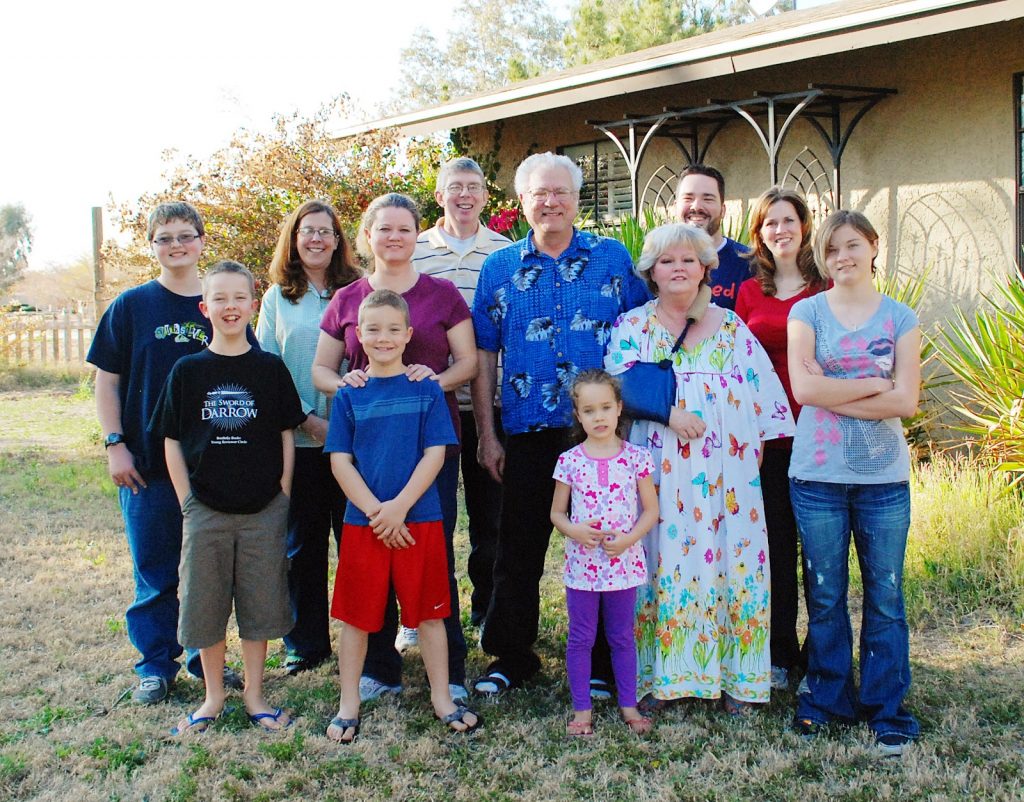 It has been such a blessing to be able to connect with family I didn't even know about. It's amazing how you can feel close to someone you don't even know. Carri Anne and Mike said they are going to try to make it out to the Smith Family Reunion this June with their children. I can't wait to meet the rest of their family. This time under happier circumstances.