We decided to go visit Jared's Mom and Step-Dad in Texas. I've been thinking about them a lot lately and felt like we should go pay them a visit. 🙂 We were going to initially make it a surprise but later decided they might want to plan a little so we called them about 2 weeks before and shared the news. They were so happy and excited!!!
So, the day after Christmas we piled into the car at 4:30 a.m. and made the 15 hour drive to Comanche, Texas! 🙂 The kids have never driven that long before and I was nervous about how they would handle it. I didn't need to be though. They were great!! I was so proud of them. I almost couldn't believe how well they did! 😀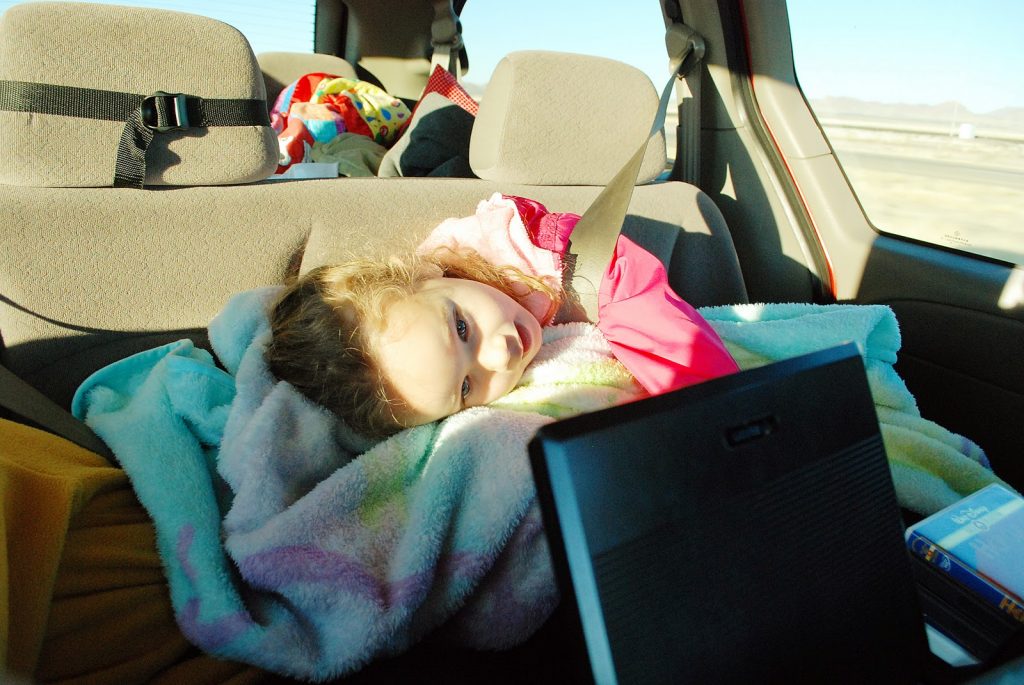 They watched a LOT of movies! LOL!
I mean a LOT! 😛
We drove and drove and drove and finally we made it to….
It pretty much looks like Arizona. 😛
They had this giant roadrunner on the top of this mountain. We don't know why…but we thought it was funny so we took a picture of it. 😛
Cool how our kids just happened to already be out of the car huh?! LOL! Look closely on the ground..that's SNOW! 🙂 It wasn't enough to play in but it was enough to enjoy! 😛
The next morning we felt much more rested and couldn't wait to get out in the country air!
I think they might like it out there! 🙂
Alayna heard rumor that Pampa had chickens and if she asked real pretty…she might get to help him collect the eggs. By mid-afternoon she just couldn't take waiting any longer and asked Pampa if they could go down to see the chickens. He told her it was time and well this was her reaction…….
Hahaha!!! She SPRINTED down to the hen house! It was so cute! 😀
Look at those BEAUTIFUL, FRESH eggs! Mamaw made up those eggs the next morning for breakfast and they were the most melt in your mouth, buttery eggs I've ever had! My mouth is watering just thinking about it now! 🙂
Mamaw checking on the progress in the coop.
She even got to feed them!
This is Butterscotch..She is the prettiest chicken Pampa has. 🙂
The other ones are nice looking too. 🙂
While we were tending the chickens the boys went out to explore the great out doors with their cousin Hayden who lives a stone throw away from Jared's Mom and Rich. Whenever we come out the boys just pick up like they've never been gone. They get along so well. Hayden is such a nice boy and his manners are impeccable. It's yes Ma'am and no Ma'am. I LOVED it! Now how do I get my kids to be that well behaved??? LOL!
Once the chickens were fed and the eggs were collected Mamaw and Alayna brought them back up to the house.
She was thrilled about her adventure and the spoils it brought!
The rest of the day we played outside and just soaked in nature. It is so quiet on the farm. 🙂
Jared decided to go check what was in the well house. He was quite surprised when he opened it up and there was a black and white tail aiming his way! Hahahahaha! He shut that door in record time! 😛 We affectionately call it the Skunk House now. 🙂
The kids couldn't get enough of exploring. 🙂
Since Mamaw knew we were coming she didn't send our Christmas gifts to AZ. We got to open them there with her. She made Alayna her very own apron! Isn't it darling?
She made me one too!!! 😀