You know when your house is full of teenagers and tweens when you wake up before they do on Christmas Day! 🙂
Jared and I had to go around and pull everyone out of bed and tell them Santa came!
As you can see….Walker still needed a few more hours! Haha!
We got down to business quickly however! Wrapping paper and ribbon were everywhere!
The boys got me this pretty calendar. It had a beautiful message inside that made me tear up! <3
Beautiful right?!?
Alayna got me a candy apple scented candle. She was so set on getting it for me. She has a good heart!
She also got this shirt for Eli which I worried if he'd like it or not. His closet consists of only varying shades of black. This shirt is VERY bright!!! But he opened it and LOVED it!!! She knows her brother!!!
Eli got Alayna that bathrobe. She hasn't taken it off since! Walker got her a little Wookie ball. She loves Wookies!
Eli loves Ranger's Apprentice! This print went over very well!
Eli got Walker a really awesome Justice League wall hanging. It was very generous and thoughtful! Alayna got him a big bag of Bold Chex Mix. He's addicted to that stuff! 🙂 No better way to a teens' heart than through food!
Drawing and art supplies were a big hit for our budding artist!
Mamaw and Pampa sent the kids some gifts too. I wish this wasn't so blurry…Eli's rockin' his beanie! LOL! This kid is a laugh a minute! He's so witty and quick!
Alayna and I were shopping together and I was done buying gifts but I found this Dr. Strange shirt and Walker LOVES Dr. Strange. I HAD to buy it! He was thrilled!!! 🙂
Walker got Eli a gift card for W.O.W. We haven't seen much of Eli since… 😛
Sammy got a little treat in his stocking even though he was naughty! LOL!!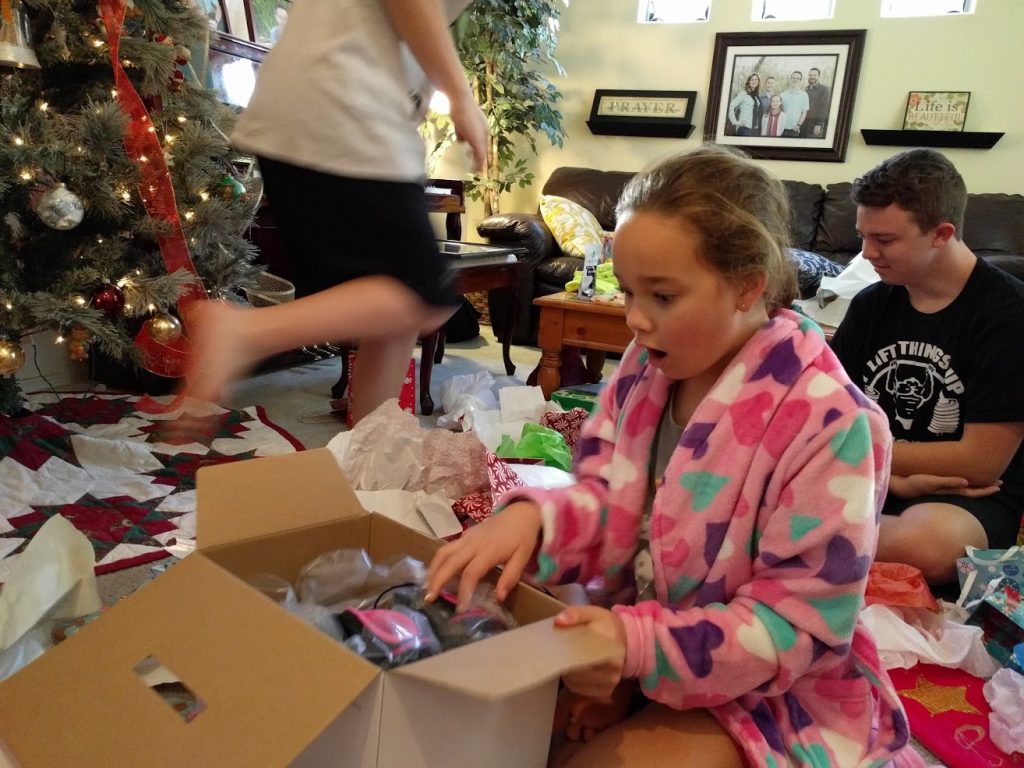 Alayna has been dying for a pair of roller blades. I think she was happy! 🙂
If you know me you know I'm ALWAYS cold! Bitterly cold! Jared got me an electric blanket to help me with that! 🙂
I don't have any pics of him…but he got a few things he was hoping for. A Chrome-cast made him pretty happy!
And there you have it….the room looks like a bomb went off and everyone was thrilled with their gifts. 🙂
Our traditional pic with Santa that Sammy always seems to sneak into! 😛 They sure are growing up!
Jared and I made a big waffle, bacon, and hash brown breakfast! We stuffed ourselves silly! I think Eli had 4 waffles all by himself PLUS a few servings of the sides! Haha!!
We also had church. It was only Sacrament which was eventful! Eli's best friend Derek as he was passing the Sacrament got light headed and passed out. Thankfully he didn't hit his head. I think he was mostly embarrassed but I know the entire ward said a silent prayer for him at that moment and all was well. One of the Teachers, Hunter, didn't skip a beat and jumped right in for him and continued to pass the Sacrament to the congregation. It was really impressive how these young men serve in this special capacity.
The Ward Choir and Primary Children also performed. Alayna is in both this year. She's our little song bird! I snuck a couple of pictures of her. 😛
Primary Kids
Ward Choir.
They sang a song called "Softly". I've never heard it before but it was beautiful!
It was a Spirit filled day. Having Christmas on the Sabbath makes it extra special! I love gathering my family around me and spending time together. That's what the holidays are all about for me.
There's no better way to end Christmas than with bacon….at least according to these two!!! LOL!!!! They crack me up! 🙂
Merry Christmas!!!!!