Washington DC Trip- Day 2- Smithsonian Castle, Natural History Museum and the National Air & Space Museum
The next morning we got up and headed to Bluestone Lane Restaurant. It was around the corner from our hotel and we met 2 of Jared's co-workers there. The restaurant was all organic and gluten free. Eli wasn't so sure about it but once our food came he changed his mind real quick! Everything was really good! Alayna go this avocado toast and it was AMAZING!!! Isn't it beautiful?
Jared had to actually work on his work trip. LOL! So after breakfast we parted ways. Jared and his co-workers walked down to GT and the kids and I headed out on our own to explore for the day.
We decided to hit as many of the Smithsonian Museums as we could. We stopped at the Smithsonian Castle first. It's where all the museums began until they out grew the space. It's a beautiful structure! And the gardens were gorgeous!
The final resting place of the Institution's benefactor, James Smithson (1765-1829), is a small chapel-like room located at the north entrance to the Castle. An exhibit cases contain a few of Smithson's personal effects. A panel explains how Smithson's remains came to the United States in 1904 and the Smithsonian's plans to build a memorial to him.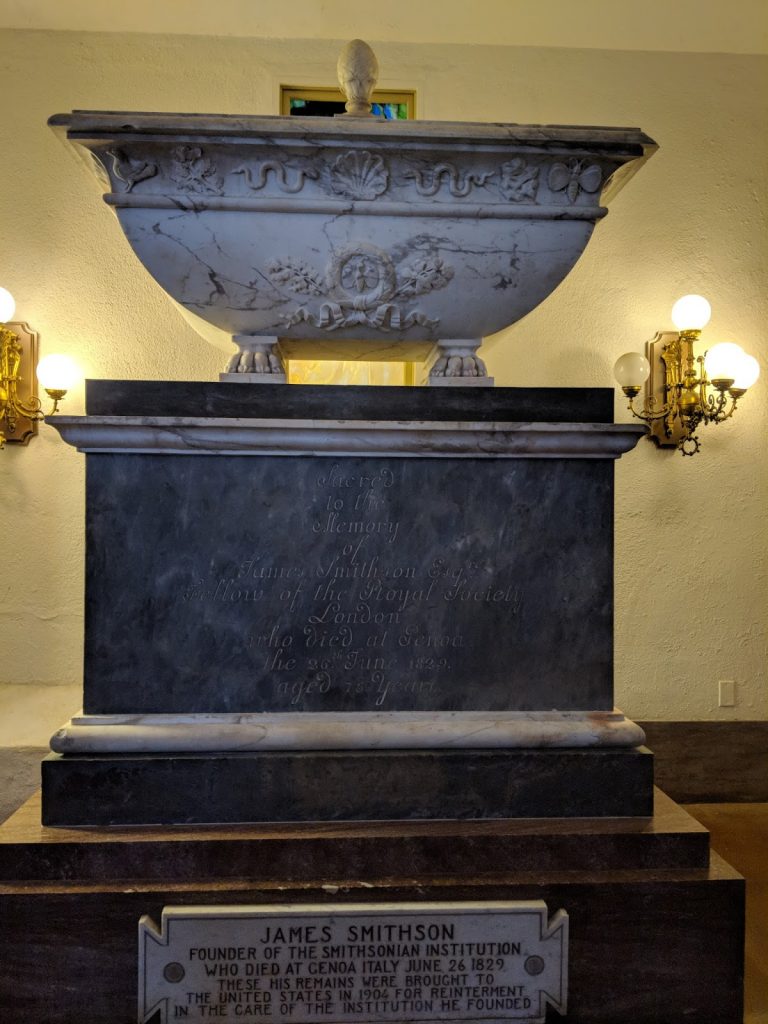 Alayna couldn't get enough of the birds and squirrels all around. She kept taking pictures of all the ones she spotted. 😛
Walker said this was his girlfriend! hahaha!
The kids and I got a kick out of these salmon skinned mittens!!! Ewww! 😛
Apparently over time the human head has grown and changed shape!
They had a room with GORGEOUS photography! It made me swoon! I wish I could have a fraction of their talent!
This one with the polar bears was my favorite! It just spoke to me! Love, love, love everything about it!
The kids liked this guy. 😛
The Hope Diamond.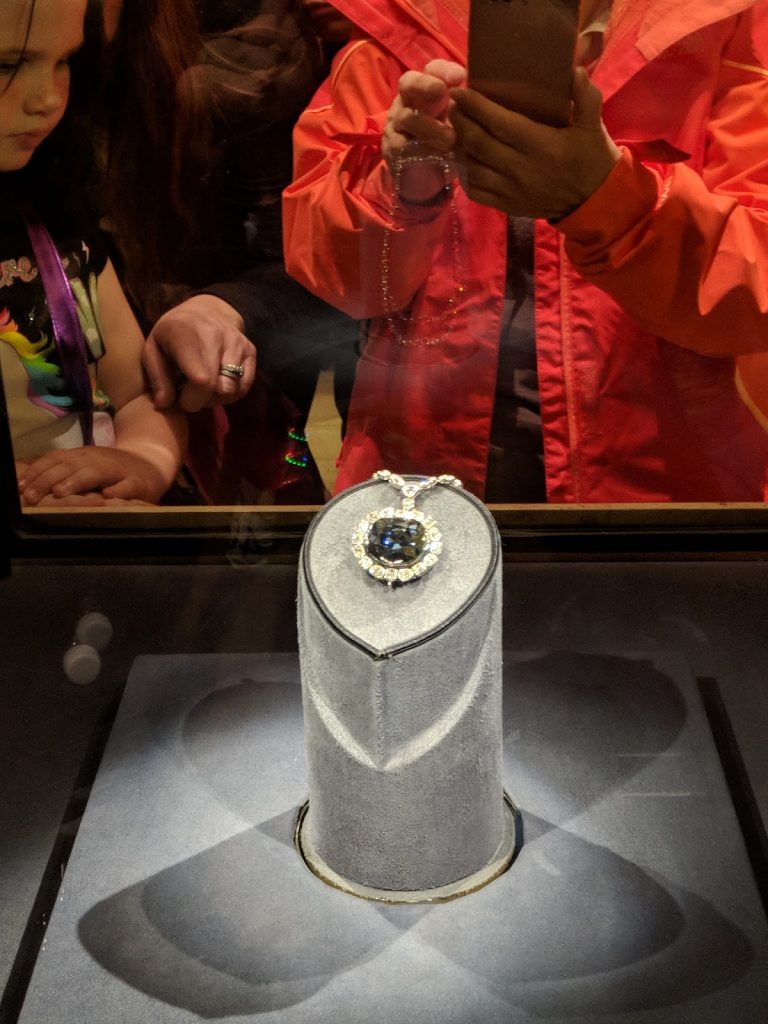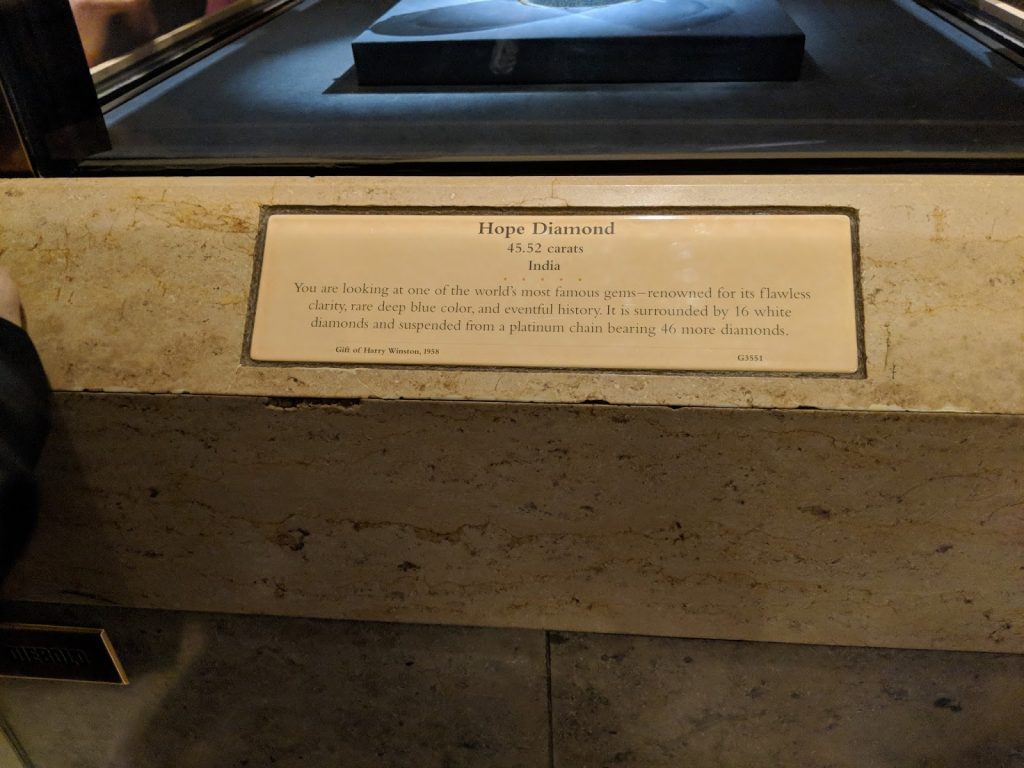 "Karl Shuker, in his book "The Unexplained," relates the origin of this jeopardous gem: "it sparkled in the brow of an Indian temple idol — until it was impiously plucked out by a thieving Hindu priest, whose punishment for this unholy act was a slow and agonizing death. … It was apparently unearthed in the Golconda mines by the Kistna River in southwest India, and made its European debut in 1642, when it was bought by a French merchant [who sold it to] King Louis XIV for a handsome profit … but was mauled to death by a pack of wild dogs."
The diamond remained with the French royal family until it was stolen in 1792 during the French Revolution. Louis XIV and Marie Antoinette, who were beheaded, are often cited as victims of the curse. The diamond was missing for a few decades, and was recut into a smaller gem. There are unconfirmed reports that it belonged to Britain's King George IV, whose estate sold it to pay off his enormous debts. In 1839, the diamond was acquired by Henry Thomas Hope, which is how it got its name. After Hope's death, the diamond passed through the hands of several owners.
The Hope curse, it turns out, was more or less a sensational story added by journalists in the late 1800s to sell newspapers. While some of the owners are known to have indeed died bloody deaths (Marie Antoinette's beheading by guillotine being a prime example), many of the other tragedies attributed to the stone have never been confirmed and are little more than rumor."
We were getting pretty hungry at this point and sadly there aren't many food options in The Mall area. I had read online that the Native American Museum had pretty great food, even though it was a museum. So we walked down and grabbed a bite. We tried some new foods & enjoyed the gorgeous Magnolia trees. I think we were all too hungry to get a pic of the museum. 😛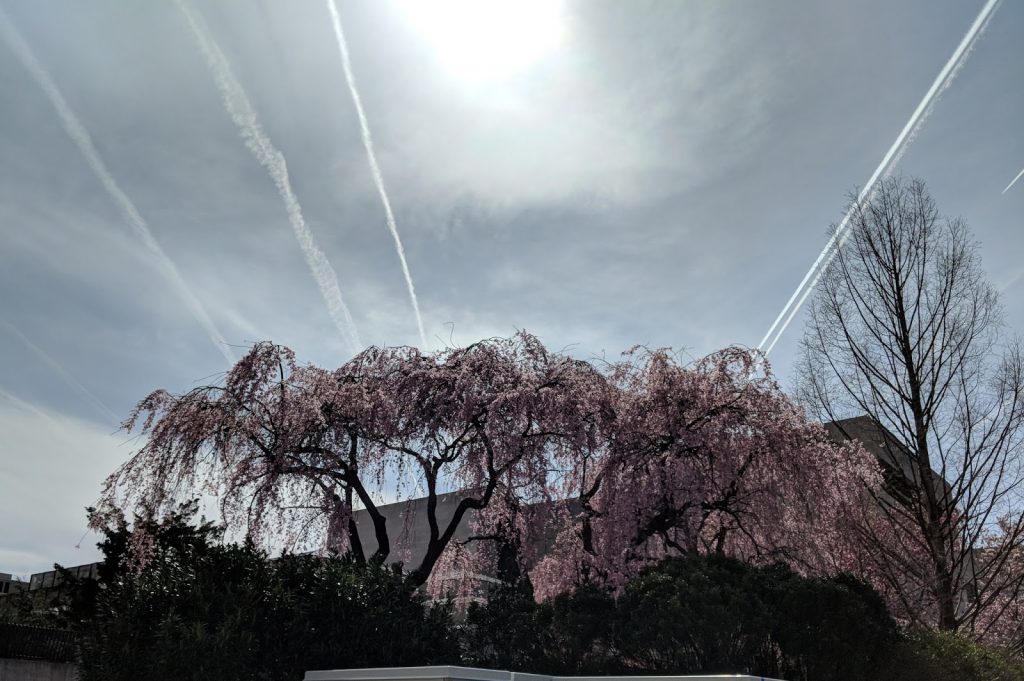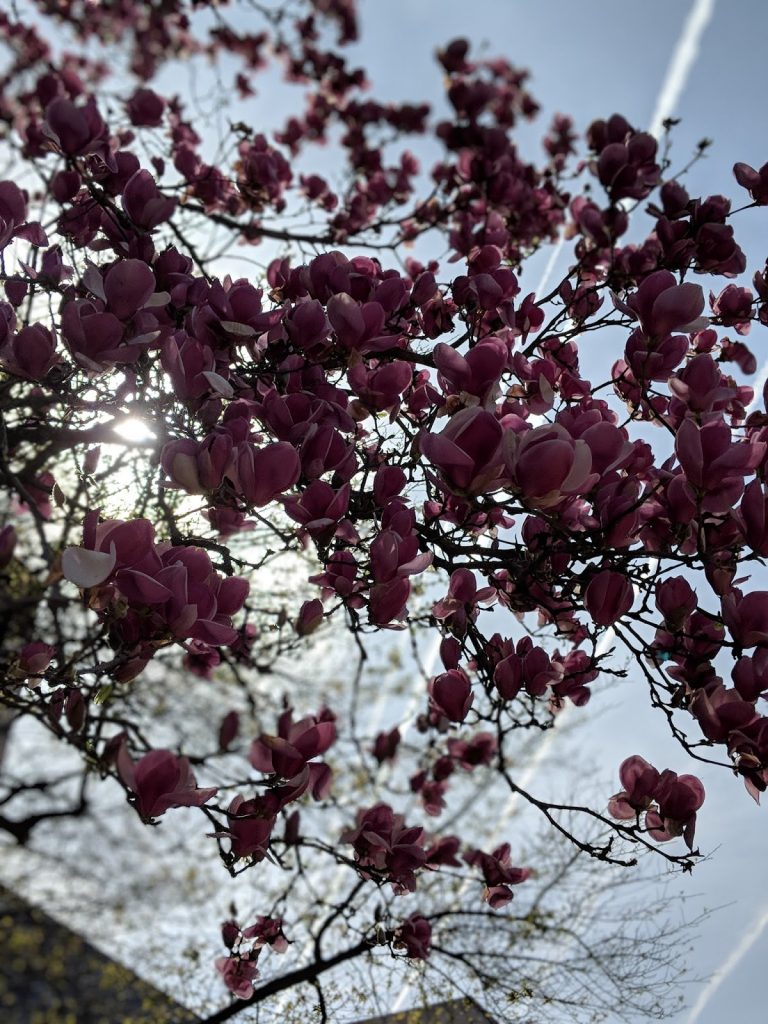 Right outside of the museum you can see the Capitol Building! That was a fun surprise. 🙂 This was as close as we got to it. Not sure why we didn't make it all the way down there?
We finished the day at the Air & Space Museum which was our favorite so far.
Alayna was awesome at taking pics of everything. Stuff I got side tracked or didn't think about she captured! I'm really grateful to her for that! I also love seeing how and what she captured. The Air & Space sign for one…made me giggle that she took it in separate photos but then I thought how cool it looks that way!!! 🙂
One of the first motorcycles.
Walker and I thought the name of this airplane "Willit Run?" was hilarious! 😛
My brain couldn't wrap itself around how enormous this ship must be in real life to carry all of those aircraft!!!
Alayna had to stop and smell the amazing flowers we later discovered are called hyacinths on the way home! Boy we wish AZ grew such luscious plants!
We had a full day and wanted to head back to the hotel before dinner. We hopped on the Metro which ended up being comical. I had rented an electric scooter because my foot just can't walk miles and miles. It's doing better than it has since I injured it 7+ years ago but it's not back to it's old self yet. So we had to wait for the elevator to take us down instead of the escalator. The elevators from the top street down to the Metro are the- slowest-most-inefficient- snail crawling-thing-ever!!!! And of course it's used by every person in a wheel chair, families with strollers, plus everyone in their groups so the lines are horrendously LONG!!!
The kids were pretty patient until we got down to the Metro and realized we were on the WRONG SIDE of the platform. The train to take us back was on the OTHER SIDE!!! The boys weren't having it! Walker (who is usually calm and mild mannered) says were taking this thing up the escalator! We talked for a bit trying to figure how to actually do that without damaging the scooter or killing ourselves. We finally just drove it right up to the first moving step and it sucked it up and took us to the top. We stabilized it against our bodies from below so it wouldn't slide down. And I said a little prayer that the security people wouldn't yell at us for doing it! LOL!
We get to the top of the escalator only to realize we still need to go down the other side. We saw an elevator but thought it was the one that takes you up to the street and that's not where we needed to go. The other side's escalator was "out of order" it was locked like stairs. The scooter weighs a ton and there was no way we could take it down by carrying it. We weren't sure what to do. Then a nice lady flagged us and said this is the elevator down! The elevators that are "inside" the Metro are way faster. We loaded in and were SO thankful to get on our way home. As Walker passed the sign to get in the elevator he realized the sign was saying the street elevators where on the other side..not that this one was a street elevator. LOL! Oops!
We got our train and made it safe and sound back to the hotel. We were all exhausted.
Except Alayna…apparently she was taking selfies. Hahaha!
The boys napped and I took a shower and flopped in bed.
We ordered Papa John's for dinner and Walker walked down the couple of blocks with me around 8pm to pick it up. There was a whole fiasco with Google maps on my phone. The walking directions weren't making any sense and I just couldn't tell which way it was telling us to go. Thankfully, Walker loves his mom and is patient when I have a Senior moment and technology confuses me. He pulled out his phone, PROMISED me he knew where we were going, and I followed him. But he of course laughed at me all the way there and back. LOL!!
Jared usually works late or early however you want to look at it when they do these work moves. He expected to not get back until 2-3am. But everything went so smooth. Smoother than it ever has….ever! They were done super early and he was home by like midnight. His boss kept them an hour longer (he does that sometimes) but everything was done. He could have been home by 11pm! It was a huge blessing! So grateful he was able to fly out later with the family while the other people on his team came out earlier. Grateful he only had to work Friday instead of the whole weekend. And grateful he got done so quickly!
Then next day we had to get up pretty early to make our day trip and I was concerned he'd be too tired. But it all worked out so perfectly! God's hand was over us this entire trip! <3 <3