Do you remember that cartoon from when we were kids called "George of the Jungle"?
It was sort of like Tarzan but he was really clumsy and in the theme song goes, "George, George, George of the jungle, watch out for that…..treeeee!!!!"
Well Eli went on his first snow camp out and had pretty much the time of his life! There has been SO much snow this year! We got him all the gear to make sure he stayed dry and warm…cuz if you aren't dry you won't be warm. I was going over checklists making sure he had everything to make sure he'd be taken care of. You know, being "Mom" and probably driving him nuts! LOL!!
As I was dropping him off at the church with his troop I had an impression to tell him "to keep his head on straight…have fun but don't be too crazy".
As most boys his age do he said, "sure mom..ok." In one ear out the other….LOL!
I went to pick him up the next day and this is what he looked like!!!!! Have mercy!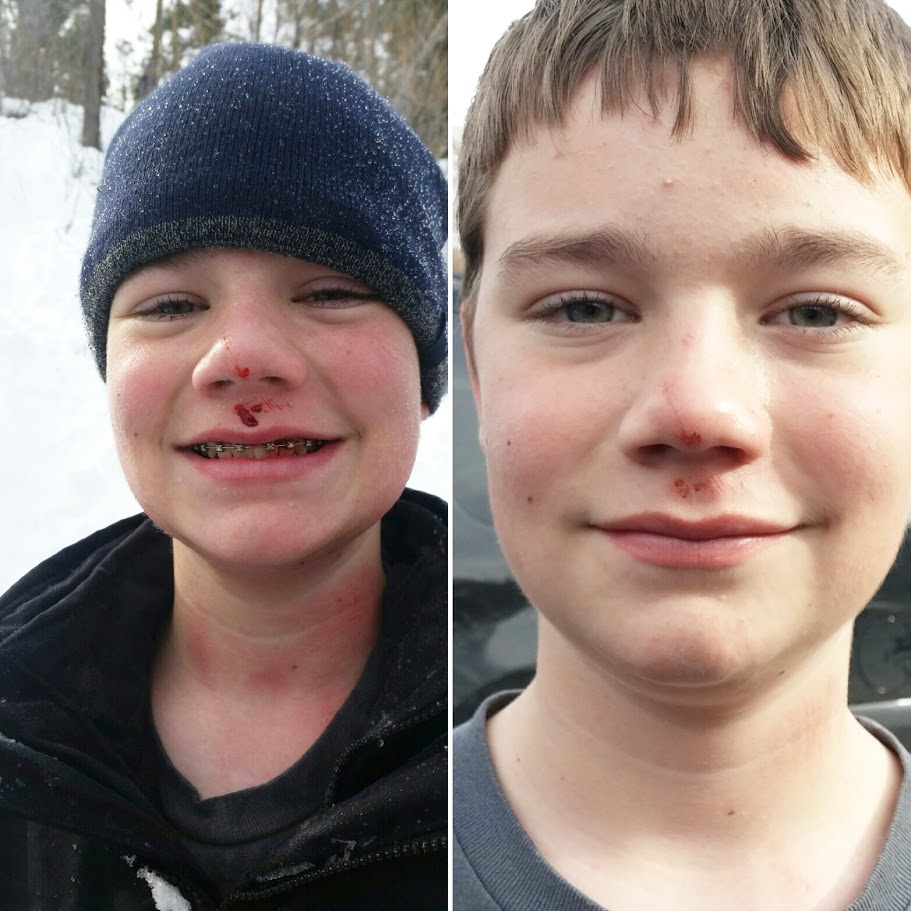 As soon as he came up to the car and I saw his face I asked what happened????? He said he was sledding down a hill and he hit a tree with his FACE!!! (Insert theme song here!! Hahaha!!! Maybe we should start calling him George? 😛 )
So many things went through my head on how this could have been so much worse!
He said he did blackout for a second…and some of the other boys said he looked dazed. He got up pretty quick though and he didn't need any stitches…so we are counting our blessing on this one!
When he got in the car his leader Bro. B said he had a pic from right after it happened so he sent it to me. I was telling him how I warned Eli to be safe before he left, and then Eli said, "I think you were prompted mom. There were a whole lot of other things I wanted to do but I remembered what you said so I didn't do them."
Whew!!!! Well…I guess "some" of the things Mom says doesn't just whistle between his ears!!! LOL!!!