Performing for the Prophet!
The BIG day finally arrived on Saturday and the 12,000+ youth headed out to Discovery Park to practice and do a few run throughs at about 10:30am.
The Temple Presidency asked the Saints to pray for good weather since the forecast all week called for "rain and thunder" all day long Saturday! I'll tell you the sky looked ominous all day, but as the youth were outside reports from all over the valley said they were getting rain, except at the Temple. God was answering our prayers that the Cultural Celebration would be able to go on.
It lightly sprinkled throughout the day but the rain held off. Discovery Park is a retention area. If they had received rain it would have flooded the fields and they would have had to cancel. It would have been heartbreaking. The kids had practiced so hard for months for this day.
Just before the kids were about to begin at 7pm it started to drizzle, then rain, then downpour! Most would say that God hadn't heard our prayers. That since it rained it must mean our offerings and petitions fell on deaf ears. But I don't see it that way at all. If it had rained all day the Celebration would have been cancelled. God heard our prayers and held off the weather until they began. Giving them time to perform for our beloved Prophet Thomas S. Monson. We live in the desert and we are always in a drought. God provided for the youth and for our state. He works all things for our good. 🙂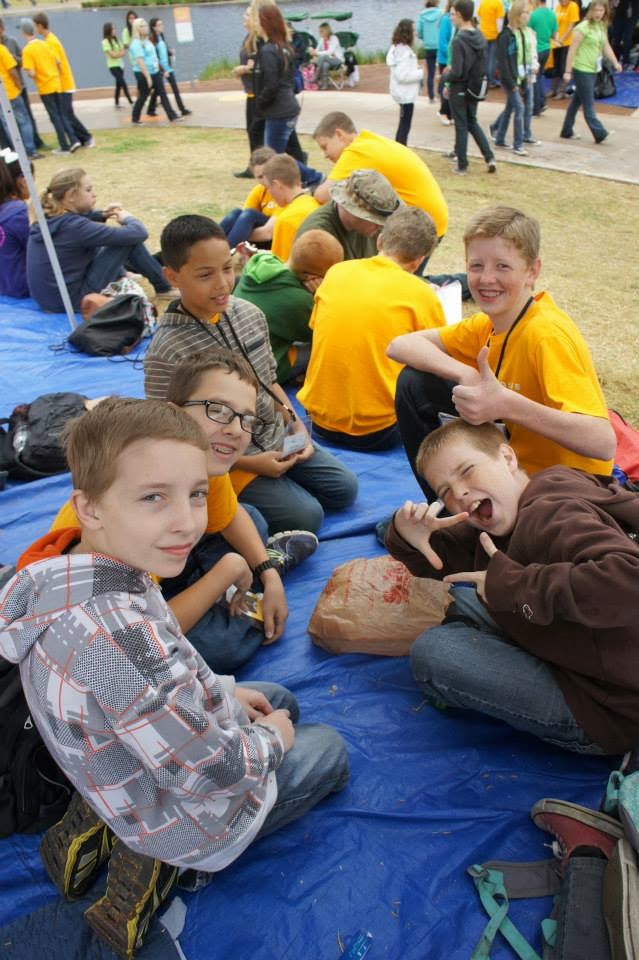 My dear friend AnnMarie Watt took these pictures on Saturday as the youth practiced. I was so happy to get some pictures of Walker there! 🙂 He's the one with the black rimmed glasses! He just got those a week ago… They are much different than what he had before. 🙂
I'm not sure if you can pick walker out of this crowd. He's behind and to the right of the kid with the green hoodie pulled over his face! 🙂
The Cultural Celebration was wonderful. The kids sang and danced their hearts out! It was an experience of a life time! They also came home cold and soaking wet! But a memory that will last their whole lives!!
The best moment for me was when Walker got home we asked him what he thought about it all now that it was over and he said, "It was really cool. I felt the Spirit." Oh how my heart filled with joy at these words!!! Walker is beginning to walk more closely with God in his life, and his testimony is growing each day. It's beautiful to watch unfold!