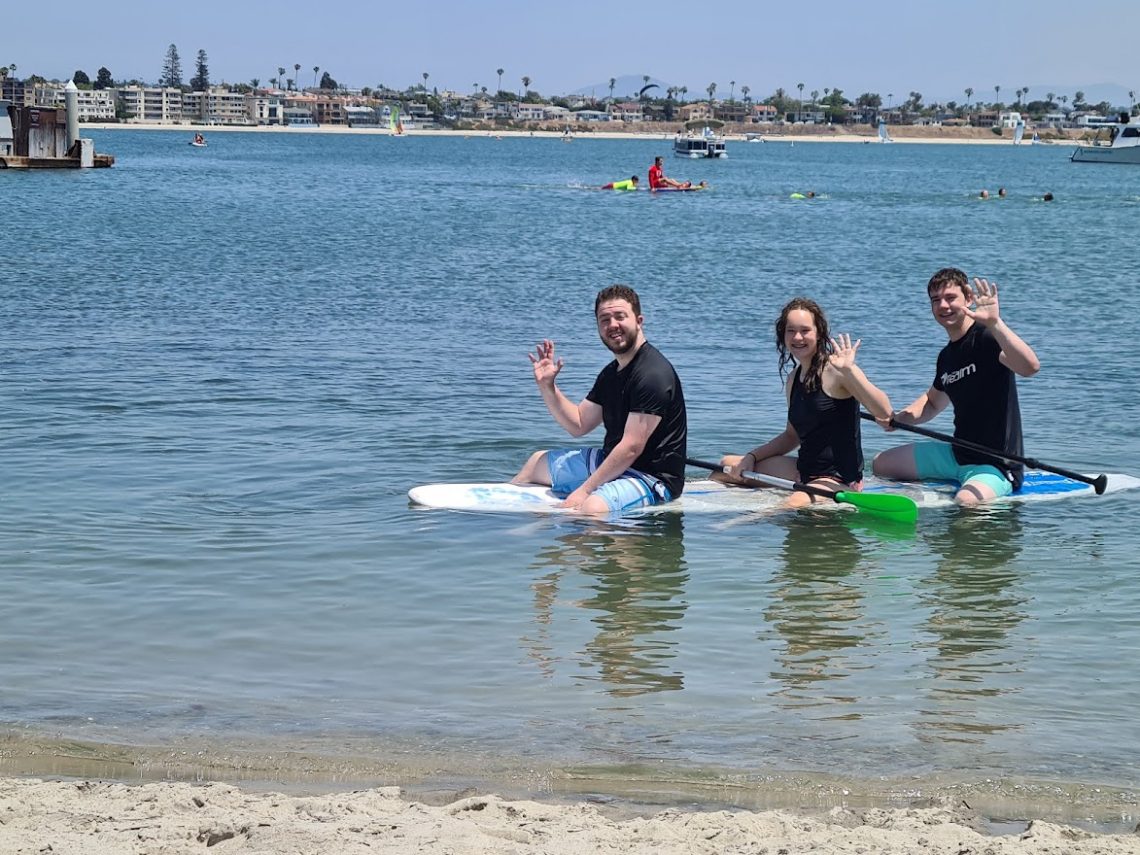 Good-bye Disney…Hello San Diego!
Wednesday we left our "Happy Place", said good bye to our wonderful hosts and friends the Hawk's, as well as Chase, and headed down to San Diego for some much needed relaxation and beach vibes!
We rented an Airbnb for the first time and it was great! It was a 1/2 block away from Mission Bay and the condo was clean, roomy, and centrally located to everything we wanted to do. We will definitely be booking more vacations this way. So much better than being cramped into one small hotel room.
I mean…it was perfect!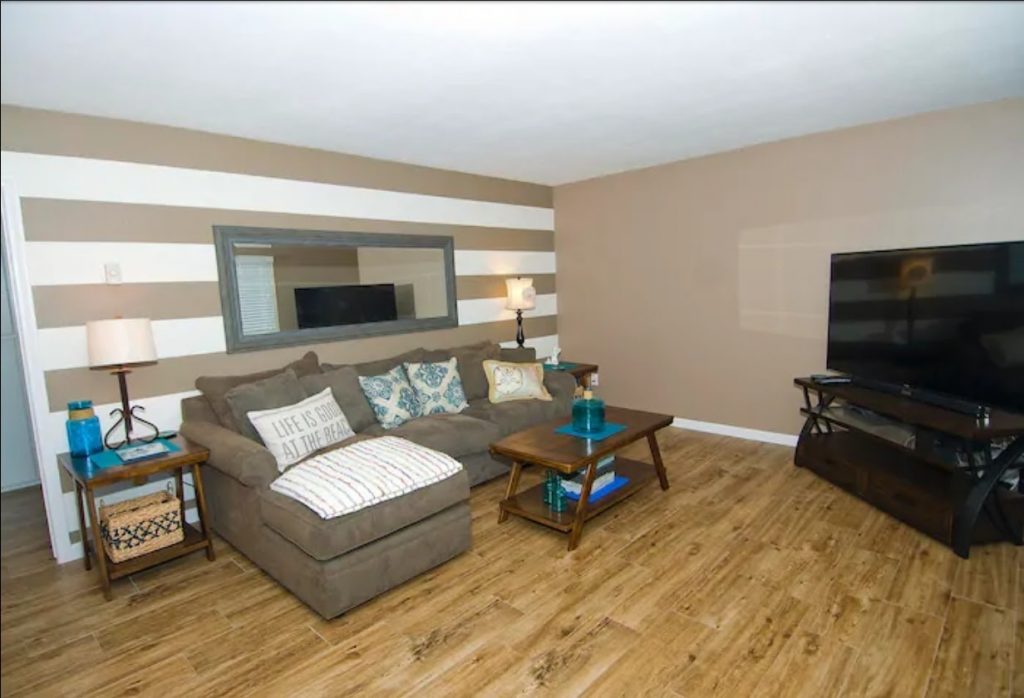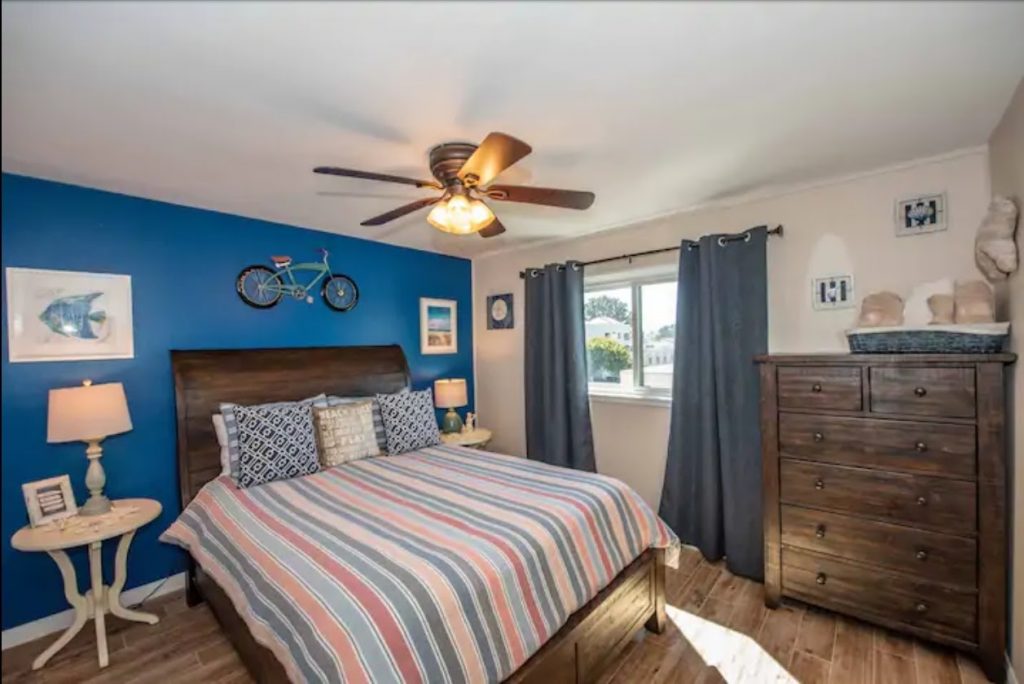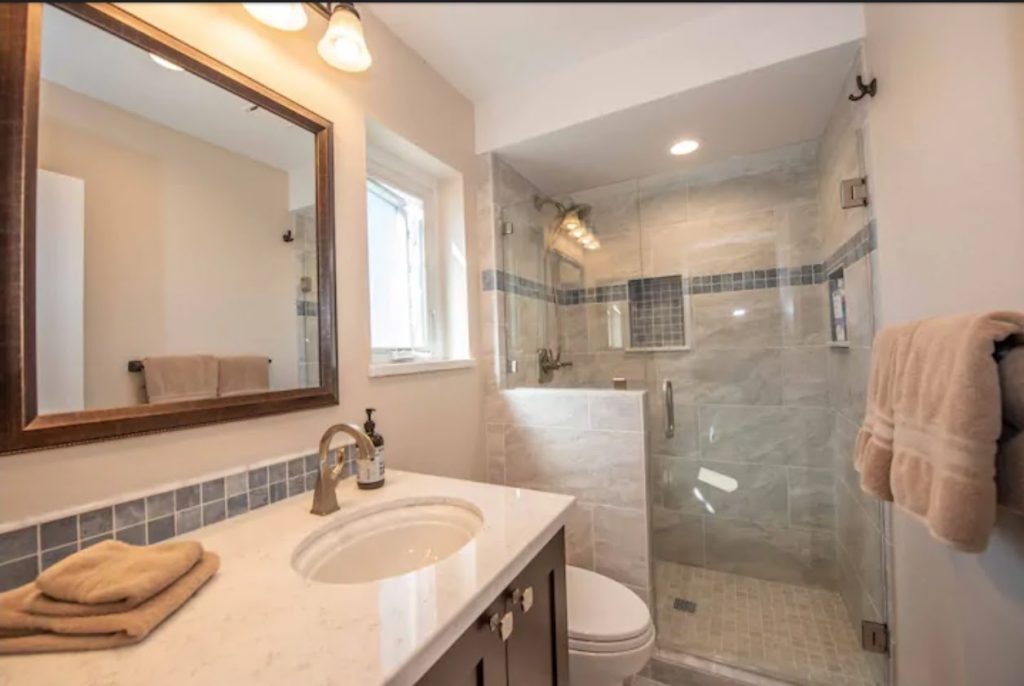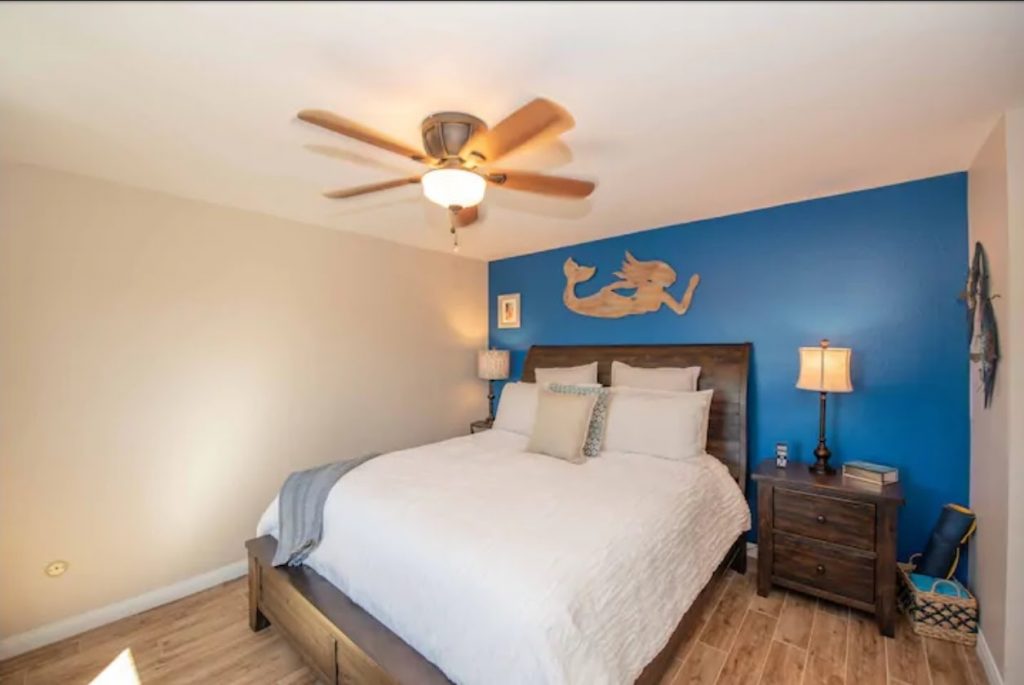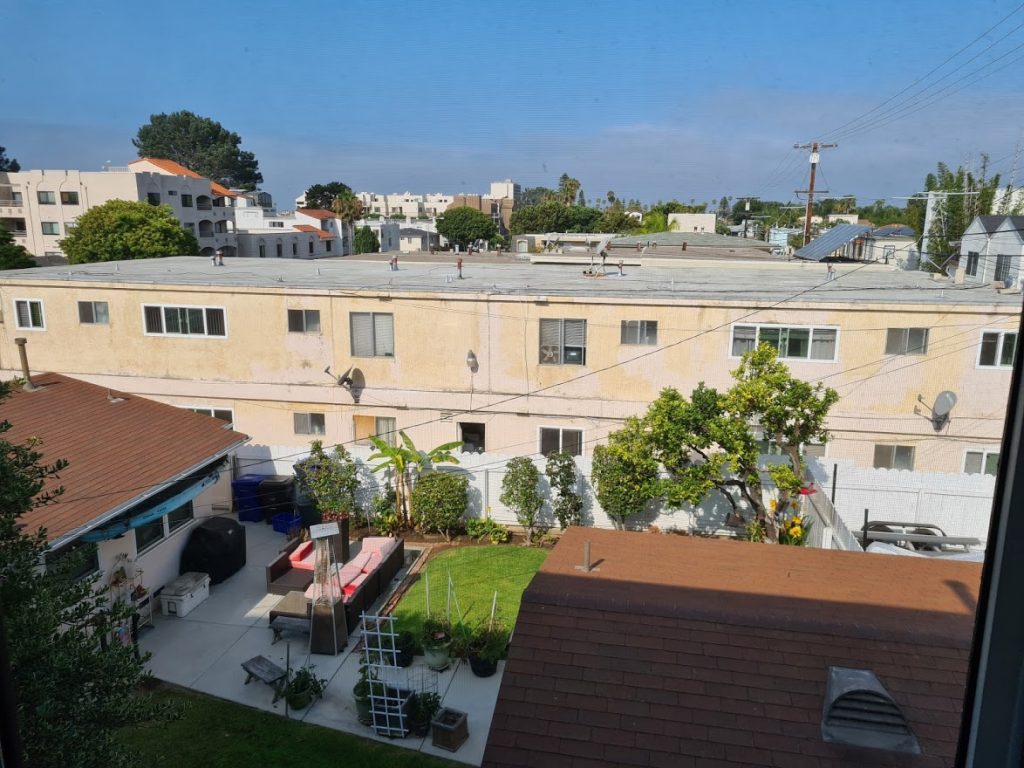 This was the view out of the back window from the Master Bedroom. Jared and I just watched, "Rear Window" with Jimmy Stewart a few months ago. Idk why but this totally reminded me of this movie! Lol!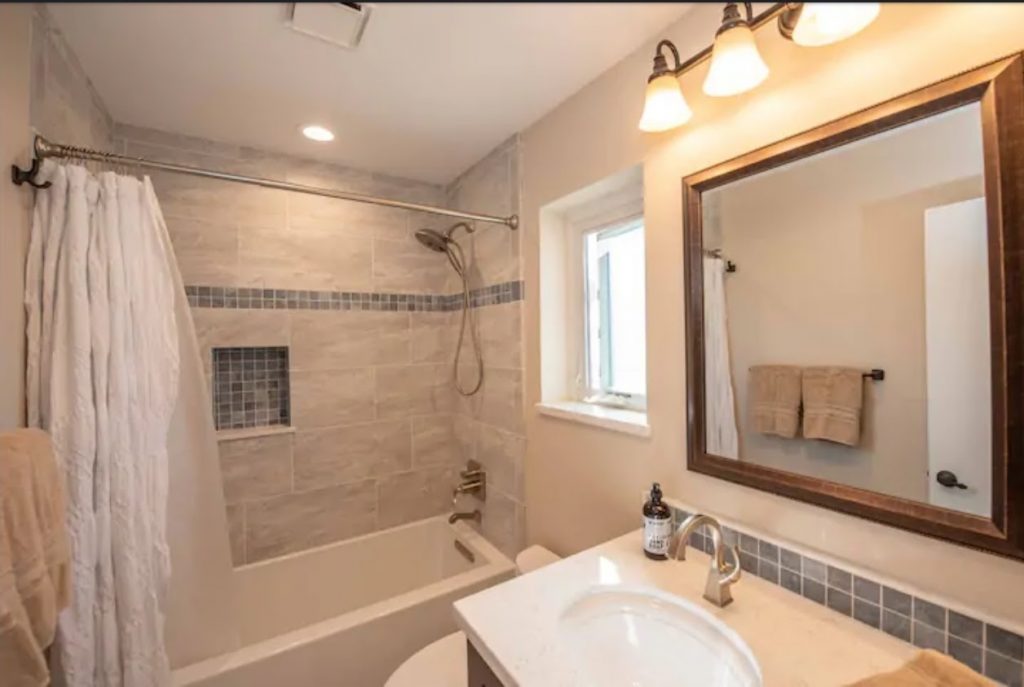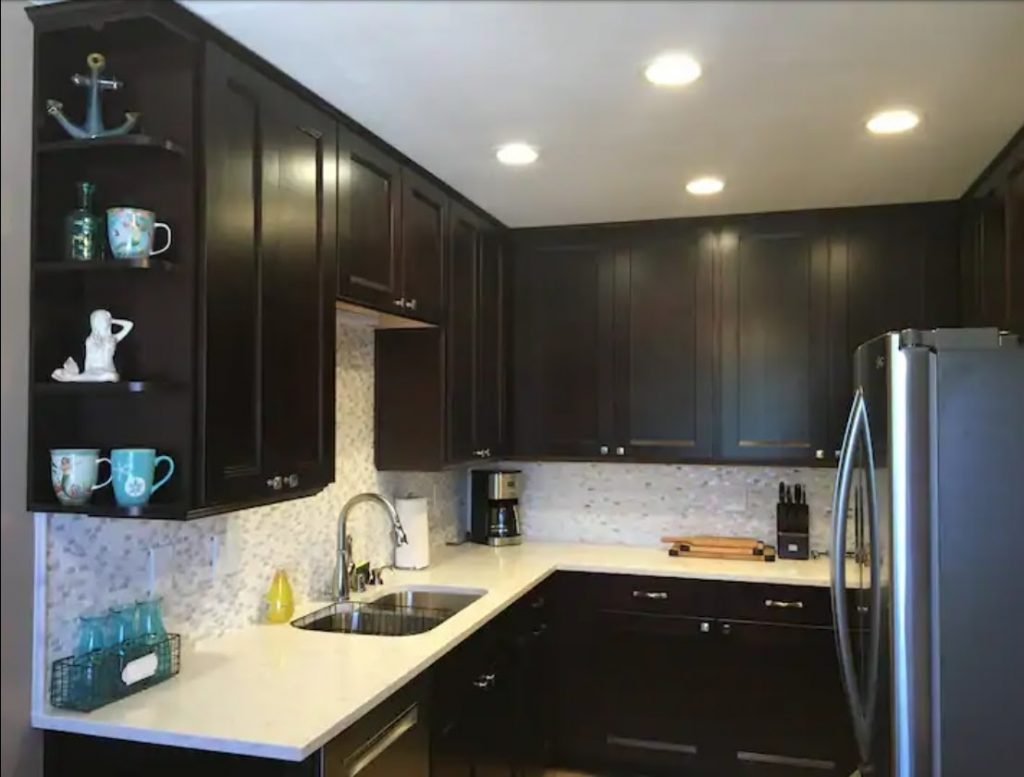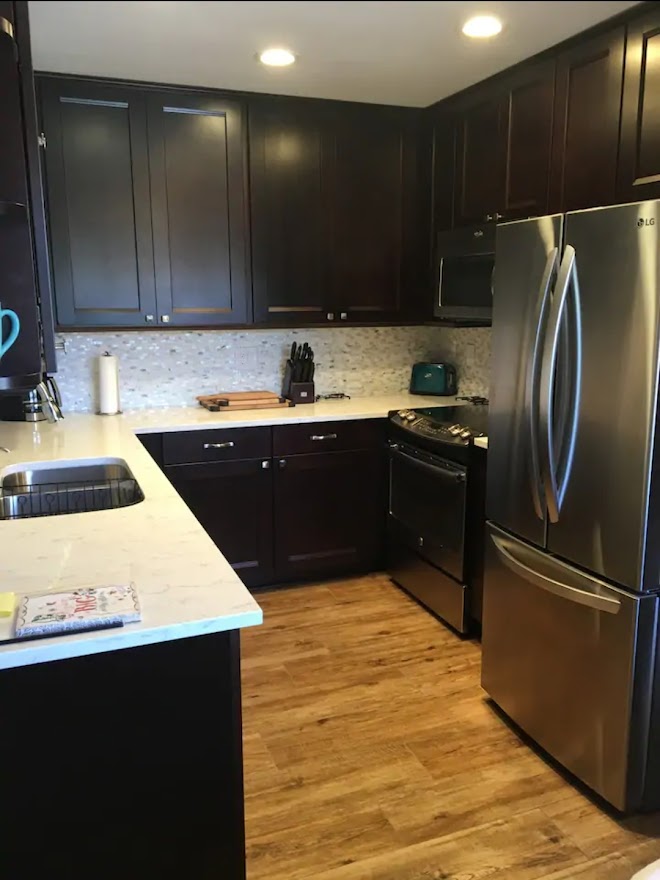 It was well stocked and had all new appliances. Everything we needed was there.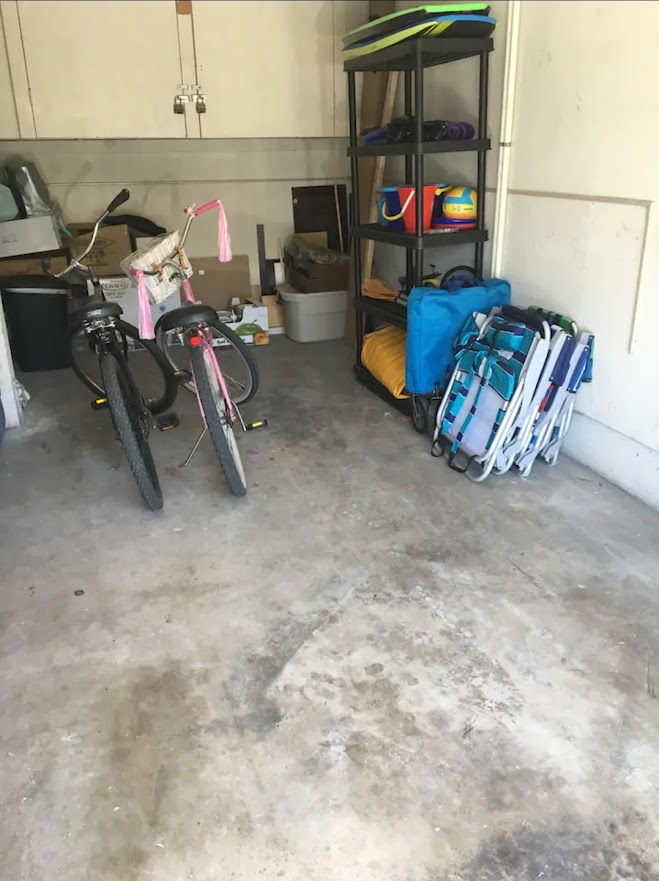 There were bikes, beach chairs, a wagon to transport our stuff to the beach, an inflatable kayak, pails & shovels, boogie boards, and even a volleyball!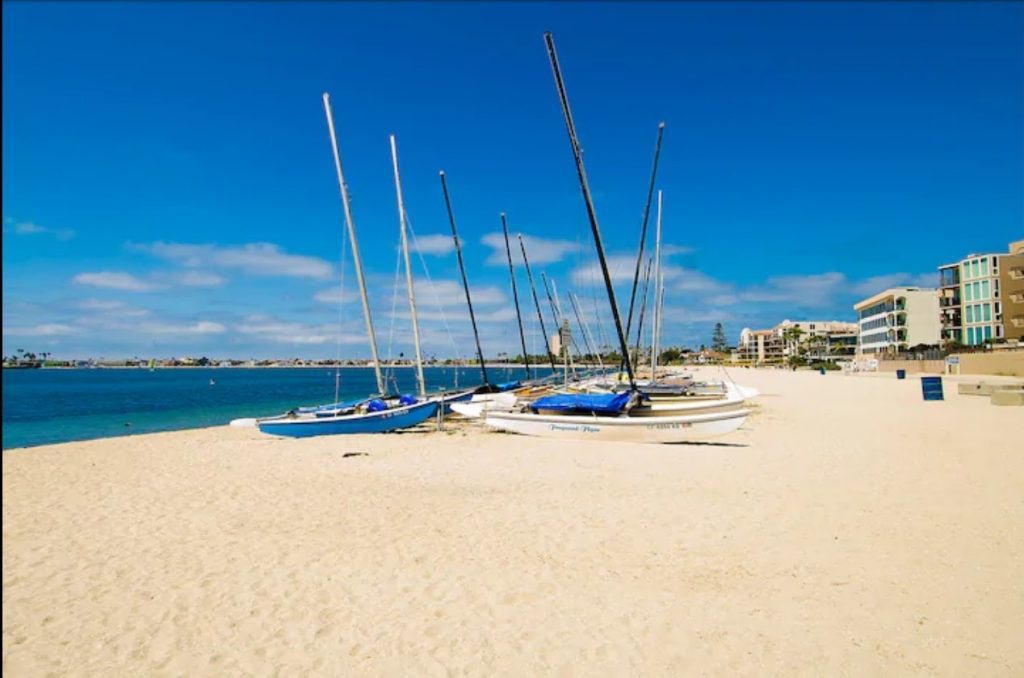 Wednesday was a relax and recoup day. We ran over to the local Ralph's which is the sister company of Fry's if you live in AZ. We grabbed a few groceries for the week and Jared cooked us up some steaks and the kids wanted tater tots. Who am I to argue. 😛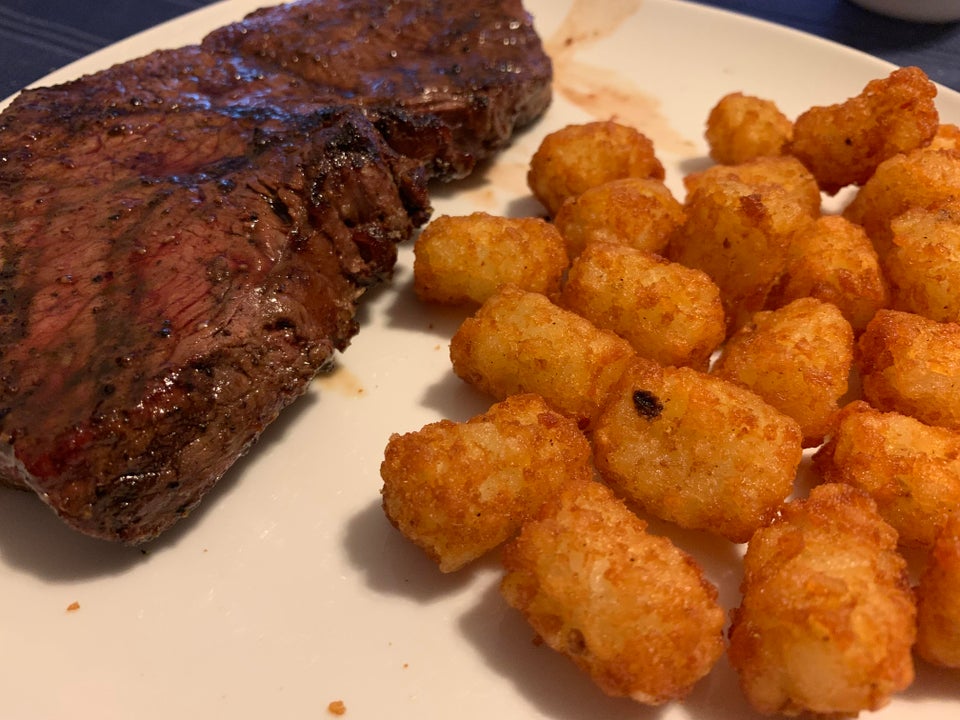 Thursday we started the morning out with a hearty breakfast at the condo.
We also rented a kayak and a SUP board from justkayaksd.com for this day. They don't have a store-front. They run their business all online which makes them the cheapest place around to rent from (that I found). We booked it online a few weeks ago and the day of they gave me a text to remind me where to meet up down at the Bay. They unloaded all the gear from their truck and took it down to the water for us. They gave us safety tips and suggestions of where the best places to paddle around were. They told us what times they come back throughout the day and when last call was. It was so easy!! They were friendly, fast, and I recommend them for sure!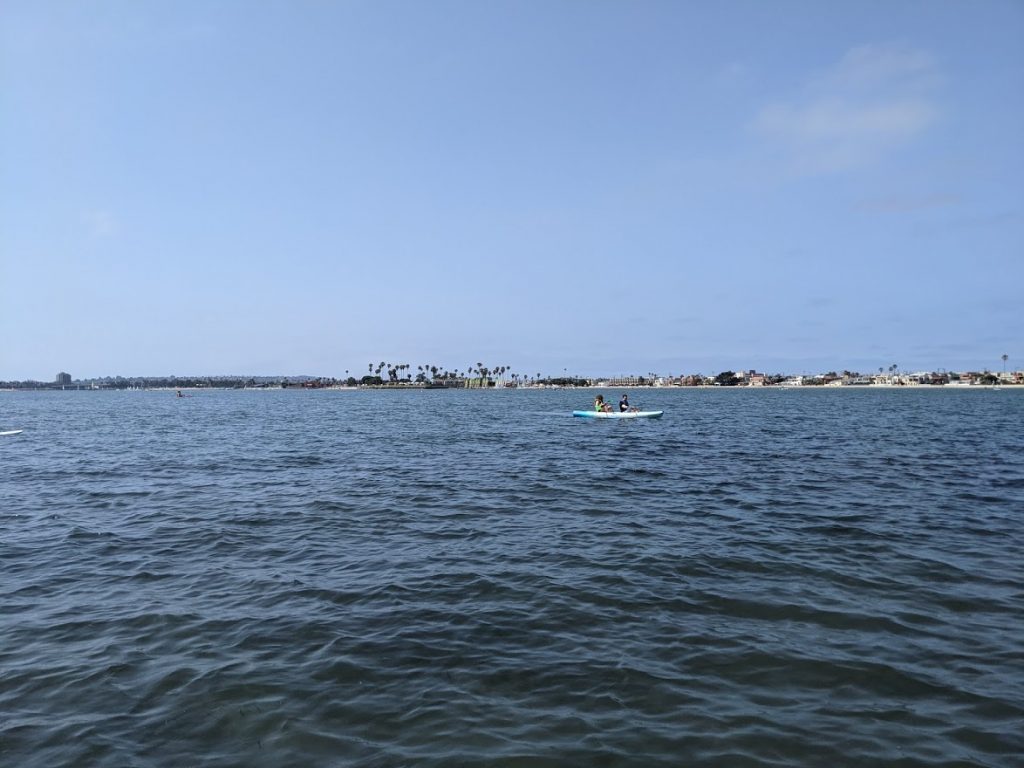 The kids all jumped in and paddled down to where we wanted to camp at for the day and Jared and I walked down the path with the wagon full of snacks, chairs, and stuff.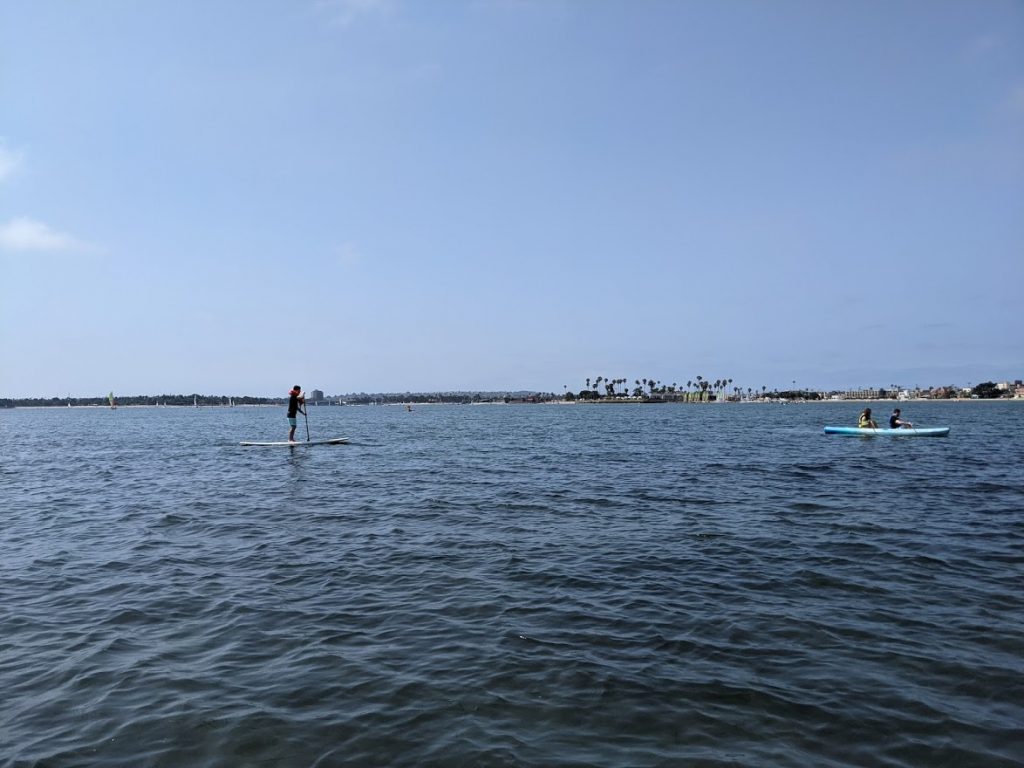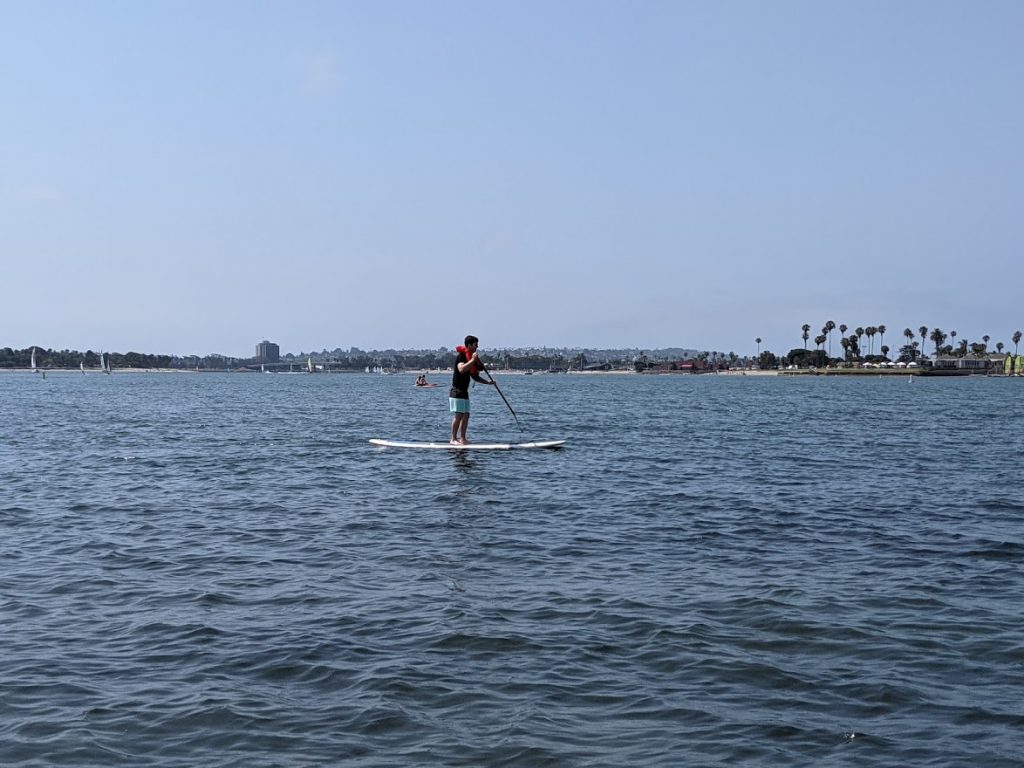 Look at him go! 🙂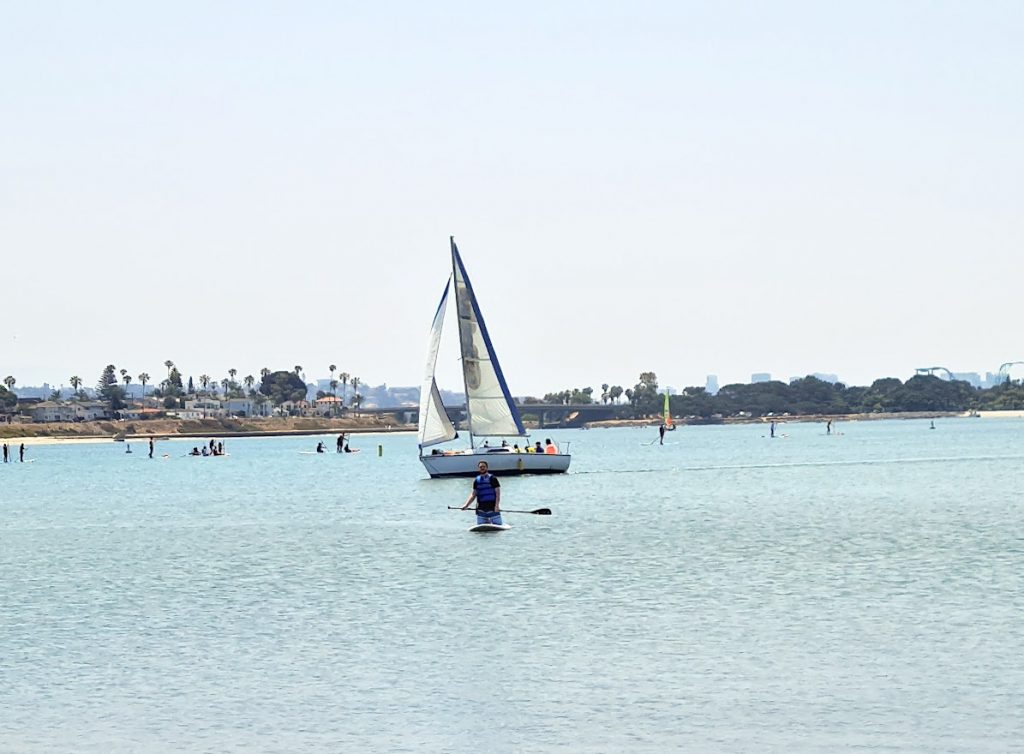 Walker eased into it but he figured it out pretty quick too! 🙂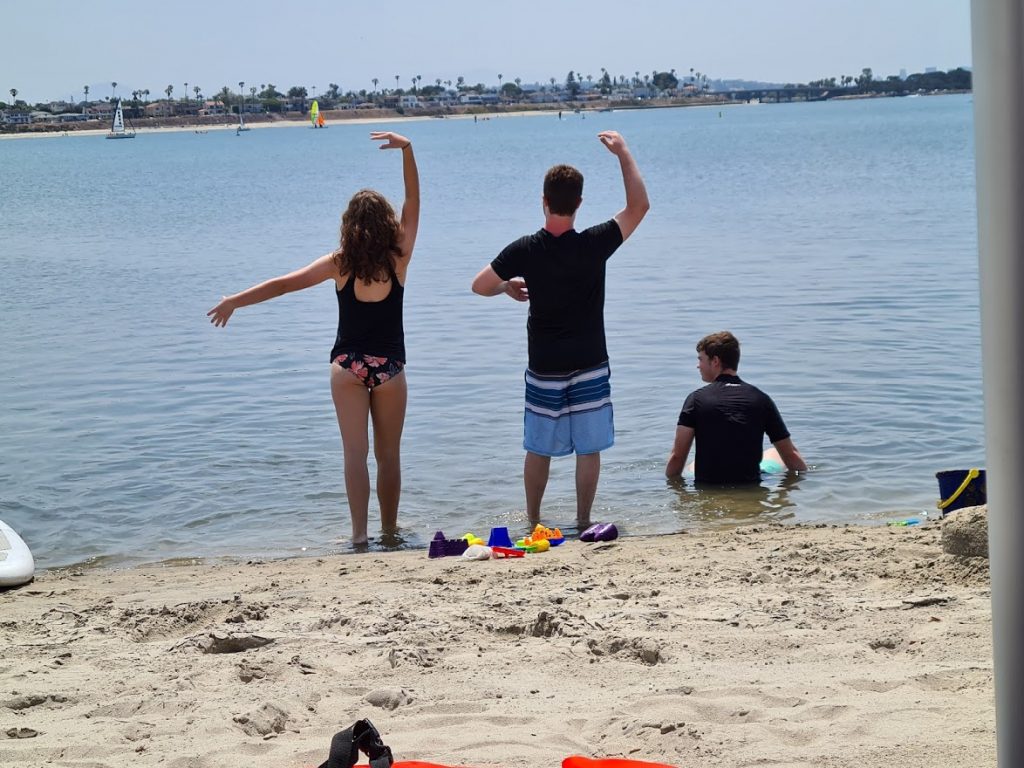 Everyone needs a little ballet at the beach, right? LOL!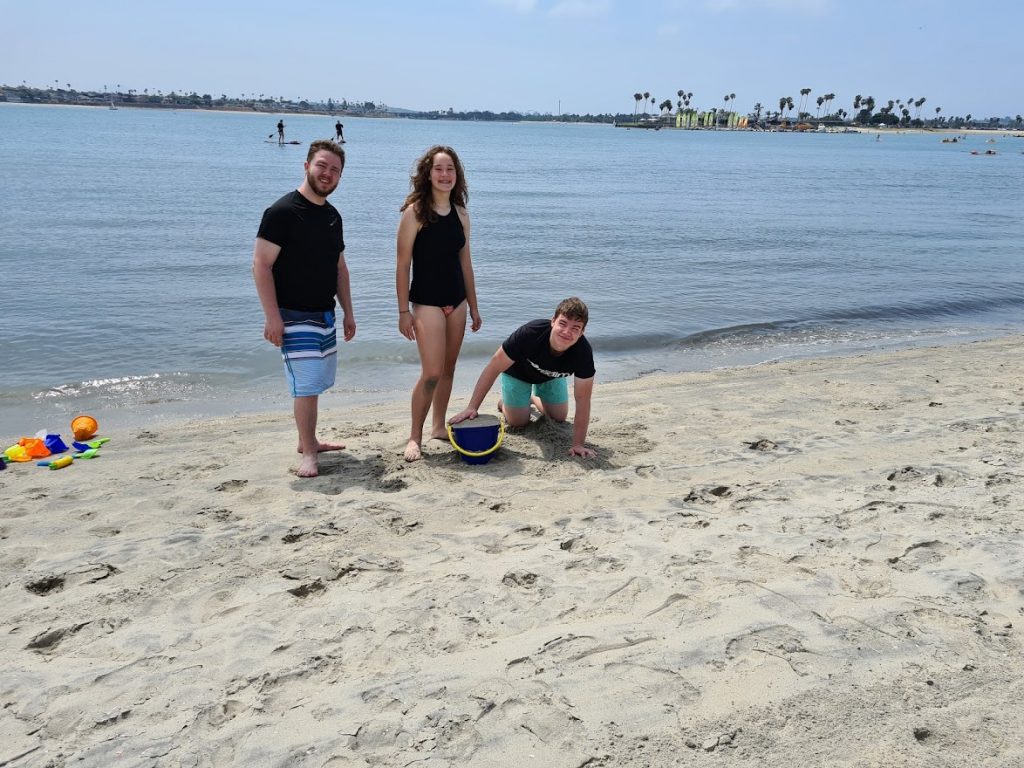 Eli wasted no time in getting to work on a sandcastle.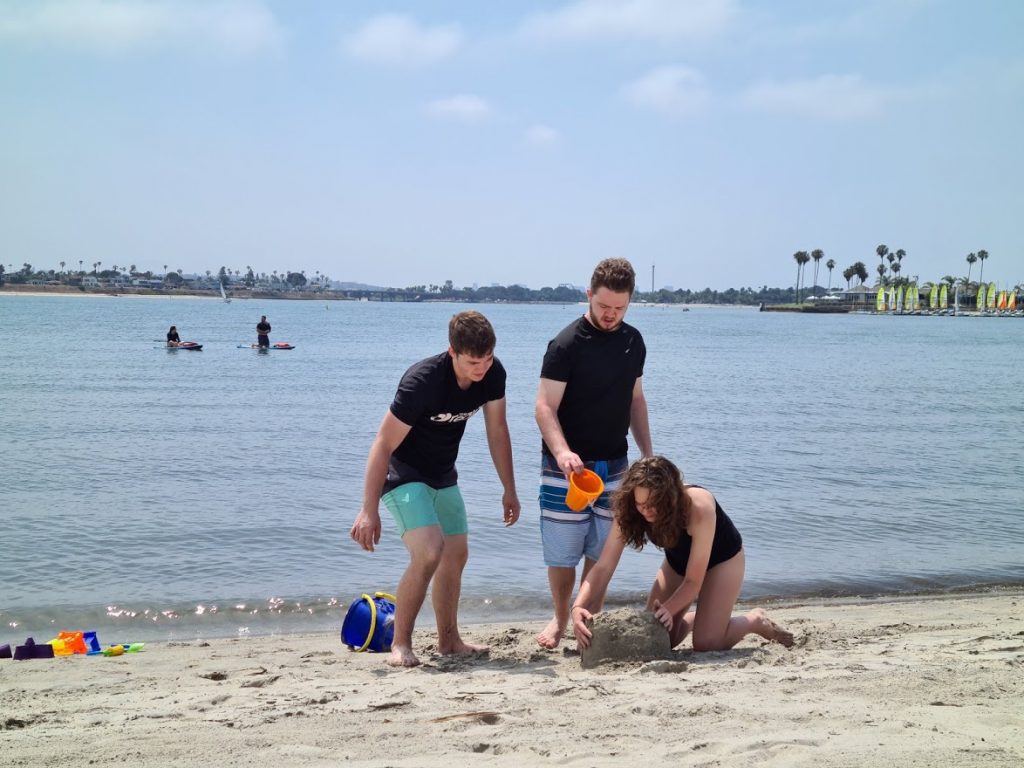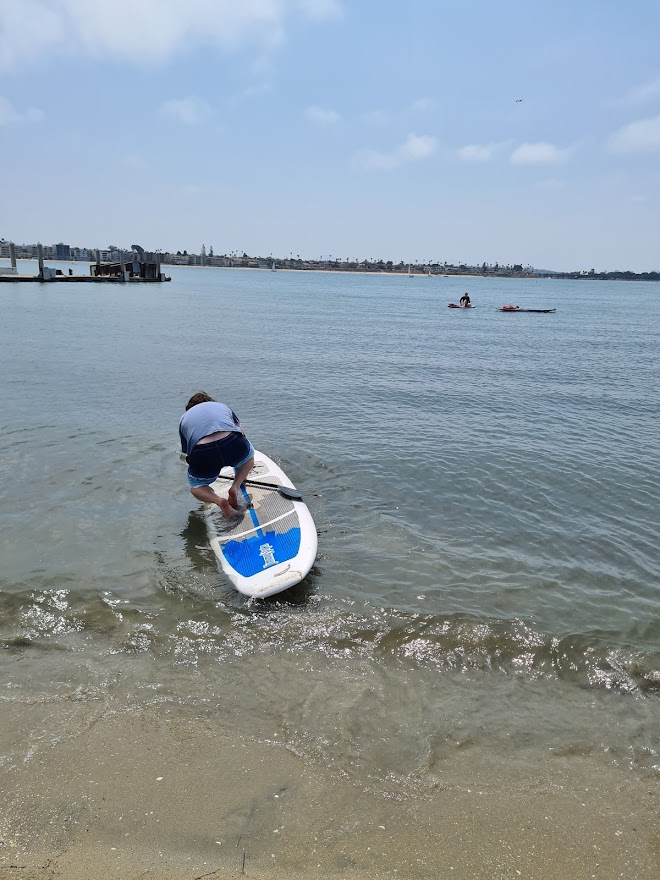 Jared's turn on the board. It's harder than it looks! 😛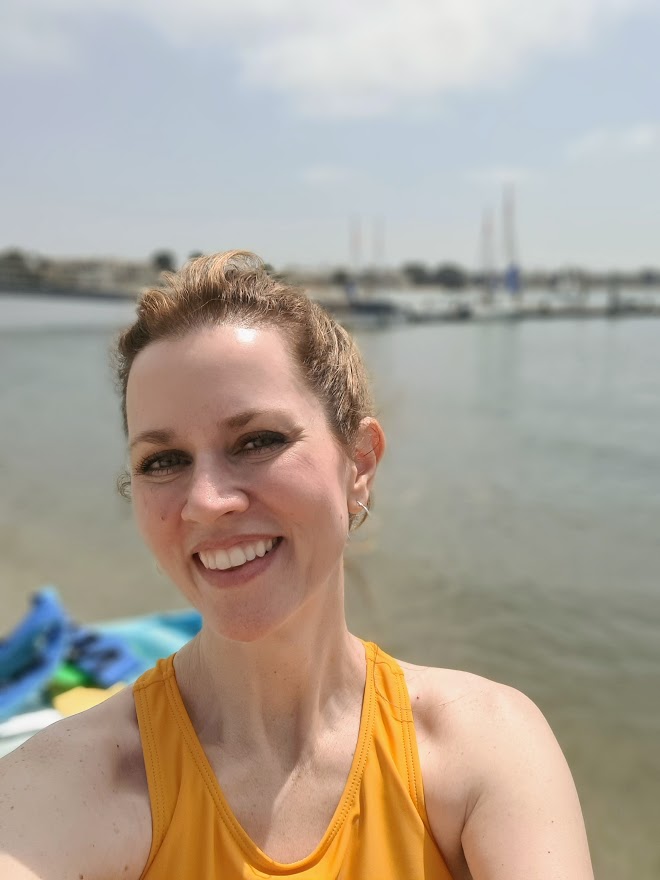 I'm not a fan of getting "in" the water at the beach so I stayed on the sand and in the kayak. Something about little sea creatures I can't see nibbling at me kinda freaks me out! Haha!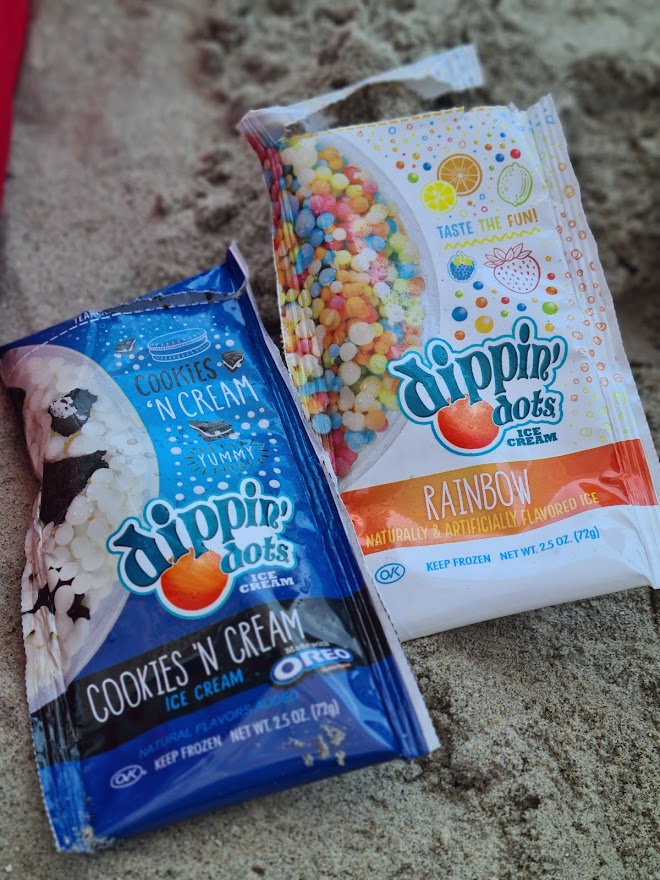 Just before we came on this trip Eli was sharing a story of when he was little and we took him to the Superstition Springs Mall and we got him "space ice cream" (or at least that's what he said I called it…hahaha!). He was saying how good it was and how he hasn't had it since then.
Well, wouldn't you know it…they had some right there at the little beach concession stand. We HAD to get him some! <3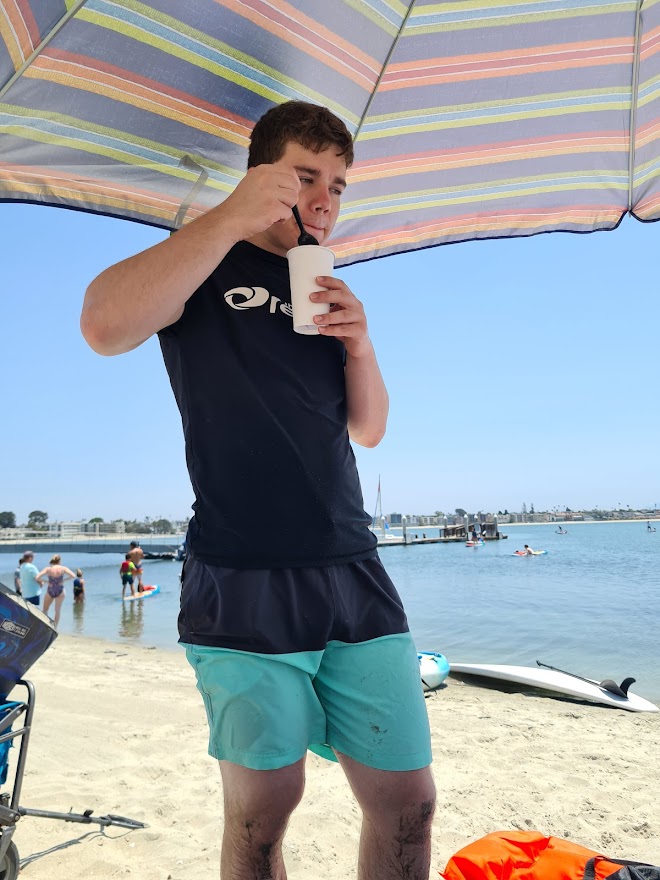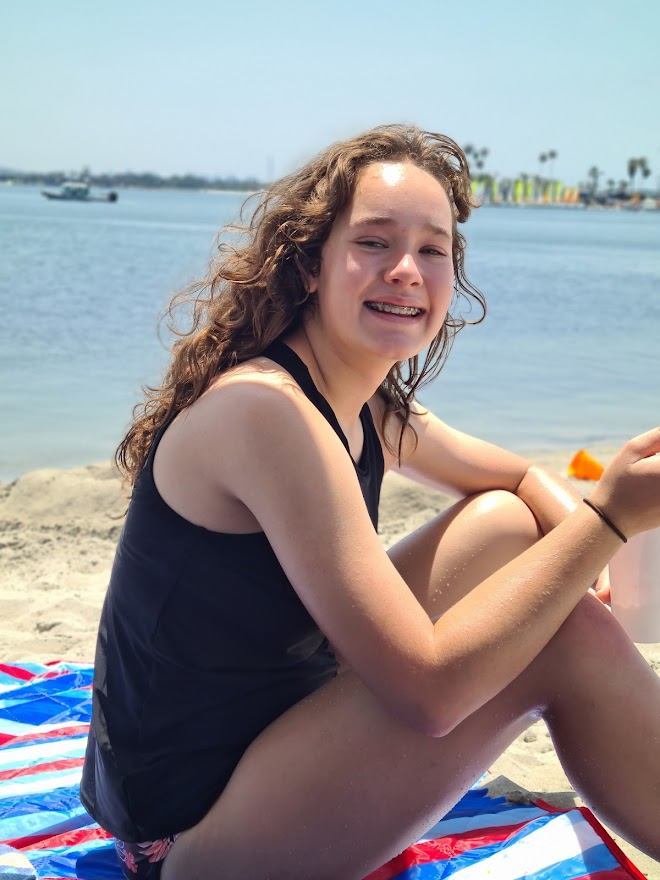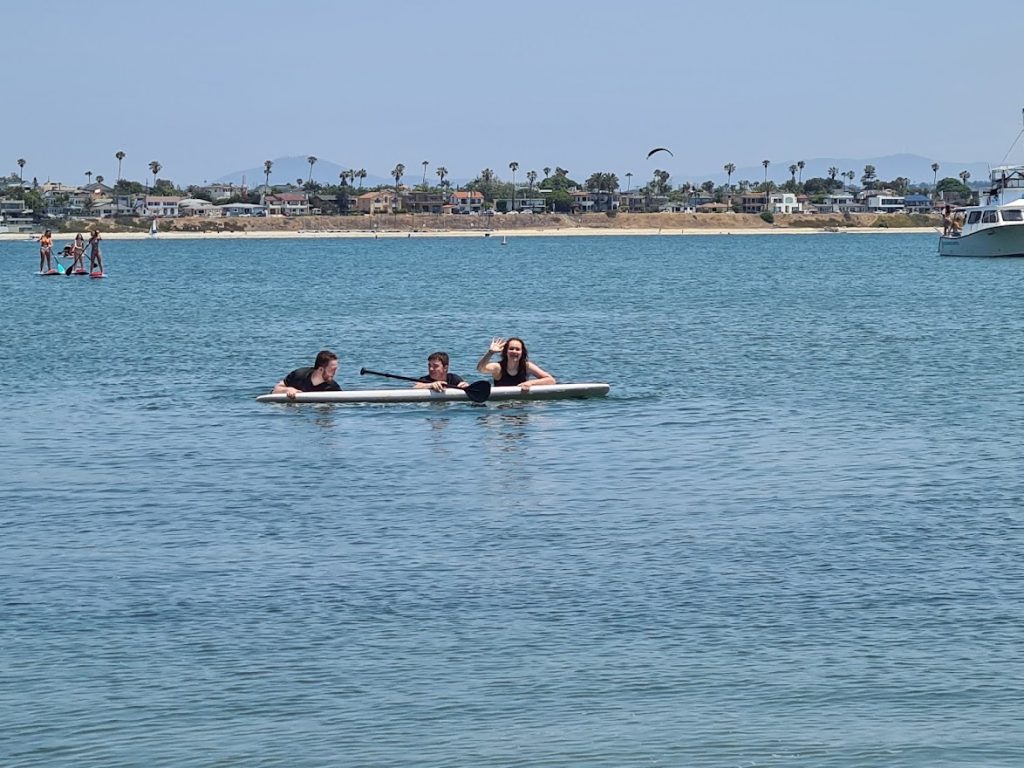 After a while the kids starting adding more people to the SUP board to see how many they could keep balanced.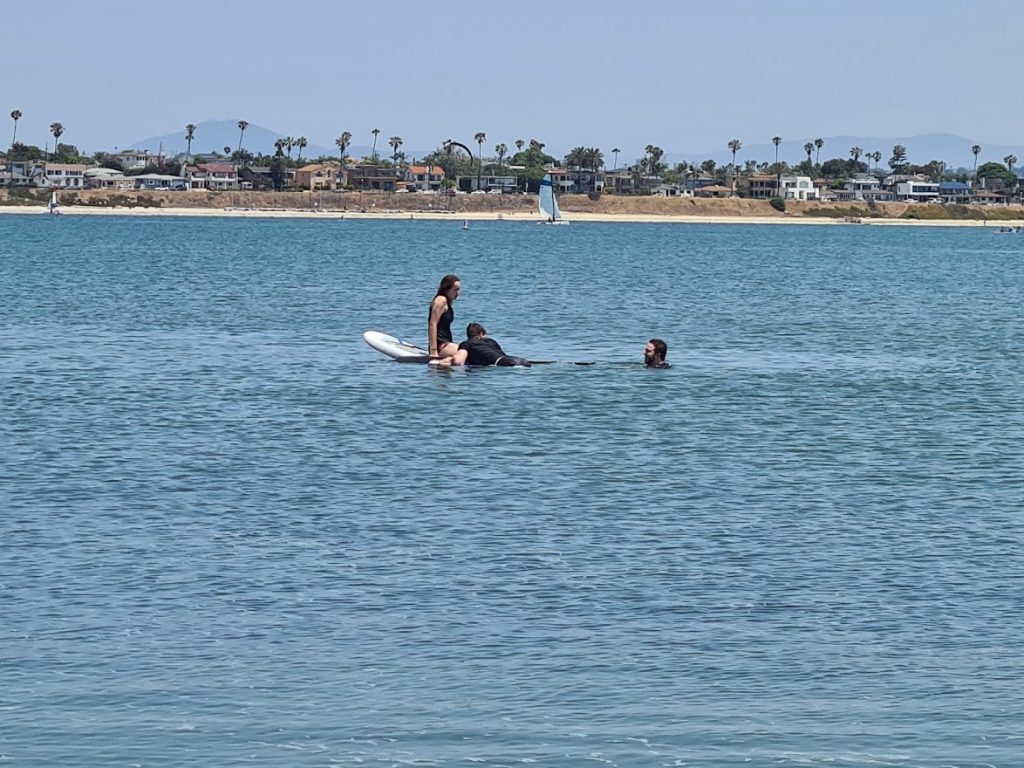 The answer was two. Three was just too wobbly and they kept spilling over! It was hilarious to watch though! 😀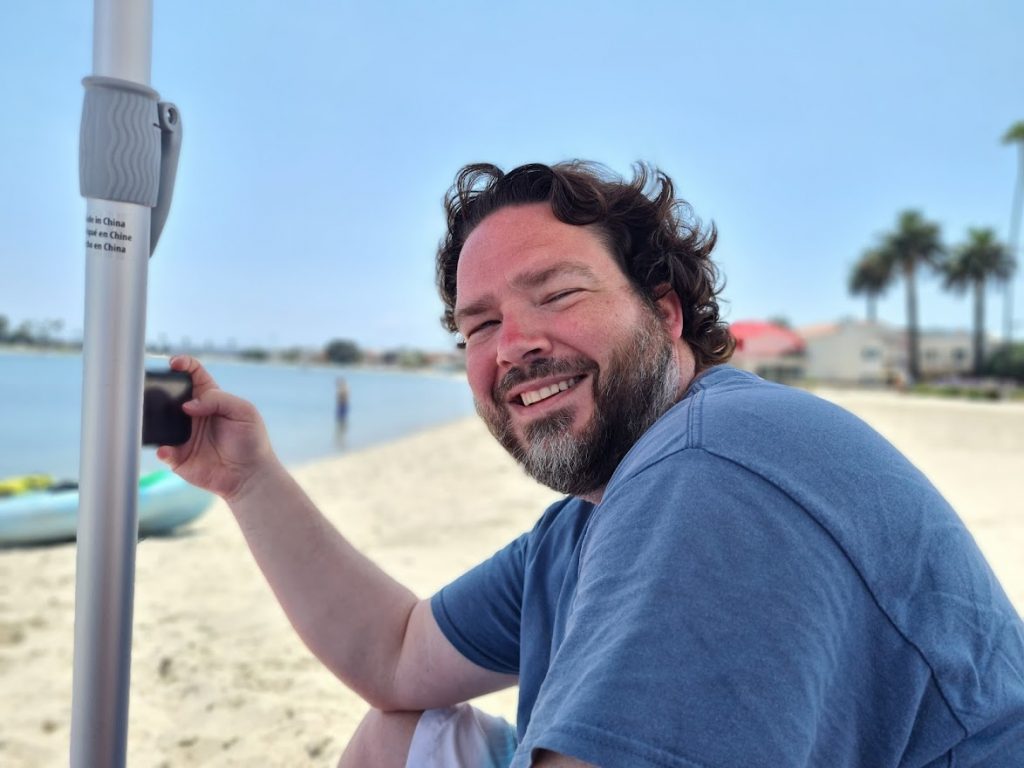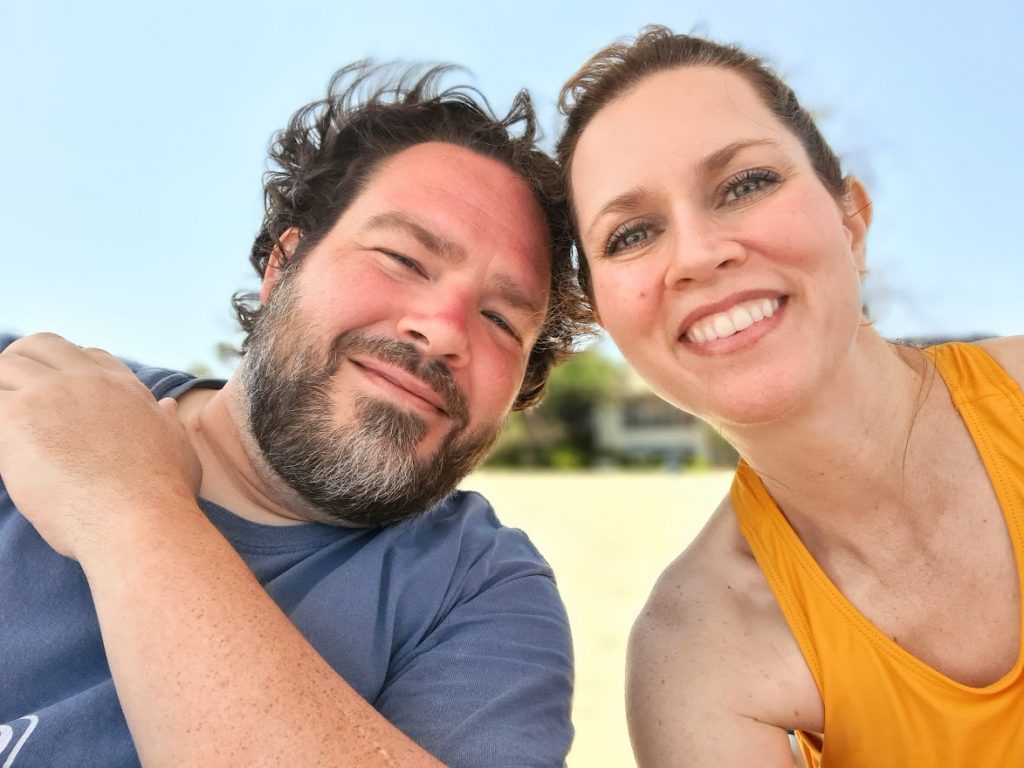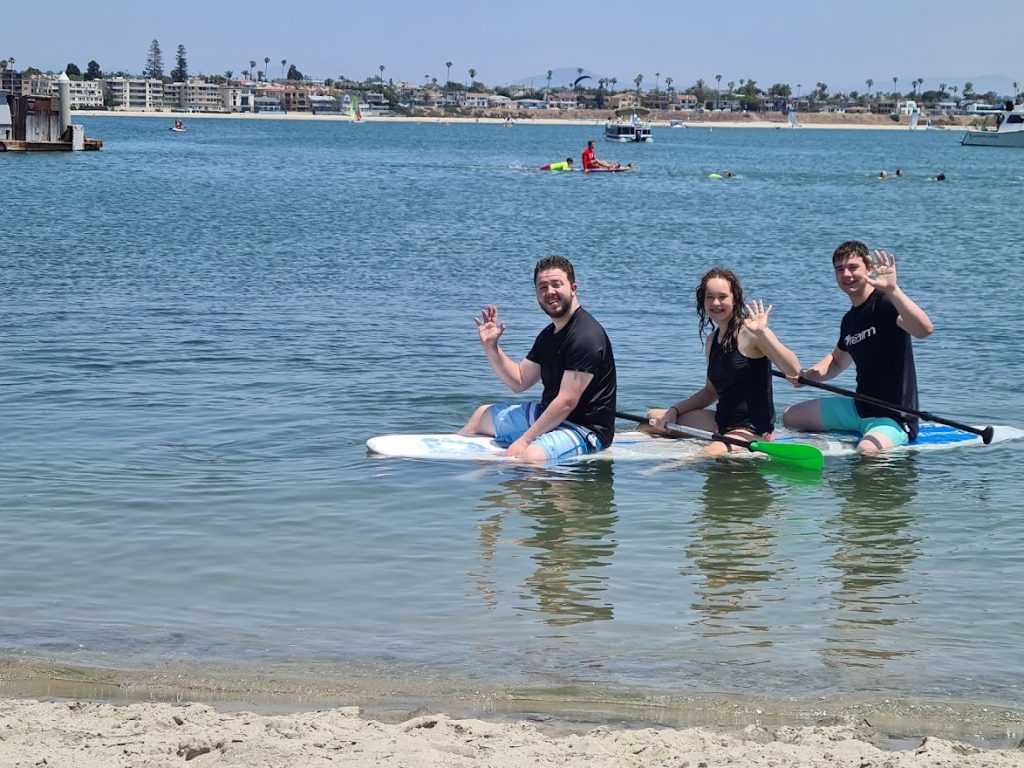 The BEST kids and humans in the world! Love them so much!!!!!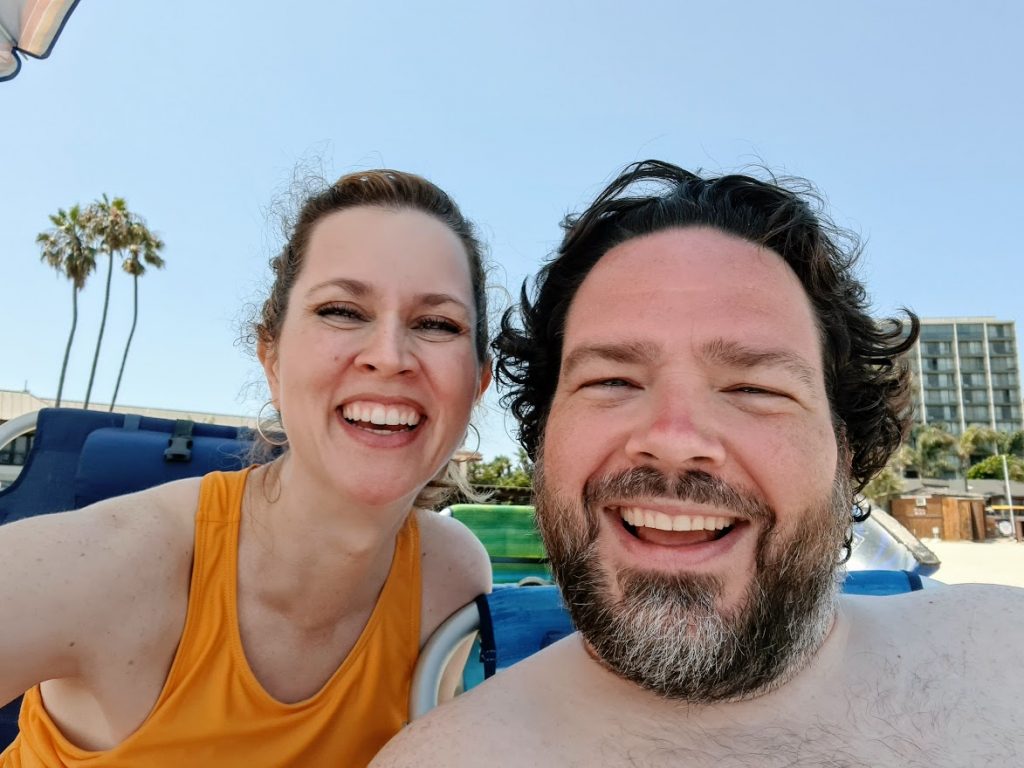 This picture makes me laugh every time I look at it! We are cracking up at ourselves!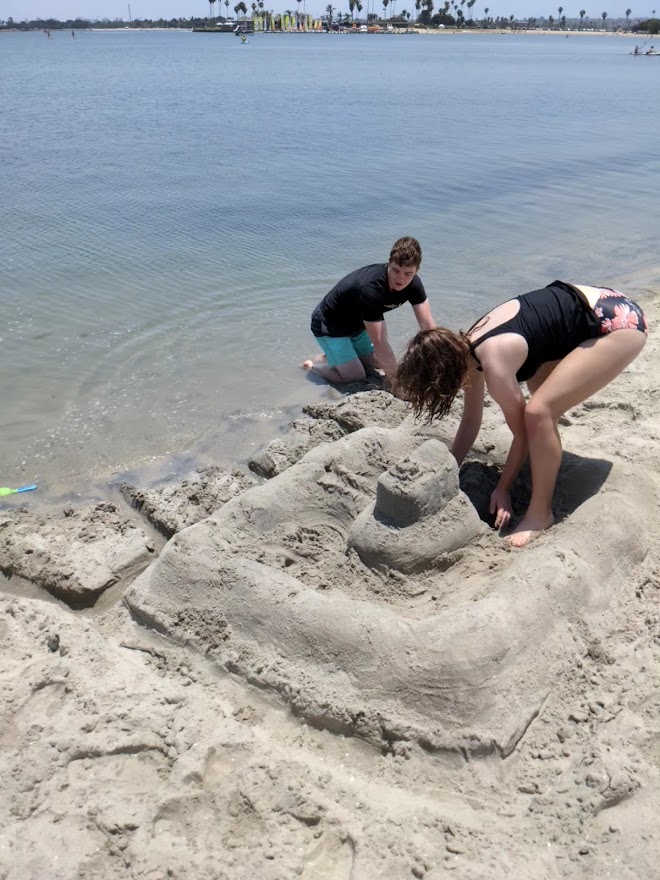 The castle progressed well and became quite the structure. Complete with a moat!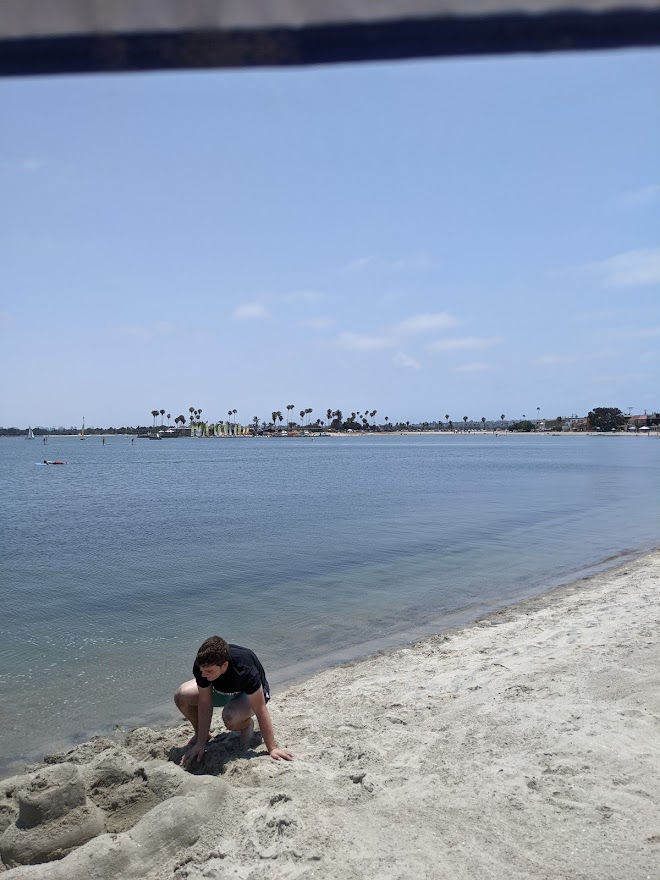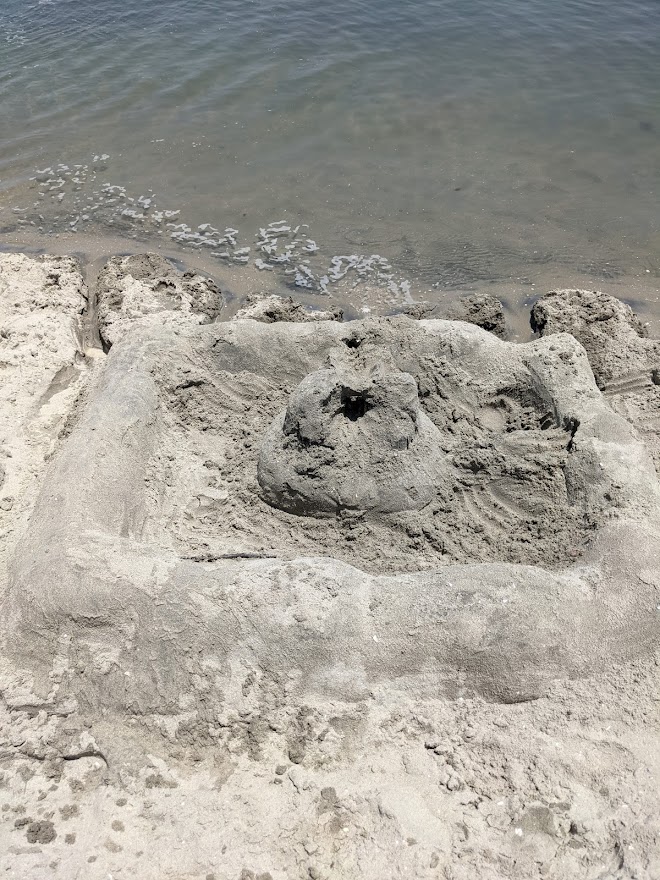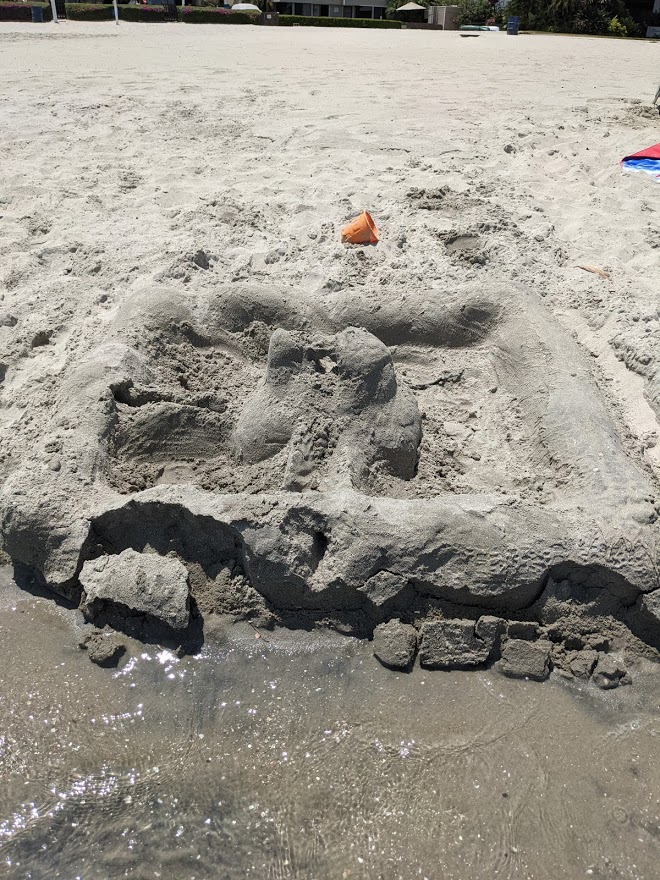 Sadly the tide started to come in and did a number on the retaining wall. 😛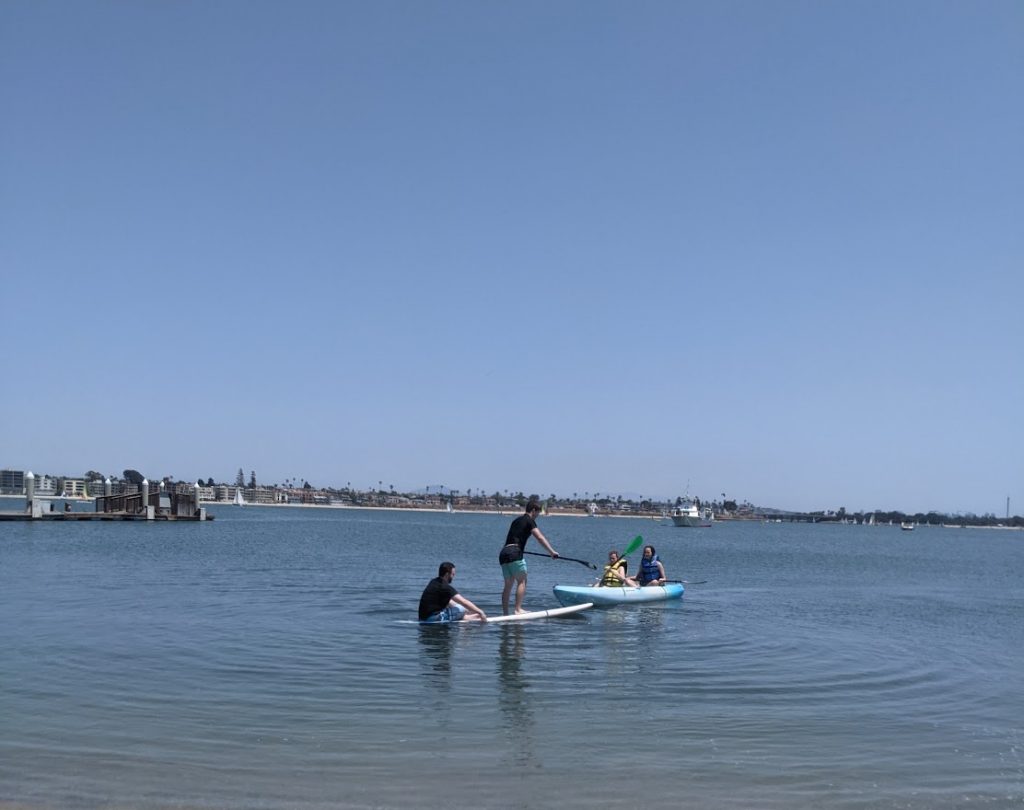 That's me in the front of the kayak and Alayna. I got pretty good at paddling around! 😉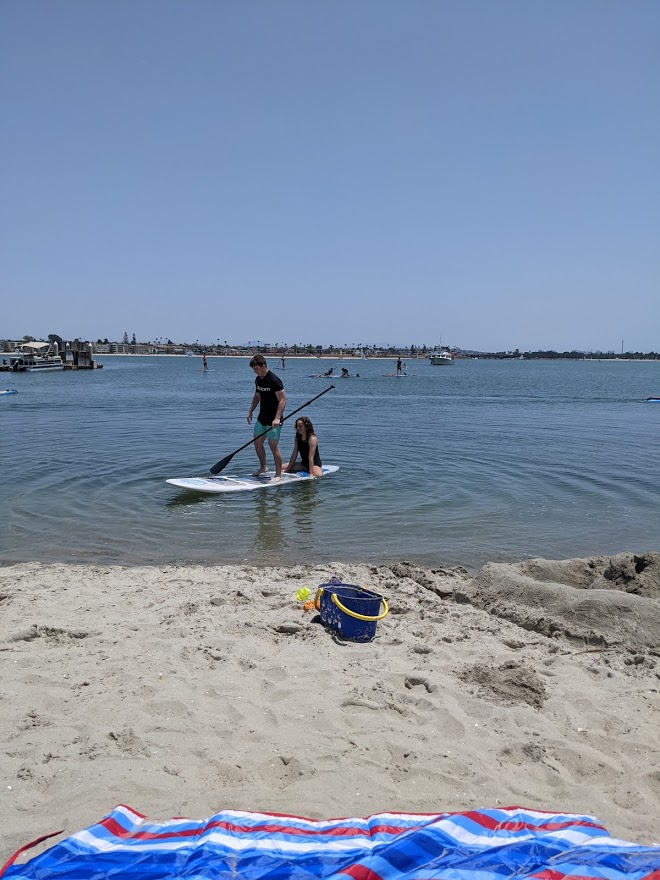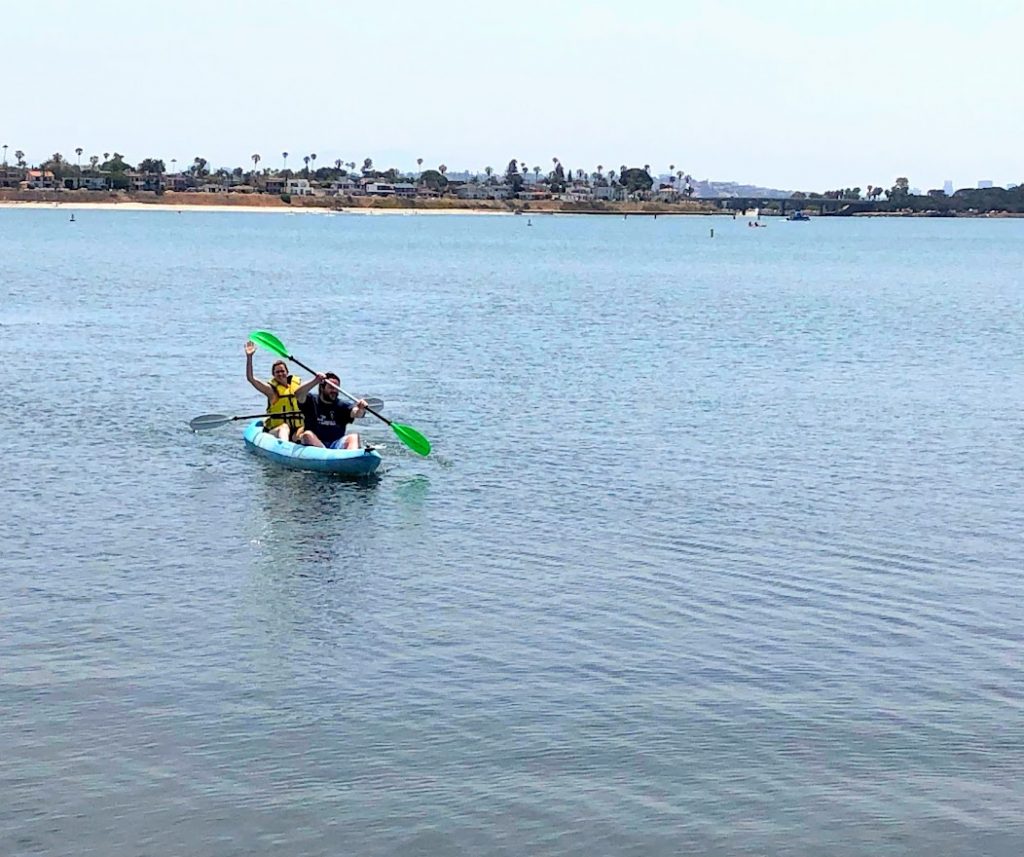 Jared went out with me for spin. <3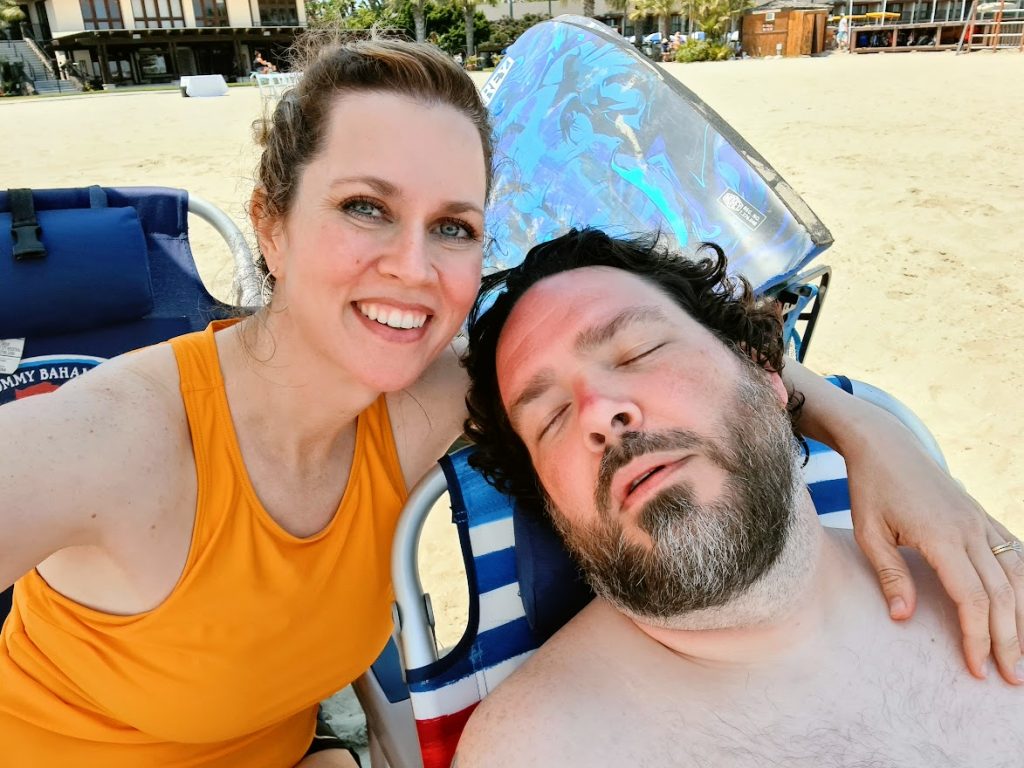 All that sand and sun wiped some of us out! Hahaha!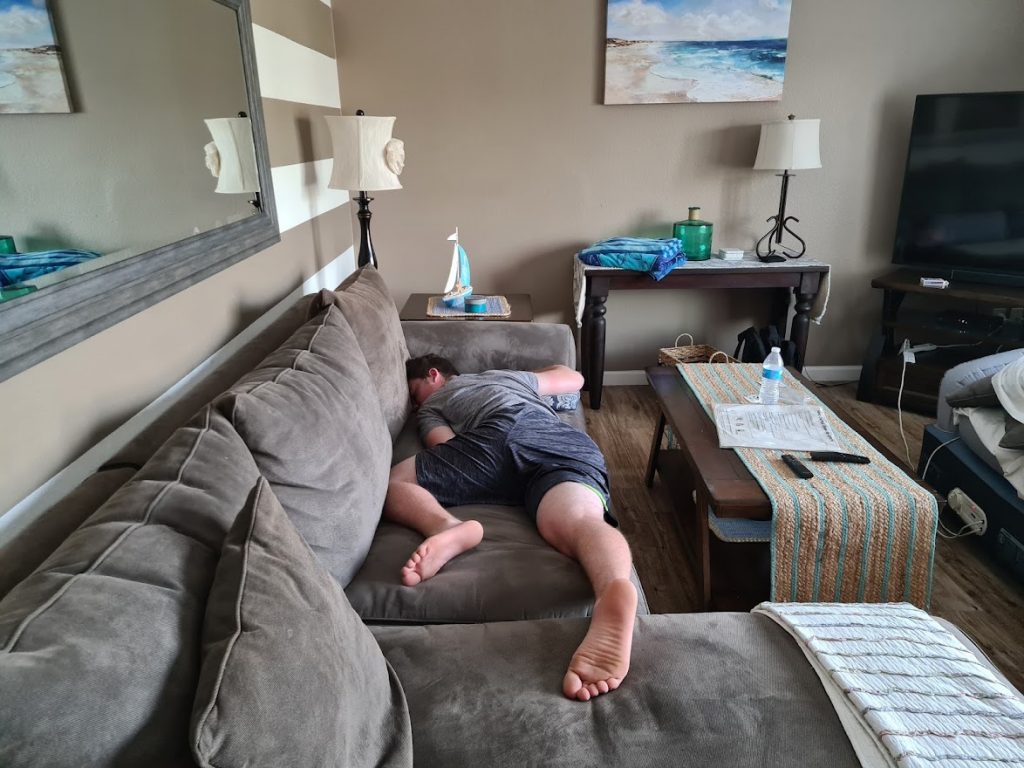 It was so much fun!!!
We spent all day out on the beach. We came back to the condo and cleaned up and made a steak dinner and watched movies. It was a lovely evening. <3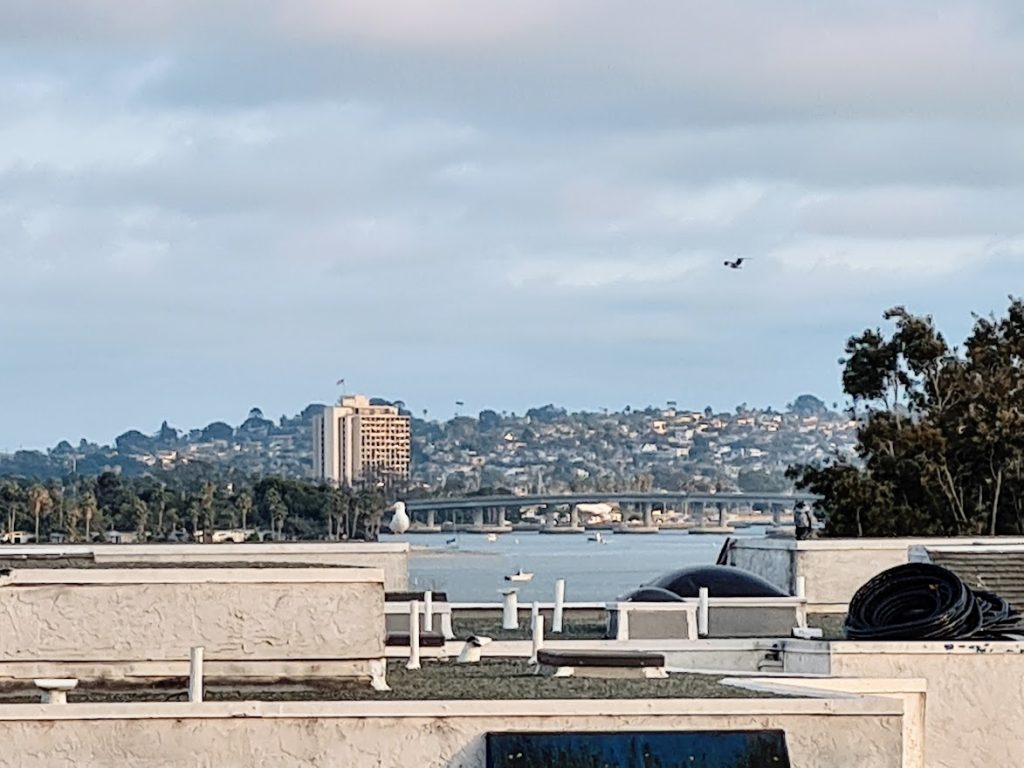 Went up to the rooftop patio and tried to take a picture of the bay. I needed my fancy camera.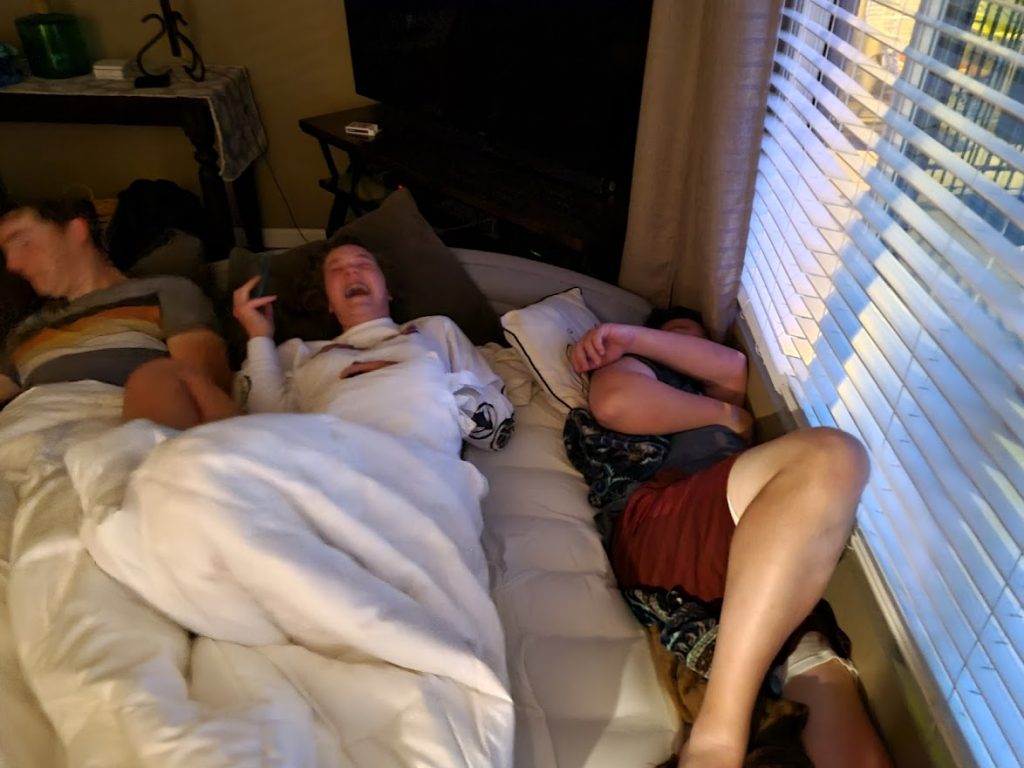 I came out and found these three laughing their heads off. Somehow Jared rolled into the crack between the air mattress and the wall and could NOT get out! Alayna was laughing so hard she was crying! 😀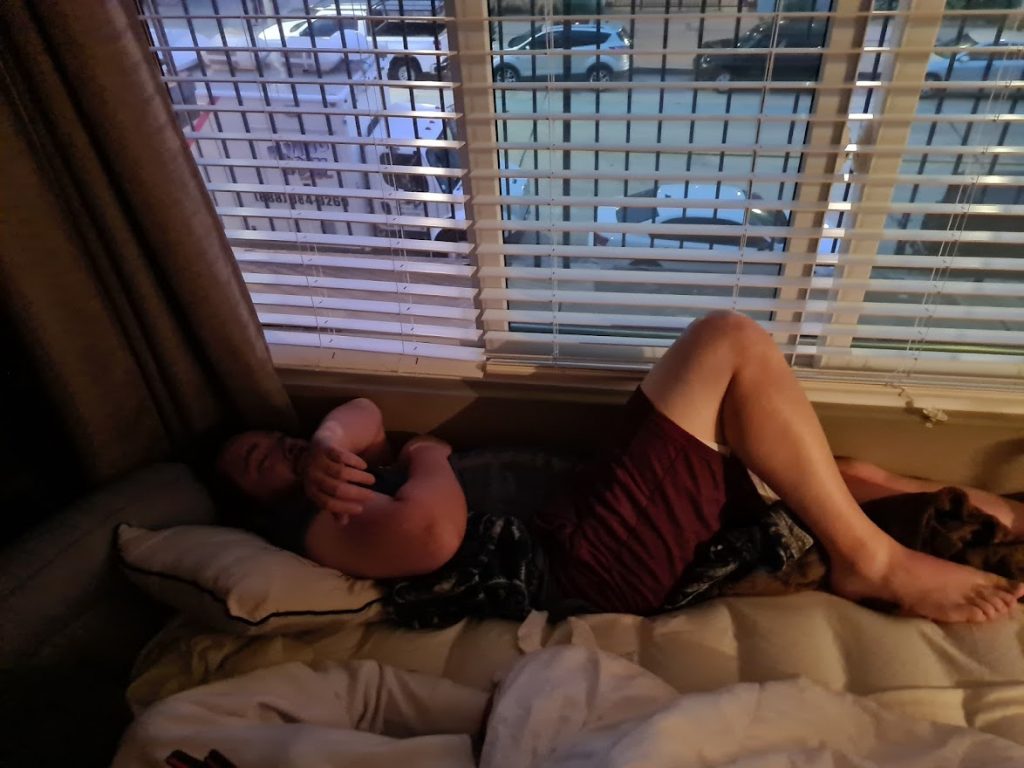 We pulled him out of the abyss and saved his life. 😛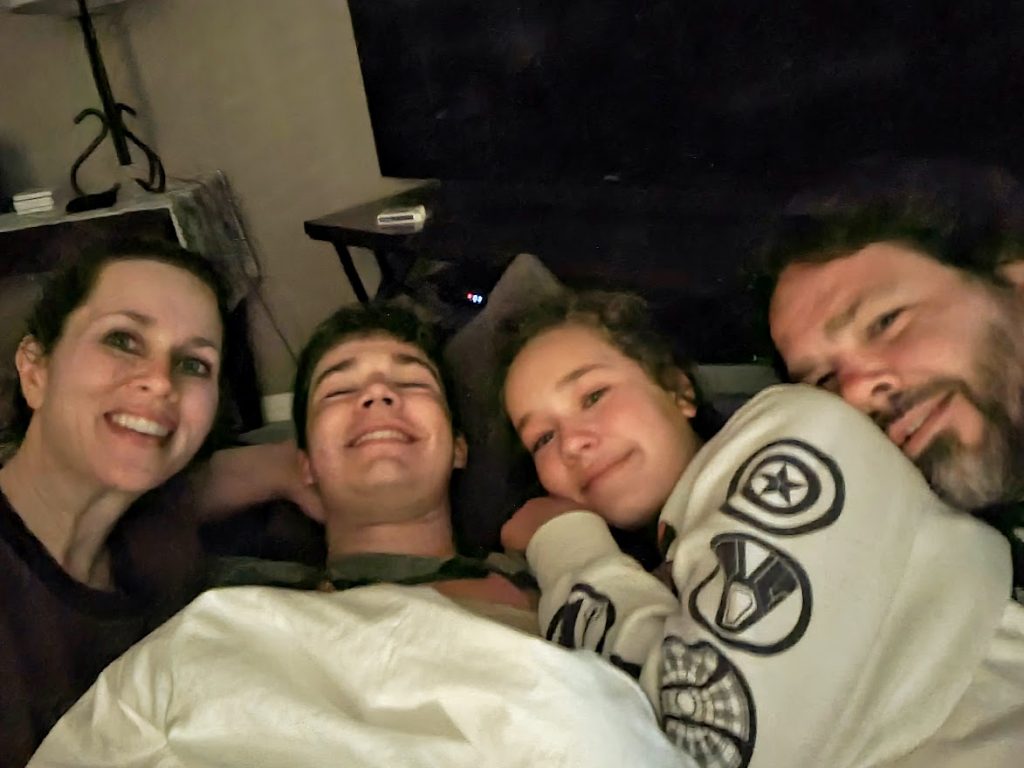 Walker was in his bedroom sleeping. I wish he was in this pic with us.
Love my family so much!!!! <3
I'm so grateful for this time together!