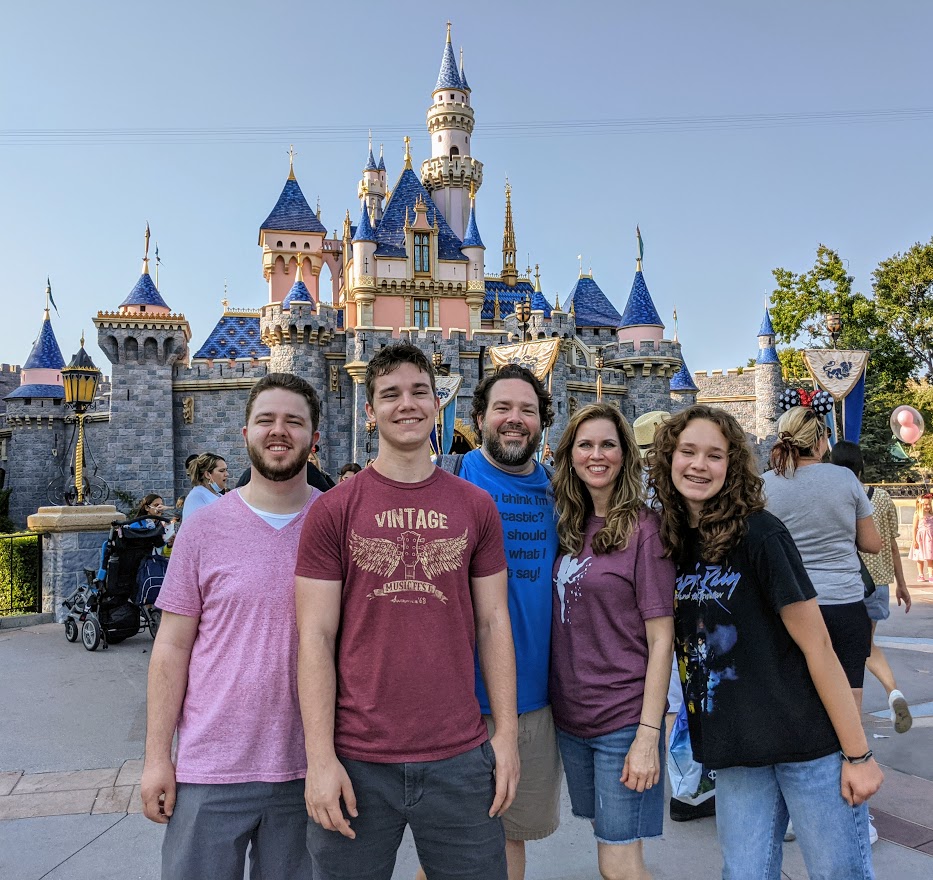 We are HOME!!!!
Can you see the excitement on our faces!?!!!!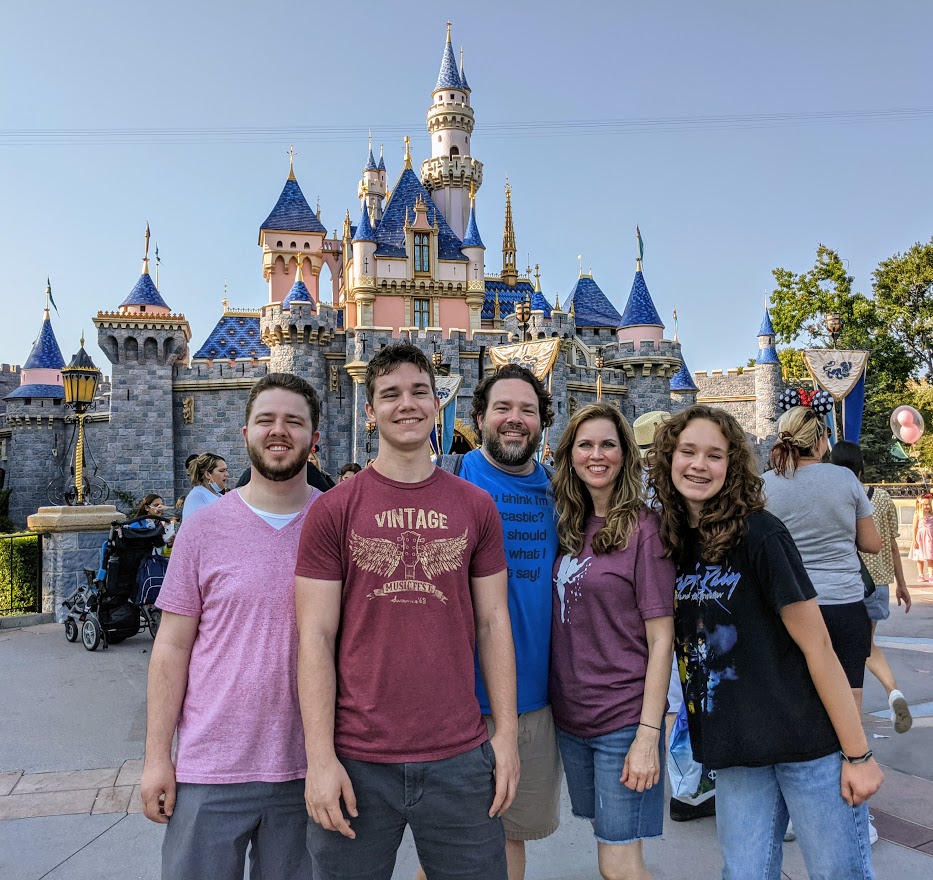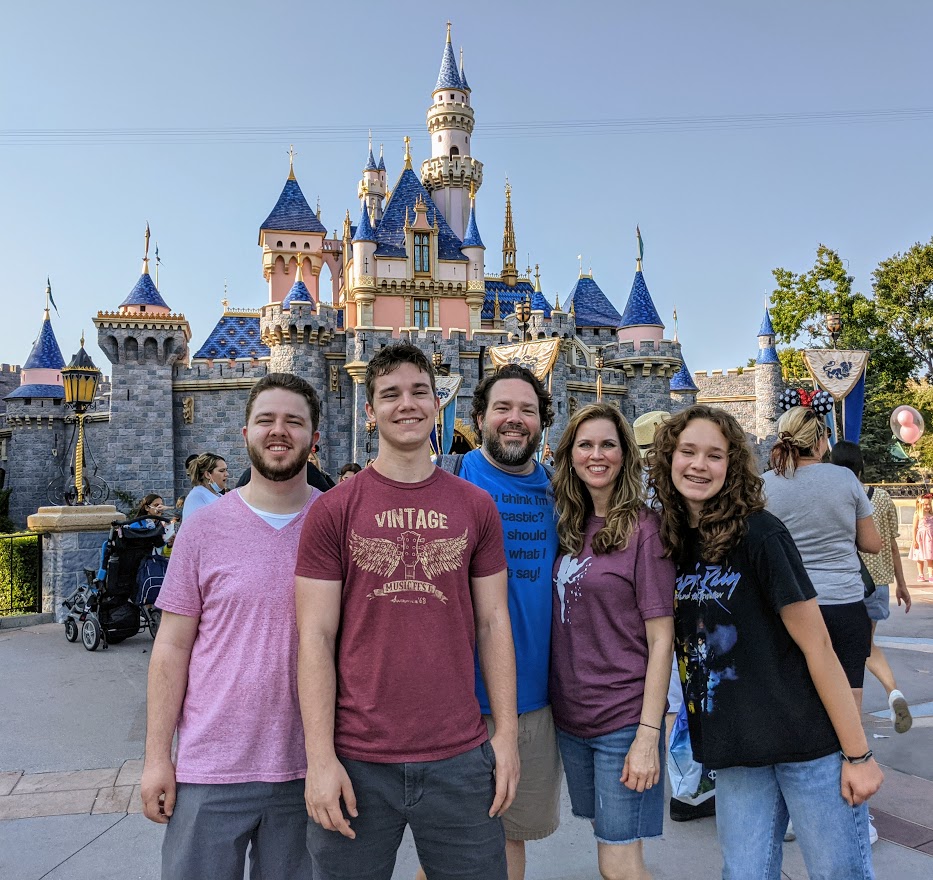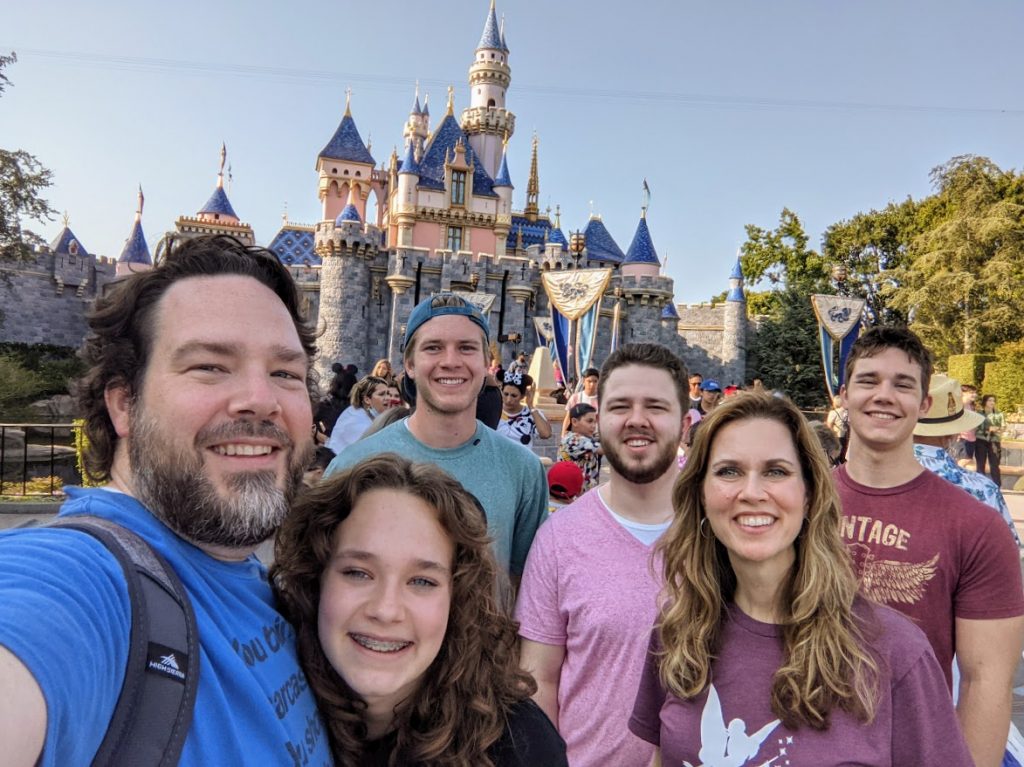 And here is one with Chase! 😛
We got to the park early…before opening. The family was teasing me because it's a little hectic now trying to bet boarding passes for Rise of the Resistance at 7am on the Disneyland app and getting parking (the trams aren't currently running) so I used my trusty Disney Blogger (Miceage.com) that arranged a deal for their readers to park at The Anaheim Hotel which is right across from Disneyland and the fee is the same $25 as Disney is charging but you don't have to walk from Mickey & Friends for 20-25 min. each way….especially at the end of the night when you are so tired. It worked out perfectly for us!
Fortunately, we scored a boarding pass at 7am!!! Walker came in clutch and we were in boarding group 5!!!!!!!! I couldn't believe he got in so quick!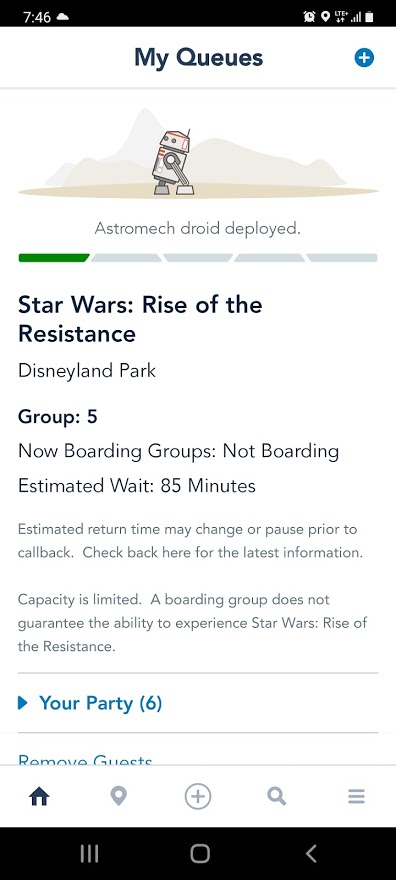 I was so excited to get into the park the kids were saying they've never seen me walk so fast and with such determination!! Haha!! I was definitely ready for some Disney Magic! <3
Our first ride of the day was Pirates of the Caribbean! It's everyone's favorite!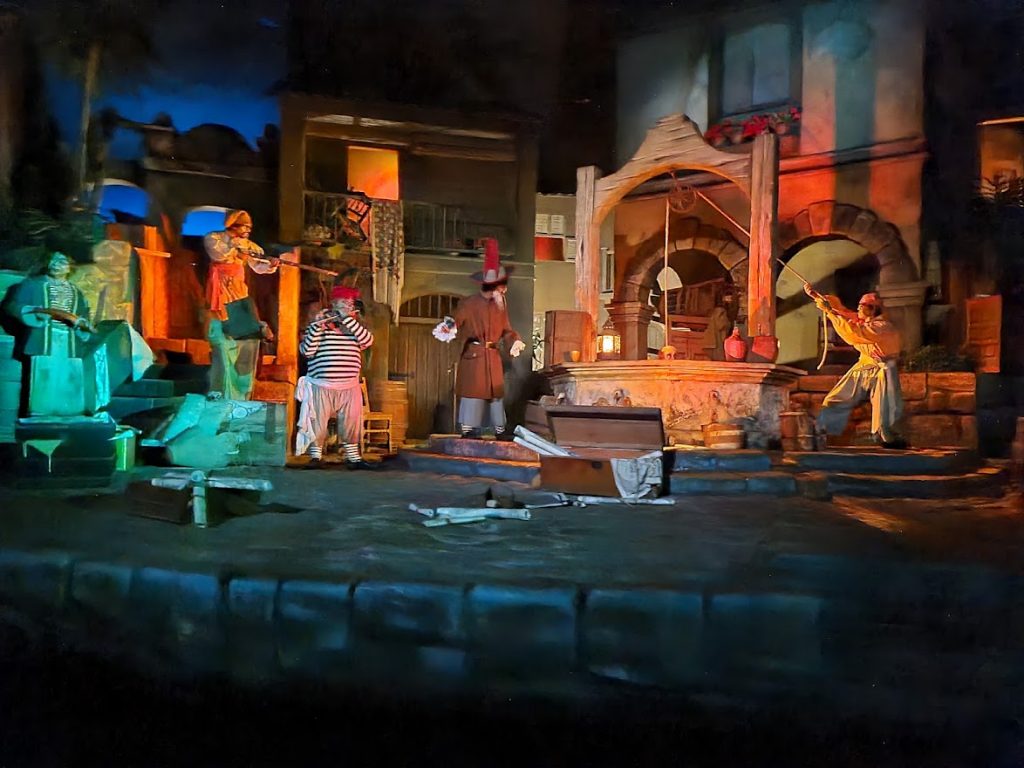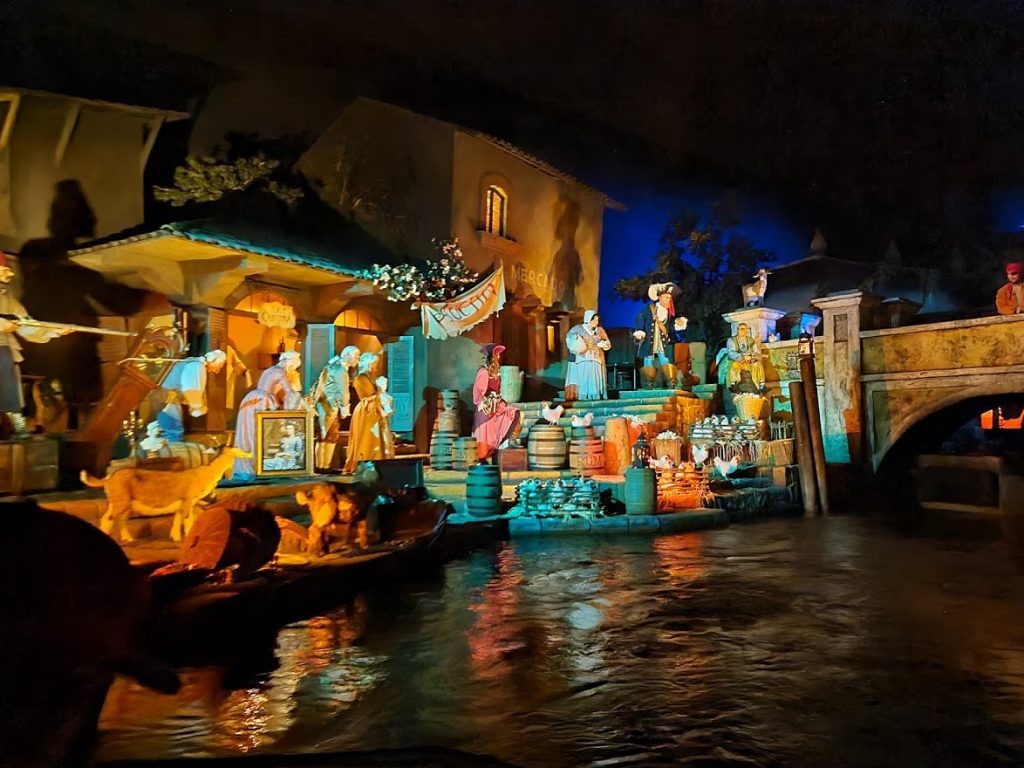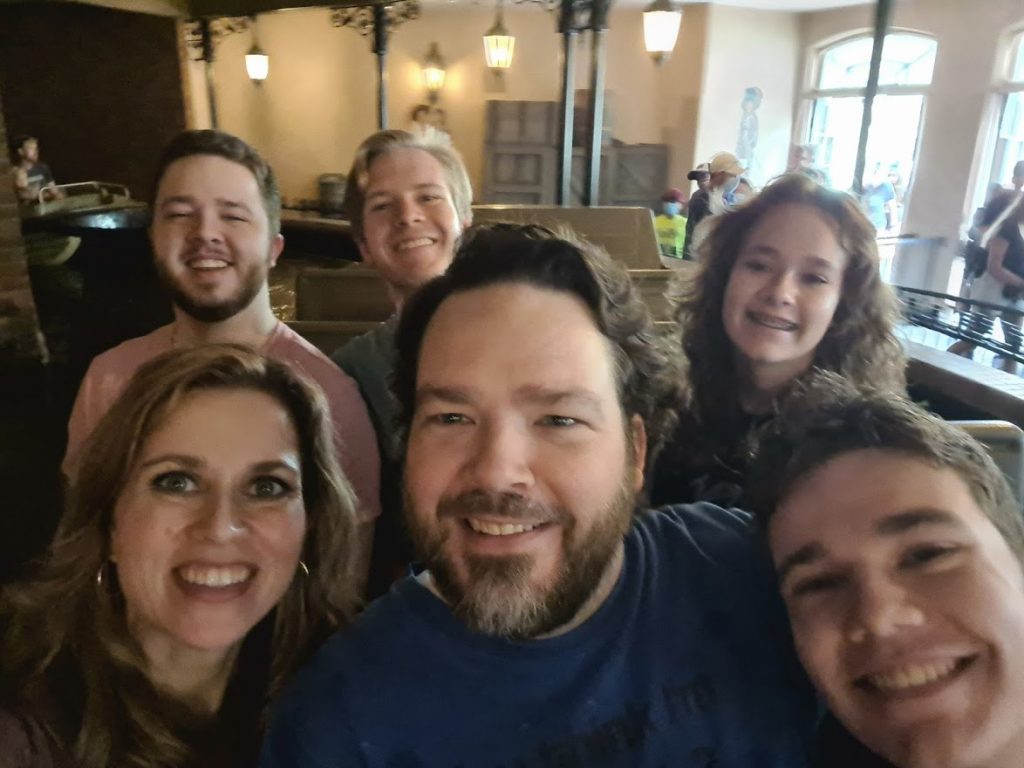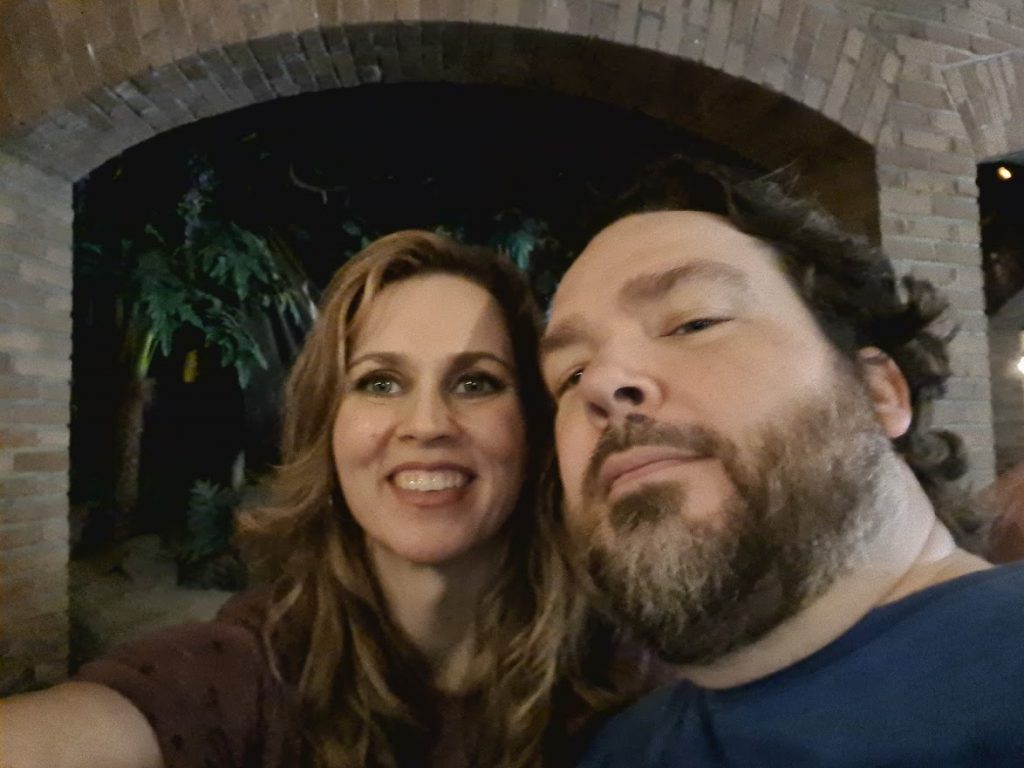 Then it was time to ride Rise of the Resistance (ROTR). This is a brand new ride. None of us had ridden it before. In fact, it hadn't been running long before COVID hit and shut the Parks down. It's an E Ticket ride for sure! There is no ride like it. It has so many elements to it and it blew us all away! We can't say enough about how much fun it is!!! It's AWESOME!!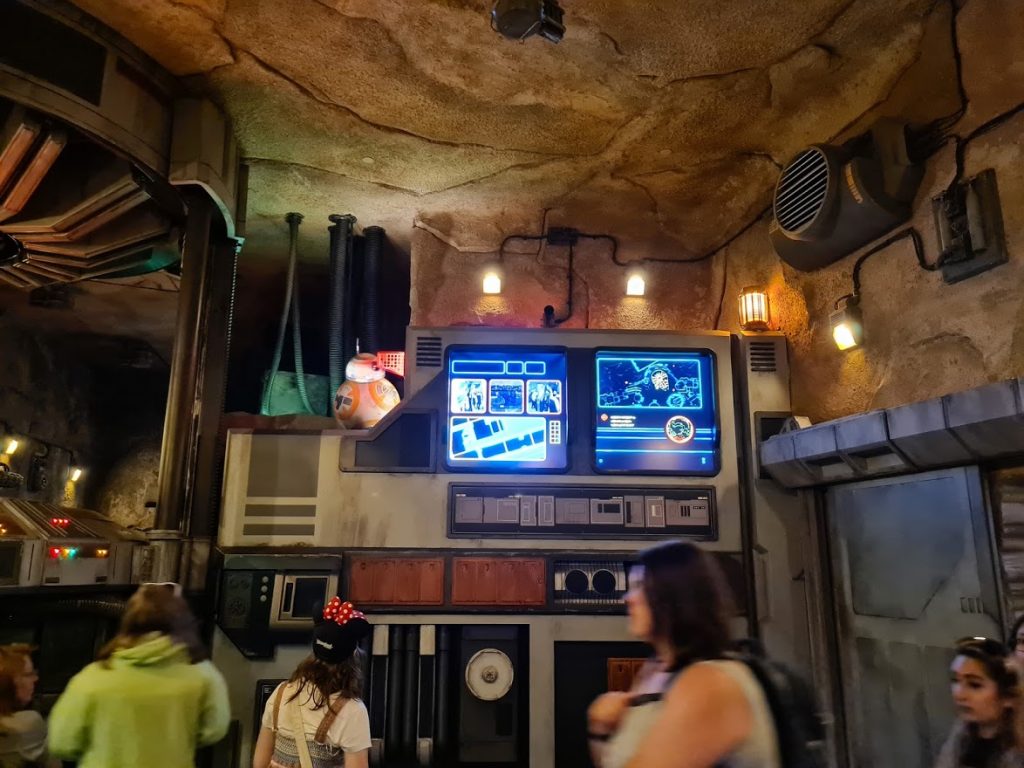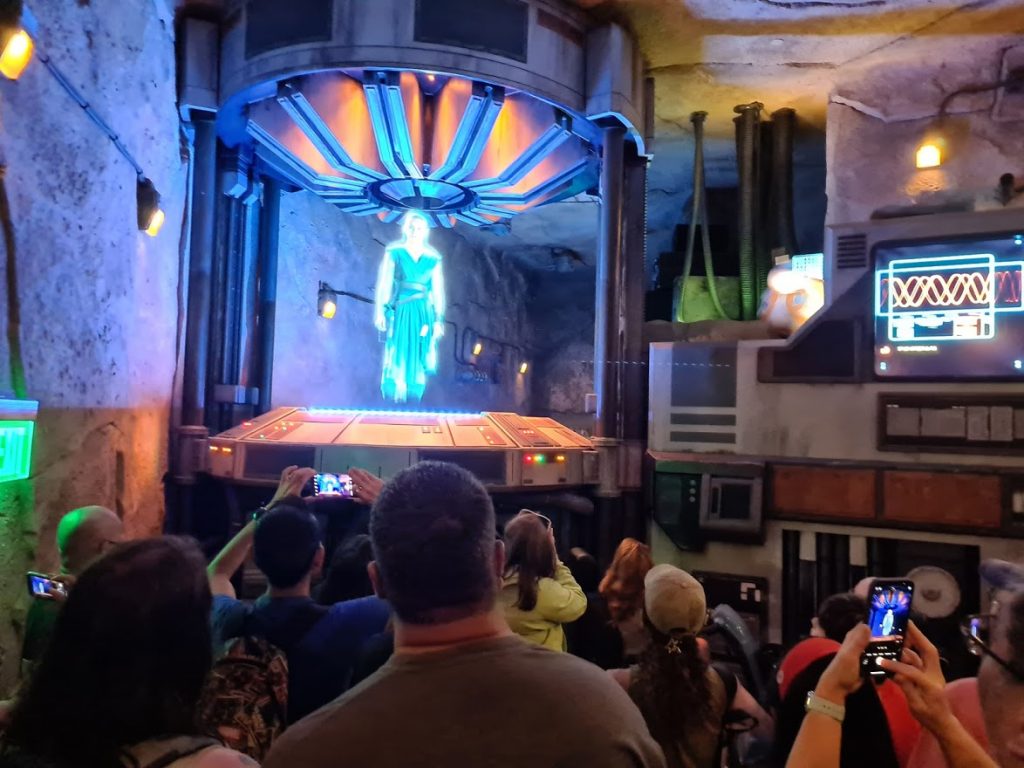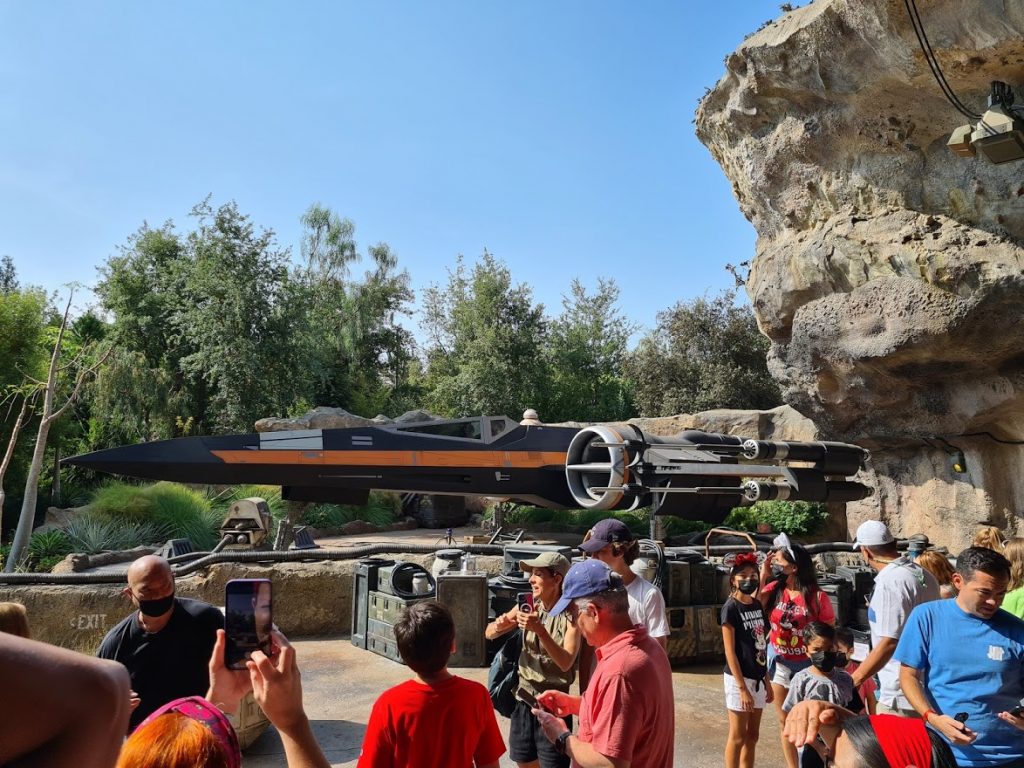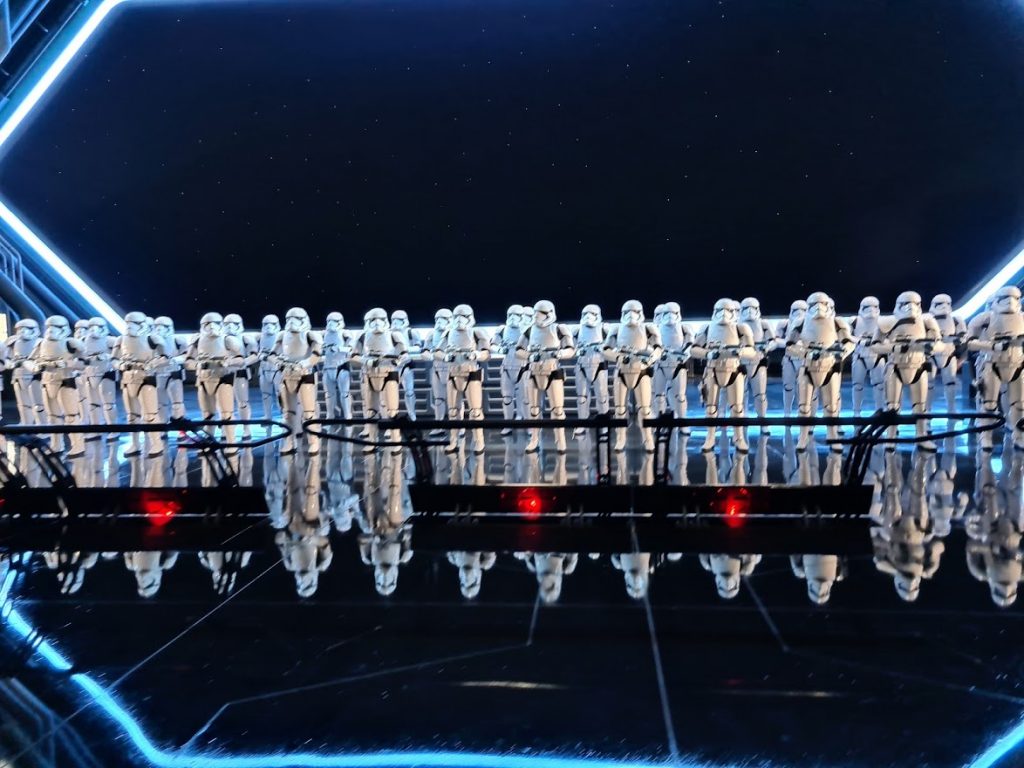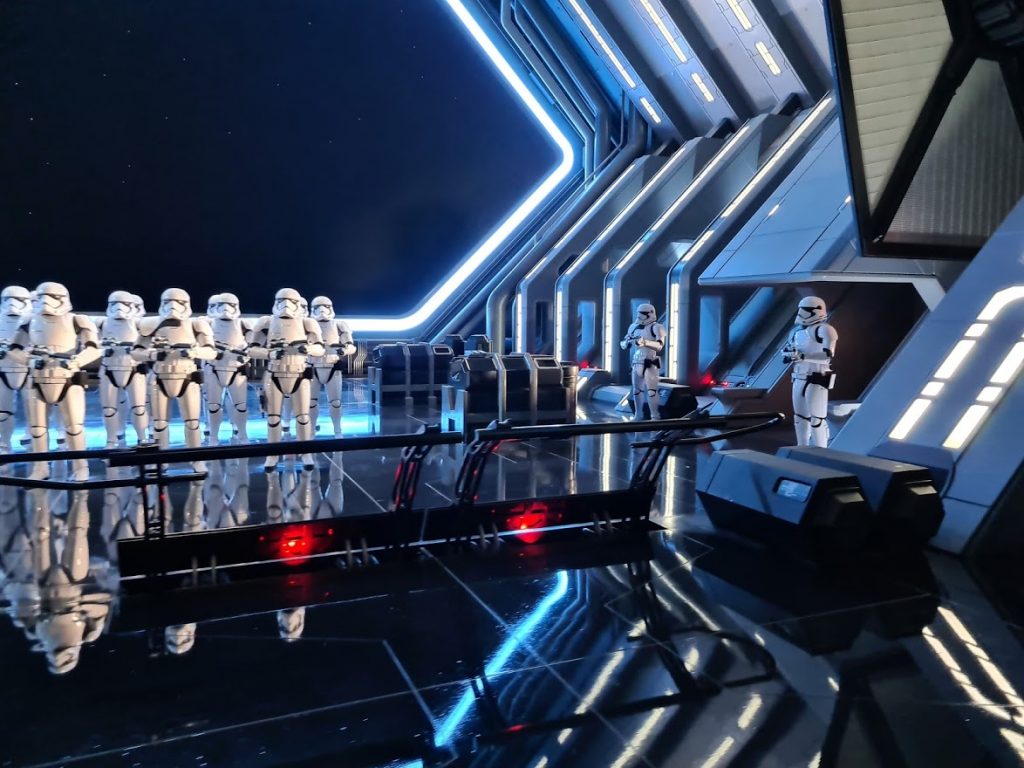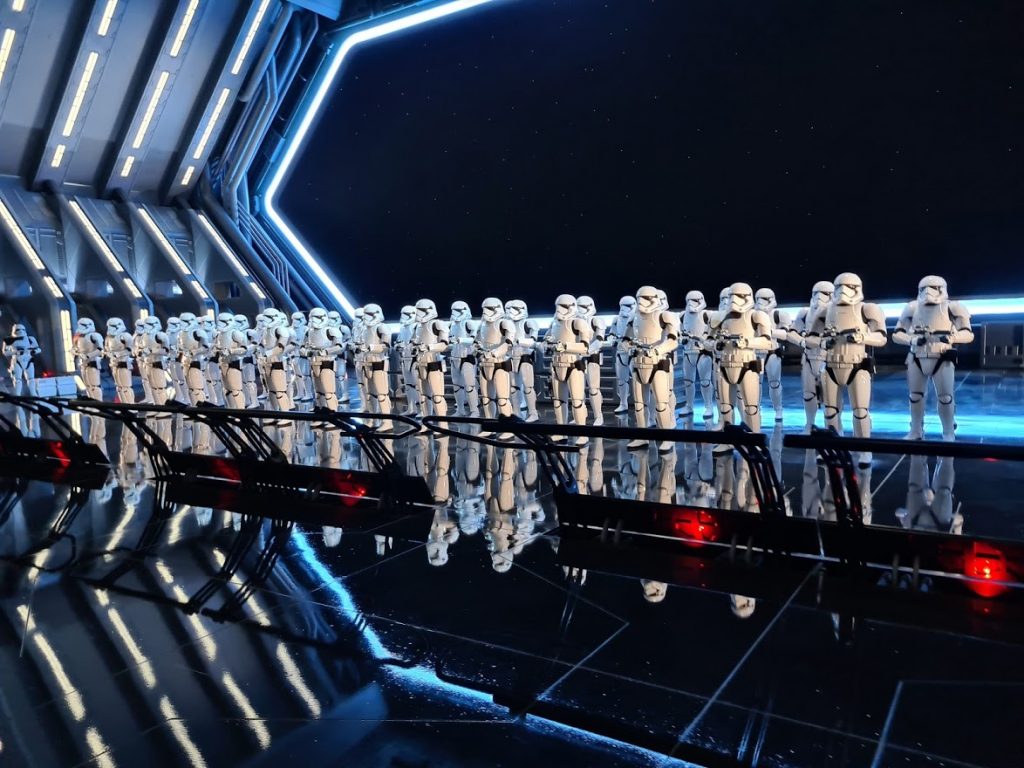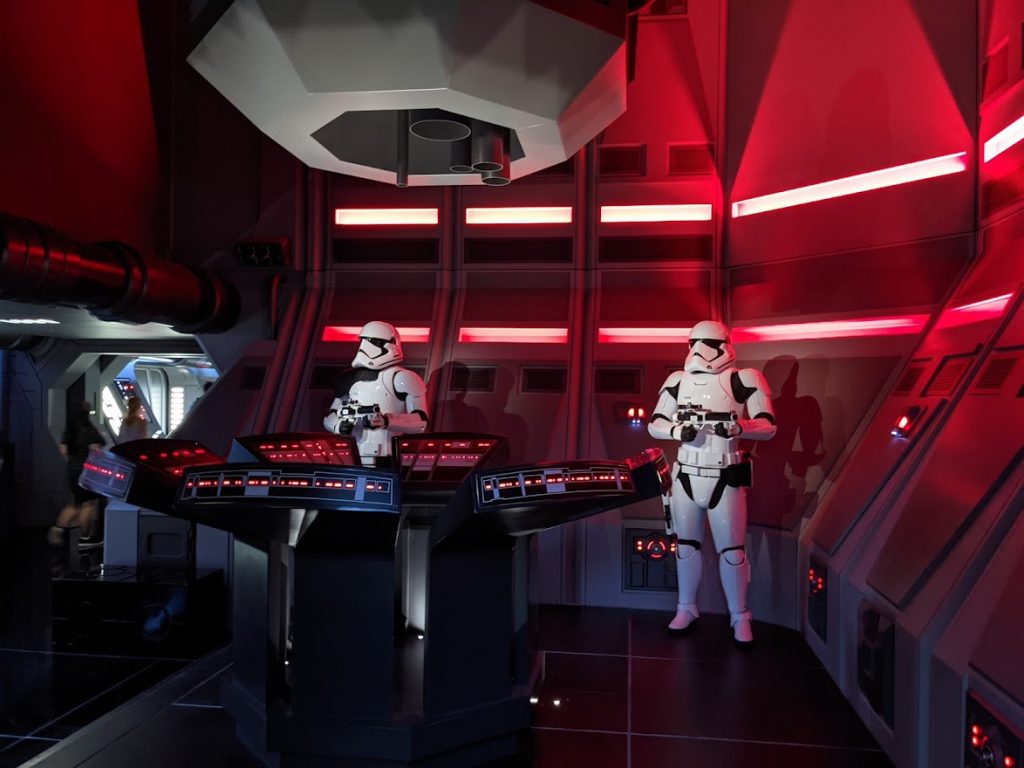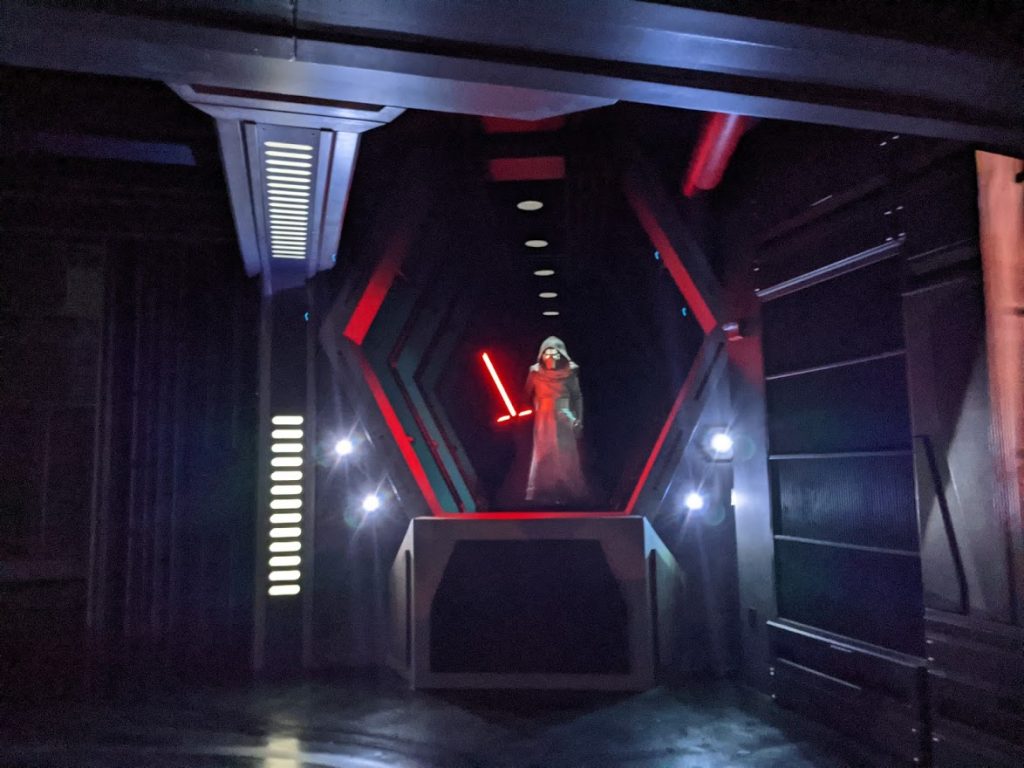 I've been wanting to try Ronto Roasters and it did not disappoint! We ordered the Ronto Wrap which is roasted pork, grilled pork sausage, peppercorn sauce, tangy slaw, wrapped in a pita. And the Ronto-less Garden Wrap which is a plant-based sausage, spicy kimchi slaw, sweet picked cucumber, plant-based gochujang spread, wrapped in pita. This was good too. The sauce had a little flare to it and it was a tough call between the 6 of us to pick a favorite. But I think the Ronto Wrap was the best. Give me all the pork!!! Lol!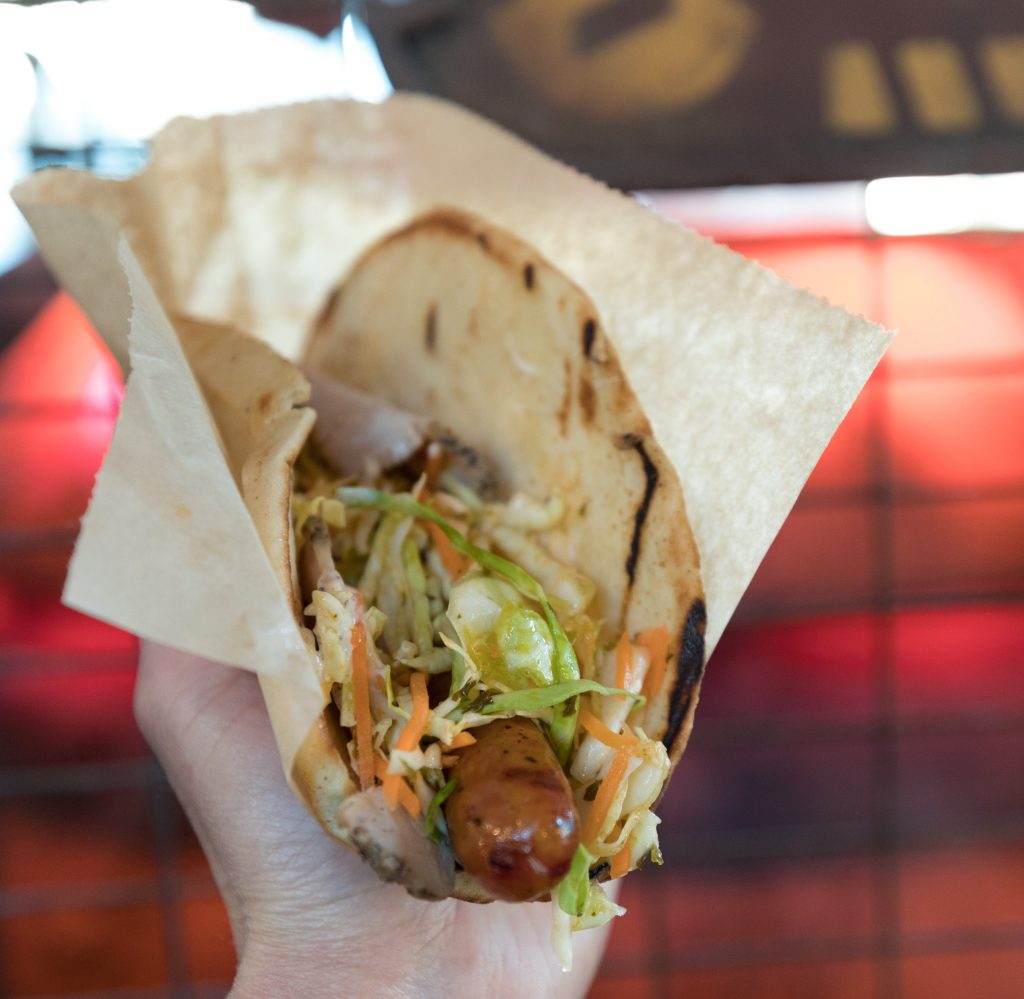 We rode Smugglers Run and crashed around space for a while…it was hilarious!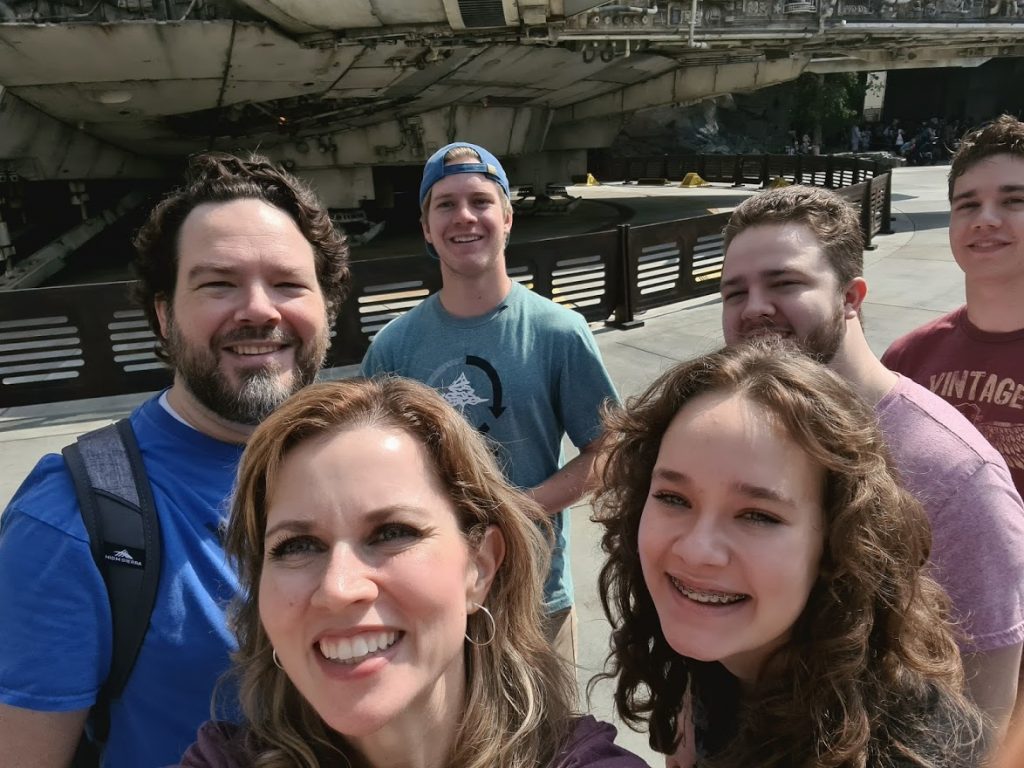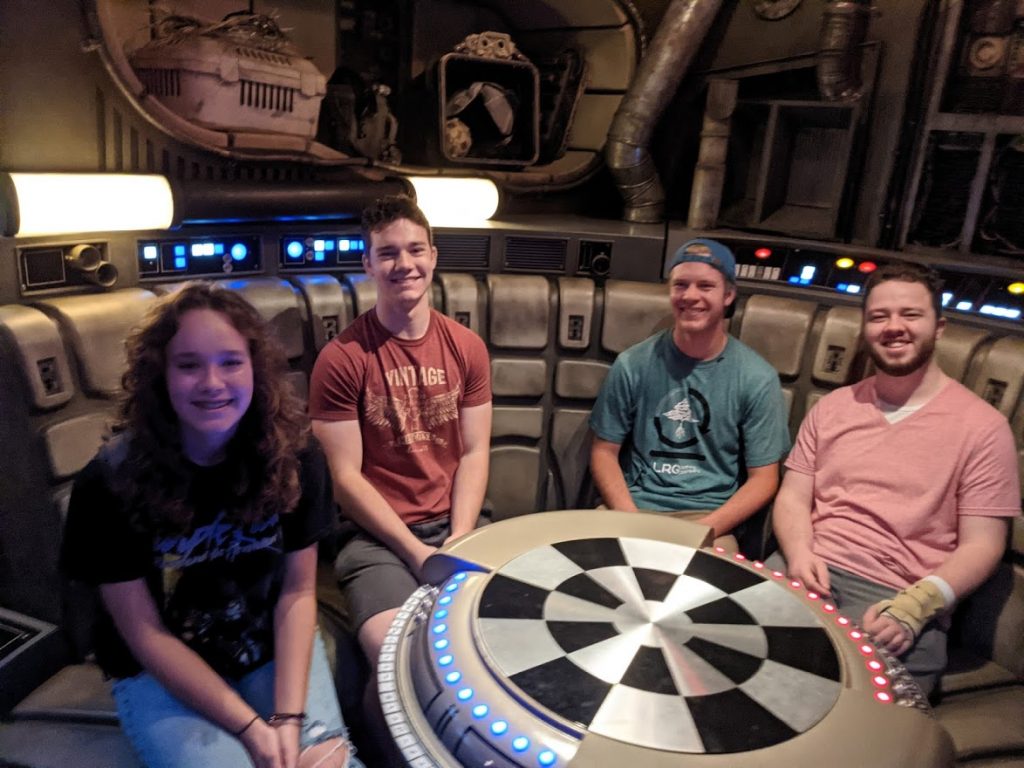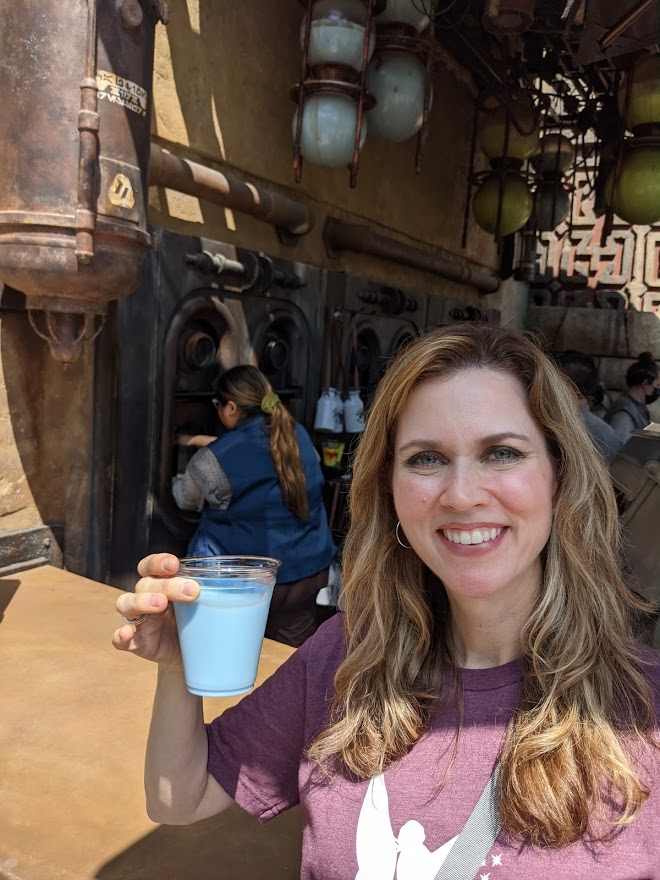 We tried the Blue Milk. I really liked it. No one else did though. More for me! Haha!
Jungle Cruise has been closed since Disneyland reopened. They decided to take out some of the un-politically correct scenes. We didn't think we'd be able to ride it since they posted that it would open after our dates. But to our surprise they soft opened it early and we got to check it out! 🙂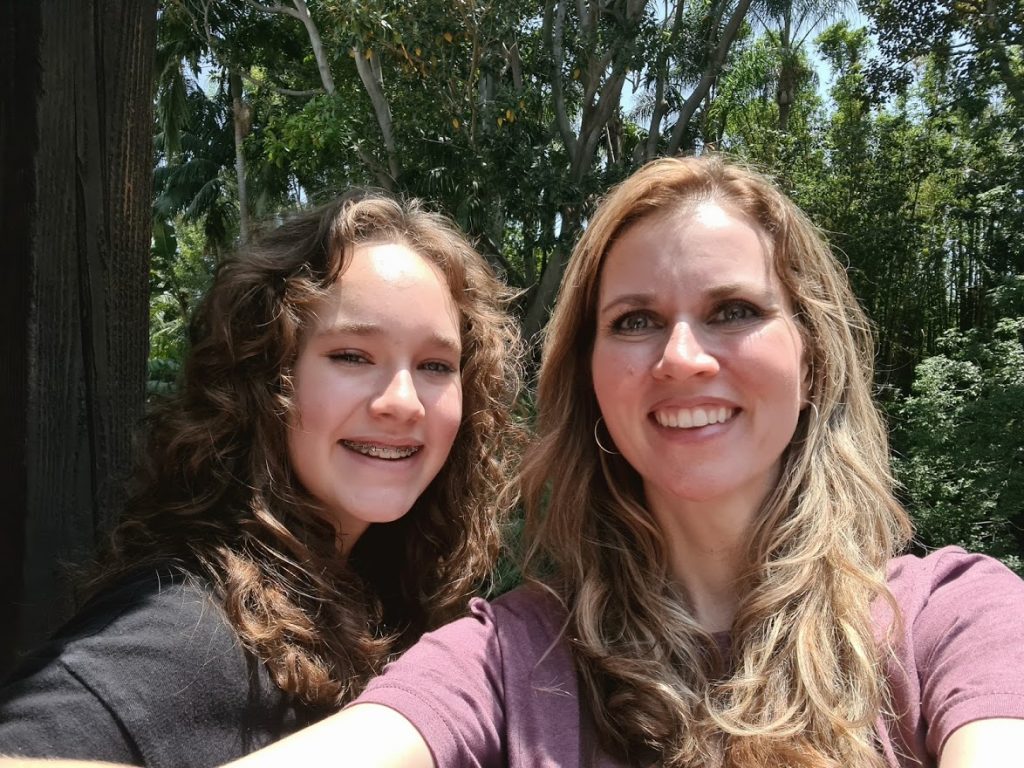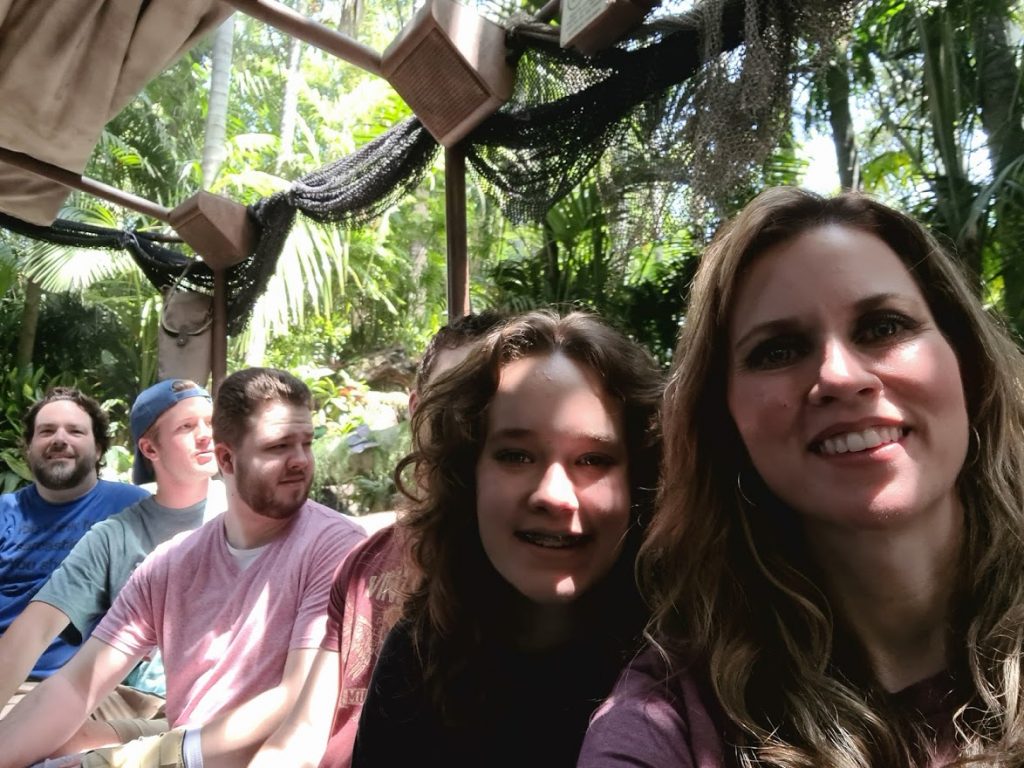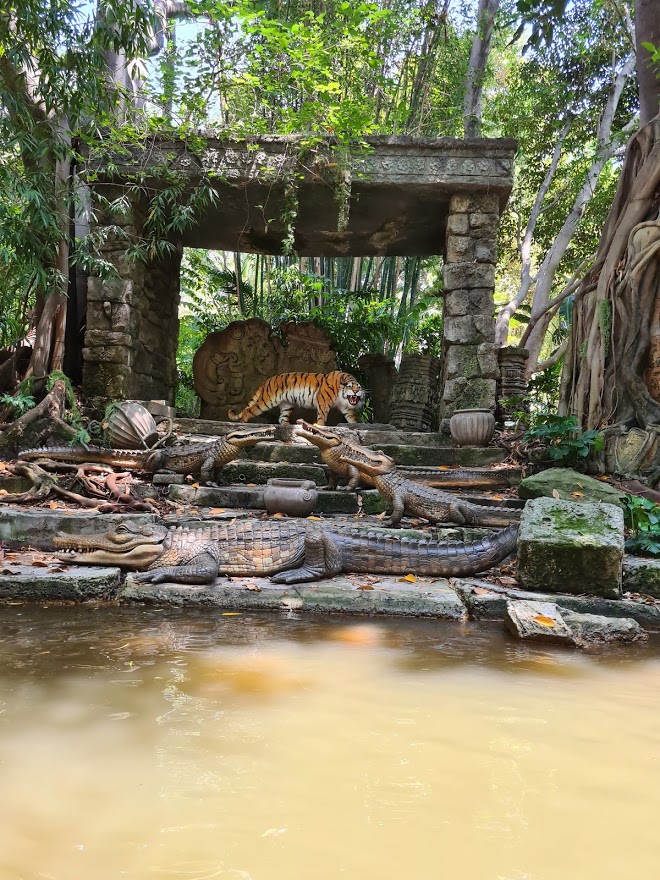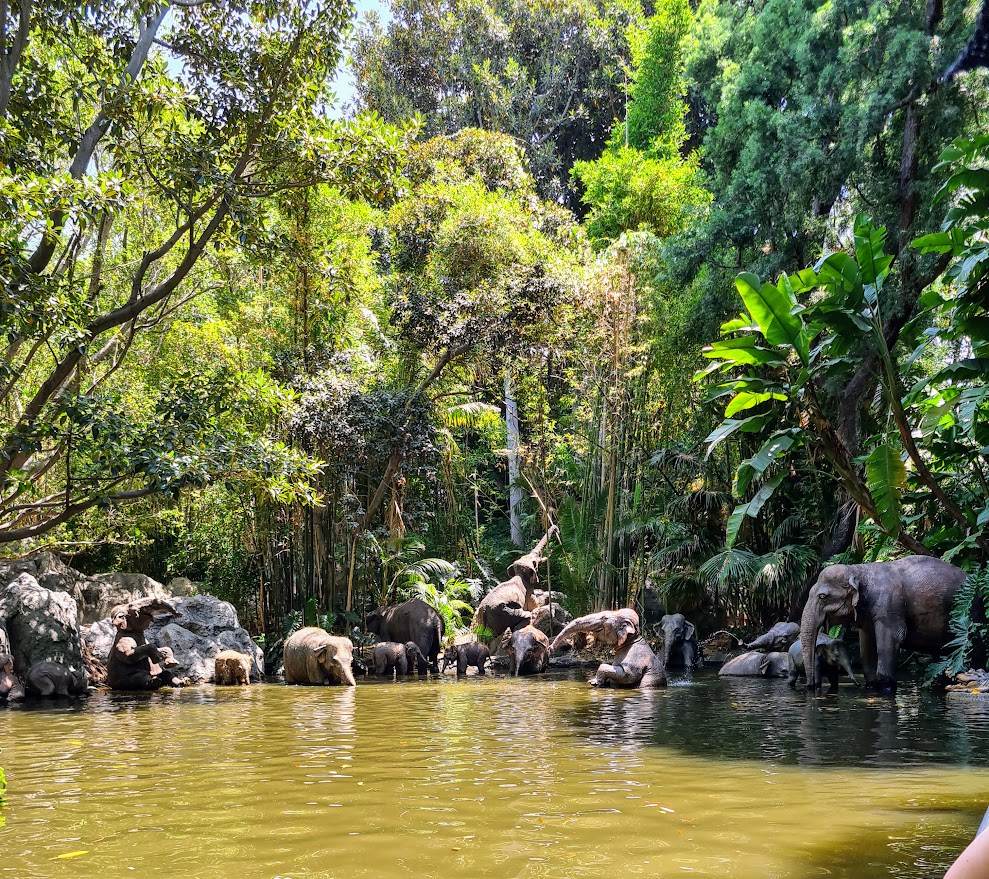 A lot of it is the same with the classic animals and feel you've loved over the years.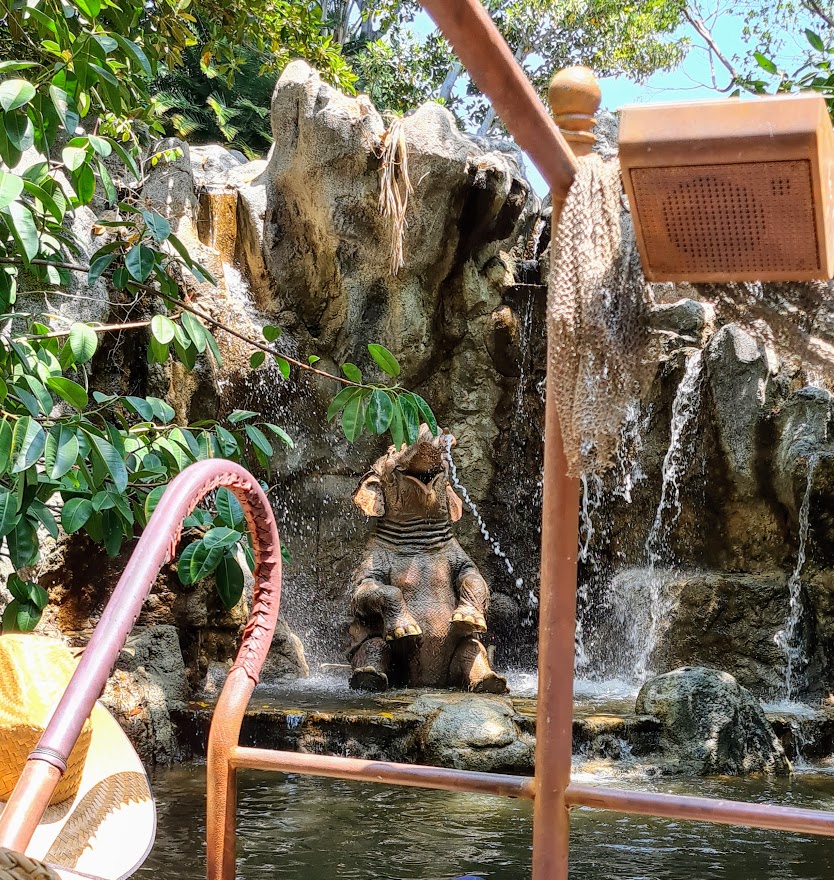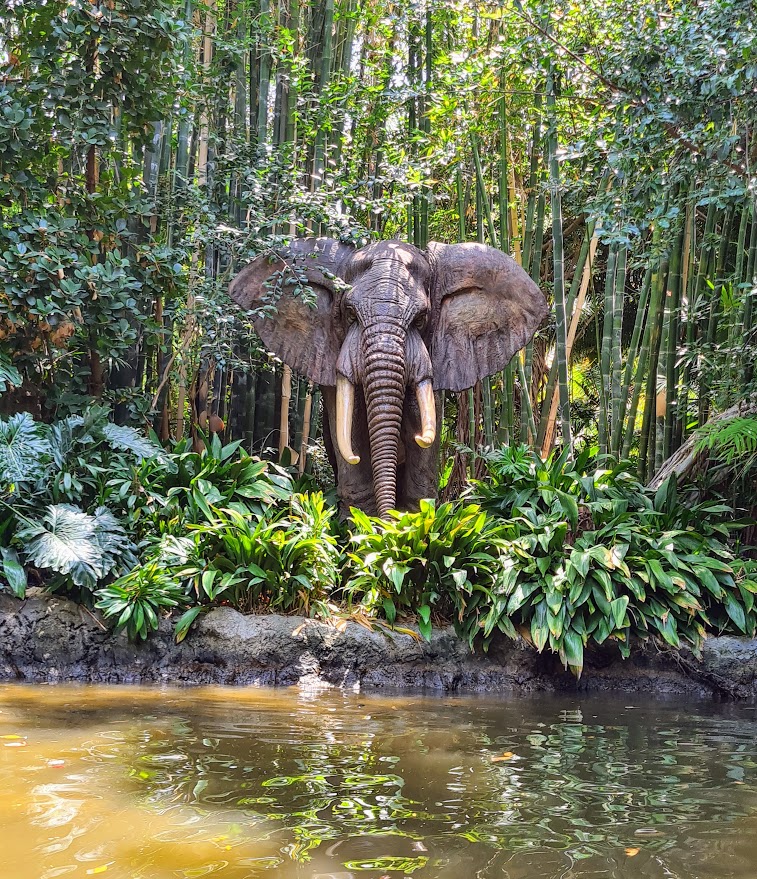 And they've added a few scenes and new backstory to the ride. The new changes add a coherent storyline to the attraction. Throughout the queue, you can learn more about the characters you see in the ride. This is one of the major changes added to this classic attraction.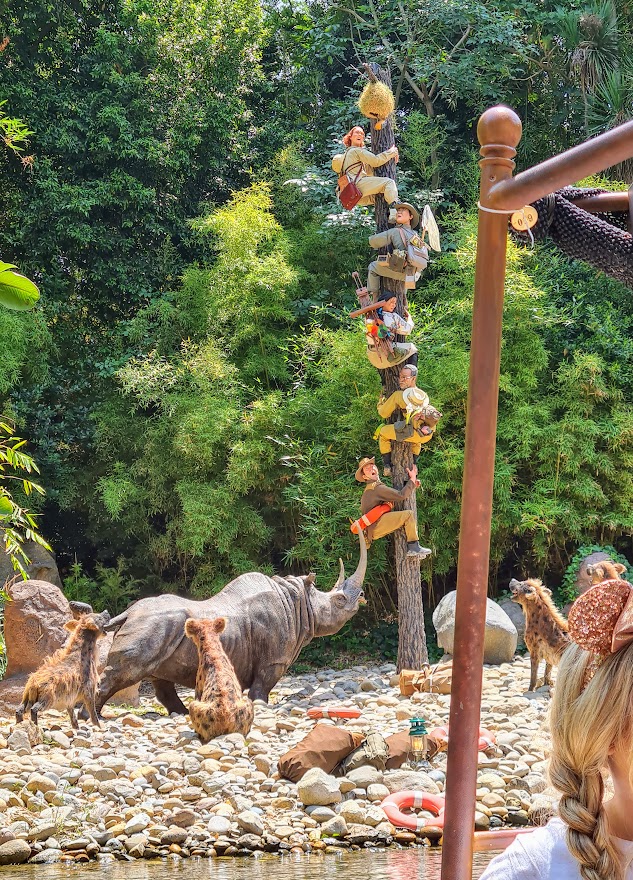 The explorers' boat is sunk in the hippo pool, and they have been chased up a pole by a rhinoceros.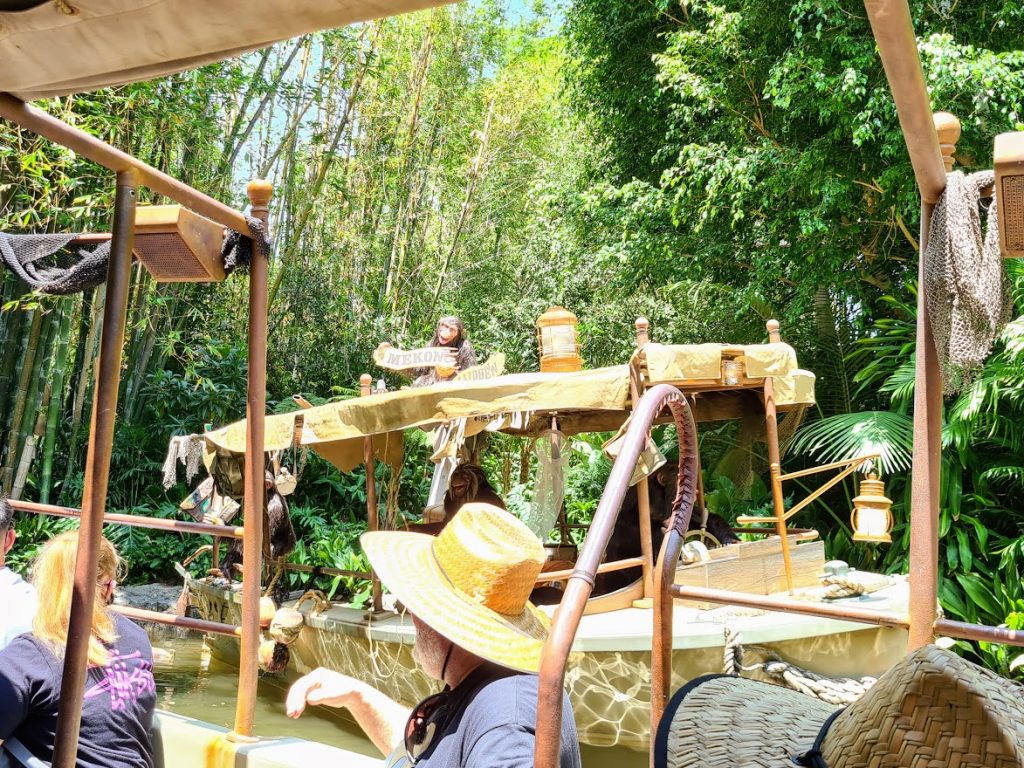 scenes that previously featured natives have been changed. Instead of spear throwers, there are now some chimps who have released a crate of fleas. And the native dance scene is replaced by a boat taken over by curious chimps that have opened the luggage and are creating havoc.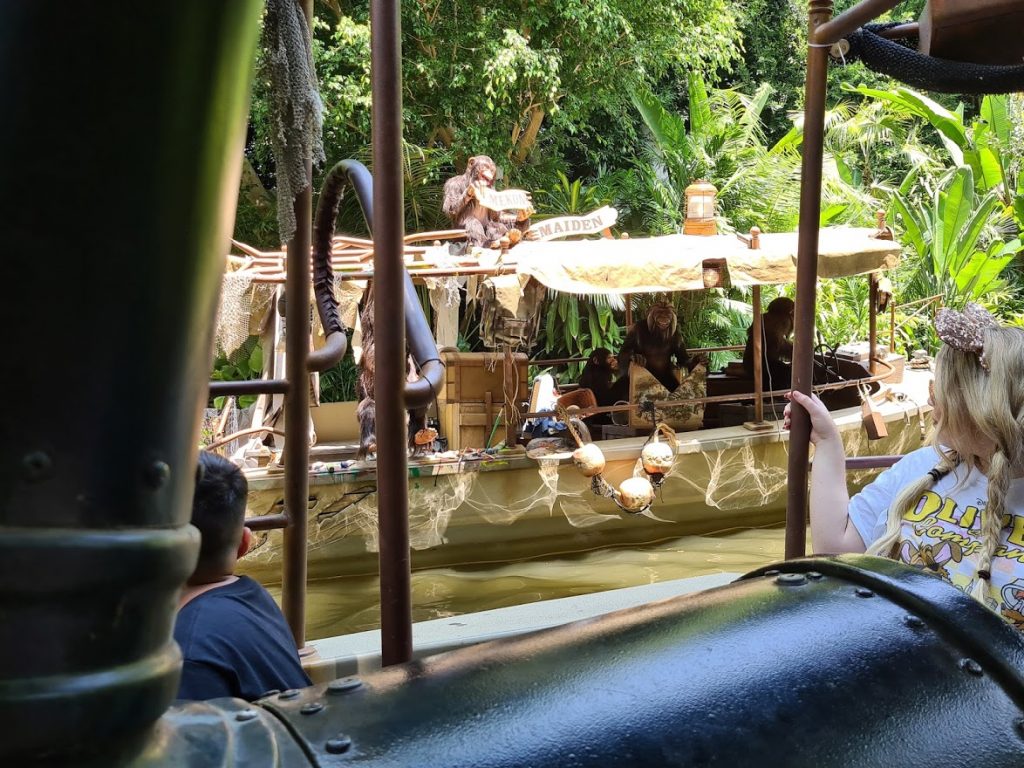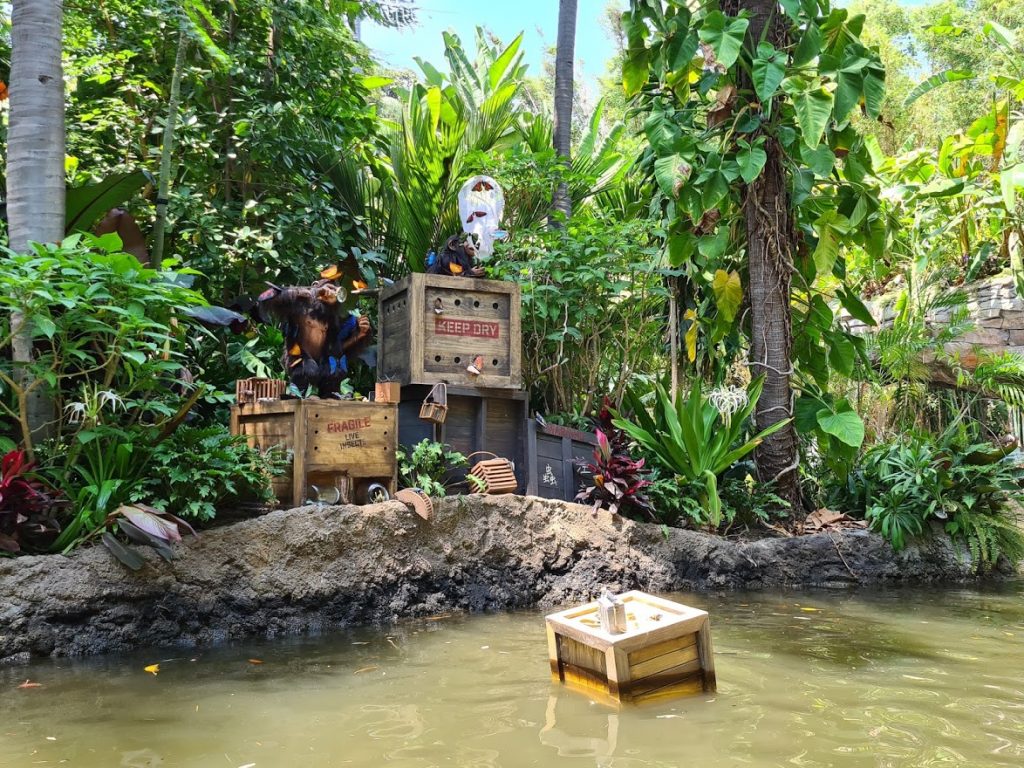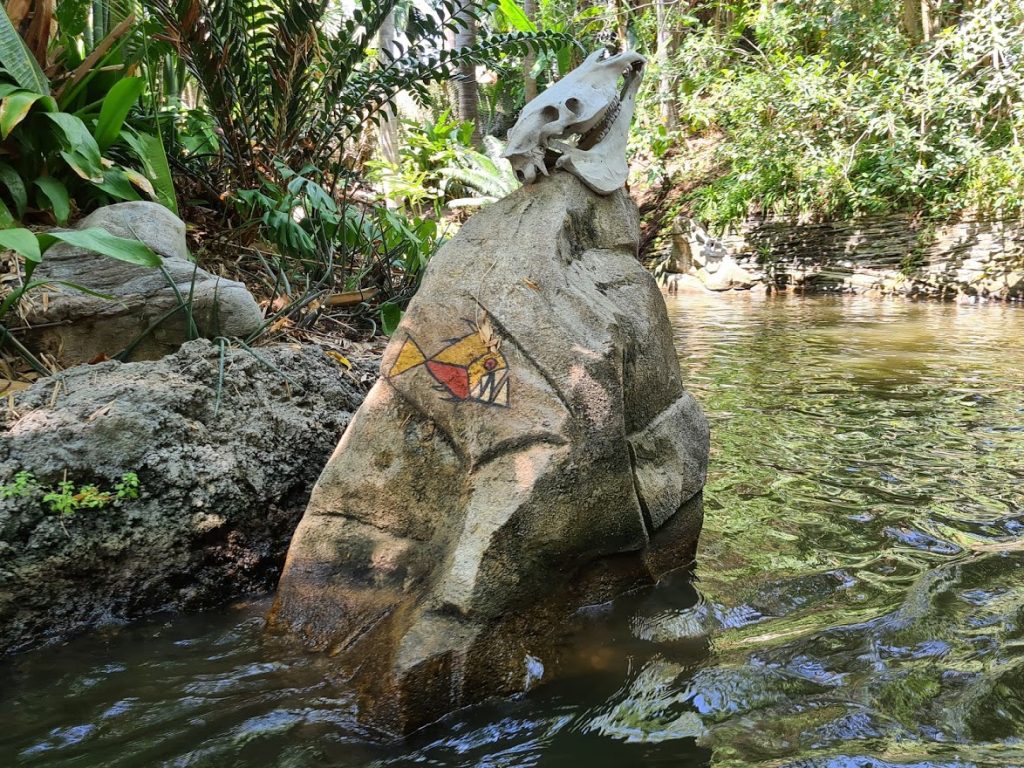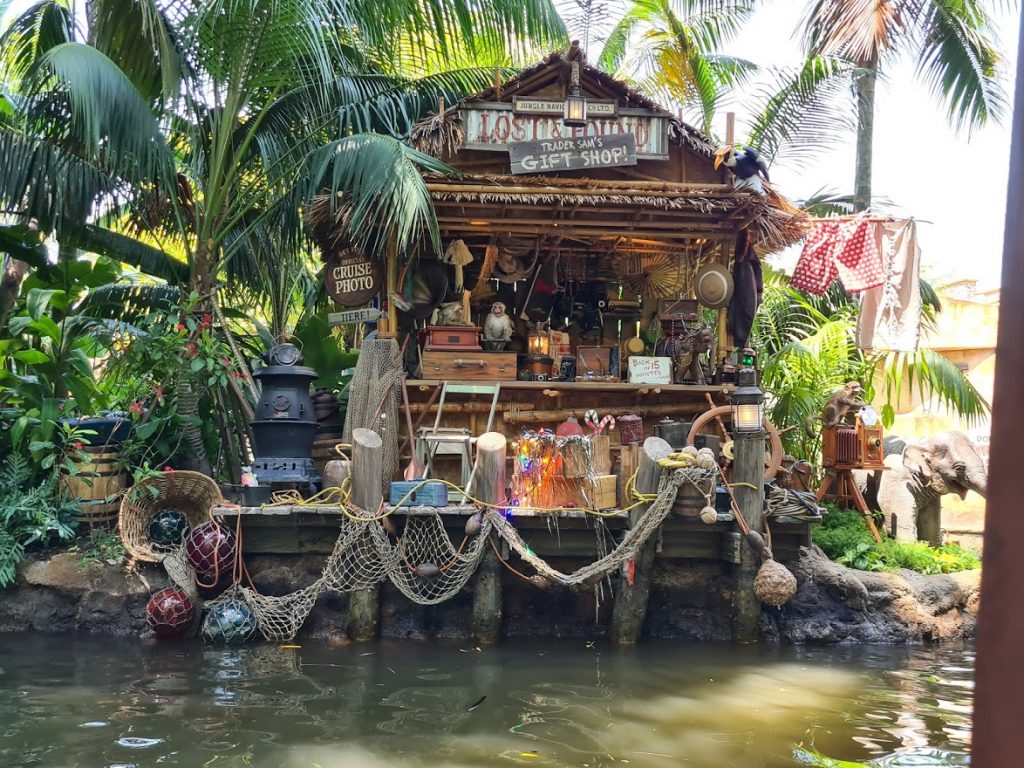 They've removed depictions of natives, which are increasingly perceived as offensive by modern visitors. In fact, one of the changes is a brand new ending scene, with Trader Sam running a gift shop out of the Lost & Found. Although Trader Sam is explicitly called out in the backstory, he is nowhere to be seen and now owns a "Lost and Found" at the end of the ride.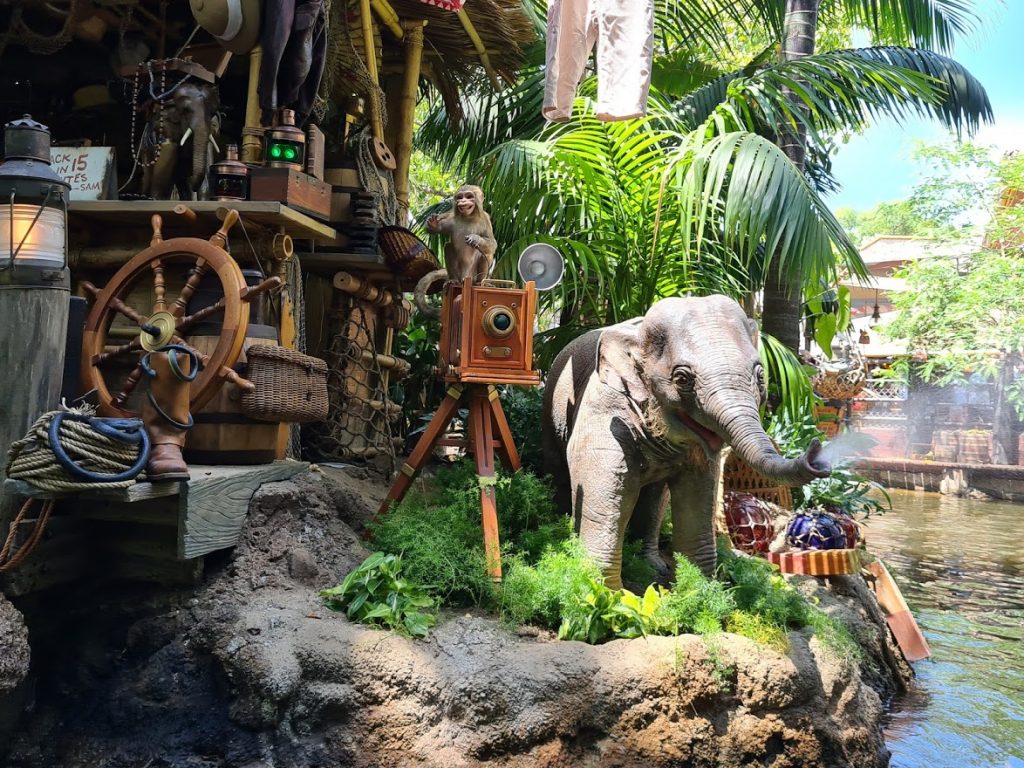 The changes are fun and you don't have to know all the in depth detail of the backstory to enjoy the ride. I do feel like they could have added more than just monkeys to the new scenes. I mean we are in a jungle after all. The final scene with the little elephant spraying you with water and the monkey taking "your" picture was really cute though! I thought that was a fun ending!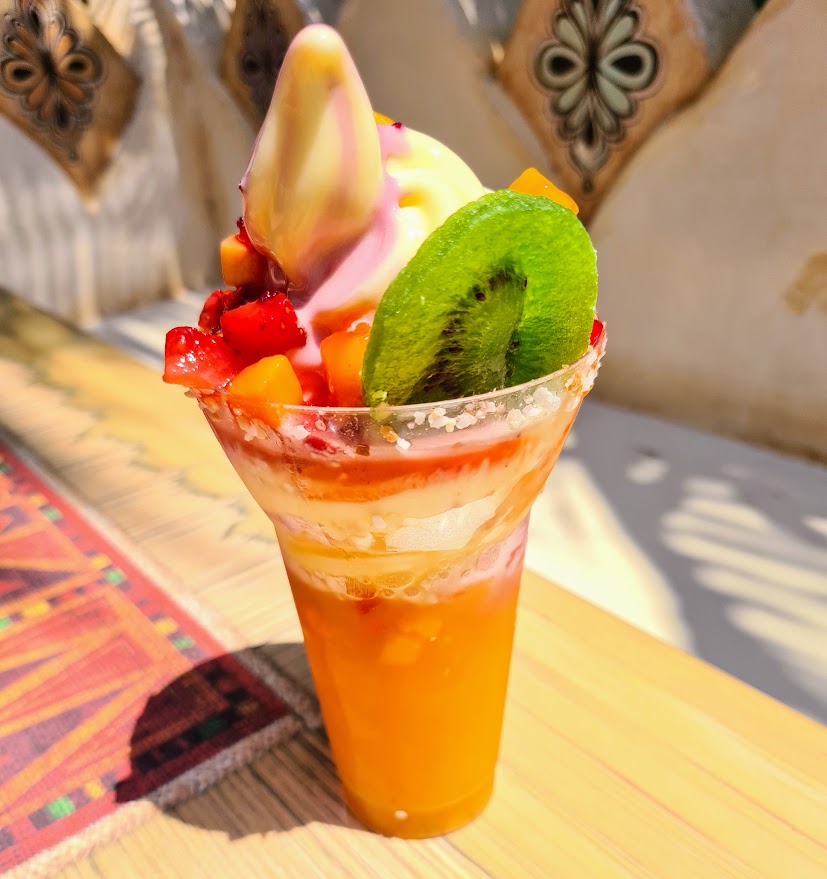 Another item I wanted to try on this trip was the different flavor dole whips. I'm not a fan of the classic pineapple. But now they have a raspberry, lemon and mango. This treat is a Tropical Dole Whip Float. It's made with raspberry and lemon swirl, sitting on top of pineapple, passion fruit, orange, and guava juice and topped with a mountain of strawberries, mango, and a candied kiwi. It was delicious! But it was BIG! Definitely share this with someone. 😛
We were walking towards It's a Small World and we spotted some Characters. I wanted a pic with Captain Hook and Peter Pan with my new Tinkerbell shirt. This was the best we got. 😛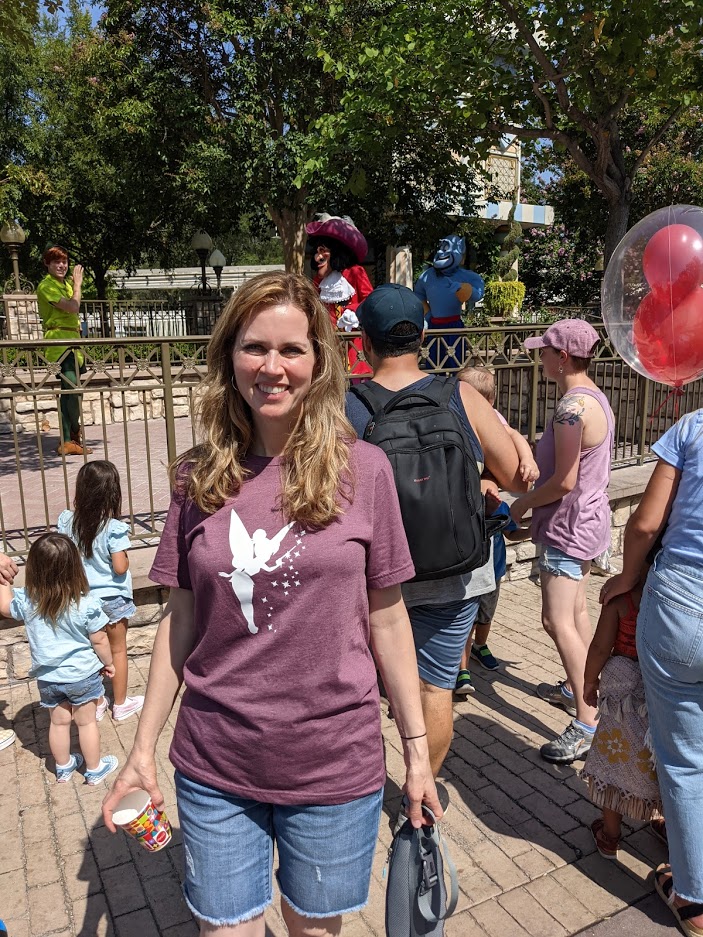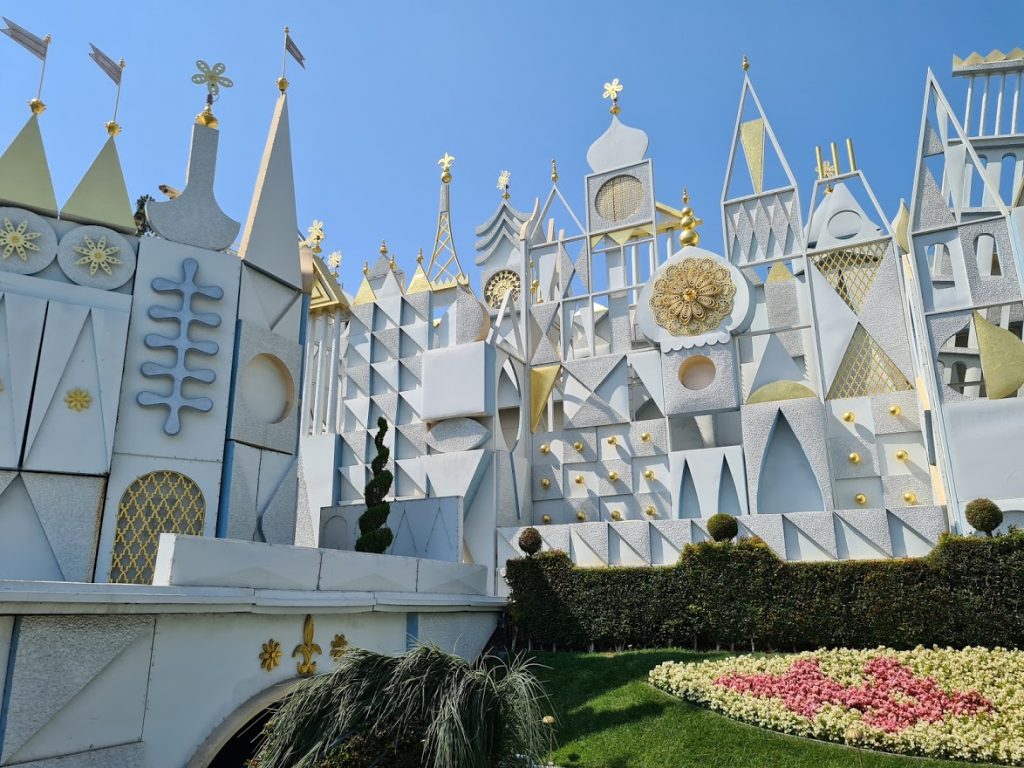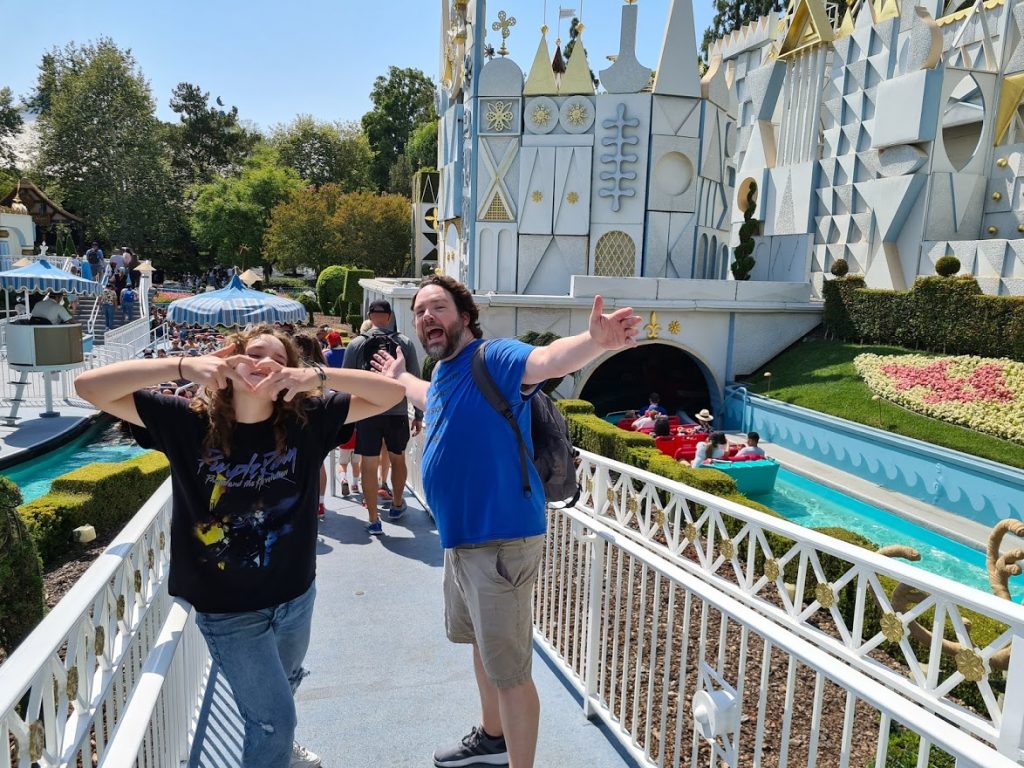 It was WARM and we were all ready to rest our feet and enjoy some cool a/c! It's a Small World was the perfect ride for that!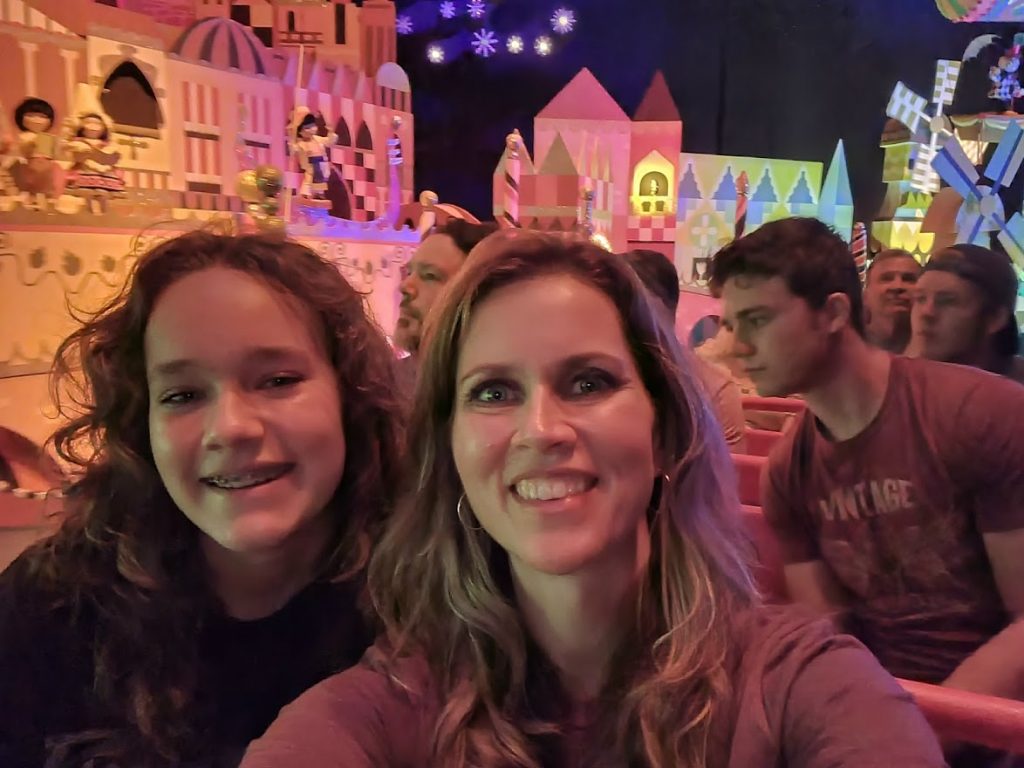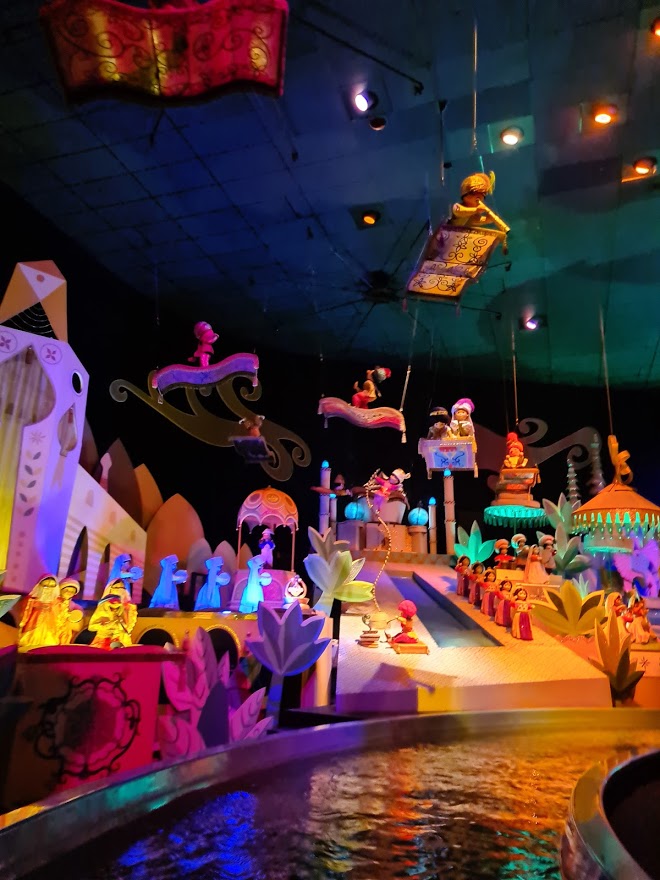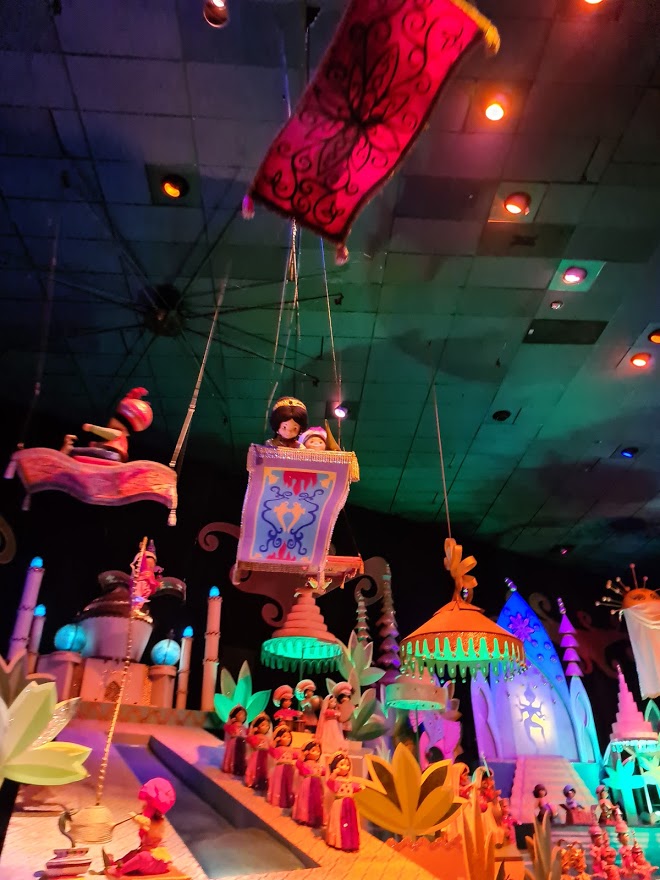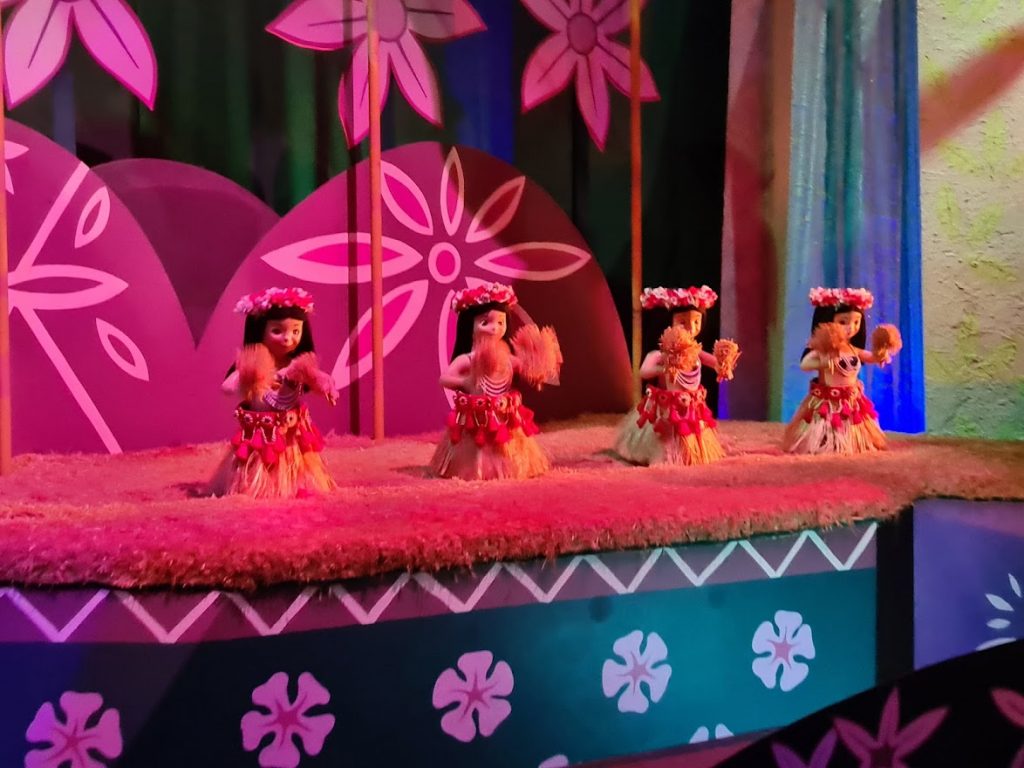 Snow White's ride also got some pixie dust as well. It's one of the few rides that opened with the Park back in 1955. It was called Snow White and Her Adventures then. In 1983 Fantasyland underwent a large scale transformation and with it Snow White's Scary Adventures was reimagined with it. Some have complained it was too scary for little ones and while the Parks were closed Imagineers revamped it once again and it is now called Snow White's Enchanted Wish.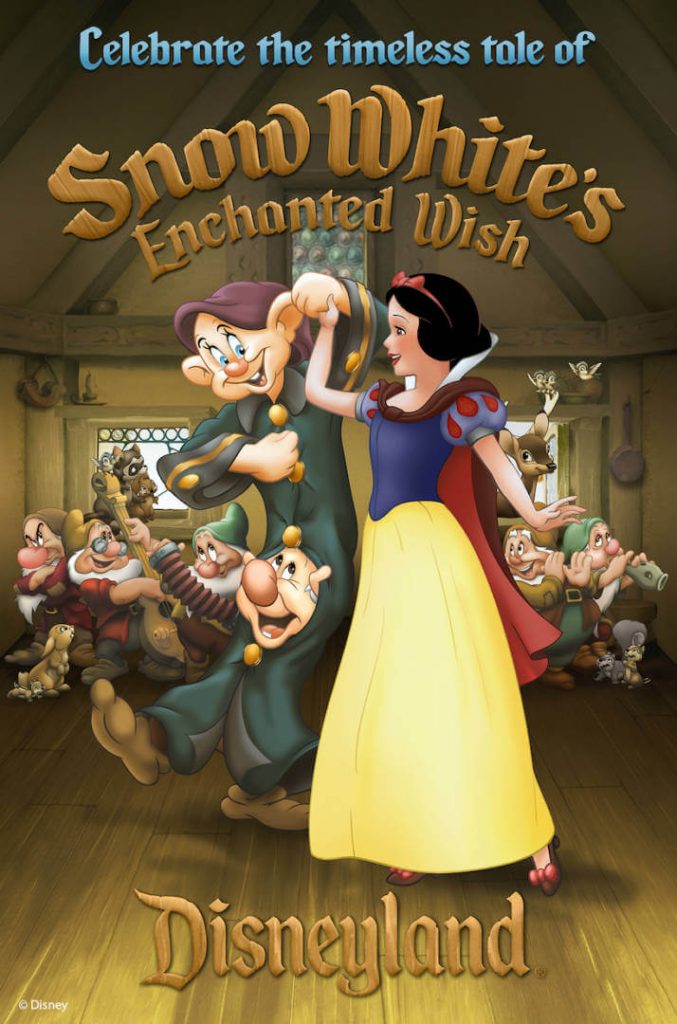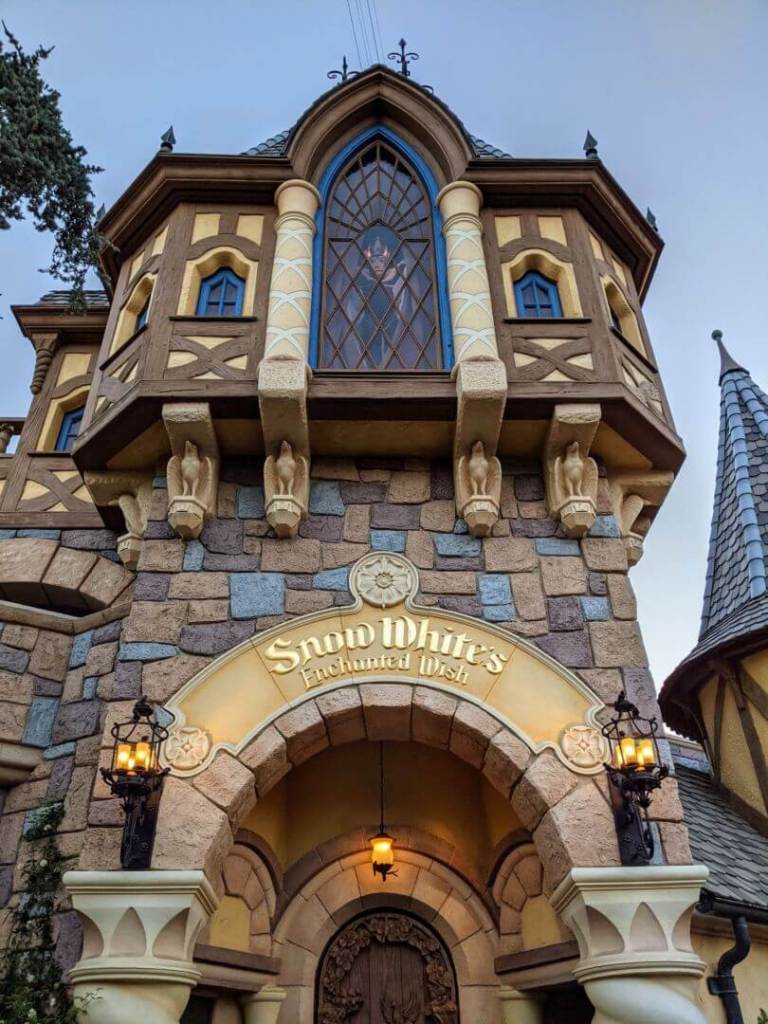 The building got a new paint job. It looks great!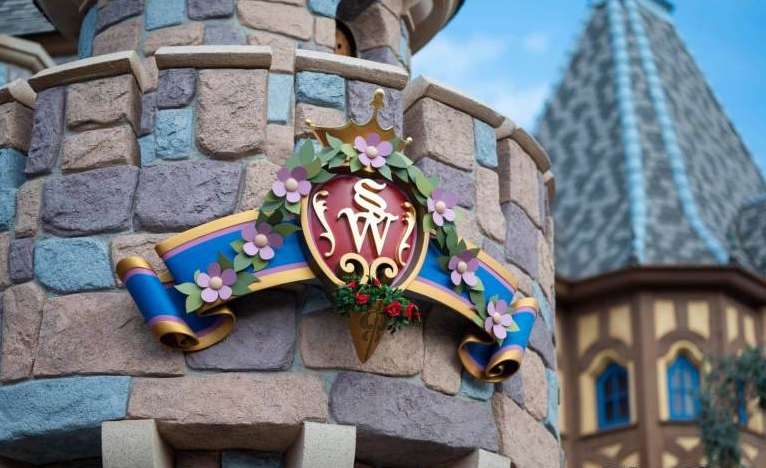 I especially love this new crest! So pretty! <3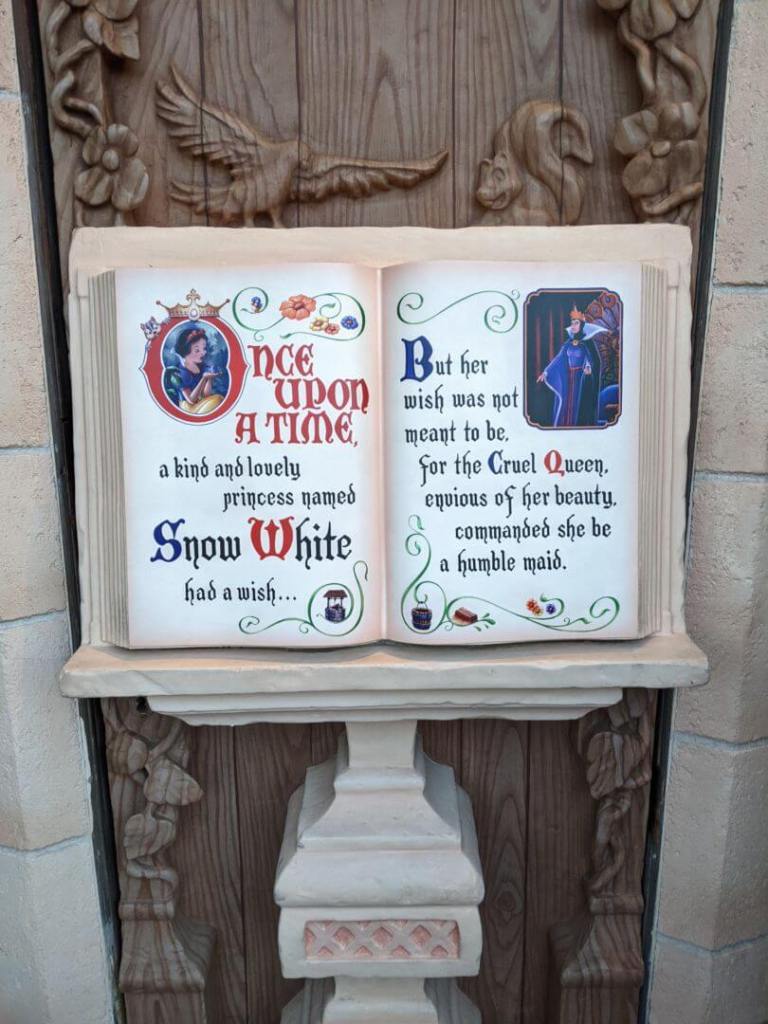 Waiting in line taking super close pictures to pass the time. Jared is a fan of the super zoom pic. LOL!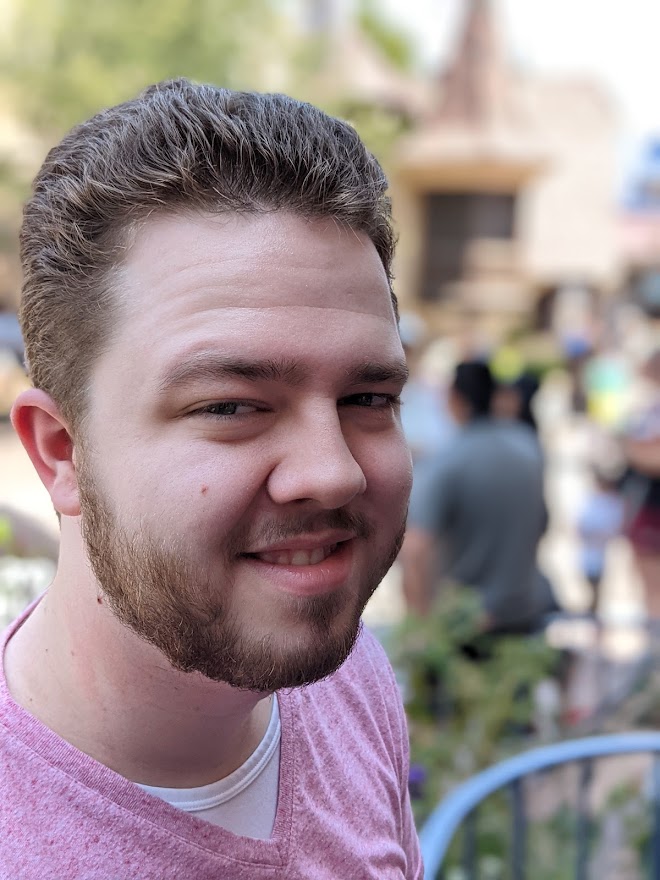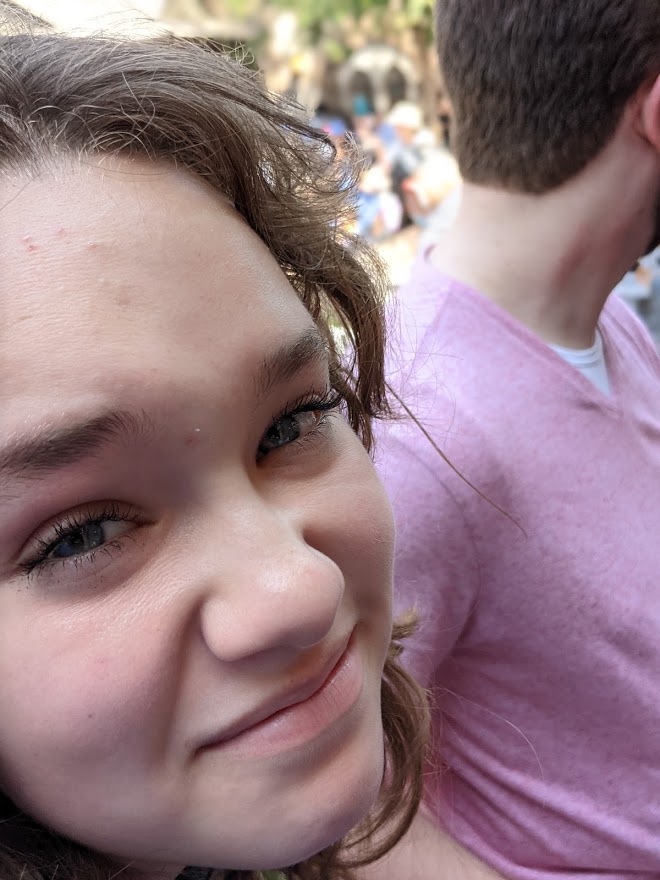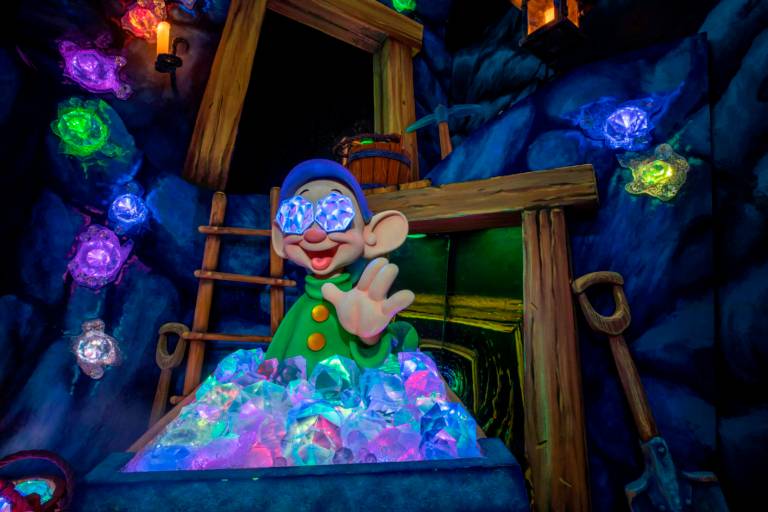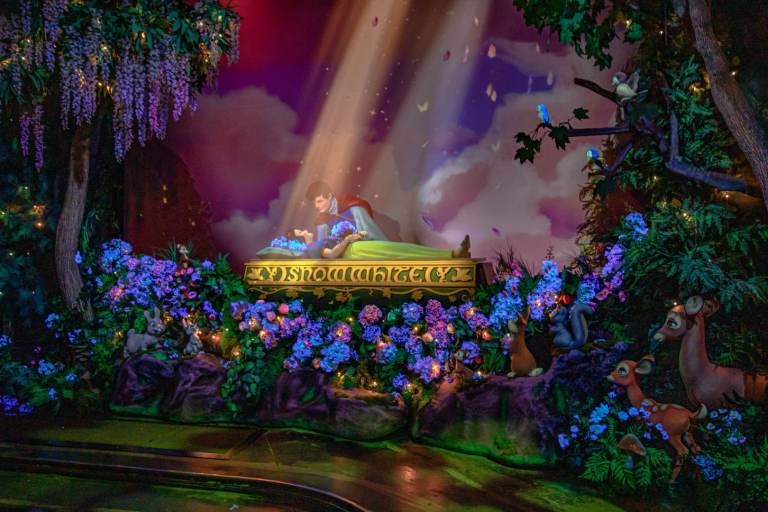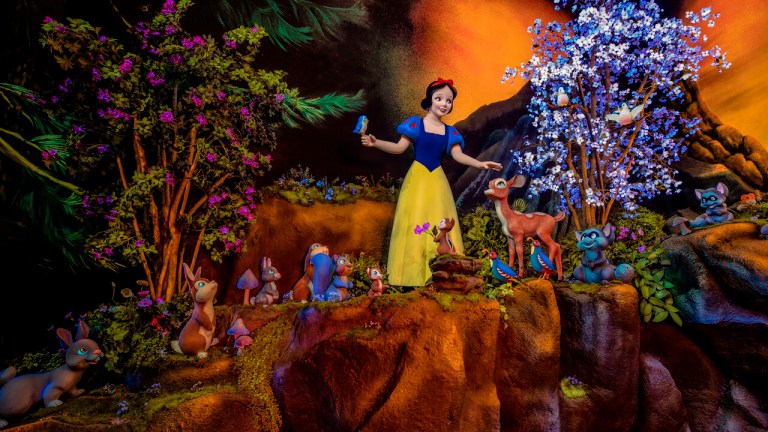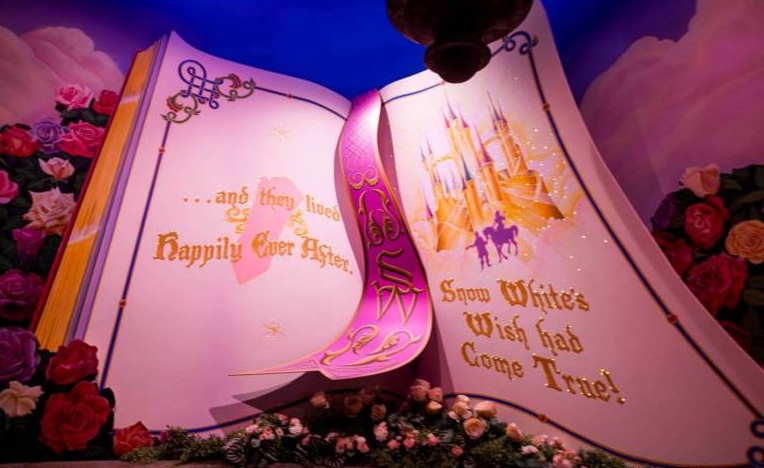 It's more a complete story now with a happy ending. I really enjoyed it!
Next up was Red Rose Tavern to try the Grey Stuff (It's delicious! 😛 ) It's a white chocolate cookies and cream mousse and red velvet cake with a raspberry center. It was good but no one was over the moon about it. It was fun to finally try it.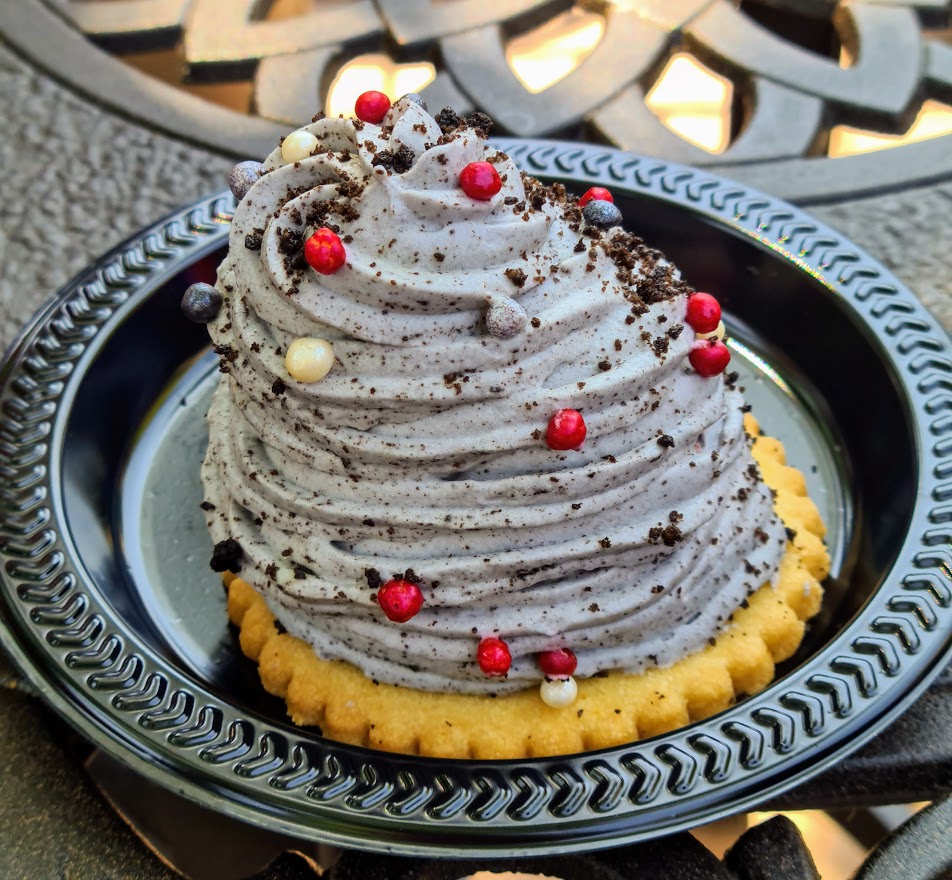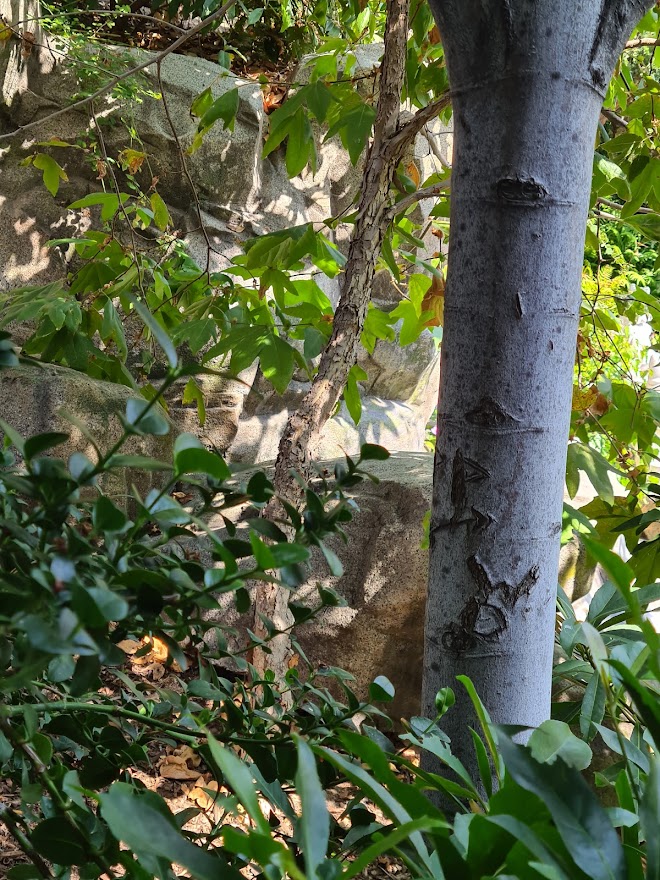 Have you ever seen that tree at Disney? It's kind of hidden. do you see what is carved into it? I don't have a great angel but on the top there is a "PP —>" and under it is a "WD". This is over on the side of the castle as you are walking towards Main St. It's before you get to Snow White's Grotto. There are steps that lead up to it. The initials are for Peter Pan and Wendy Darling. Isn't that cool!?! Hidden details like this are what I love so much about Disney. 🙂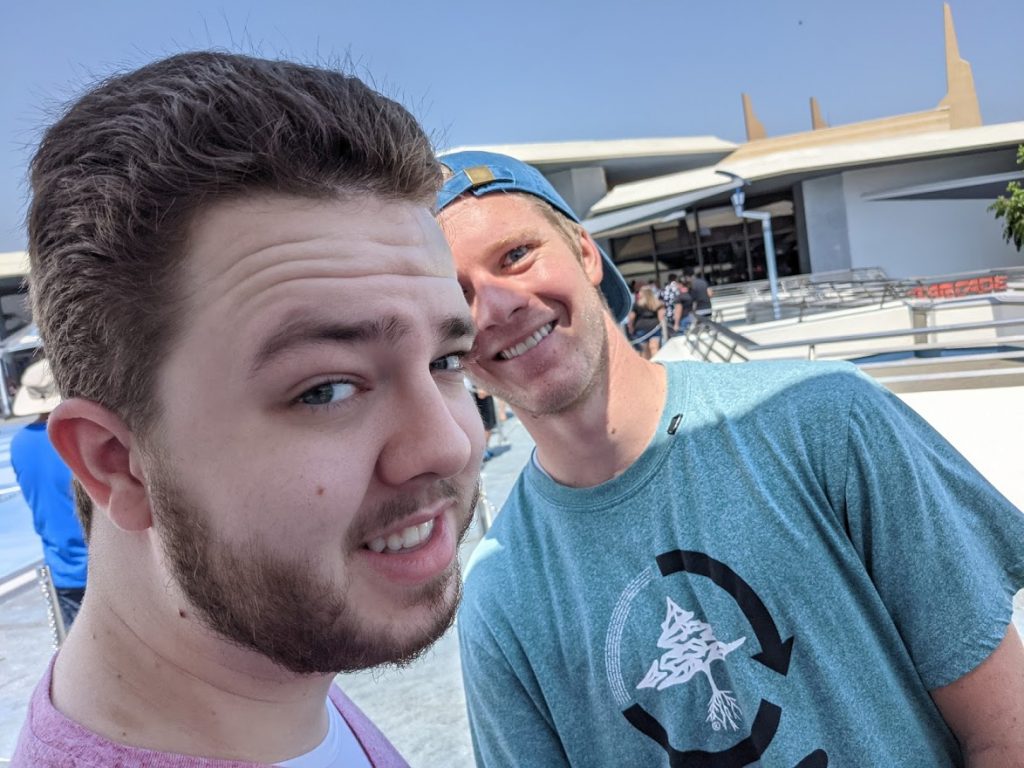 Take one guess who took this super zoom pic? Jared…. haha!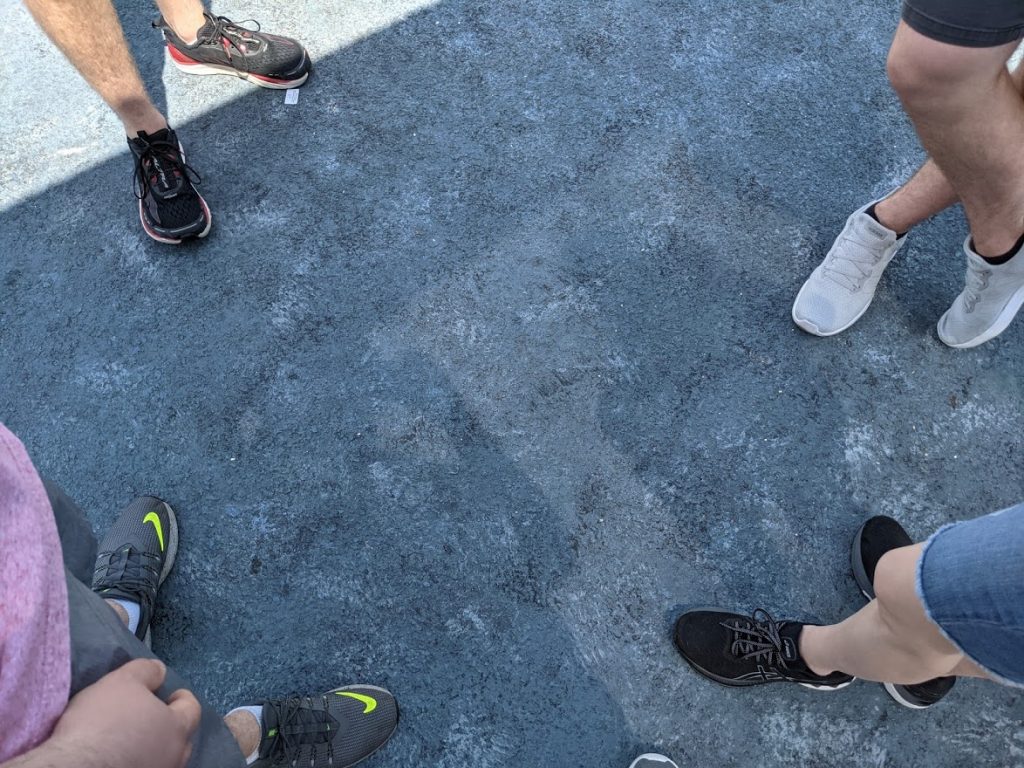 He also says feet pictures are all the rage.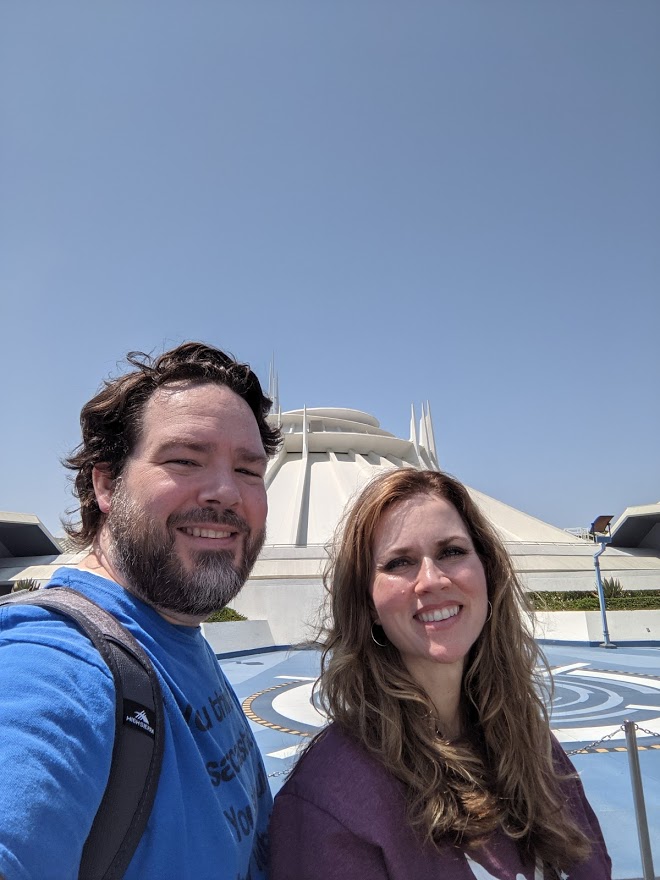 This is our entertainment while waiting to ride rides. Space Mountain was as wild and fun as ever!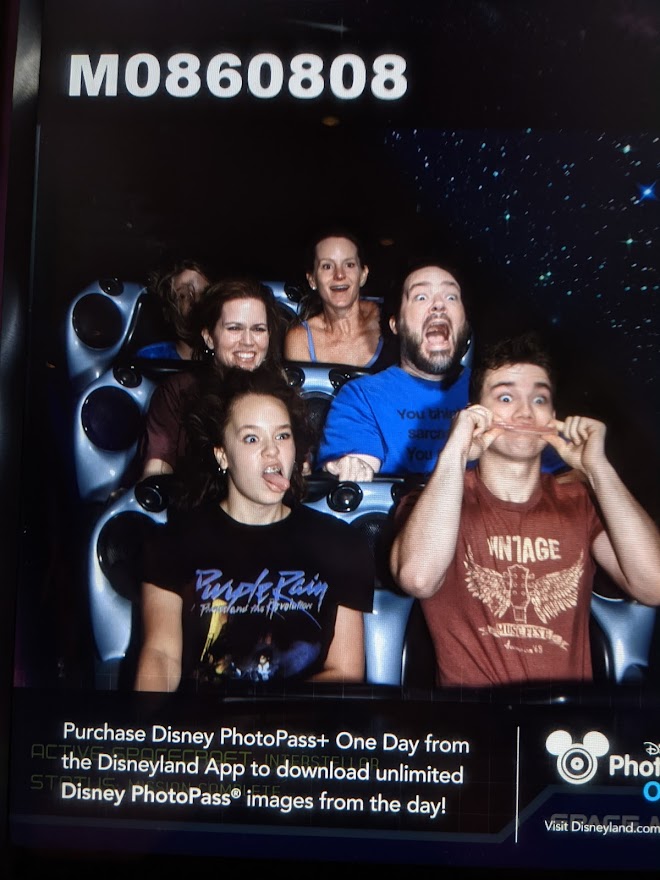 Eli's face is made of rubber! Hahahaha!!!!!!!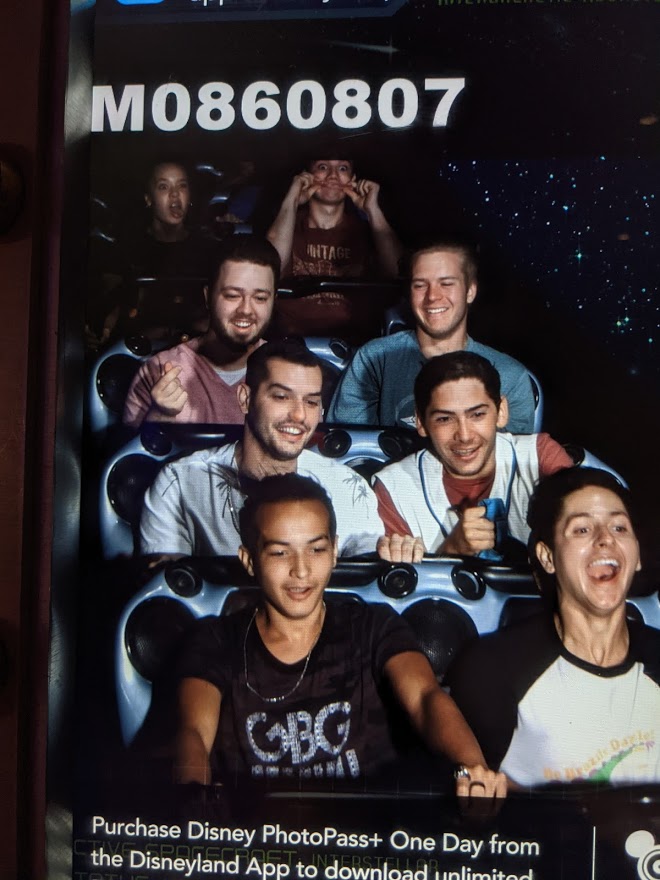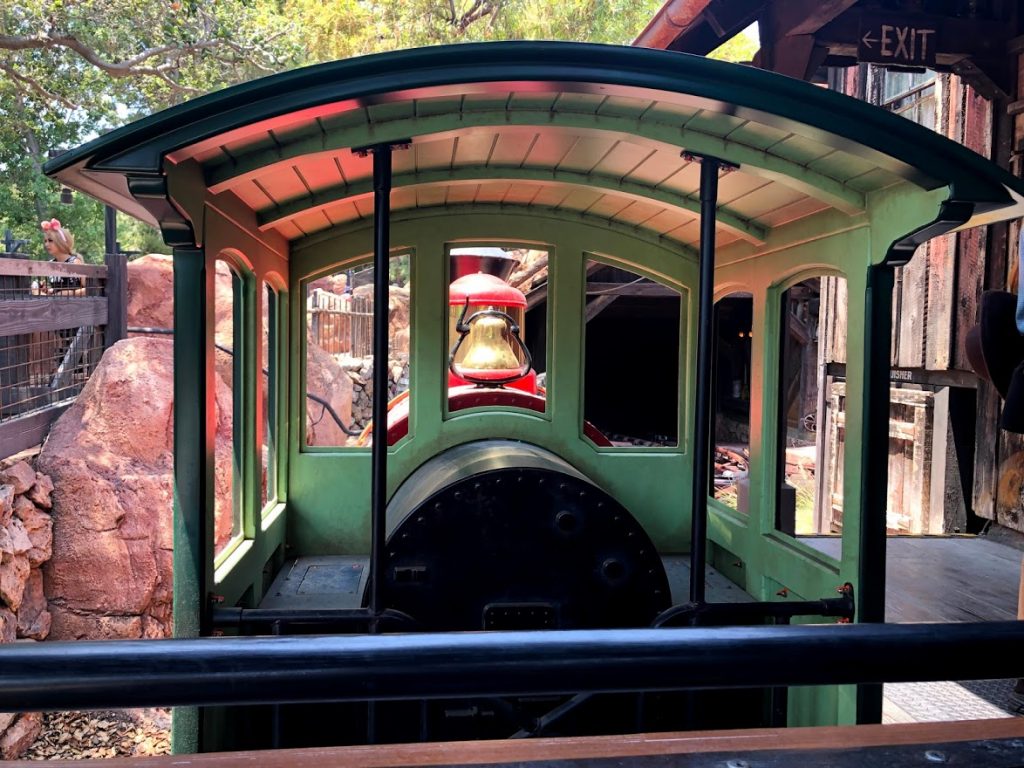 Alayna and I have never sat up front on Thunder Mountain. We both agree sitting in the back is more fun. It whips you around more. 🙂
Leading up to this trip I started watching some Disney YouTubers. One of them is Provost Park Pass. He's a fun and kinda nerdy guy and his videos crack me up. You should watch his Space Mountain Churro Challenge! We were walking towards Adventureland on Main St. after getting our churros (coincidence? LOL! ) Jared said, "Hey! There's your guy!" I looked over and there he was! So I shouted out, "Provost Park Pass!!!" He turned around and came over and talked with us for a bit. He was so nice and told Alayna how much he loved her Prince shirt and a fun story about seeing him in concert. Then we parted ways.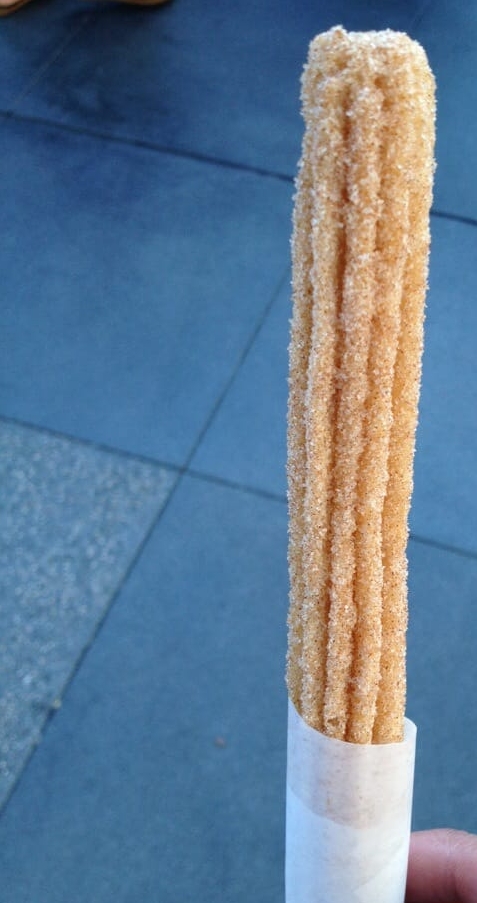 I quickly started regretting not getting a picture with him. Like…really regretting it. LOL! But I didn't know if we'd be able to find him again so we went over to ride Pirates since the wait was short and Eli said, "Hey! There's your guy again!" I was like Whaaaaaatttt!!!!!!! So I walked over to him and told him how I was regretting not getting a pic with him earlier but he was also live streaming and he said that he'd love to and that he was live streaming and would we want to be on it and of course we said YES! And so Alayna and I were on his live stream and got a pic!!! It was AWESOME! hahaha!!!
Click here to watch our clip!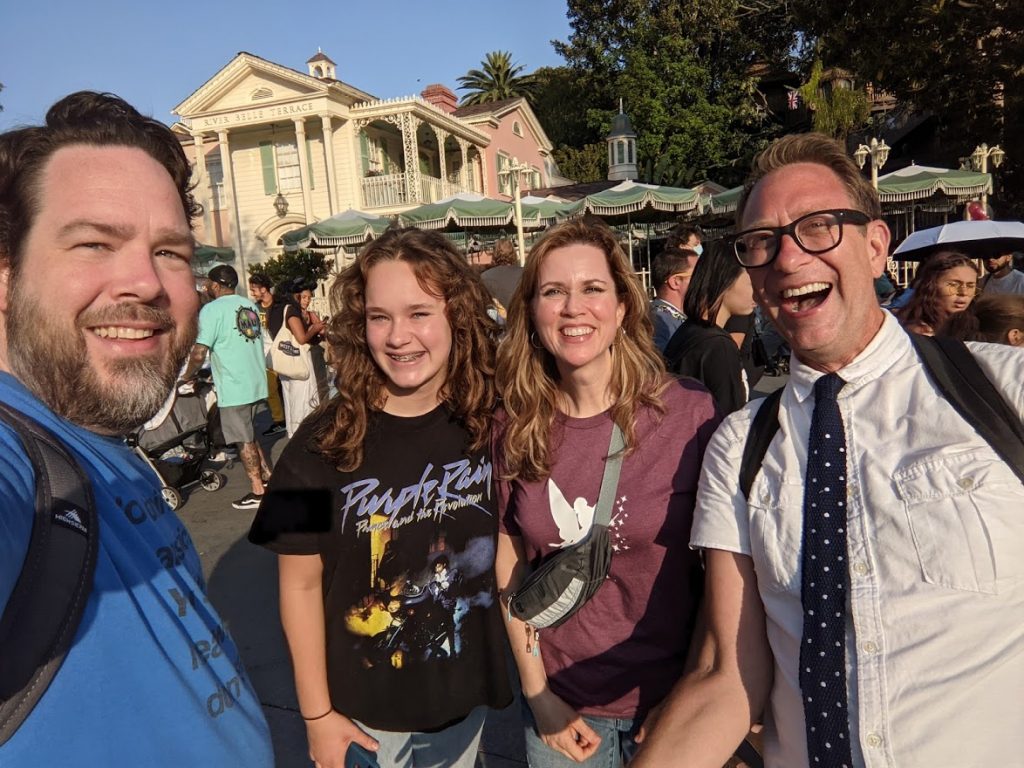 Whew! That was a lot of excitement! I was so happy Eli spotted him. 🙂
Next up was Matterhorn. It is just as terrible as ever. This ride really BANGS the crap out of you…yet we love it! LOL!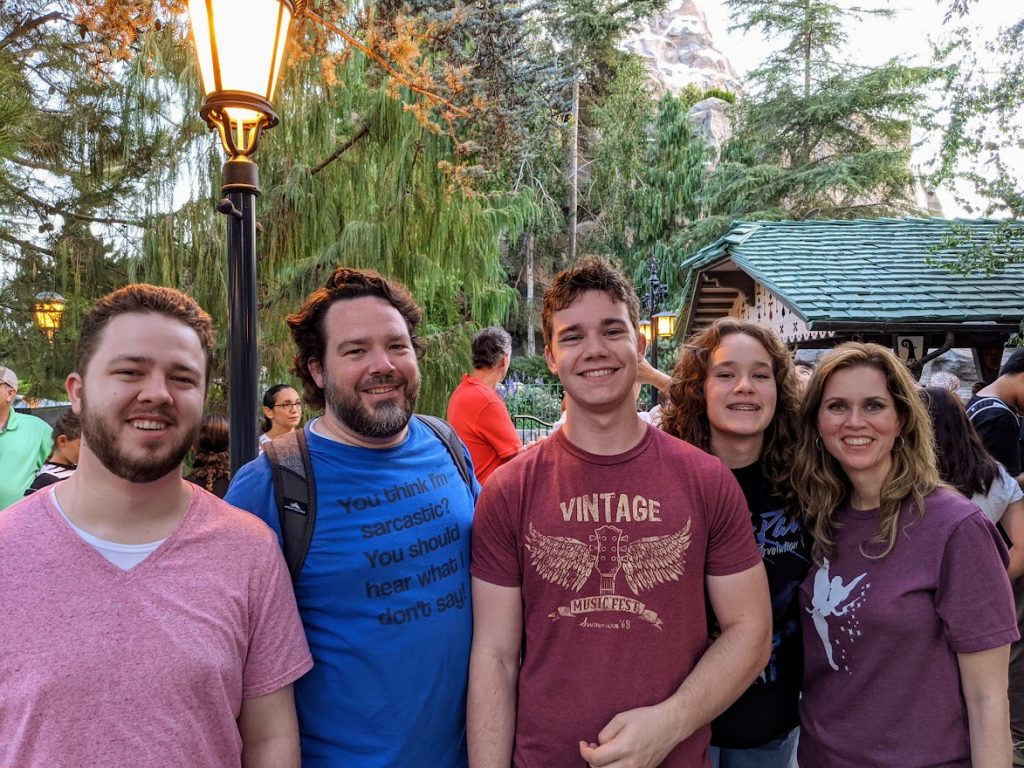 We rode so many rides and had a blast. At the end of the night the kids wanted to ride Splash Mountain.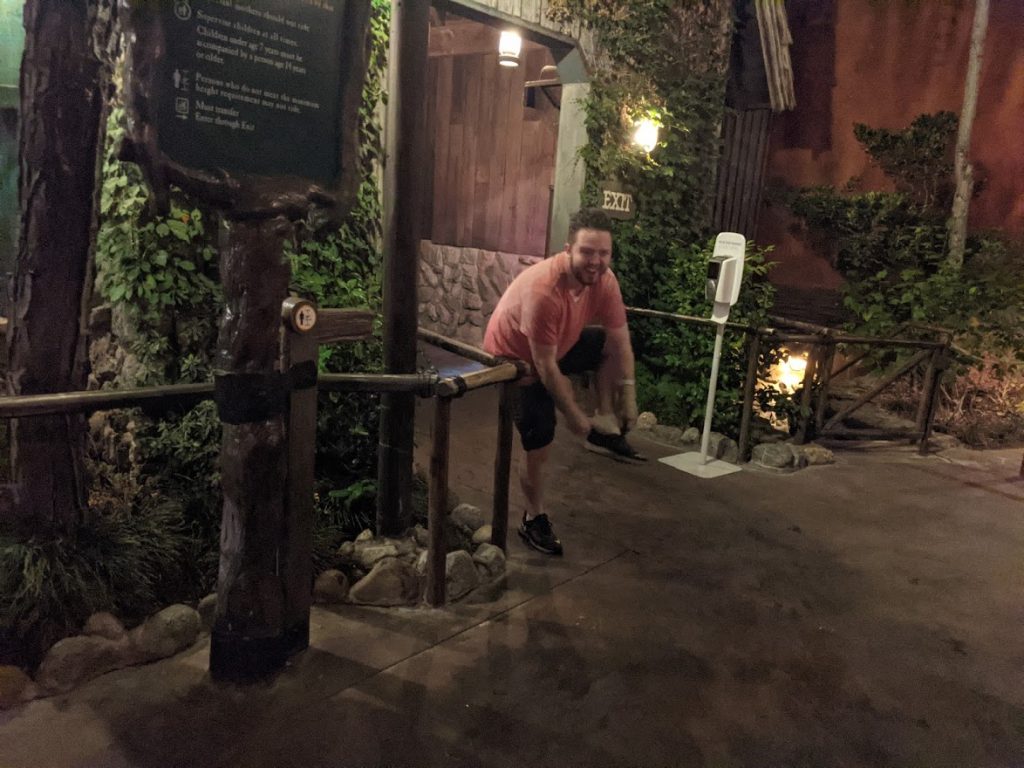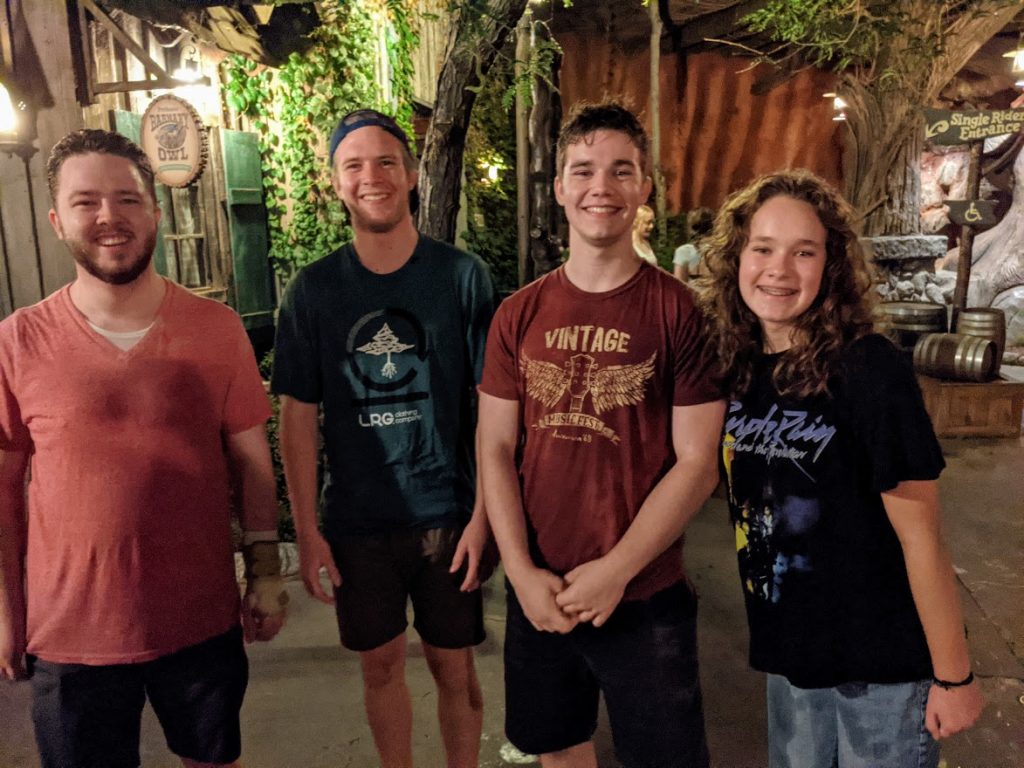 Jared went with them and they got SOAKED!!! Summer mode is a thing! They really crank up the water!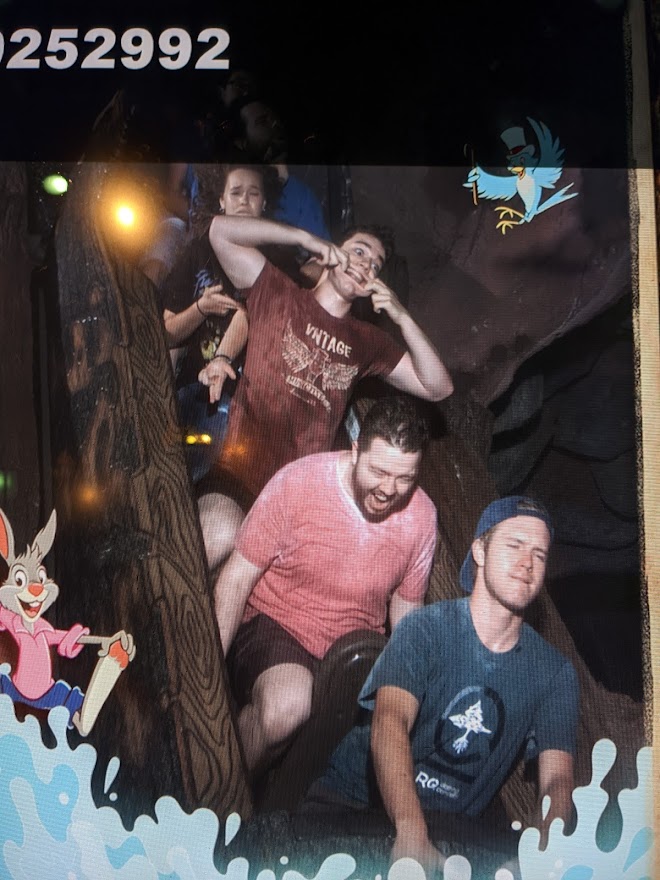 While they did that I decided to check out Pooh's Corner to see if I could track down this new treat I hadn't had before. It's called churro toffee. I found it!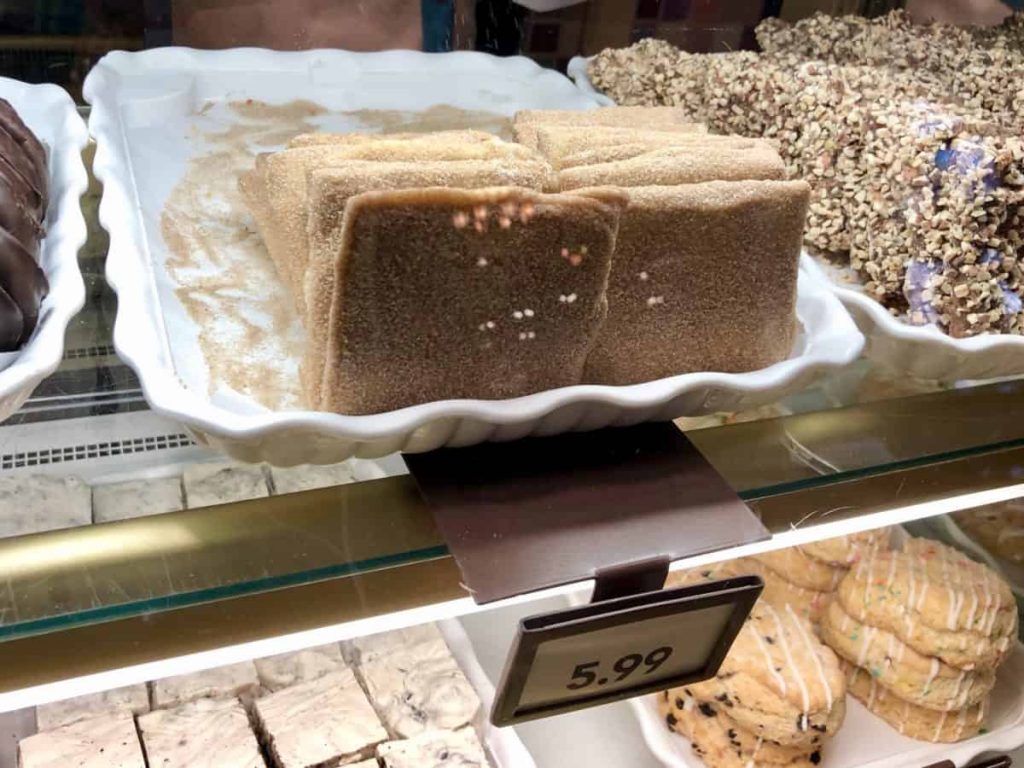 It was good not great. The first bite tastes like churro but then it just tastes like toffee. Which by no means is a bad thing but it wasn't what I was expecting I guess. 😛
There was NO WAIT so they rode it a couple more times.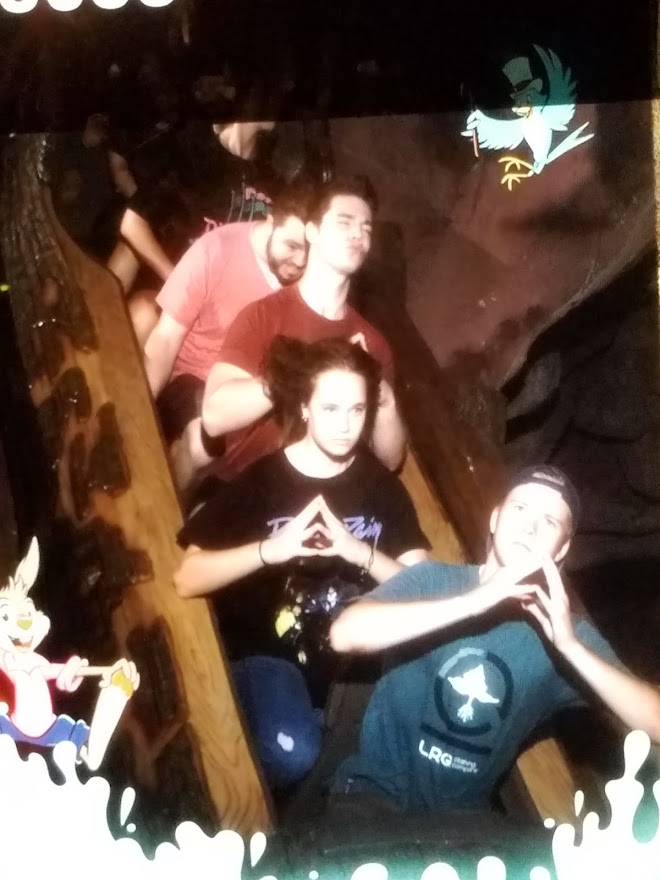 Jared and I went and got beignets while they took a bath. 😛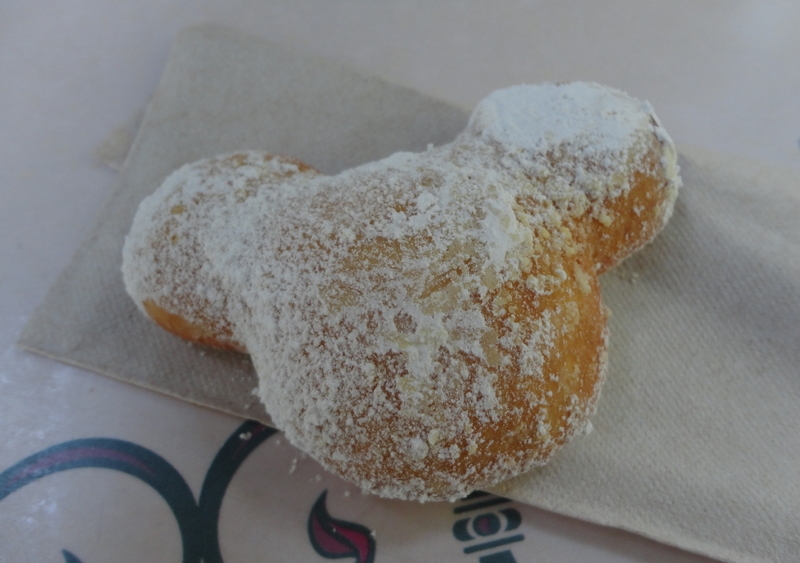 Little pillows of heaven!!! No trip is complete without them!
After the kids finished on Splash they came over and enjoyed their treat too and then they wanted to ride Space Mountain one last time before the Park closed.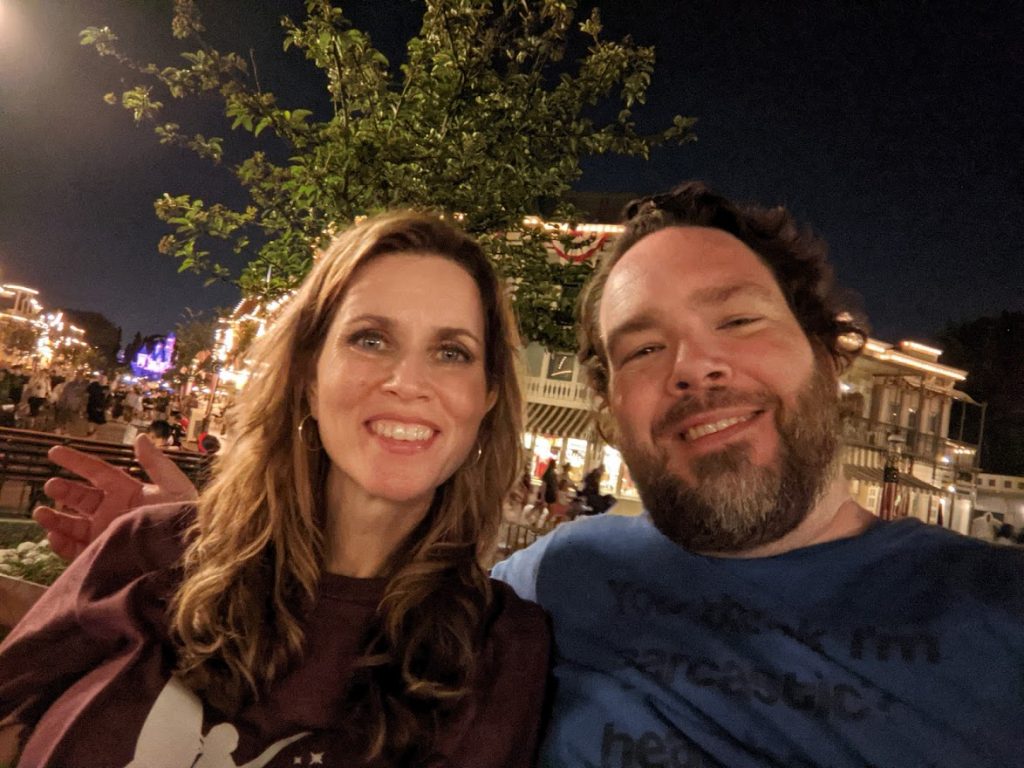 Jared and I decided to head up to Main Street and rest a bit while these guys did this….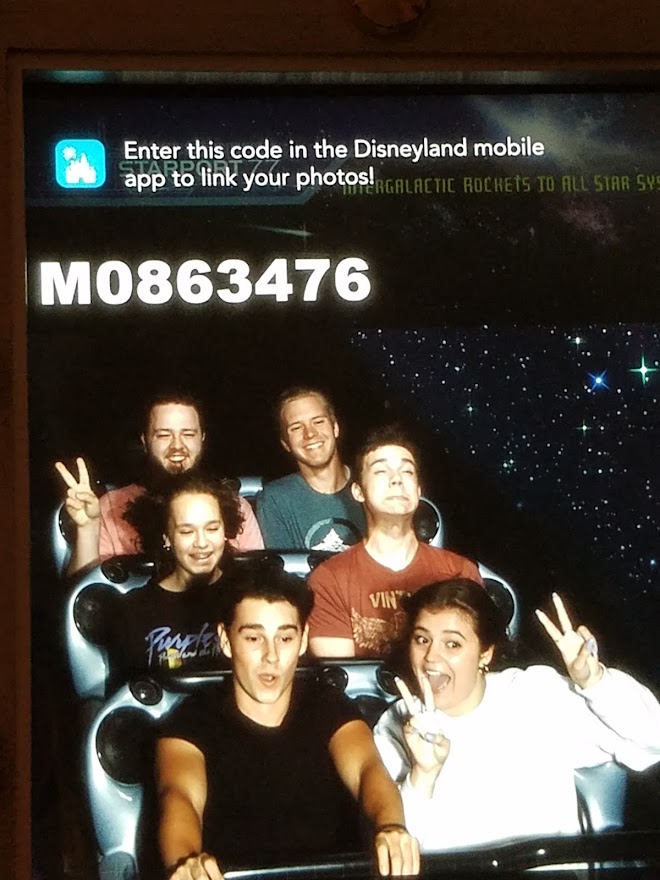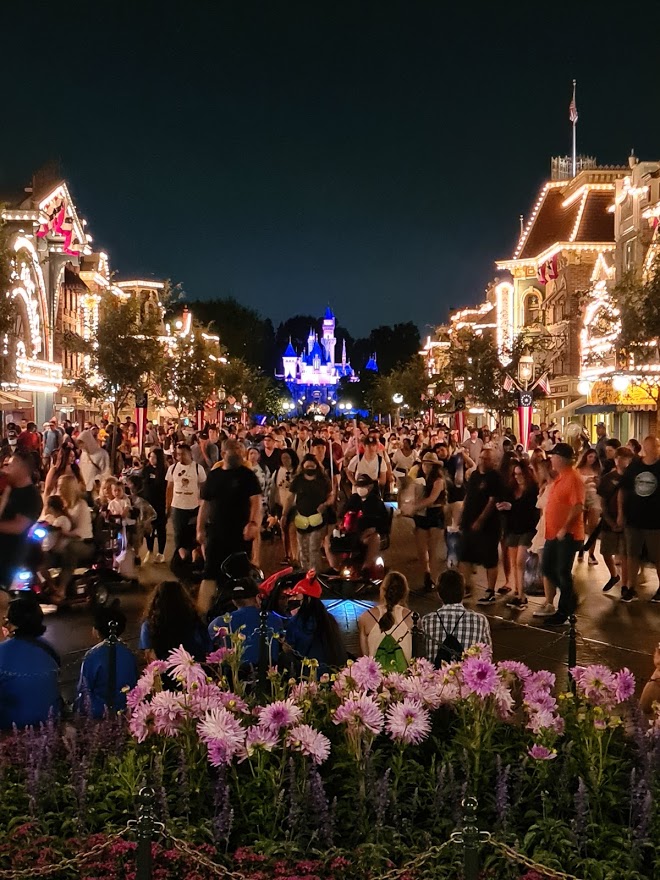 It was fun closing down the park and people watching. We couldn't believe the non-stop stream of people that filed out over the hour we sat there waiting for the kids.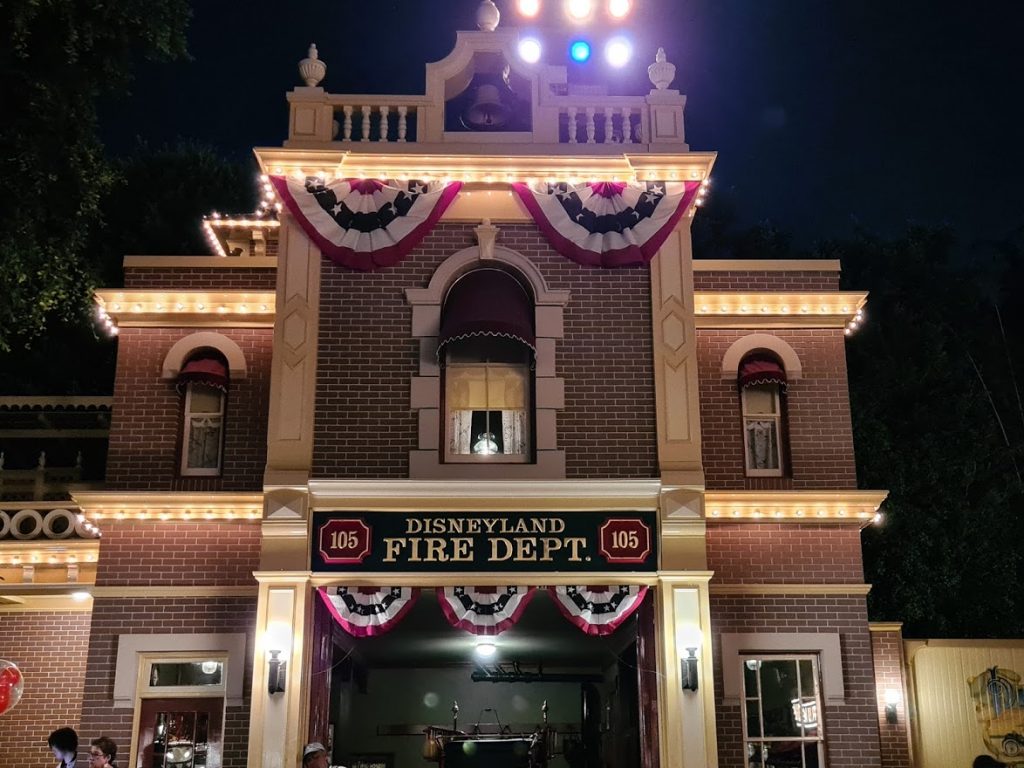 It was a fantastic day with the family. We did everything we wanted to and ate pretty much everything we wanted to. 😛
Good night Walt! Thanks for the memories!