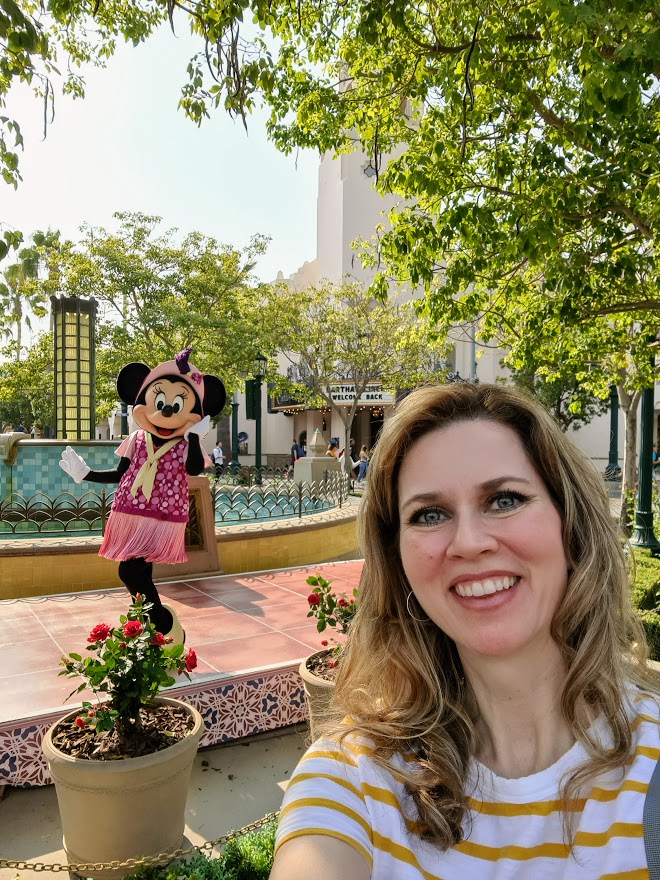 Look who greeted me as I walked into California Adventure! 🙂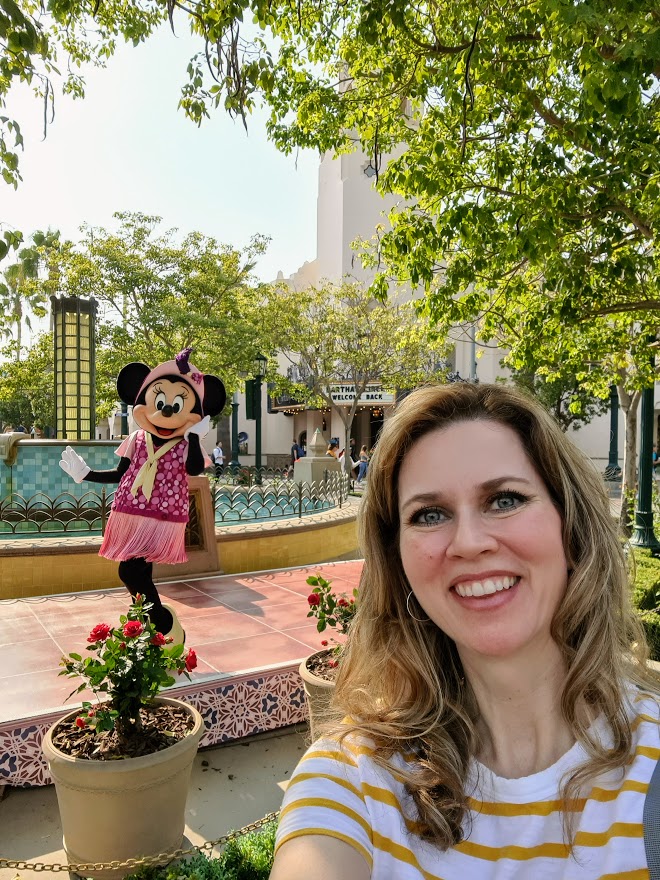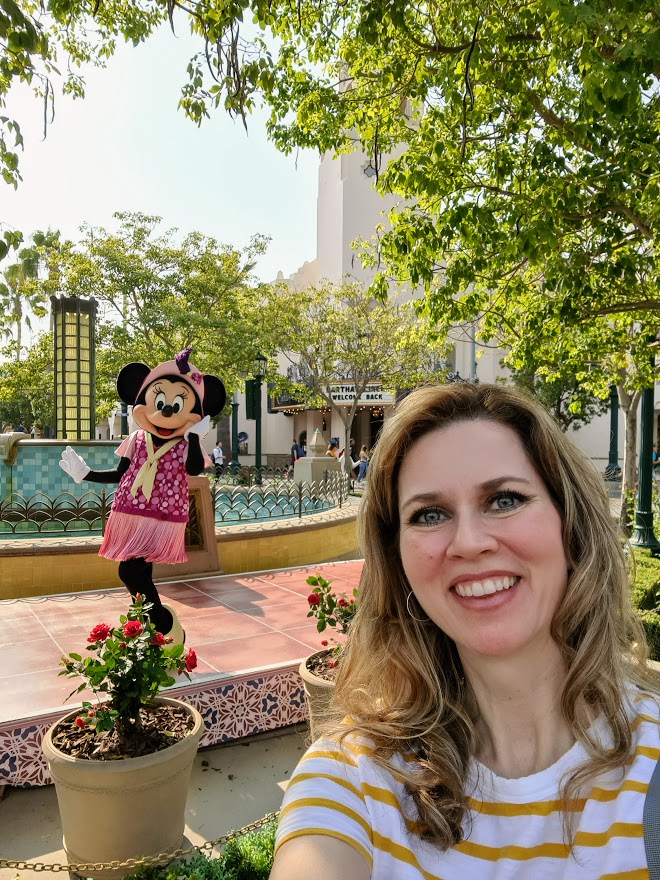 One of the best changes Disney has made since reopening is the amount of characters out in the Parks and they have them social distanced so you don't have to wait in long lines you can just snap a selfie and be on your way!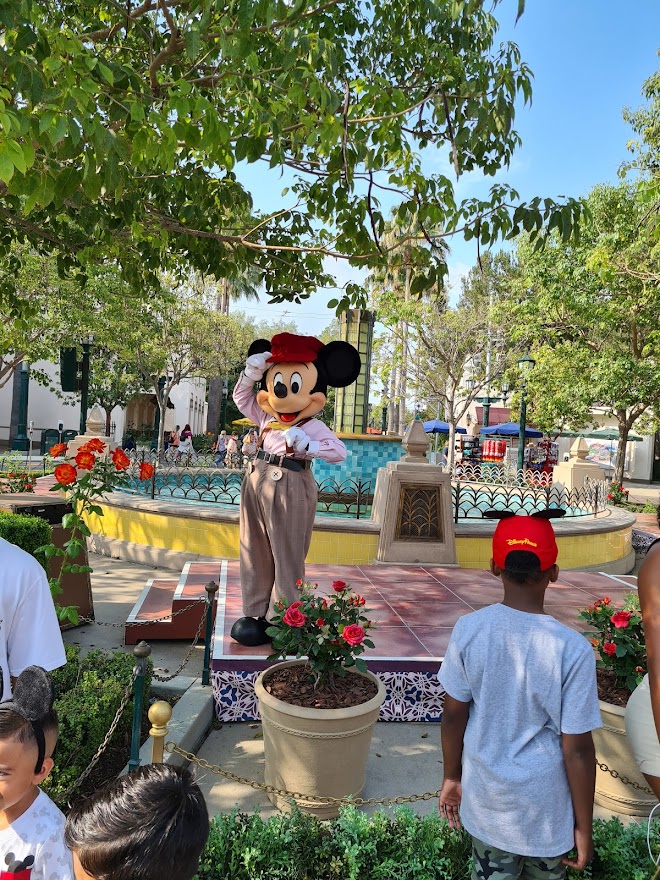 The kids wanted to start the morning off with a BaNg! So we went to Mickey's Fun Wheel (of Death)! LOL!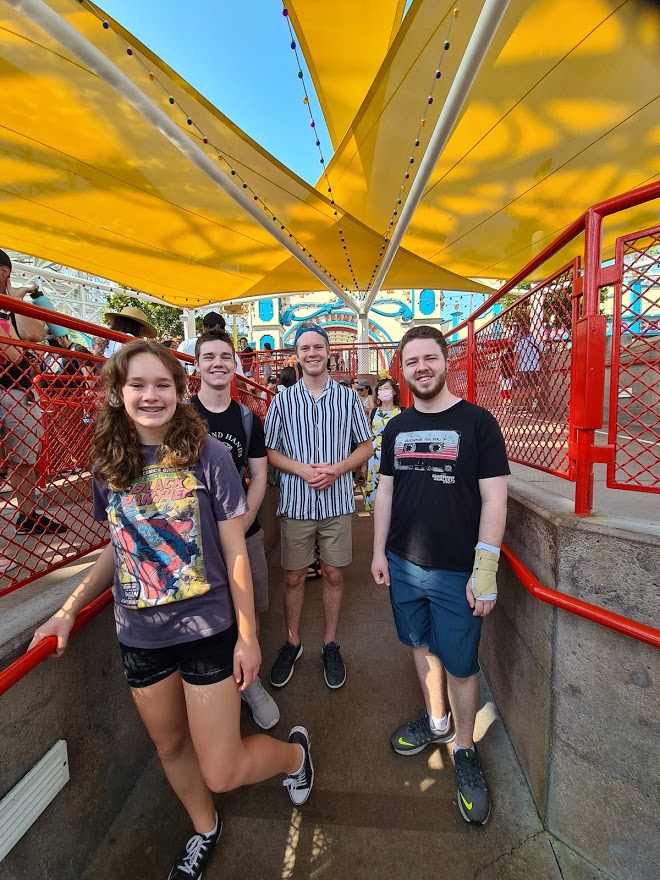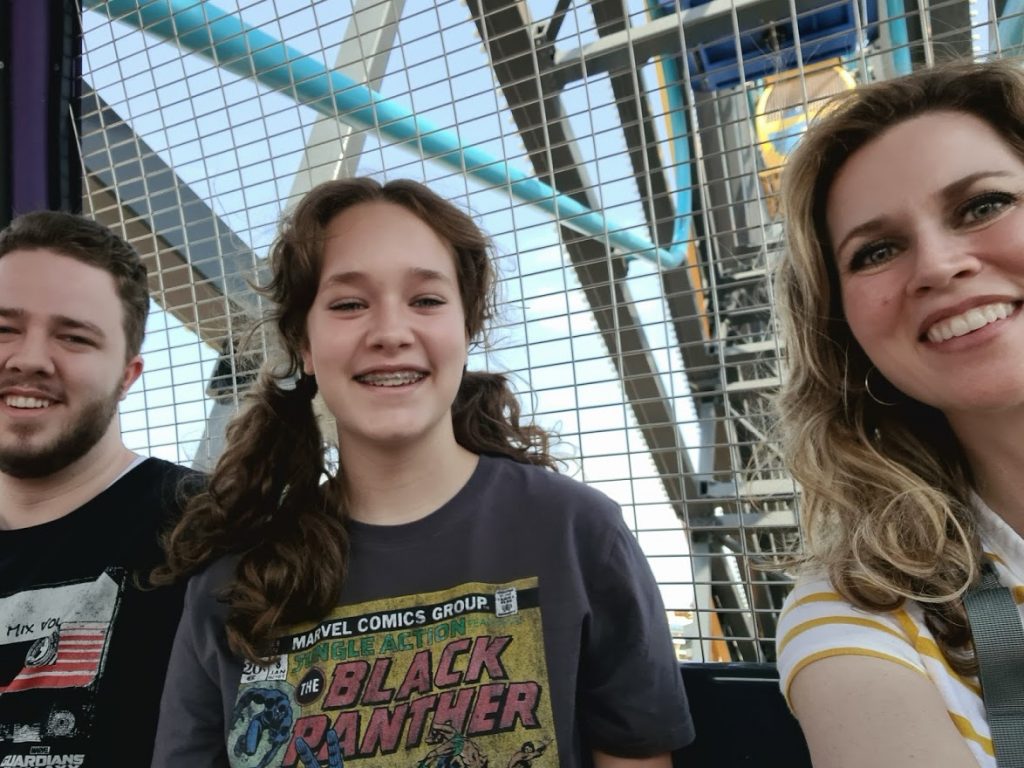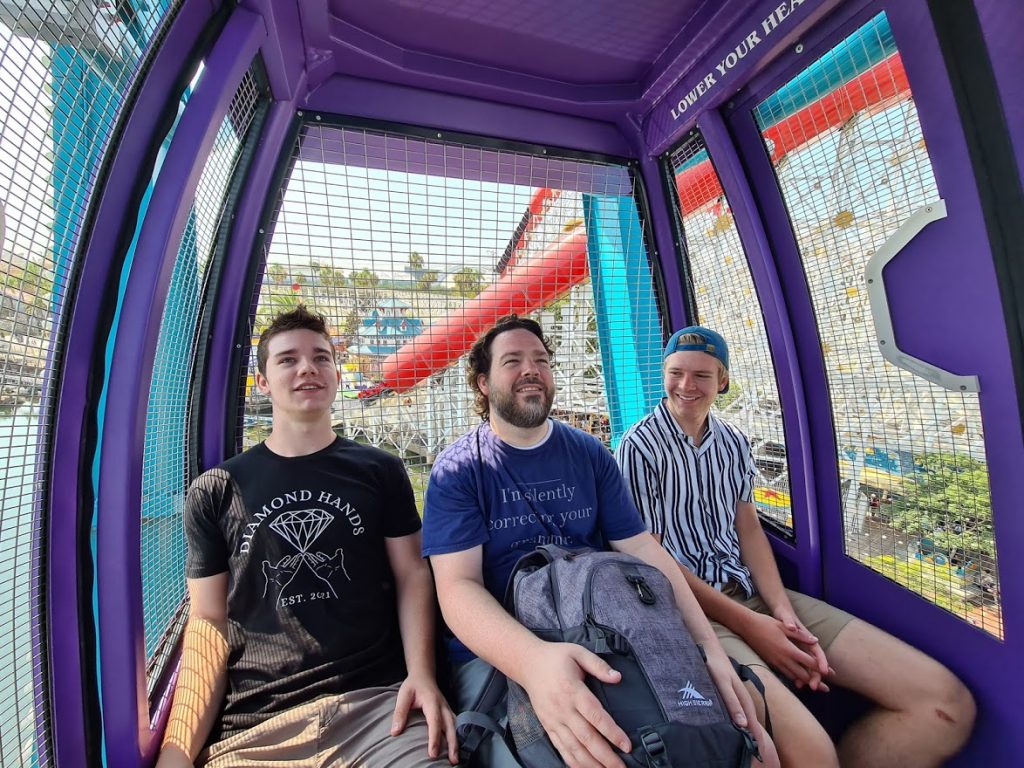 The swinging gondolas make me kinda queasy and the guys were trying to swing our car as much as possible! It NEVER stopped swinging! I was really glad I hadn't eaten just before we got on. Haha!
Chase scored us the 7am boarding pass for Web Slingers. It's a brand new ride in the brand new land Avenger's Campus. I was really happy we got to ride both the new rides at both Parks!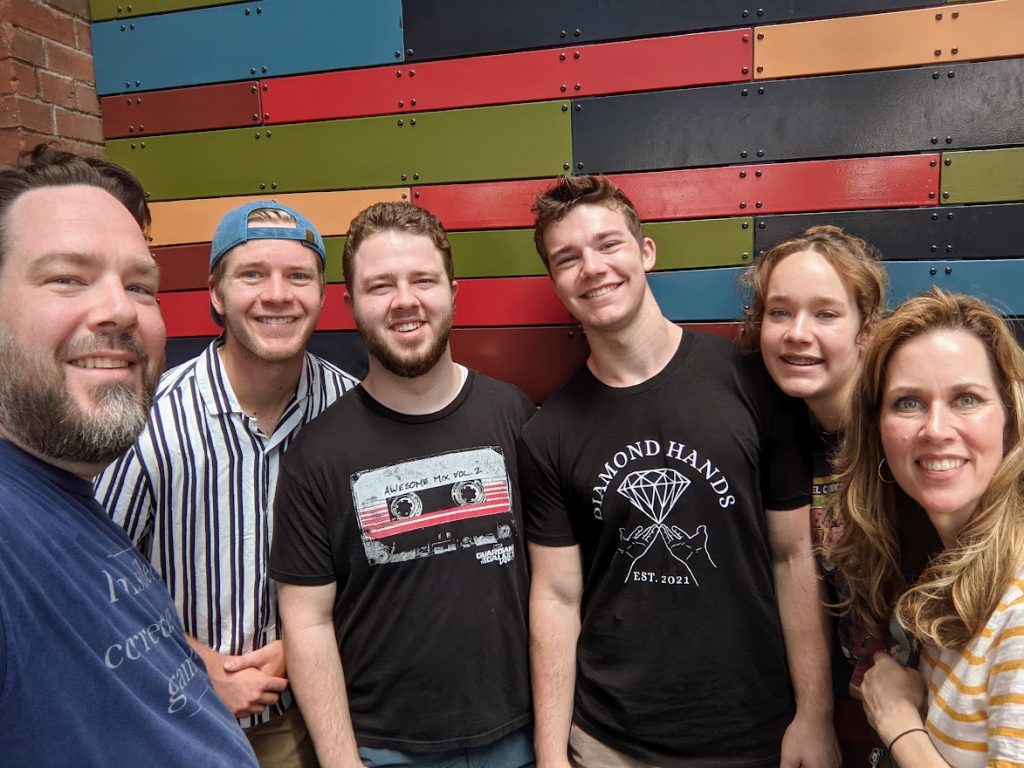 Do you see the hidden Mickey in the web?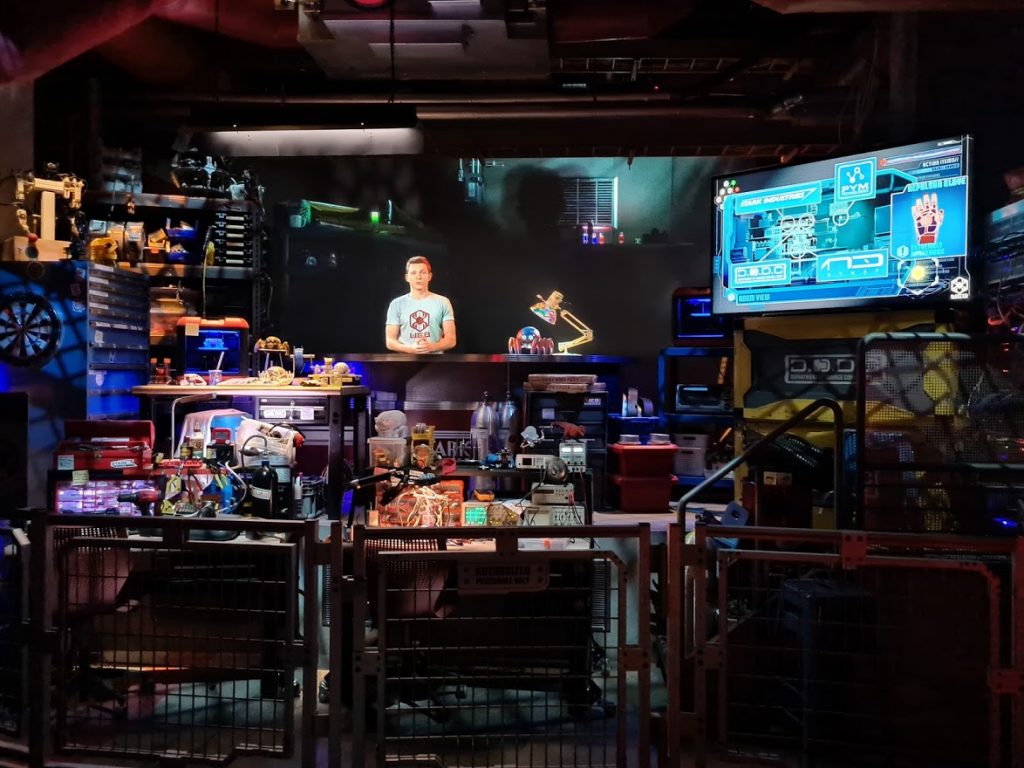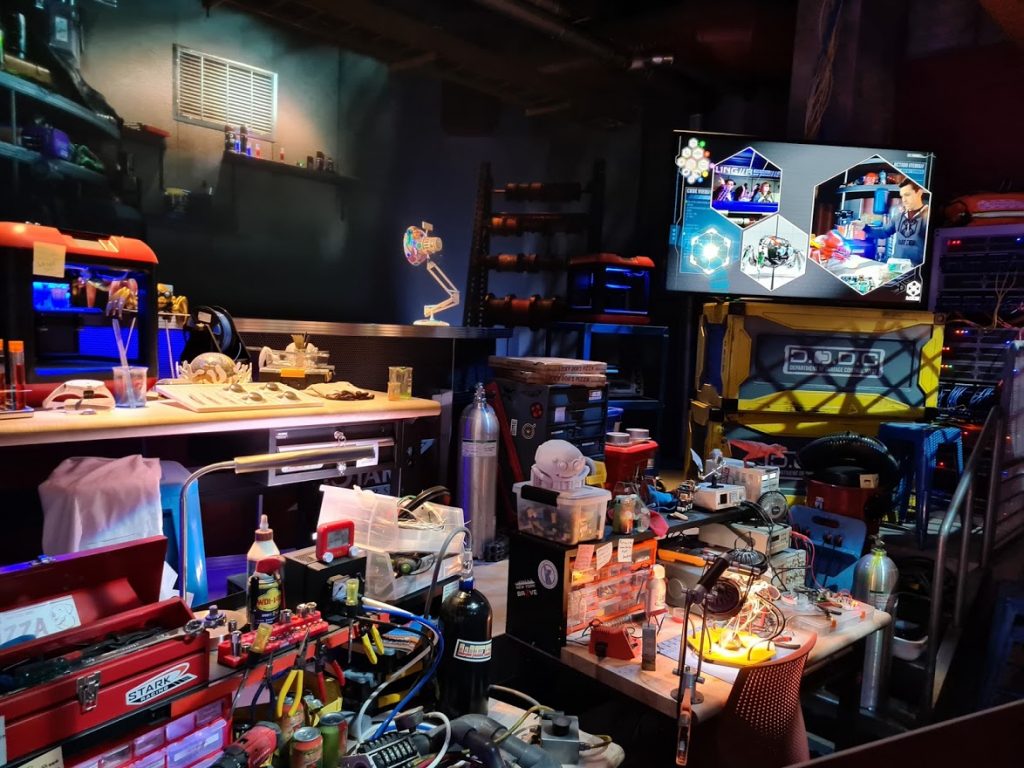 There is so much to look at in the pre-show.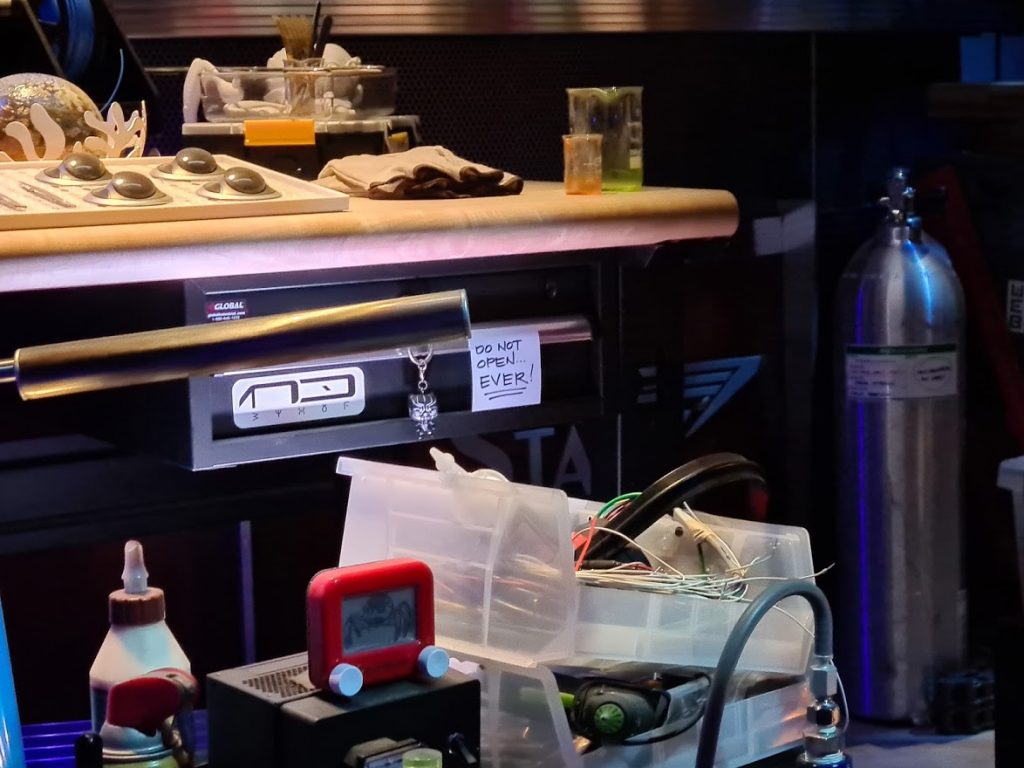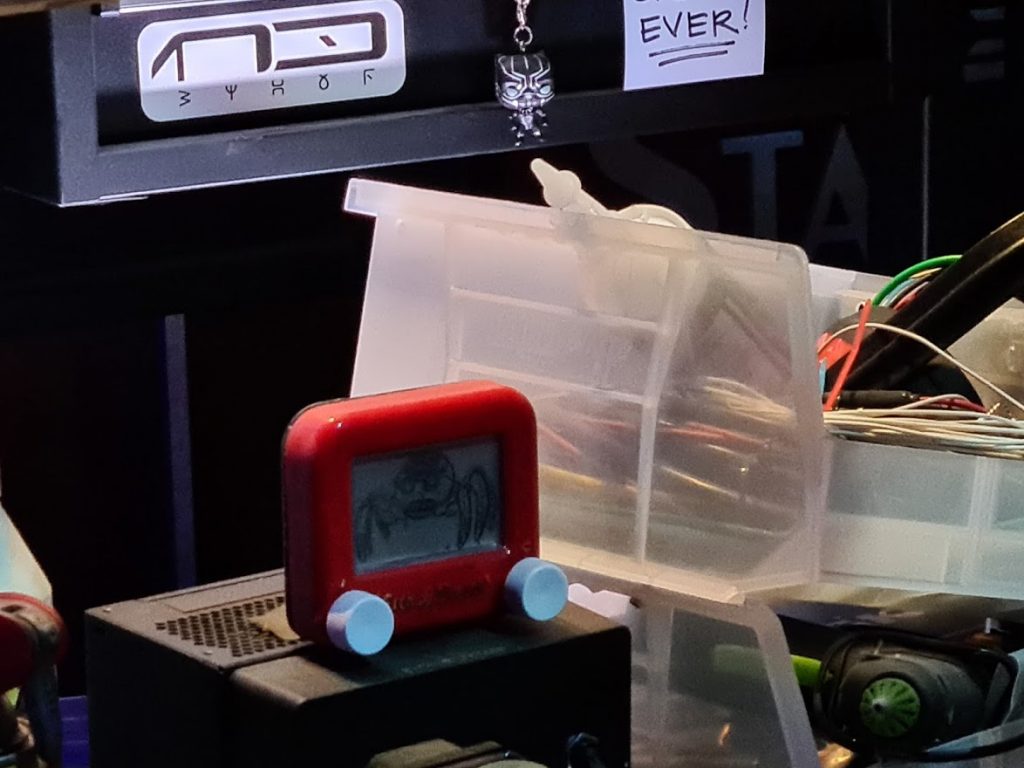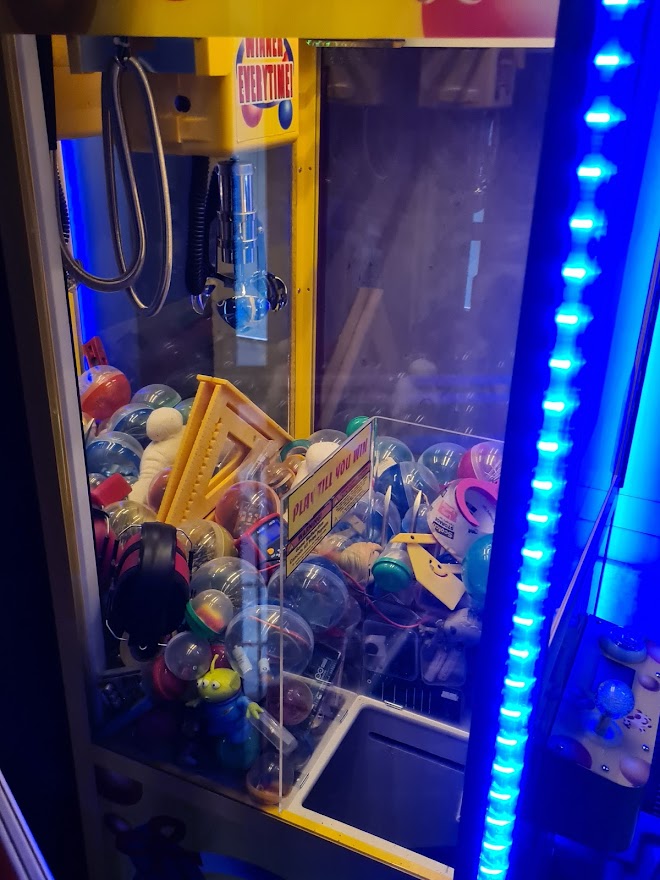 I think my favorite detail is the nod to Toy Story with the zealot in the claw machine! 😀
The ride was like a video game. You waved your arms like Spiderman shooting webs from your wrists. It was fast paced and fun. What was even MORE fun is that we have some pretty serious gamers in the family and I beat them all!!!! I was pretty proud of myself! 😛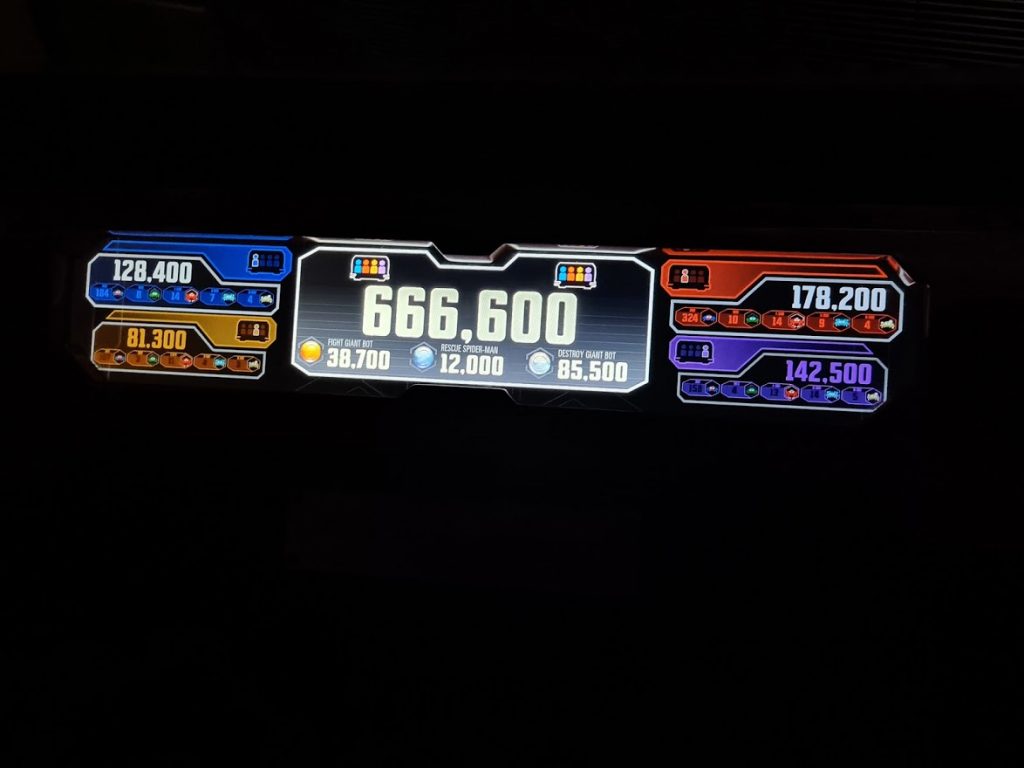 We worked up an appetite so we went over to Cocina Cucamunga and got lunch. I tried the birria tacos. They were SO good!!! I highly recommend them!
We went over to the Adorable Snowman and got dessert. This is called the Pixar Pier Parfait. It's a lemon soft serve on top of a blue raspberry slush. It was yummy!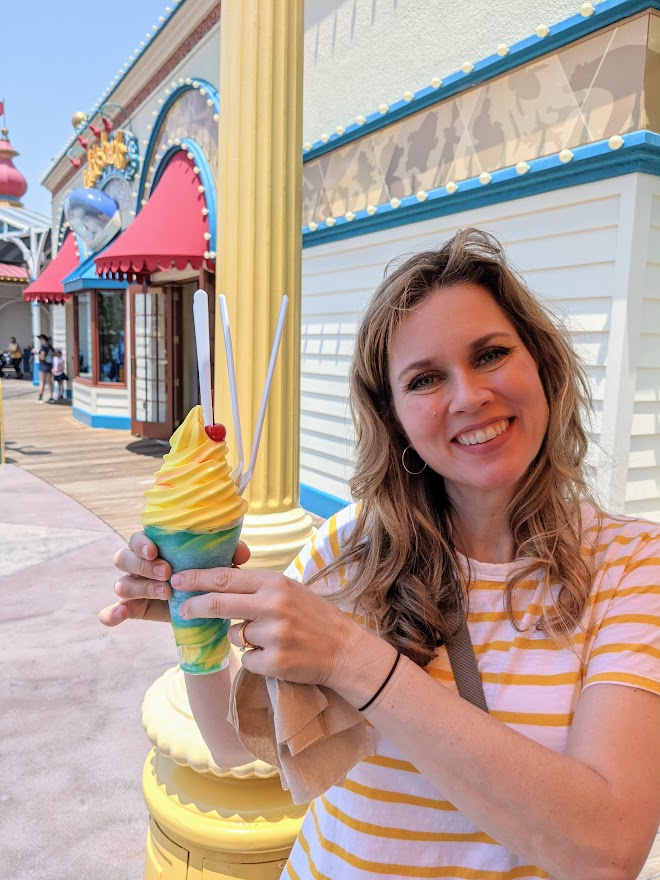 We headed back over to Avenger's Campus and rode Guardians of the Galaxy and found this hidden Mickey in the new art homage to the comic book artist Jack Kirby called the Kirby Krackle.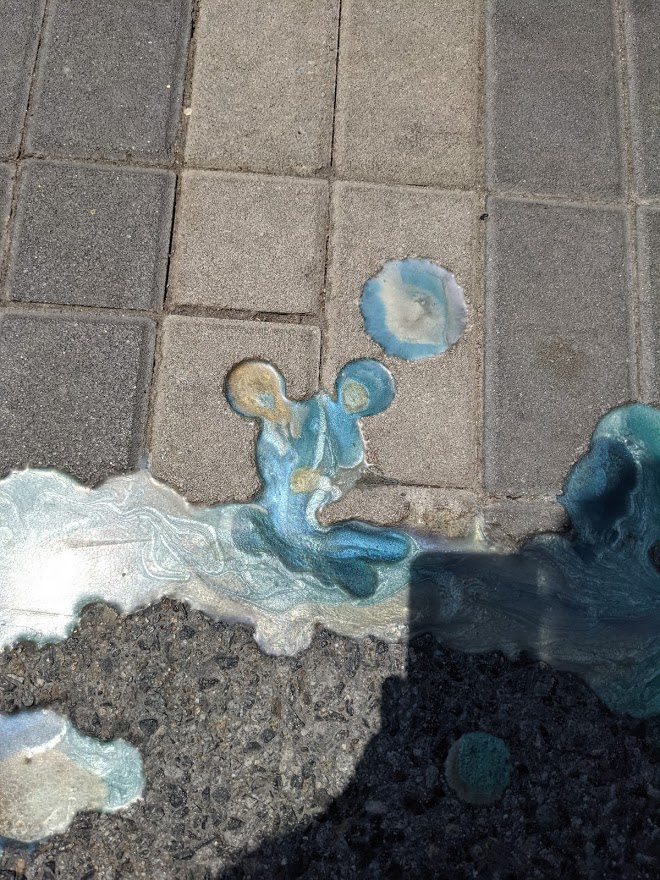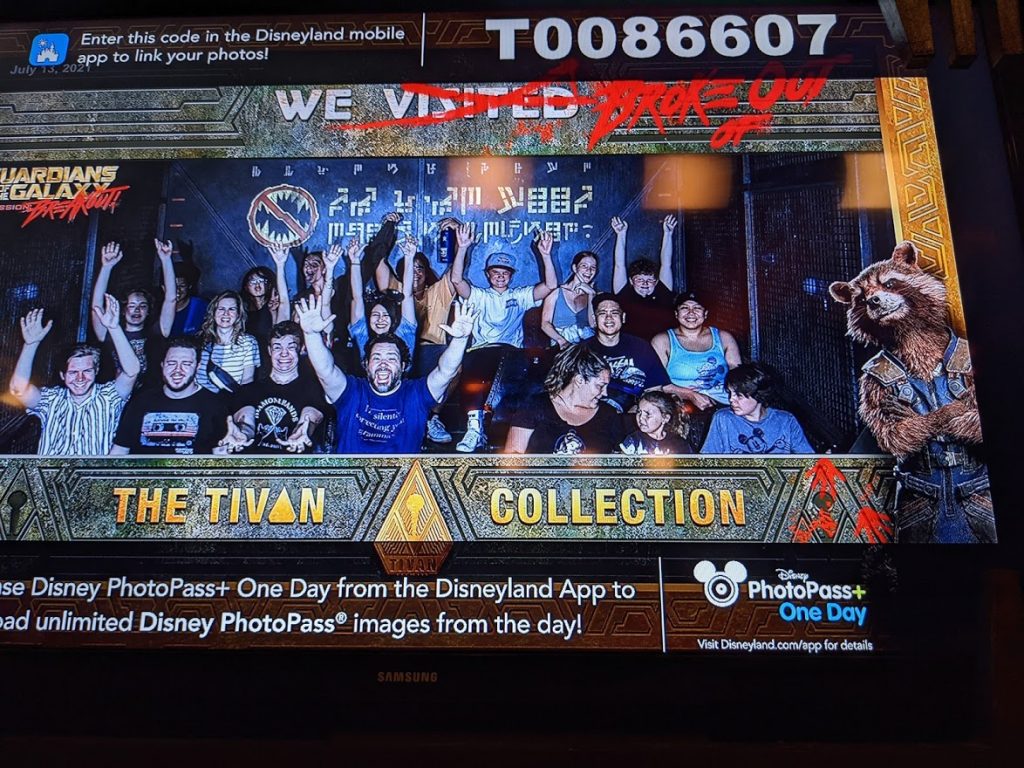 I really am having fun…haha! I'm just holding on tight so I don't fly away! 😛 I'm not sure what Eli is doing. He makes the craziest faces. It cracks me up!
We had lunch at the new PYM Test Kitchen. We basically ate everything they have.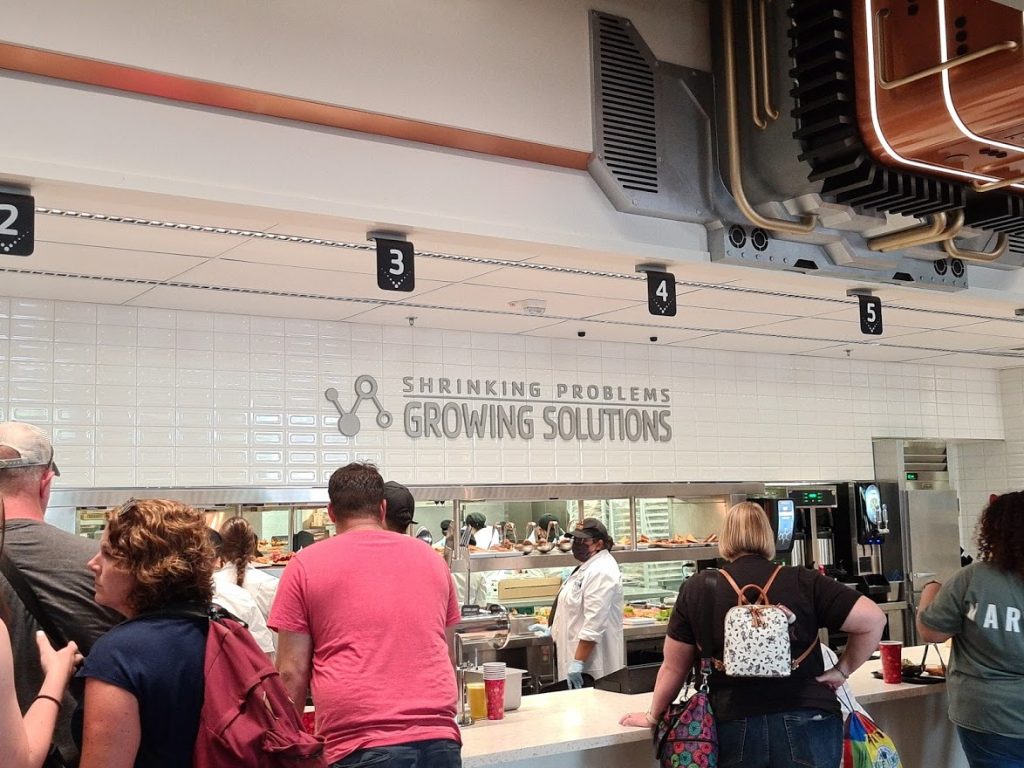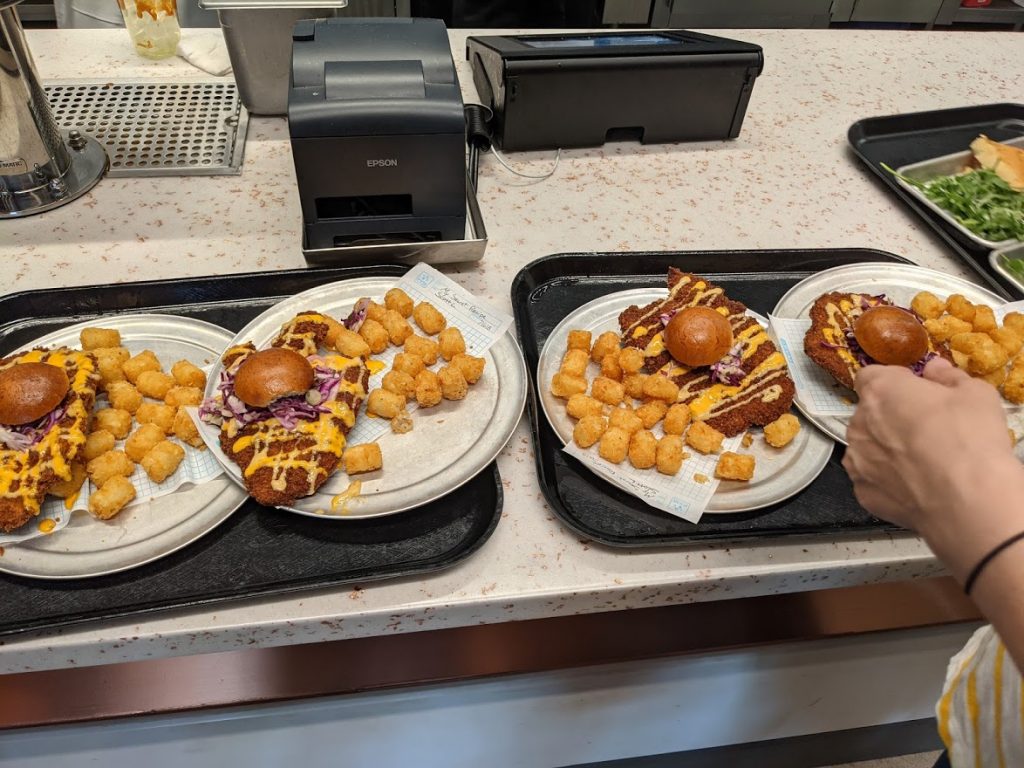 The Not so Little Chicken Sandwich – Fried Chicken Breast, Teriyaki and Red Chili Sauces, and Pickled Cabbage Slaw on Brioche, served with crispy Potato Bites (aka tater tots). This was really good. The bun was dry but everything else was tasty!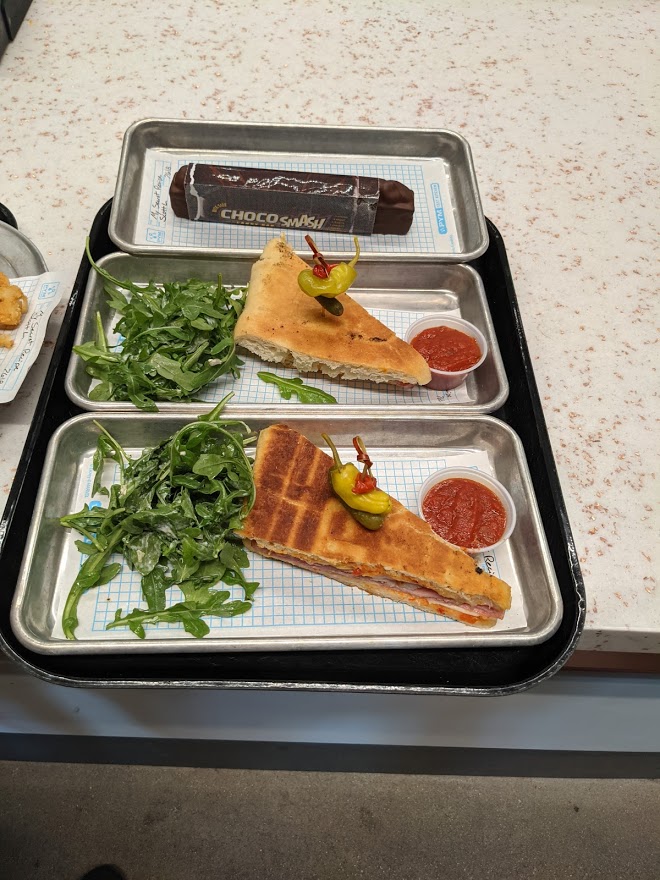 Pym-ini Sandwich- Salami, Rosemary Ham, Provolone and Sun-dried Tomato Spread on Toasted Focaccia, served with Marinara Dipping Sauce and Arugula Salad. This was good too. I think adding the salad to the sandwich made it even better and it definitely needs the marinara sauce.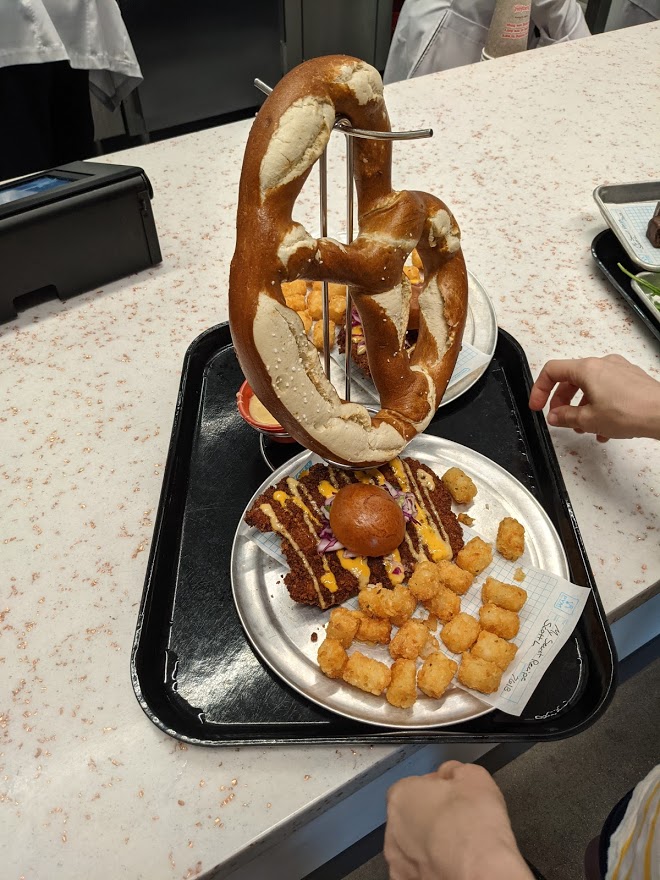 Quantum Pretzel – 453.8 grams, Bavarian-style, with Sharp Cheddar Cheese-Beer Sauce. The pretzel was nice and soft but the beer cheese sauce was a no-go! No one in our group liked it at all. I hope they consider changing this sauce.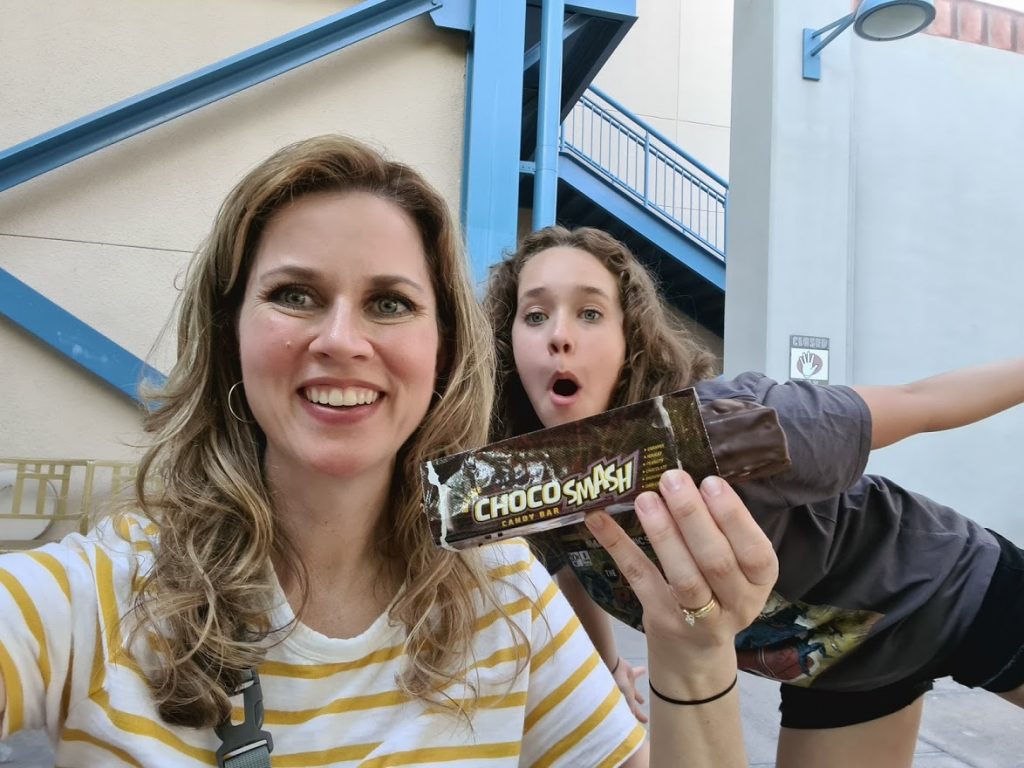 Celestial-sized Candy Bar: Choco-Smash CANDY Bar -Choco Smash Candy Bar with Dark Chocolate, Peanuts, Caramel, Nougat and Chocolate Brownie. This tasted like a really rich snickers with peanut butter on the top layer. It was HUGE! We split it 6 ways and it was plenty for everyone. It was tasty but I not my favorite. It was fun to try!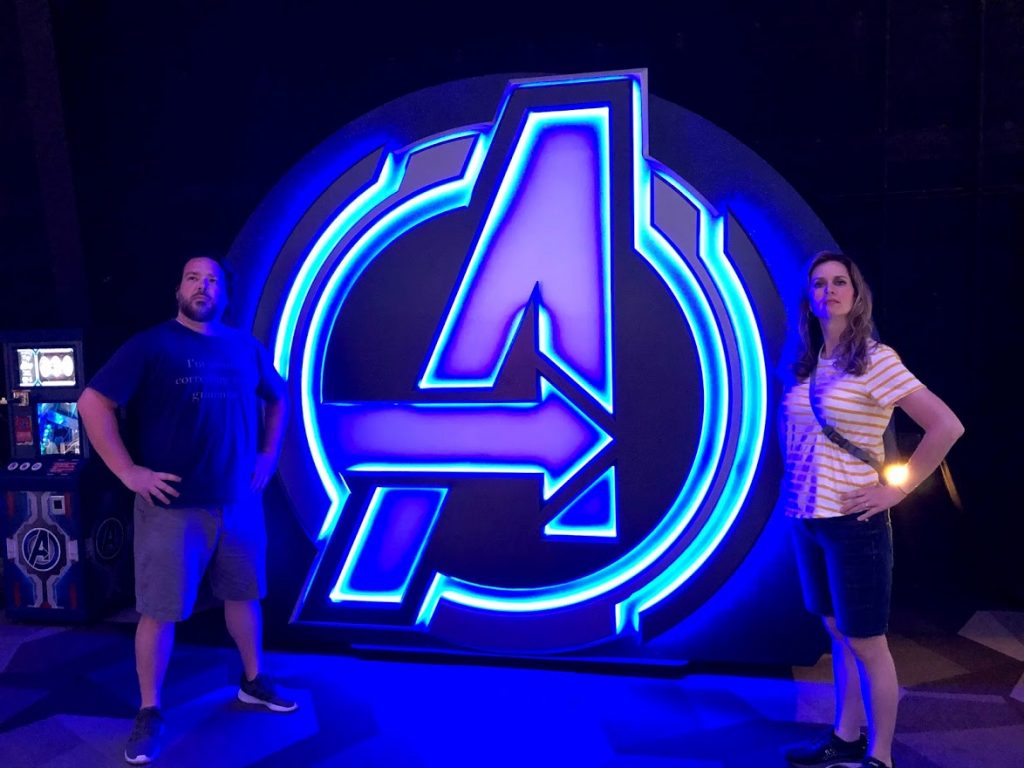 The Backlot Premier Shop over by Monster's Inc is a hidden gem a lot of people don't know about. It's an enormous warehouse size shop where you can find all kinds of really cool Avenger's merchandise and they had some fun photo ops too. 🙂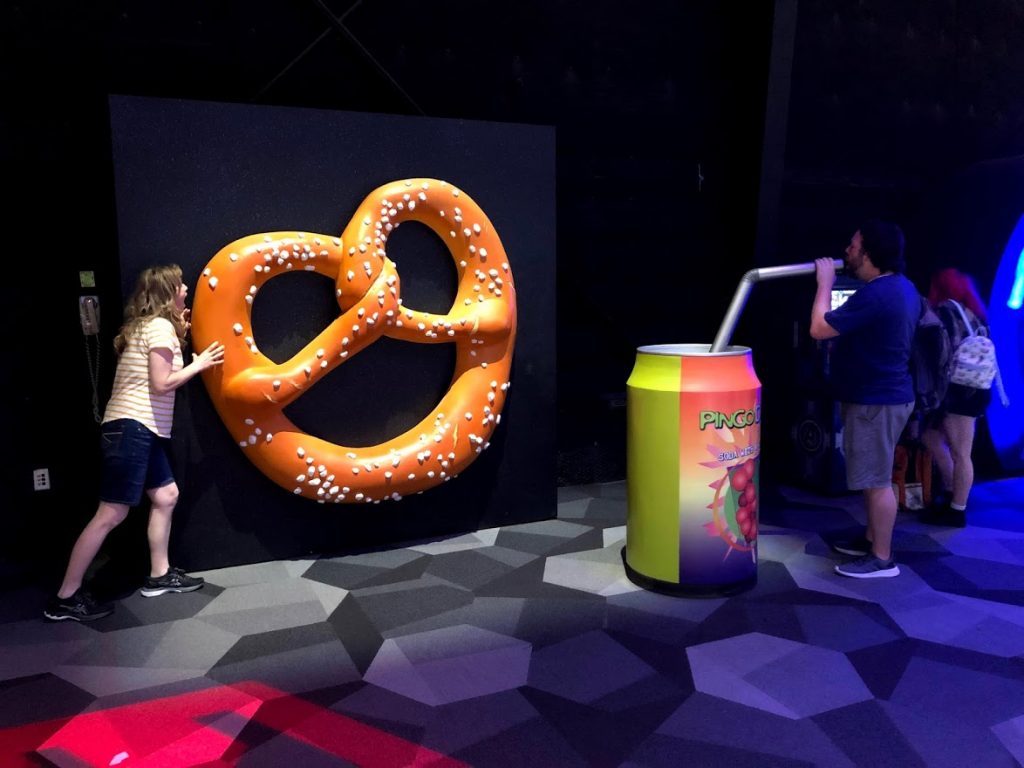 This was the first time we tried single rider lines at the Park. It's definitely a BIG hack! Carsland had a wait of about an hour and we waited "maybe" 10 minutes by doing the single rider. Jared and I were in separate cars but Eli and Alayna and Walker and Chase ended up riding together. It's the way to go!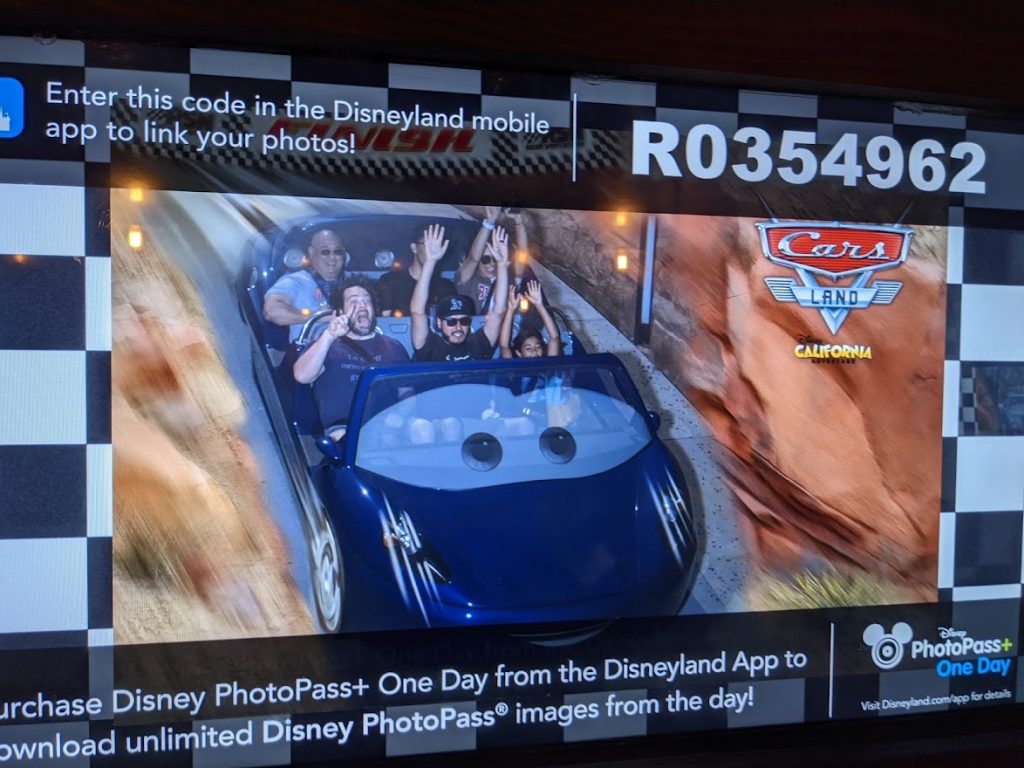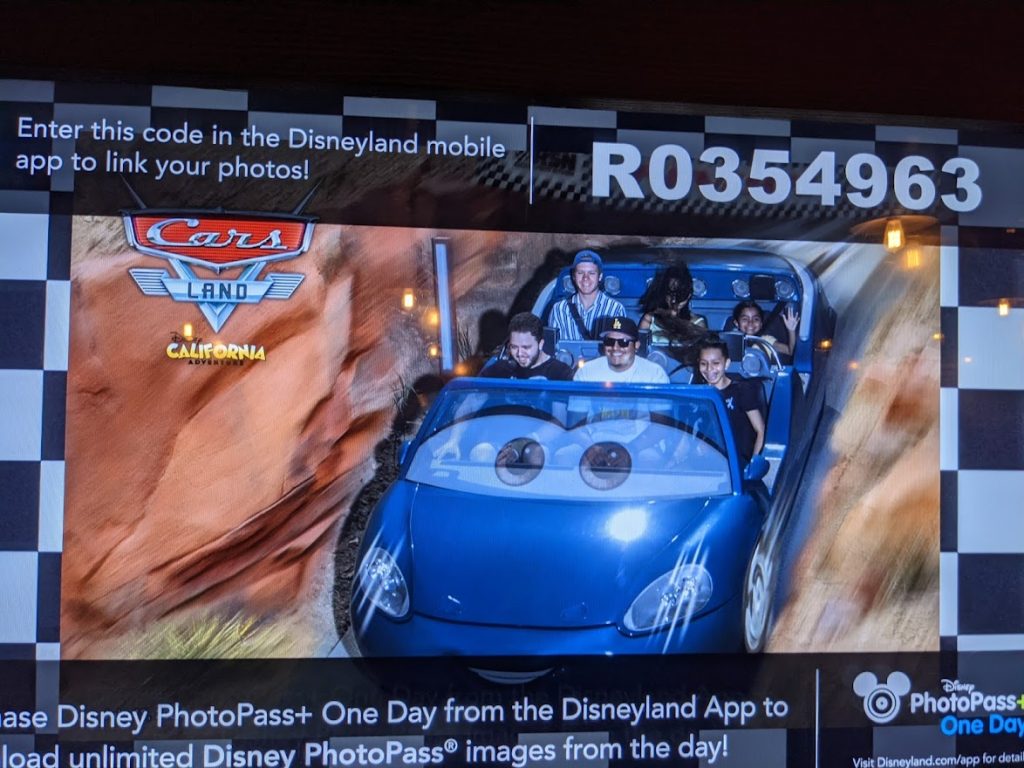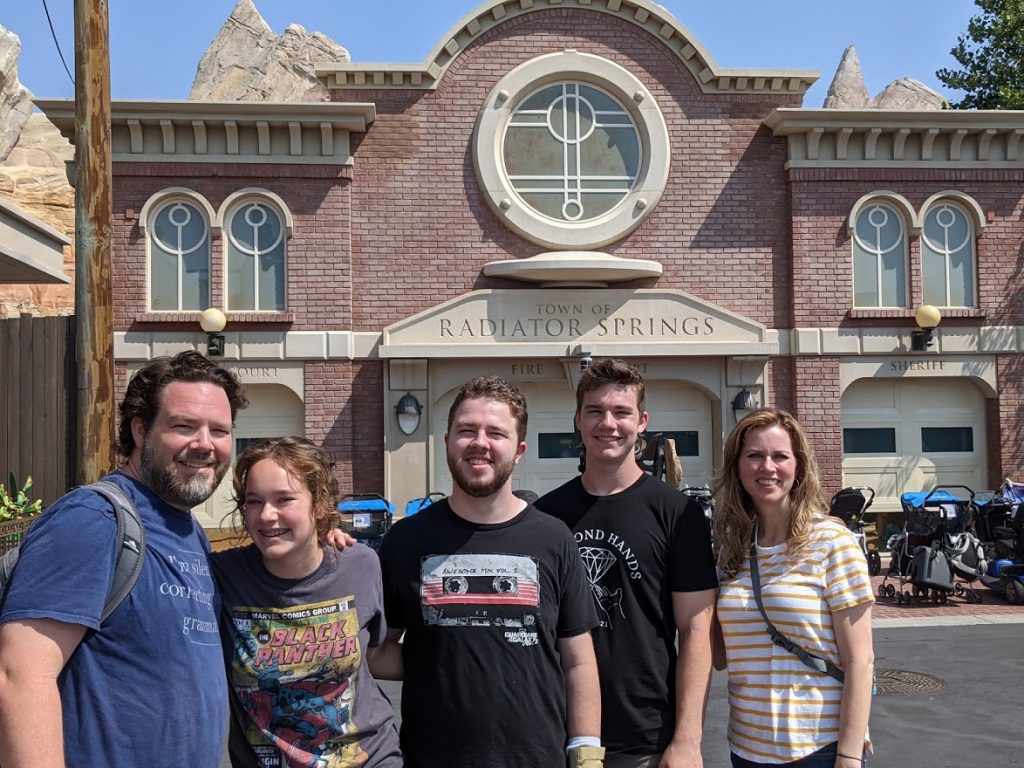 We took this pic to make up for not all riding together. I think the sun was a little bright! Hahaha!!!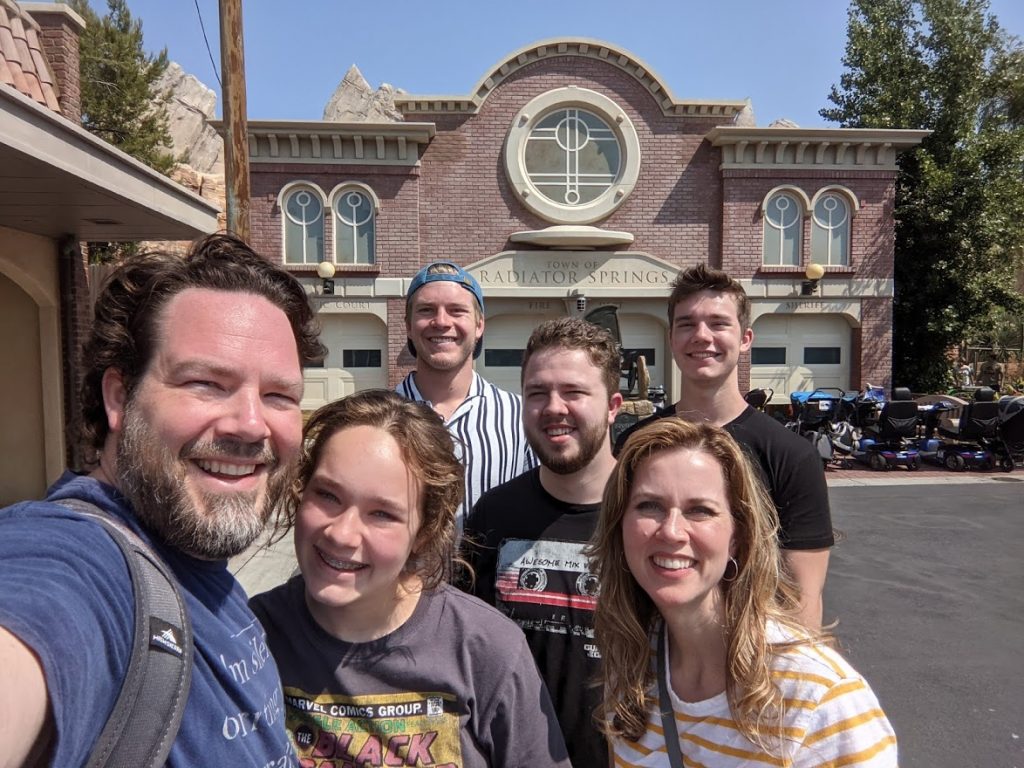 The whole time we were at DCA Alayna was asking if we could do the Animation Art Academy. So of course we went and gave our artistic chops a try.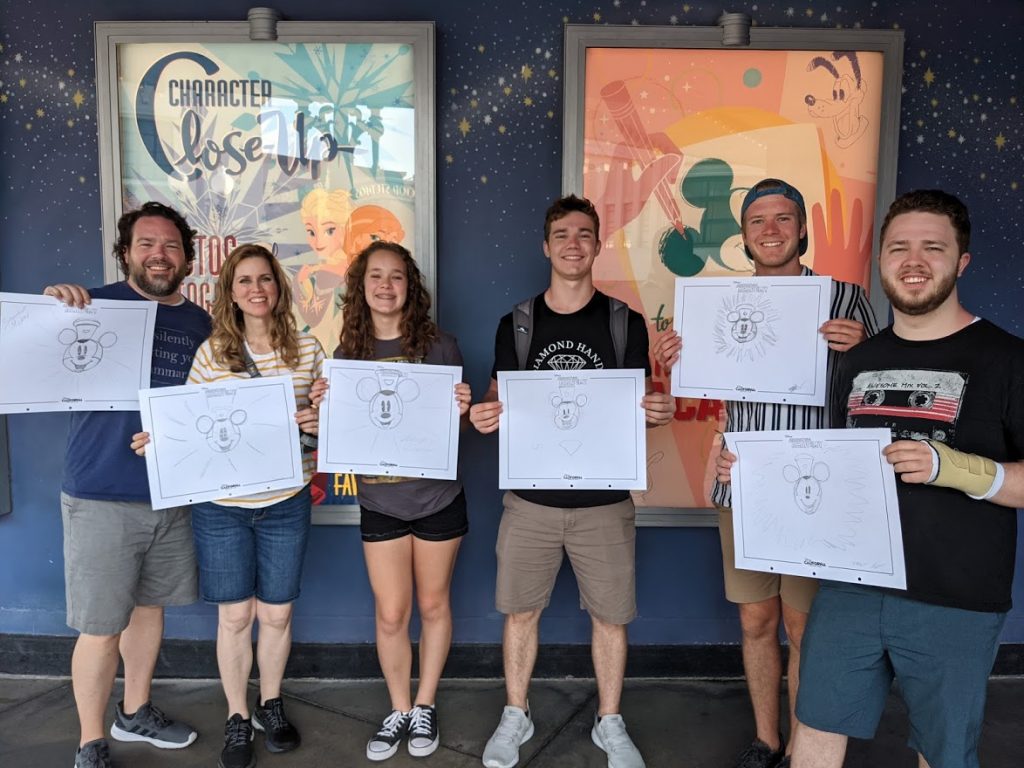 I love how everyone's is a little different but also the same! They turned out so cute!
Since single rider is Eli's new favorite thing he and the kids wanted to do Incredicoaster again. My old body can't hang with the teenagers like it used to so while they ran off and did another loop dee loop Jared and I had a hot fudge sundae and a frozen hot chocolate at Ghirardelli Soda Fountain & Chocolate Shop. And then we took a spin on Tow Mater's Junkyard Jamboree. That frozen hot chocolate was DIVINE!!!! I've been craving another since we had it!!!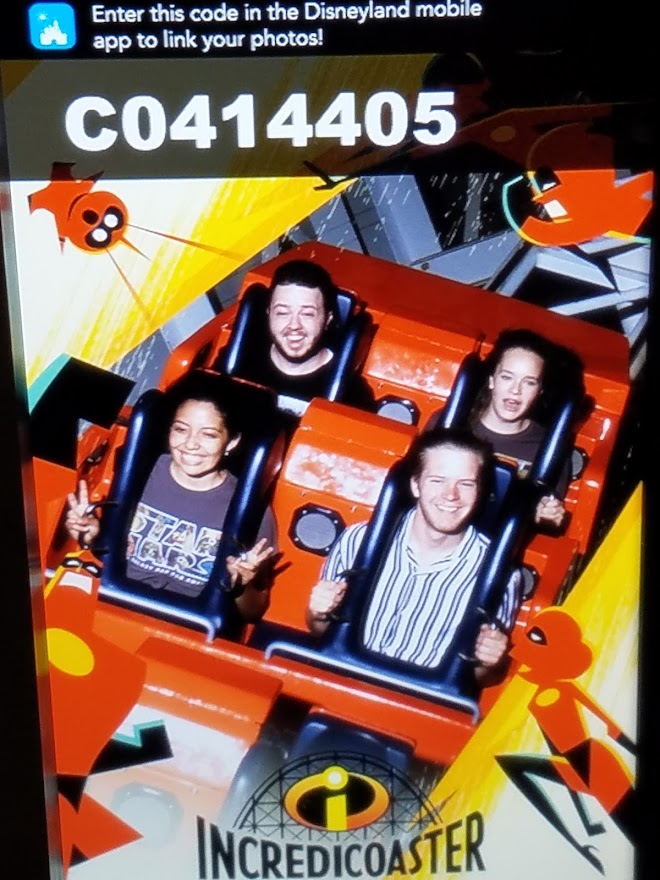 We like to do the water rides just before closing. I went on Grizzly River Run with the family twice and then they went again a 3rd time without me. I was getting cold. 😛 The last time they went they pumped up the geyser and they got off soaked to the bone!!!!!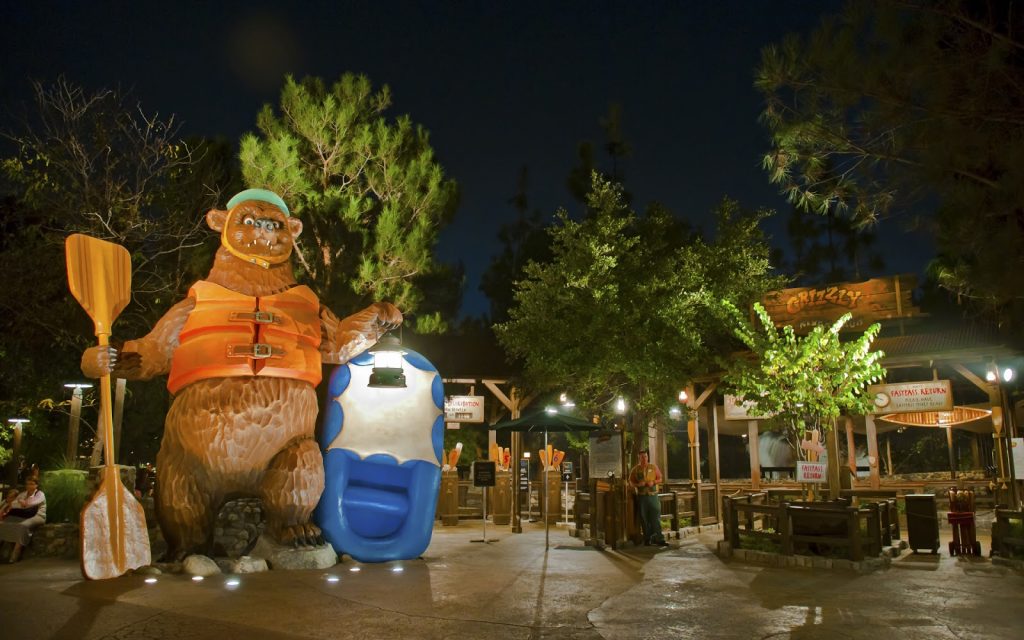 There was a little bit of time left and the kids wanted to get on Guardians of the Galaxy one last time so they ran over to try to get in line.
Jared, Walker and myself walked around Avenger's Campus and enjoyed taking some great pictures with no crowds! It looks REALLY cool at night!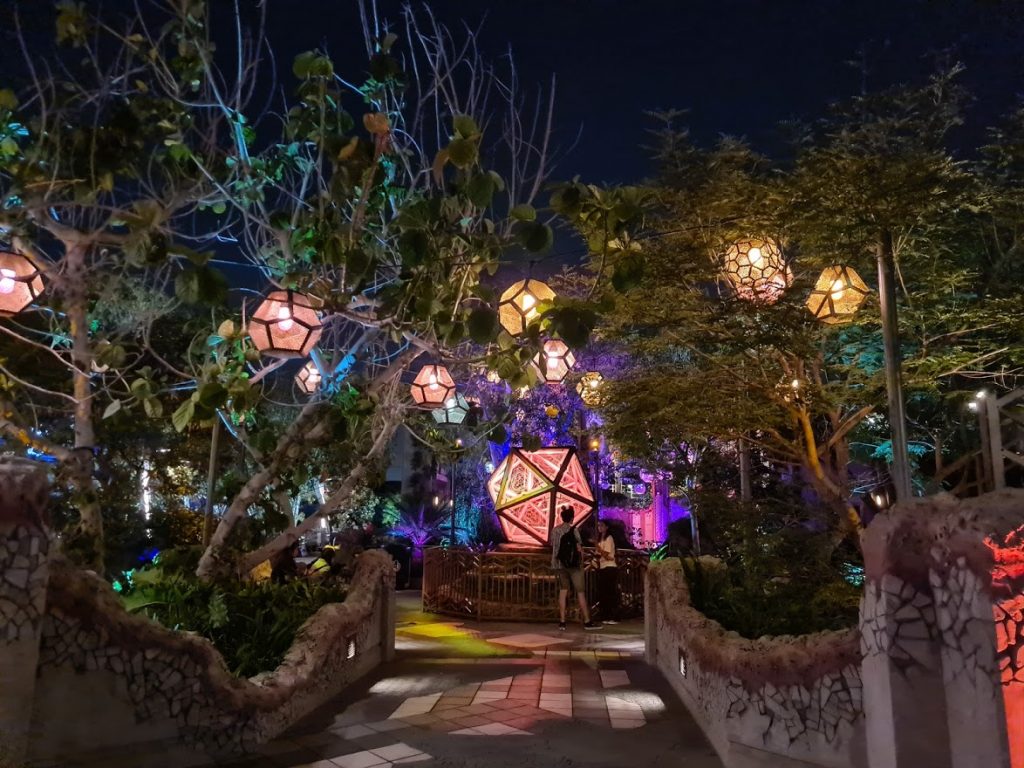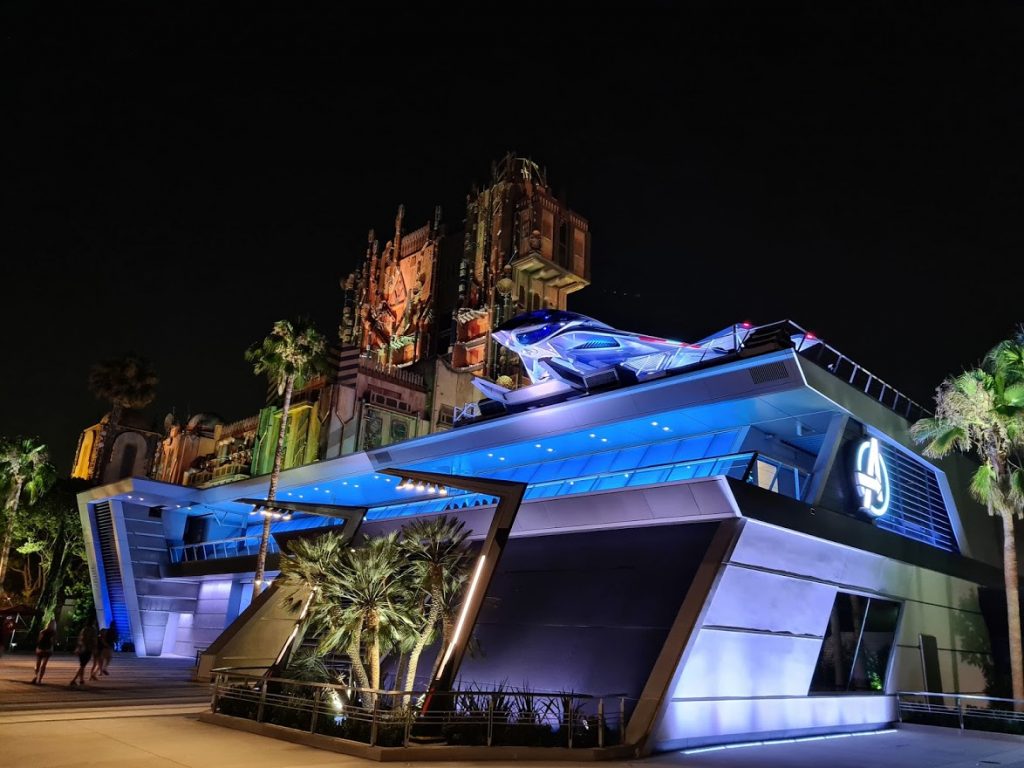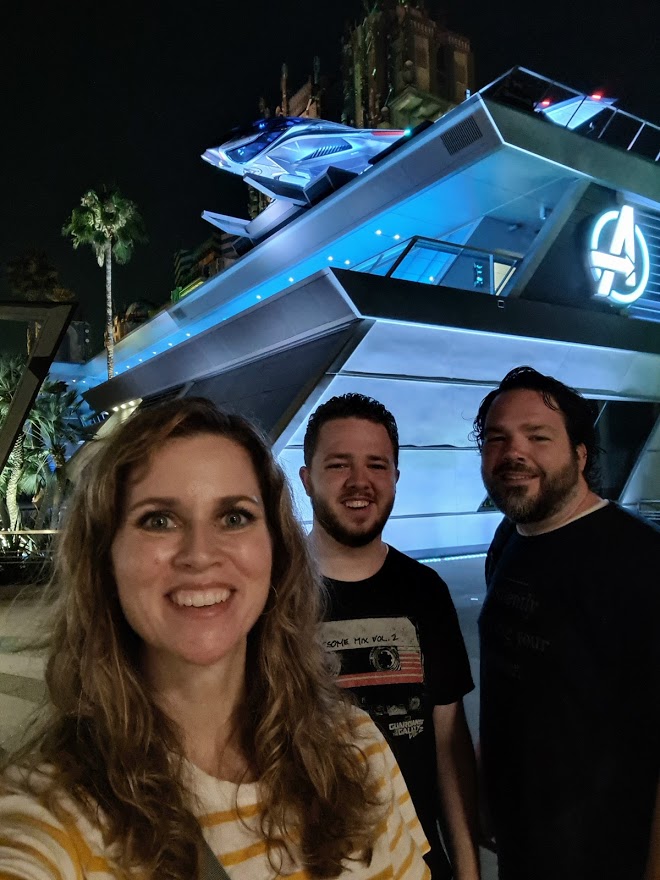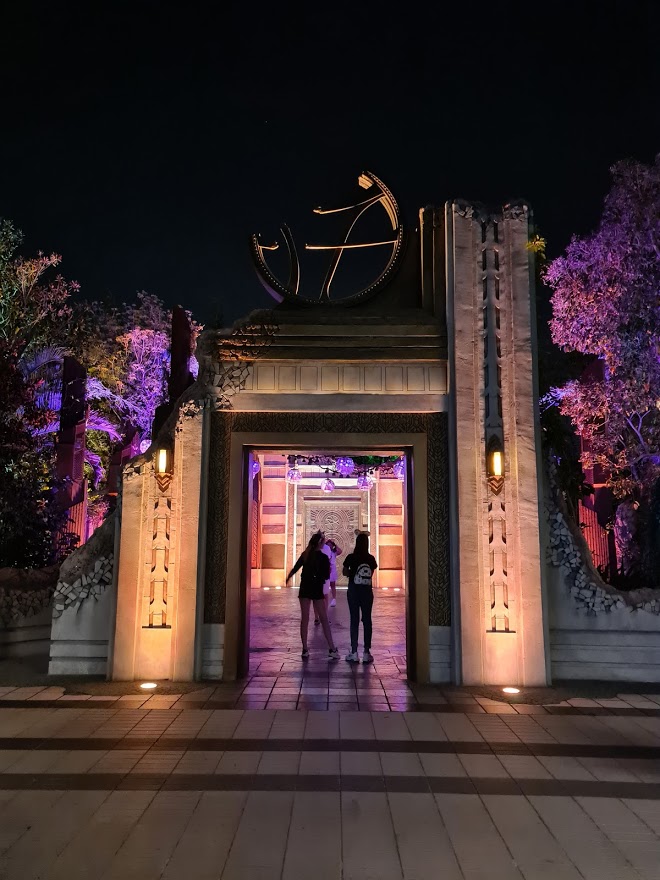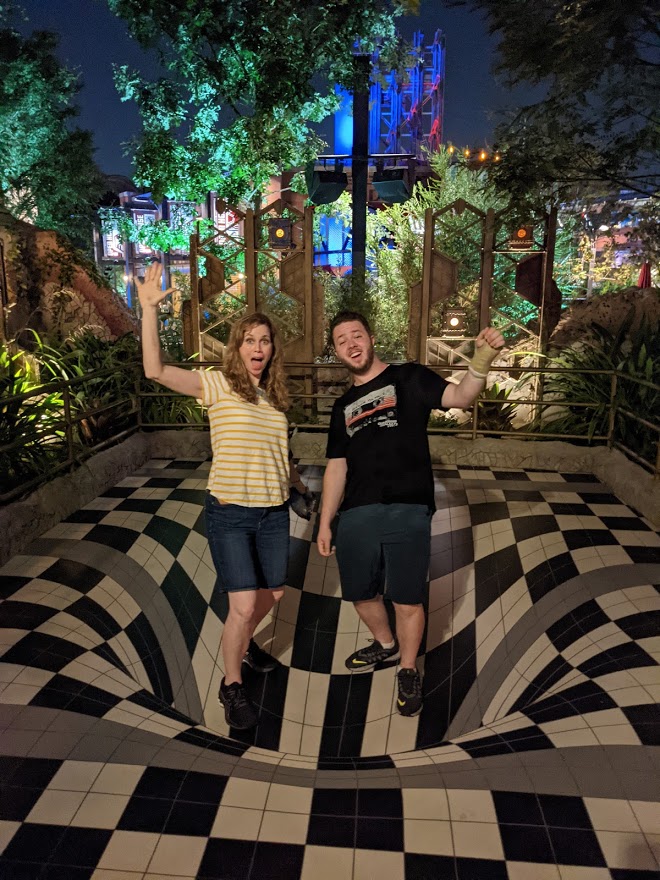 I love this optical illusion. The floor is actually flat. It's just painted to look like we're falling in!
Sadly the kids missed the cut off for Guardians they were pretty bummed. We all met up on Buena Vista Street and did a little shopping.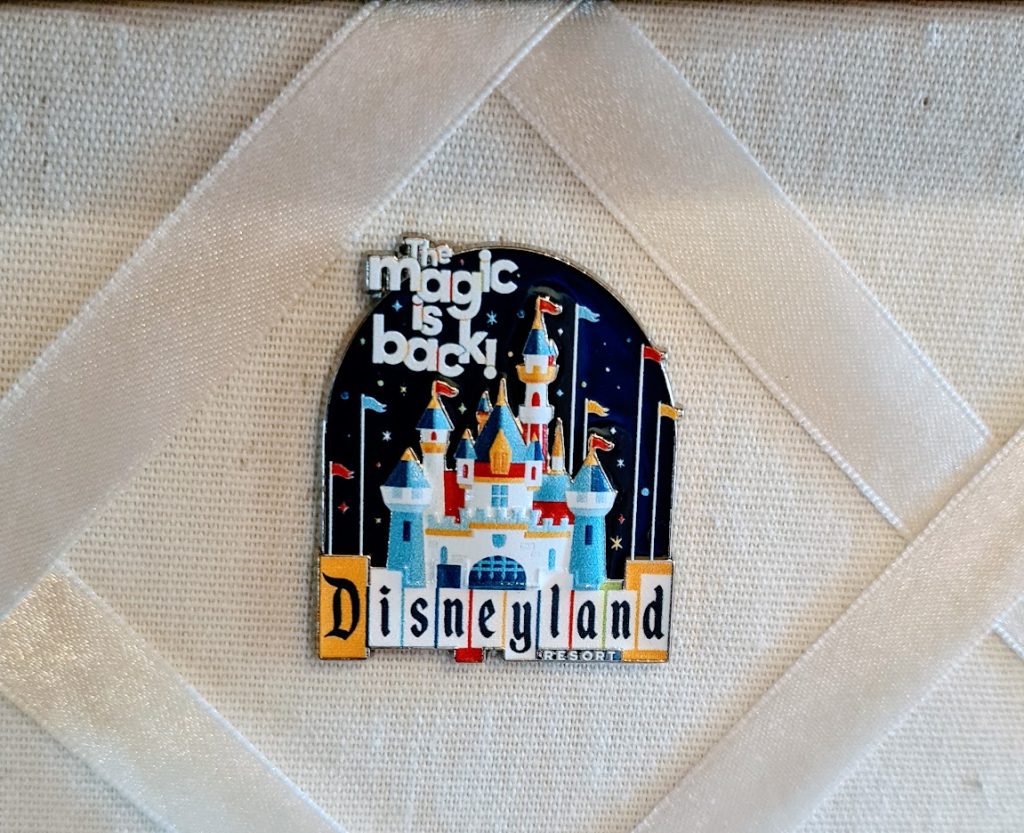 I got this pin commemorating Disney reopening! <3
We left tired and full and happy! It was a fun couple of days!!!
More vacation to come. Stay tuned…