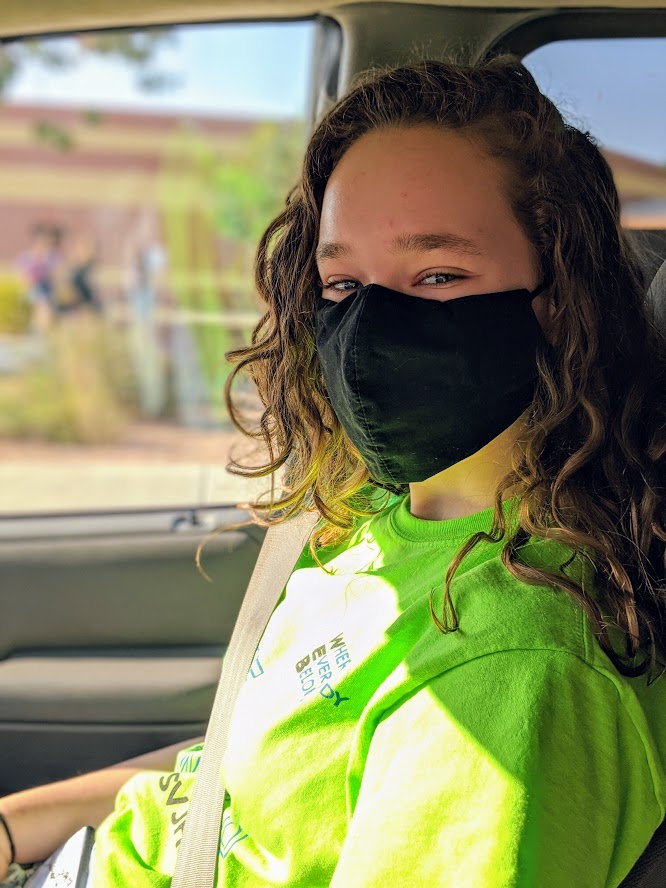 1st Day of In Person School
It's been 188 days since these two have been to school in person!! So crazy!! 😯 Today is their first day back! 🏫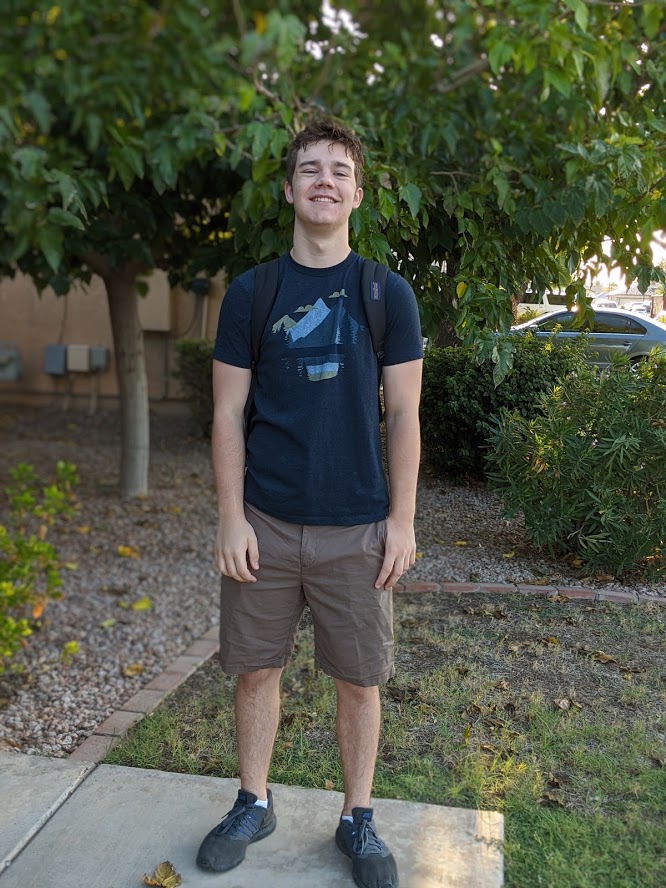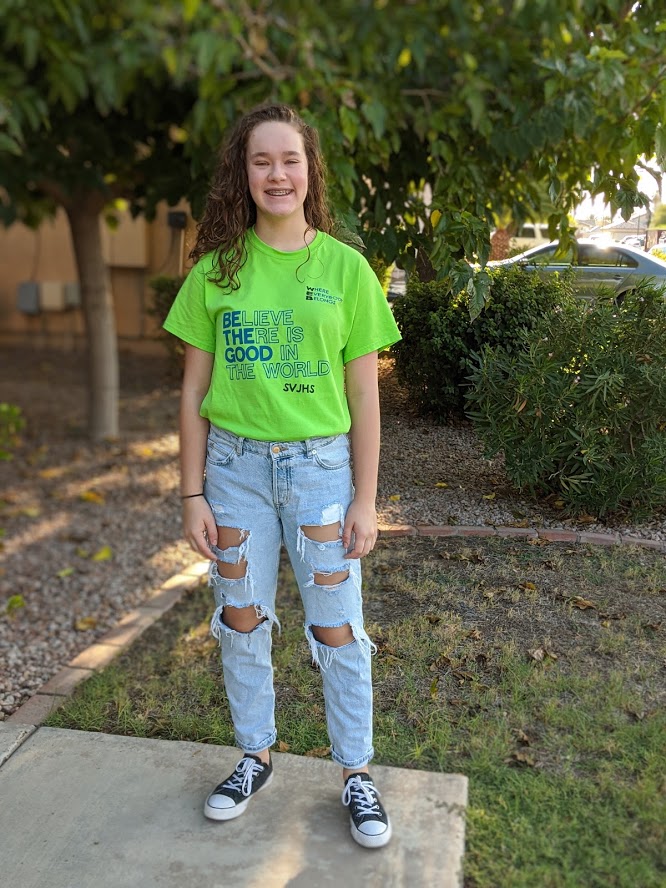 Alayna was picked to be a WEB (Where Everyone Belongs) leader this year. They help with school functions and students throughout the year. For the first day back the WEB leaders were asked to wear their green shirts to stand out so students who had any questions, were lost, or needed help could find them easily. This girl is involved in so many neat things!
And of course we had to get a picture with her wearing her mask before she hopped out of the car to remind ourselves of this Twilight Zone time we are living in right now.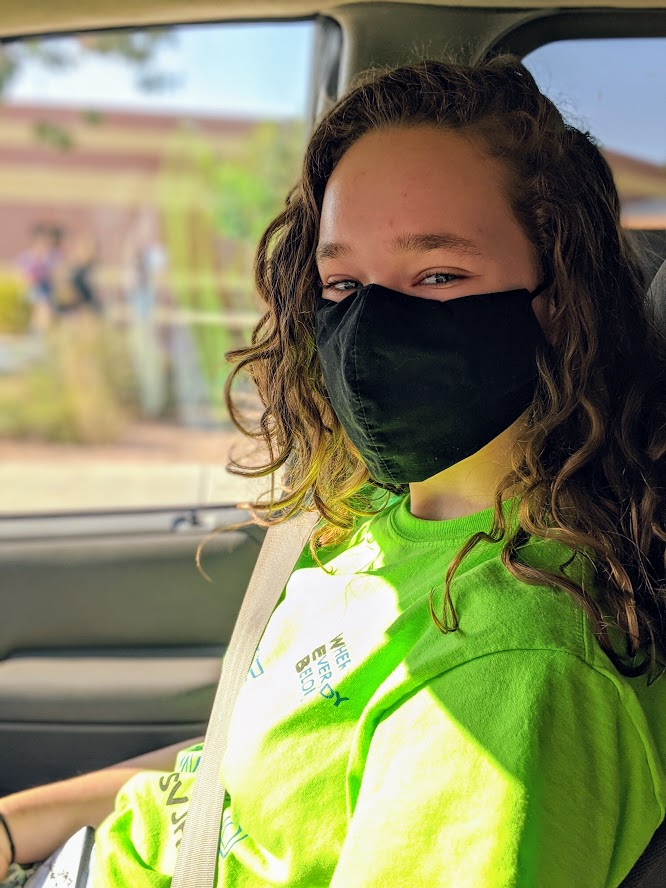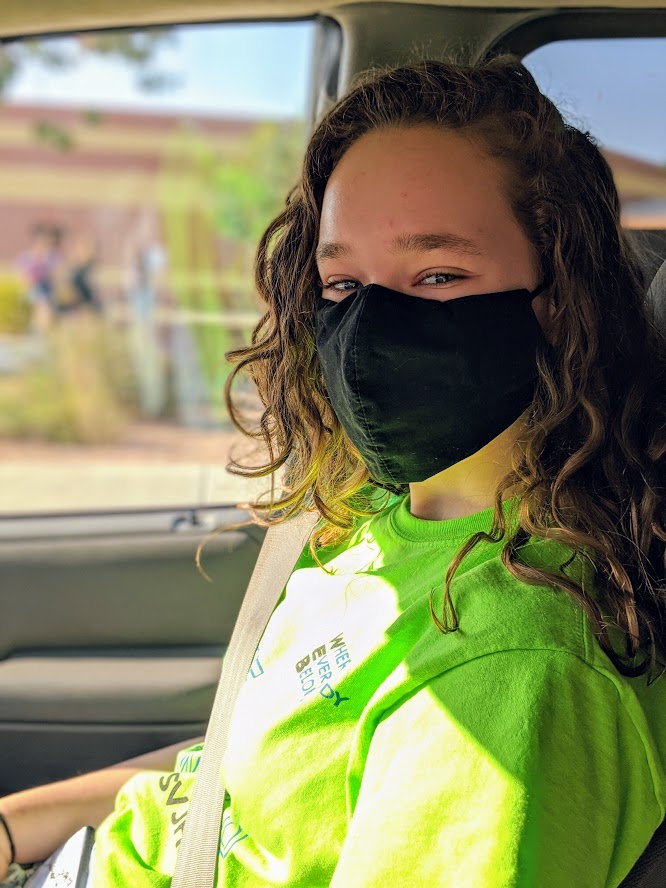 Their 1st day went well for the most part. They are on a hybrid schedule, so students with the last name A-L attend school in-person on Mondays and Thursdays. And students with the last name M-Z attend school in-person on Tuesdays and Fridays. Wednesday is like an in-service day (that's online line as well) for teachers and for kids to contact them if they need extra help or have questions. This is to help reduce the number of students on campus.
Every student must do a health assessment before coming to school each day to make sure they aren't sick. Taking their temperature, looking for symptoms, etc. They have some pretty strict rules about how many kids can sit at a table together a lunch. Four is the max. Same rule applies to how many can be in the restroom at the same time. All desks in classrooms face forward. No more pod desks. Of course masks are to be worn at all times unless eating lunch. There are some designated areas that you can take them off for a breathing break but not a whole lot of time to do that anyway. All doors to classrooms are open to reduce surfaces being touched. Water fountains are no longer in use. You must bring a water bottle but they do have water bottle refill stations for use. They have hand sanitizing stations (basically germ-x) throughout the campus. And they have increased their sanitation protocols and cleaning more frequently throughout the day.
Eli ran into a bit of trouble today since he doesn't have a lunch hour. In the past, most kids that take Seminary just ate in the classroom to help get all their credit hours in by not taking an extra hour just for lunch. We didn't really think this through with COVID and all the new rules. Since he can't remove his mask indoors he went ALL day without eating. He is also still recovering from his oral surgery and he came home really upset, understandably!
We are going to reach out to his Seminary teacher to see what can be done. Even if he can eat lunch in the parking lot right before class for 5 minutes so he's not going all day without food would be helpful. He's a growing boy/man, he NEEDS to eat!
On the 21st of September, if our numbers are still looking good in our area they should be able to go back to school full-time. Things have been looking promising as new cases and deaths have declined quite a bit in recent weeks.
What a year!