Day 2 started out in Disneyland. We had reservations for lunch so we hung out and played there before heading over to California Adventure for the rest of the day.
First stop was the Tiki Room!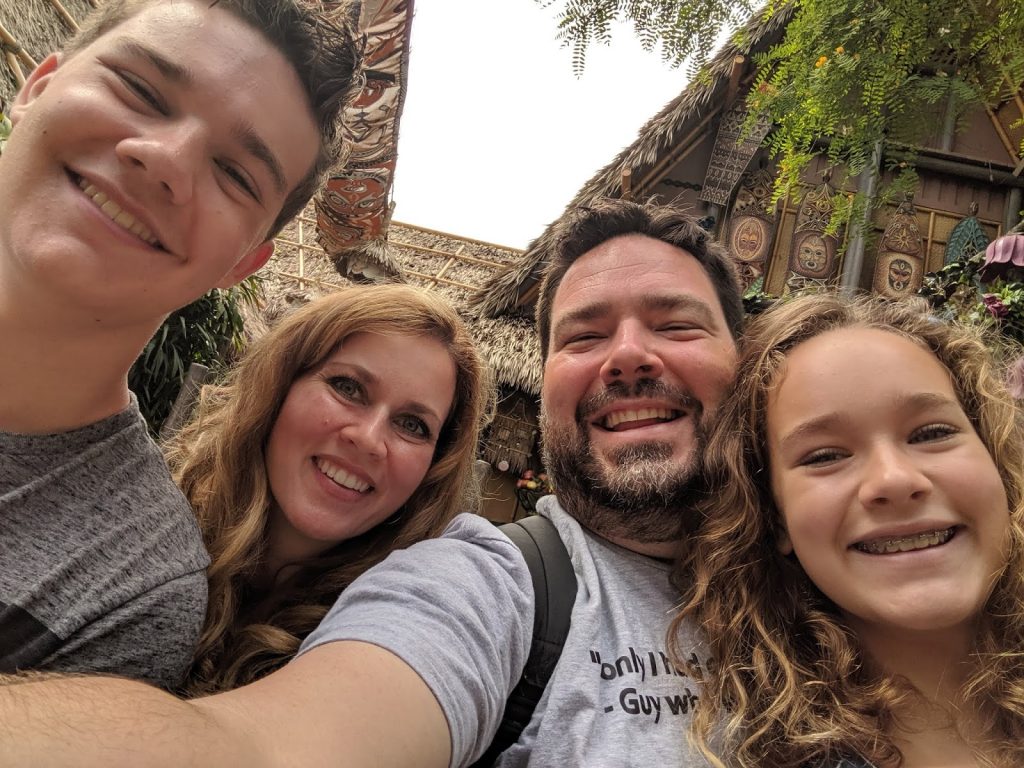 Next, was Hyperspace Mountain. Were were moments away from the end and the ride stopped and the lights came on and they made an announcement to stay seated and wait for a Cast Member to assist us. I know it's a lot of die hard Disney fans to get pictures and video of the rides with the lights on. But for those who don't want spoilers you might want to skip passed the next few photos. 😛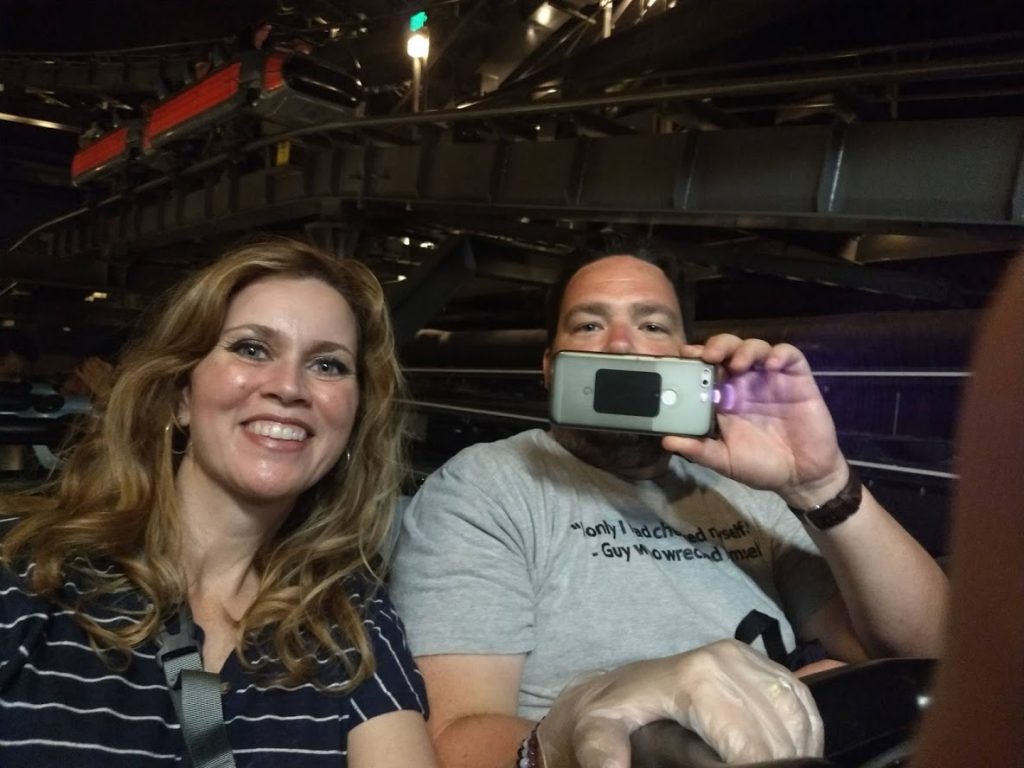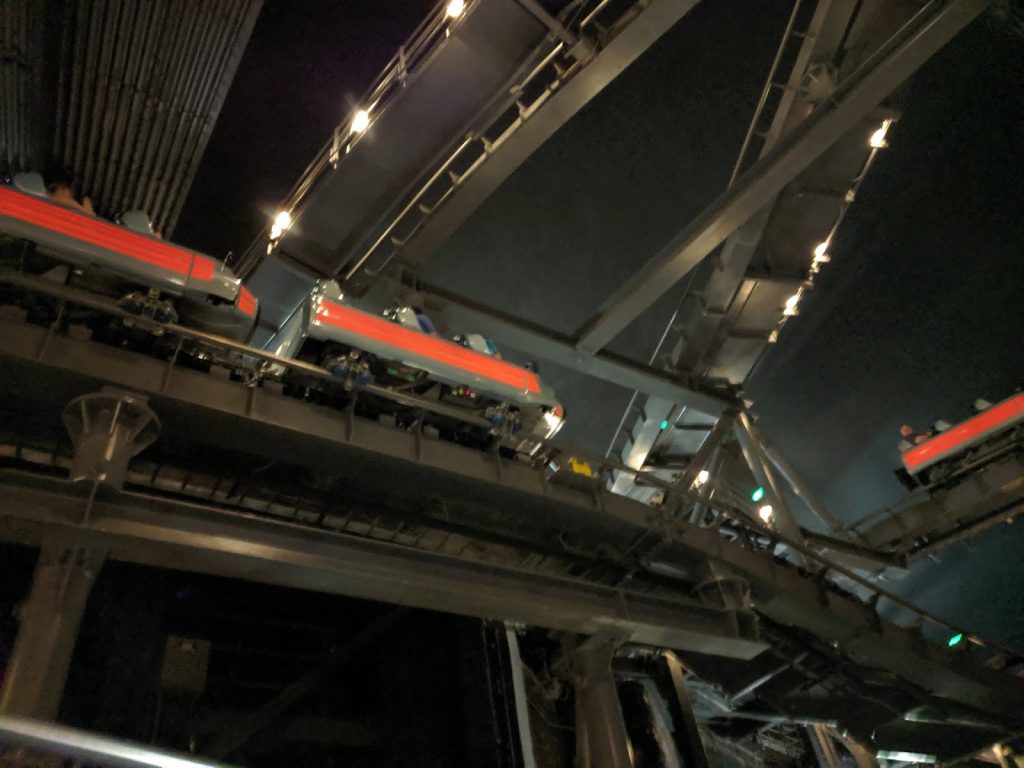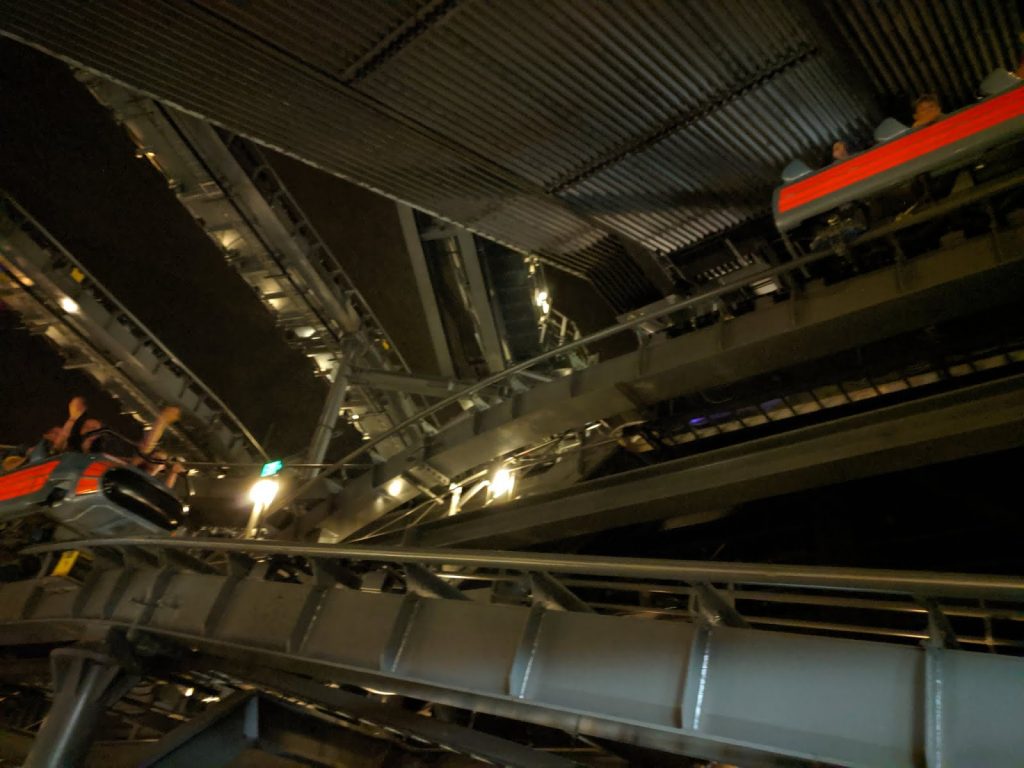 We weren't sure if when we got to the end if it would take our picture or not. The kids prepared for it just in case. When it took it everyone cheered! Haha!
Since we didn't get the full experience they let us ride it again back to back. That made the kids pretty happy! LOL!
When we got to the photo display to check out our pictures the first one wasn't there. We had to go to Main Street to the photo store. They had it but since the kids were choking each other there was a little discussion if they'd give it to us or not. In the end they did!! 🙂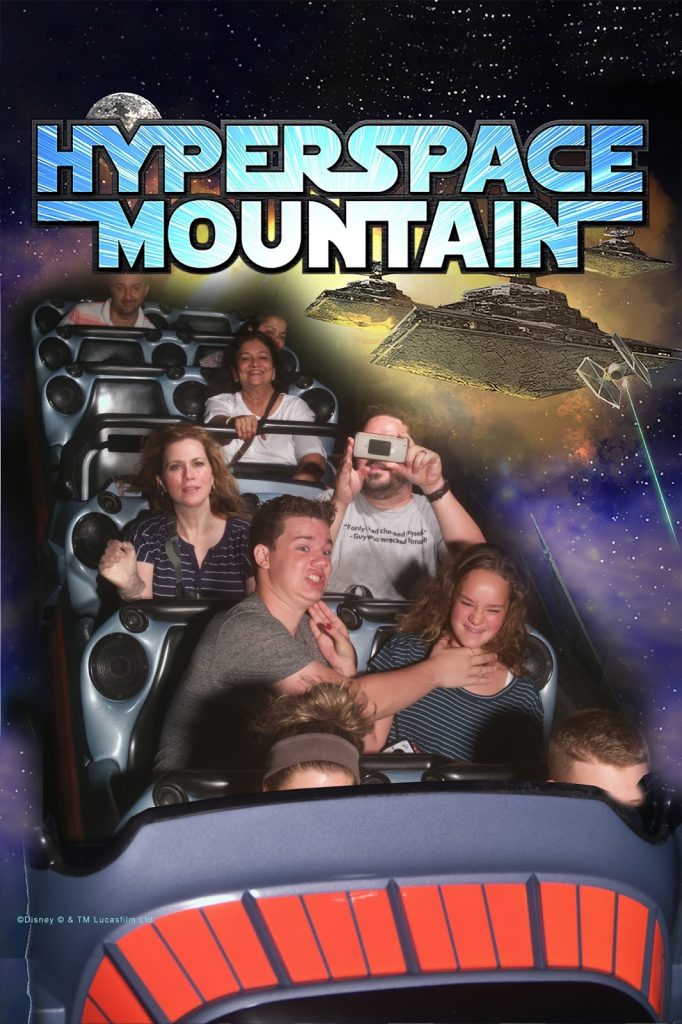 1st ride picture- we had to go to Main St. for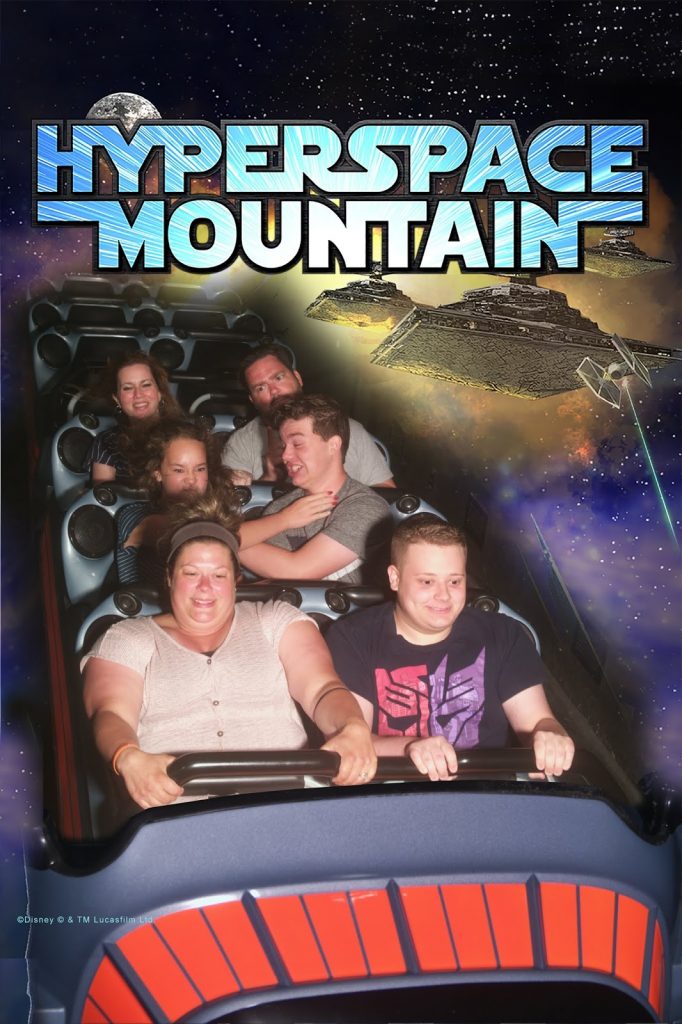 2nd ride picture – still choking each other…LOL!
Once we were done riding Space Mountain it was time for our reservations at Cafe Orleans. It's tradition! We always get pommes frites and beignets. This time we also ordered the Charcuterie Board
which had assorted Artisan Cheeses and Charcuterie with Honey, Fruit, Nuts, and Crostini. We had never tried it before. It was pretty good! And we also ordered the chicken and steak meal..but we didn't get pics of those.
Everything was as good as we had remembered! YUM!
After lunch we headed over to California Adventure (DCA).
We rode Mater's Junkyard Jamboree. It looks like an innocent little kid ride but it whips you around pretty good!!! Haha!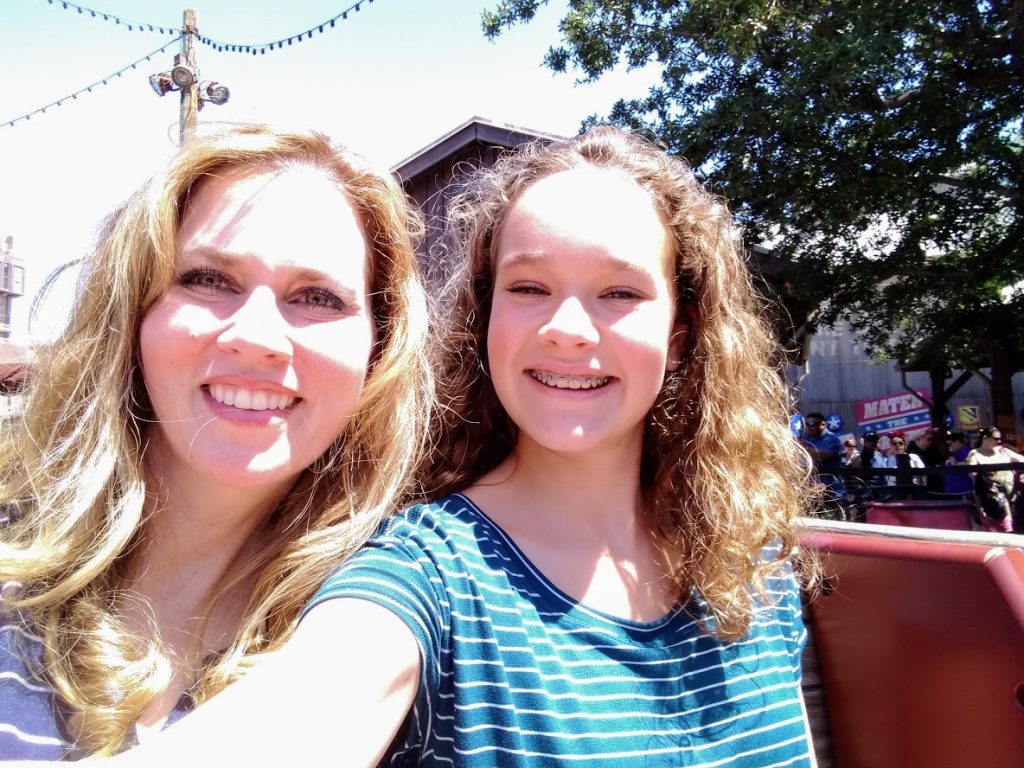 Of course, with a teenage daughter you have to fit in time for alllll the selfies. 😛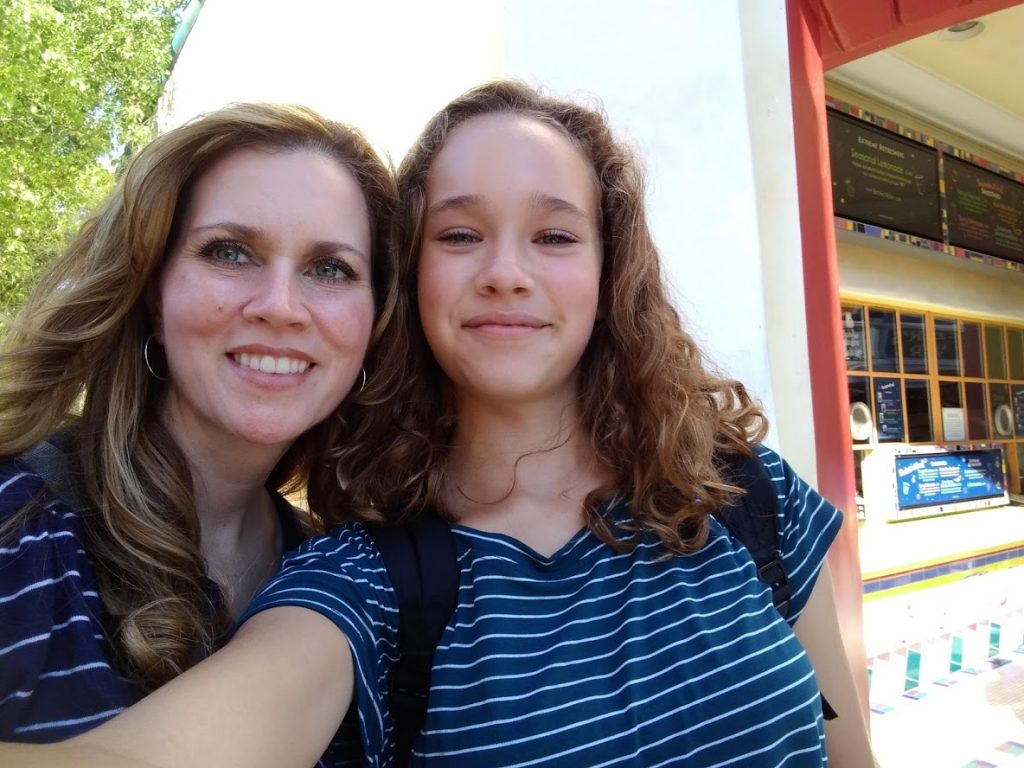 Eli likes to ruin the fun! LOL!
We rode Toy Story Mania. It's the first time I've ever beat Jared's score! I was super proud of myself. I'm terrible at video games. Eli always comes out ahead of all of us though. He's so good at them!
Radiator Springs Racers is a fun ride too. We love the music and scenery. Our car won too!!!! Don't you love my wild hair!?! Haha!
The last time we did the Art Animation Studio Alayna was 8 years old. I remember her being SO upset because they didn't give you erasers on your pencils. They just want you to sketch and do the best you can. She's our artist and a bit of a perfectionist and she was in tears becasue it didn't turn out how she wanted it. Even though it turned out AWESOME! We drew Tigger last time.
She's 4 years older and a little more flexible now. LOL! We drew Simba. She did awesome as usual and the boys did really great too!!! Clearly I'm the weak link and NOT where they get their talent from! It was still a lot of fun!
It was pretty hot that day so it was also nice to go in and cool off in there too! 🙂
The Little Mermaid is also a cute little ride. I've always loved the music! Alayna recently listened to the song Ursela sings, "Poor Unfortunate Souls", she thought the lyrics were a little questionable! Hahaha!!!
We got some pictures of the Pier. It's now called Pixar Pier. When we were here last it was called Paradise Pier.
California Screamin' has also been re-themed to the Incredicoaster. It's actually really cute and puts you in the story of Jack Jack trying to get his favorite treat, cookies called Num Nums. They even blast you with chocolate chip cookie scent as you ride the ride. It's definitely in our top 5 rides.
The wheel of death on the other hand is a love-hate relationship for me. The spinning carts freak me out! Jared just thinks it's funny to watch me lose my churros on the ride! LOL!
Guardians of the Galaxy- Mission: BREAKOUT! Is another re-themed ride. It used to be The Tower of Terror. We loved the new theme and the way they changed how the ride operates. It's SOOO fun! Another top 5 for us!!
Bummer the guy in front of me blocked me. Oh well. It's a great pic of everyone else. 😛
When the sun went down the weather was GORGEOUS! Strolling along over by Grizzly River Run felt amazing! We debated if we should ride it while there was no line…but it was actually chilly and we knew the water would feel icy and we'd have to ride the tram back with the wind blowing on us the whole way home. LOL! We decided to wait until the next day.
We played hard and walked, and walked, and walked! We were beat and headed home to rest up before our last day!
Good-night!