Happy 43rd Birthday Babe!
I think we may have a love language in our house and I think it just "might" be food! LOL!
Yesterday was Jared's birthday and we celebrated allll weekend long!
Saturday morning Alayna and I woke up early so we could try a new bagel place in Gilbert called Buongiorno Bagels. Jared loves bagels and I had read about them and they are an authentic NY bagel shop owned and operated by family from NY. They even use NY water somehow. The bagels were AMAZING!!! They had so many varieties, breakfast sandwiches, cream cheeses, cookies, crumb cakes, and they are open for lunch too so they had croissants and other sandwiches too..you name it!
Jared has been asking for a mono-pod for oh…about 15-17 years or so. He's wanted to help his hand stay steady while he vidoes all the school concerts, sports events, and performances for the kids. Well, better late than never I suppose. 😛 Walker and Alayna went in together and made his dreams come true! Eli was still on his way home from YM's Camp.
Such good kids! <3
I got him a new shaving mirror and some of his favorite snacks. The other part of his gifts are still en route to be delivered. I'll post those when they arrive. 🙂
For lunch we tried Sal's Pizza which is just around the corner from us. I'm so glad we did! We all loved it and their bruschetta is out of this world amazing! We just got a "few" things to eat there! LOL!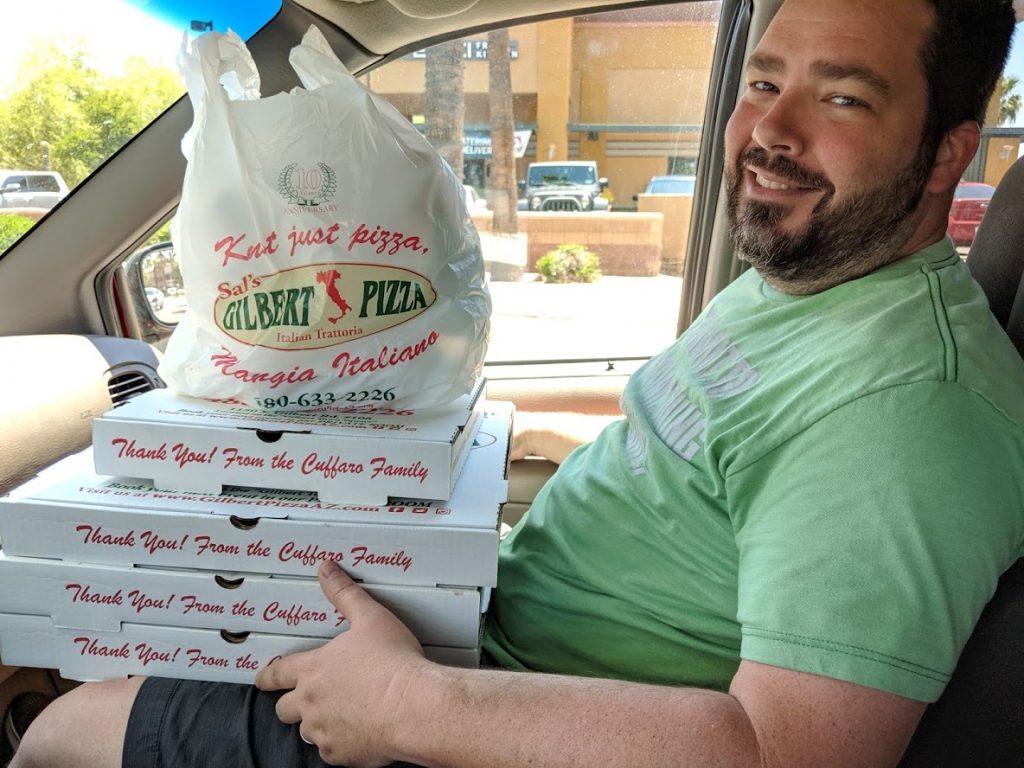 Then Walker and I ran over to Rise Up Bakery to try pretty much one of everything they make! We all had fun sampling everything. I didn't make Jared a birthday cake so I thought this might be a good substitute. LOL!
Yesterday was THE day! This man turned 43! We went to Pei Wei for lunch after the deli we had been dying to try was closed on Mondays. Lame….
Then we tried The Ice Creamery where one of Eli's friends works at and we wanted to sample what they had to offer. 😛
Jared makes me laugh!! Love him!
Alayna was babysitting for a new family and unfortunately she couldn't come for ice cream. We brought her some home though.
For dinner we went to Flancer's. This time Eli was missing. It's hard keeping the whole family together these days.
Alayna thought this was soooo funny! Goofball! LOL!
Jared works so hard for our family. I tried my best to spoil him and let him relax. Grateful he was born and that we found each other. Grateful for the life we've built together over the years! Happy Birthday Babe!!!