Eli had a band concert on Tuesday night. He's in two bands this year. He's in Jazz Band and 8th Grade Band. He could have made it into Symphonic Band but he missed tryouts last year when he was out sick with his IBS issues.
Eli is REALLY good! He has that natural gift for music. When he played piano he learned it quickly and played with emotion. This year he took up the acoustic guitar and did really great with that too! Jared played the saxophone when he was in school and Eli seems to be following in his footsteps because he has a gift for that instrument as well! Makes a Momma proud! <3
Eli kills me!!! 😛 He is always making us laugh! I just love him so much! <3 This was my attempt at getting a "quick" picture before we went inside. LOL!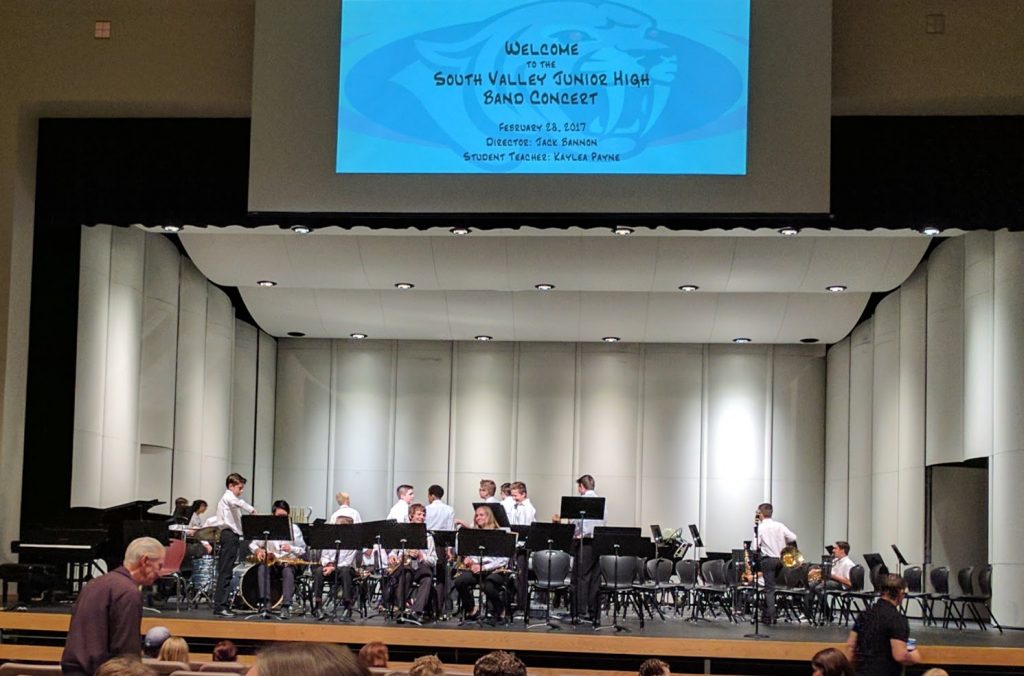 Eli is in the center of the stage seated
Jazz Band played 1st. They sounded really good! 🙂
The kids are getting all set up and in place.
The band program is growing again. When Walker was in band there weren't as many kids. It's good to see that kids are enjoying music!
It was a nice night. The Jr. High kids play well.
I miss playing. I always want to go home and pull out my flute…LOL! It's in sad shape though and in need of lots of repairs. Maybe one day I'll get it fixed and take lessons again. 🙂 We could have our own Kitch Family Band! Walker on percussion, Alayna on piano, myself on flute, and Eli and Jared on sax! Hehehe! I don't know how well those go together but we could make it work. 🙂