Birthday Grown-up Trip to Disneyland!!!
A few months ago I cooked up an idea to get some of our friends together, leave the kids at home, and take a Grown-ups Trip to Disneyland for my birthday! I have to say it was a pretty fantastic idea!! LOL!!!
December is s tough time of year to do something like this so even though we invited a ton of our friends only 2 other couples were able to make it….BUT…I think it turned out to be the perfect number anyway! 🙂 It was so nice to get to get to know each other better and spend time together. 🙂 We had so much fun!! I haven't laughed so hard in a long time!
On my bday us "girls" went to go get our nails done before our trip!
Jared made me go back and add the little Minnie's to my thumbs. 😛 He said I needed a little more Disney…but I think he really just didn't want to listen to me pout that I didn't put enough Disney love on my nails! Hahaha!
The day finally arrived and we left EARLY Saturday morning. We flew out with the Watts and the Bollschweilers drove out the day before.
We all met up at Disneyland and the "magic" began!!!
Me patiently waiting for our group to call me down from the wheelchair holding pin to join them on It's a Small World…LOL!!! Can you believe it's been 5 years since I injured my foot? Crazy! It's doing SO much better but I still need to rent a wheelchair when we go to the Parks. It's good and bad…but we decided with the crowds that were there that weekend it was mostly good! We were able to get on everything we wanted and then some! It was AWESOME!
I was bored. 😛
AnnMarie is trying hard to get in the pic! 😛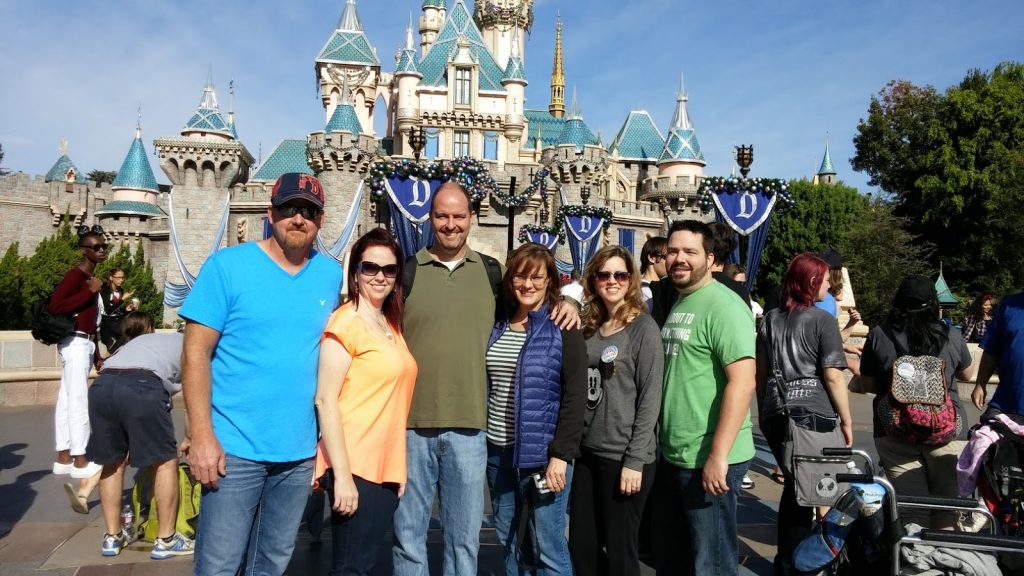 L to R: Ryan, Heather, Chris, AnnMarie, Me, Jared
What a great group of people! 😀
We jumped between Disneyland and California Adventure a LOT!!! LOL! So bare with all the random pics. 😛
Jared really loved this group. The trumpet player was awesome! 🙂
One of the perks for leaving the kids at home is you can afford to go to some of the nicer restaurants you've never been able to go to before. 😛 We had lunch at Carthay Circle and it was goood! One of the highlights was this sweet corn tamale….mmmm…my mouth is watering thinking about it! 🙂 We got a special table which had the Evil Queen inlaid into the wood. Cool!
Jared makes me laugh!
I'm not even sure if I have these pictures in order..but that's ok! 😛 LOL!
Heather told us all to act scared on Indiana Jones.
Haha!!! I love the Watts! 😀
Jared comes up with the funniest faces! 😛
That night we tried another new place, Steakhouse 55 at the Disneyland Hotel. The food was divine! I had a filet and a truffle mac n cheese. It was soooo good!!!
For dessert I wanted to try this 24 layer chocolate cake. Oh my…death by chocolate! mmm!!!
They also brought out this complimentary birthday mousse. Jared thought this was even better than the cake!! hahaha! He's easy to please. 😛
The next morning we got up bright and early and got ready for some more fun!
It's harder than you think to fit all those faces in one pic. 😛
Jared is Dope! Ha!
We rode Screamin' a few times! It's a rad ride! 😀
I have a love/ hate relationship with Tower of Terror. It was really bizarre this time though. It wasn't scary at all…just look at our pic. It looks like we are all just sitting there posing! 😛
Disney does details…and well. I love that they train their custodians to do this water art for guests just because!
This is one of my favorite pictures of us! Jared comes up with the best poses!!! Love him! lol!
Disney is so pretty at Christmastime!
Jared was being a butt. He didn't want to take pictures anymore so I kept having to take more and more until one turned out. That's why we are laughing so hard. 😛
The new Season of the Force – Hyperspace Mountain overlay for Space Mountain was really cool!
We went to see Aladdin. Heather and Ryan have never seen it and it's Jared and my favorite show. It was sooo good! The Genie ad-libbed so much! He was hysterical! Sadly, it's closing for good next month. I'm really not happy about that. 🙁
With the new Star Wars movie coming out this month there was a ton of new Star Wars related offerings and merchandise!
Eli loves Boba fett! 😛
Our last day went too fast!!!
We did manage to get all of the final rides in we had skipped the days prior! 🙂
I love this picture of the 3 of us! It turned out GREAT! 🙂 Thanks for the great time ladies!
We walked those shoes right into the grave! haha!
Today when we went to Fry's we spotted this soda display. Since we were just at Disney were everything was Star Wars and Eli loves Boba fett so much we had to snap a pic! LOL!!! 😀
It was a fantastic birthday week! It actually was one of the better birthdays I can remember in a long time. It was so nice to be surrounded by great people and to be so thought of all week. Turning 39 wasn't too bad! Now what to do for the BIG 4-0 next year!!!!!! 😛