Friday night Jared's brother Jeff got married! 😀
Most of the family made it out to AZ to be there for his big day!
Rich officiated the wedding. He was a little nervous all week but he did a beautiful job. It wasn't his 1st ceremony. He told me earlier he's done a few hundred! 🙂
I'm not sure whose smile is bigger….Jeff's or his Mom's. 🙂
Jeff asked Jared to be his Best Man. Jared was so touched. He never thought he'd be anyone's Best Man. It was perfect. 🙂
I love the look Jared is giving Jeff. Like he's saying, "Are you ready for this????" LOL!!
Here comes the bride……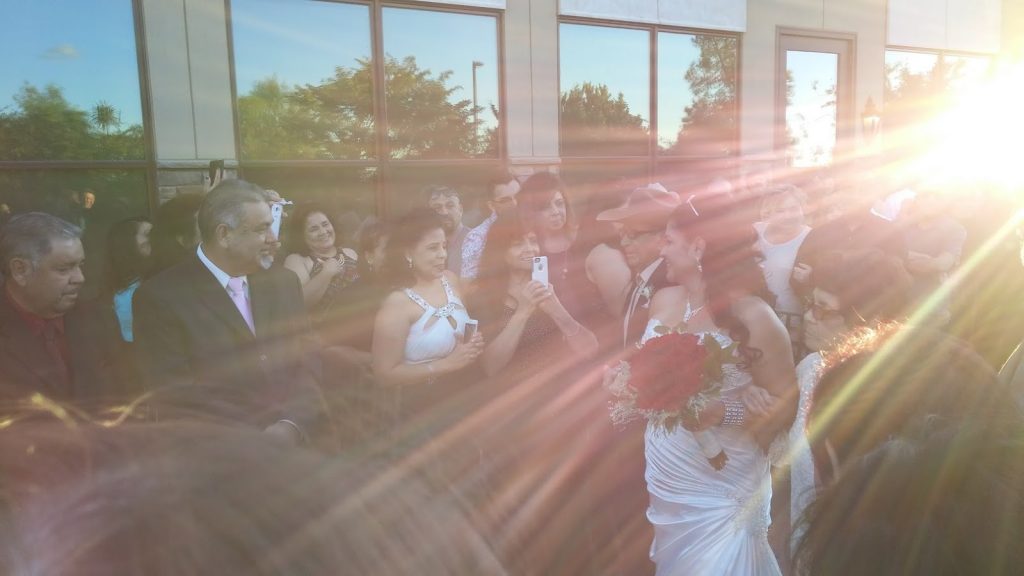 They had a few different ceremonies within the regular ceremony. This was the Lasso Ceremony.
The Coin Ceremony.
The main ceremony. You may kiss the bride! 🙂
And the Sand Ceremony.
Everything was lovely….and by the looks on their faces they were happy to have that part done and were ready to celebrate!
After the ceremony it was time for pictures!
The cousins!
Then it was time for the reception.
Best Man and Maid of Honor.
Mr. & Mrs. Jeffrey David Kitch!
1st Dance.
Bea arranged for Jen sing "At Last", as a surprise for Jeff. Not a dry eye in the house! Apparently my kids have never heard her sing before. Which seems crazy to me. Jen's always singing! LOL! So it was a treat for them too! 😛
Jared gave a wonderful toast. He was pretty nervous. He doesn't love public speaking…but his toast was so heartfelt and had us laughing and crying. It was perfect!
Who let that raga-muffin family in??? Where is that girl's shoes? LOL!
I'm a sucker for weddings. I love them! I'm a bigger sucker for Mother/Son and Daddy/Daughter dances. I cried the whole time. It was so sweet!
They had all the married guests dance and they called out years of marriage. We made it pretty far, 18 years. Rich and Rita have us beat at 22 years. 😛 Bea's family has a lot of long timers. The longest were 45 and her parents at 60+ years. So awesome!
Then it was time to party!!
Alayna is hilarious! She LOVES to dance and had some pretty sweet moves! 😛
Look at my boy dancing with his Mamaw! 😀
Then it was time for the garter toss. My kids had so many questions about these "traditions". They were very confused…Hahaha!!! Don't worry…everything was kept PG.
Bea's sister made this beautiful cake.
They also had a Money Dance. Alayna wanted to get in on that action. 🙂
After she danced with Uncle Jeff she came running back to the table with the hugest smile and said, "That was SO MUCH FUN!!!" Heart officially melted….. 🙂
The night got late and we ran out of time for pictures. We did manage to get one with the Bride and Groom before we left though. 🙂 We are so happy for them both. They make each other so happy and it's beautiful to witness. The wedding was gorgeous and full of family, friends, and loved ones. Congratulations Bea & Jeff!!!!
The next morning we had the rest of Jared's family over for breakfast. We pretty much all had just rolled out of bed….as you can see..LOL!
We had to get a group pic before Mamaw and Pampa headed back to Texas. Nicole and Jonita left Sunday, and Julie leaves Tues.
It was a crazy week. But nothing beats time with family! Love that bunch of weirdos!!!! 😛 LOL!