I don't actually know if boys have Sweet 16's like girls do. But let's roll with it. LOL! Sunday (tomorrow) is his actual bday but we celebrated today.
Eli wanted a low-key birthday. We took his good friend Tanner to Raising Cane's with us for lunch. Raising Canes is all Eli's been talking about for his birthday. It's kind of funny! 😛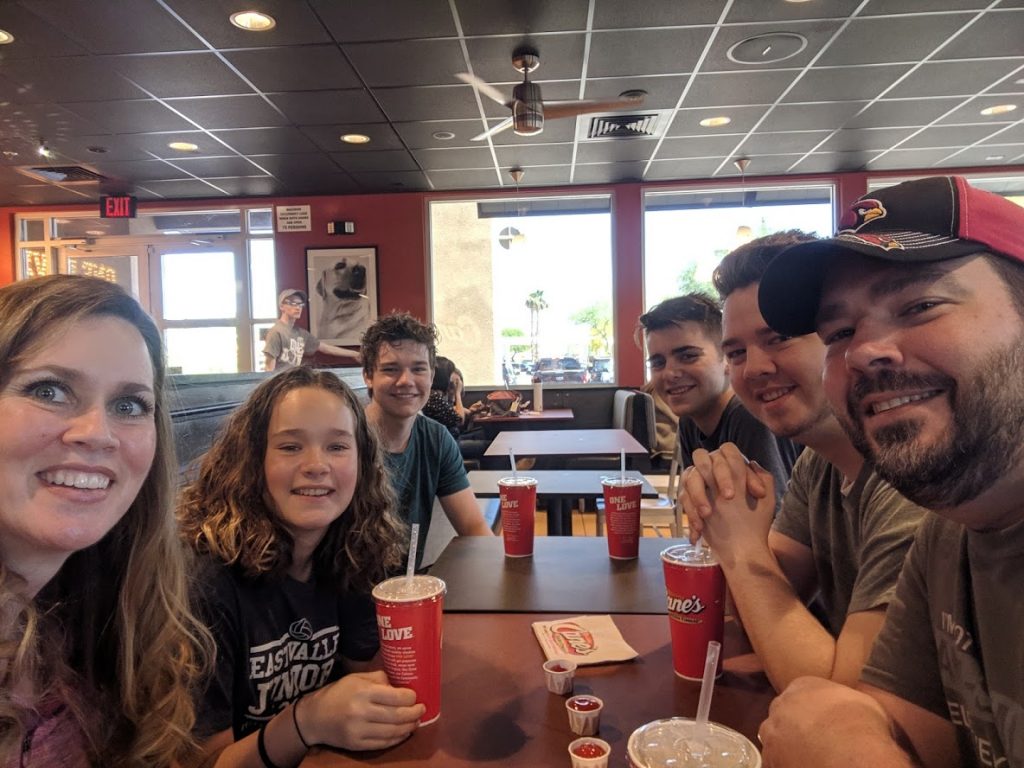 Please ignore my crazy eyes. I'm not great at the group selfie thing. Ha!
We weren't sure how much to order but apparently 50 pieces, 6 orders of toast, 6 orders of french fries, 6 drinks, and one coleslaw was a "little" too much! Haha!
It's ok thought because we boxed it all up and took it home to the rest of his friends that came over to hang out, swim, and have cake. 🙂
Eli requested my tres leche cake. I haven't made it in a while and we were all happy he brought this recipe back into our lives! <3 YUM!
Swimming never starts out as swimming at our house. It usually starts out as a water fight or people getting pushed in fully clothed. Today was no different. Let the water fight begin!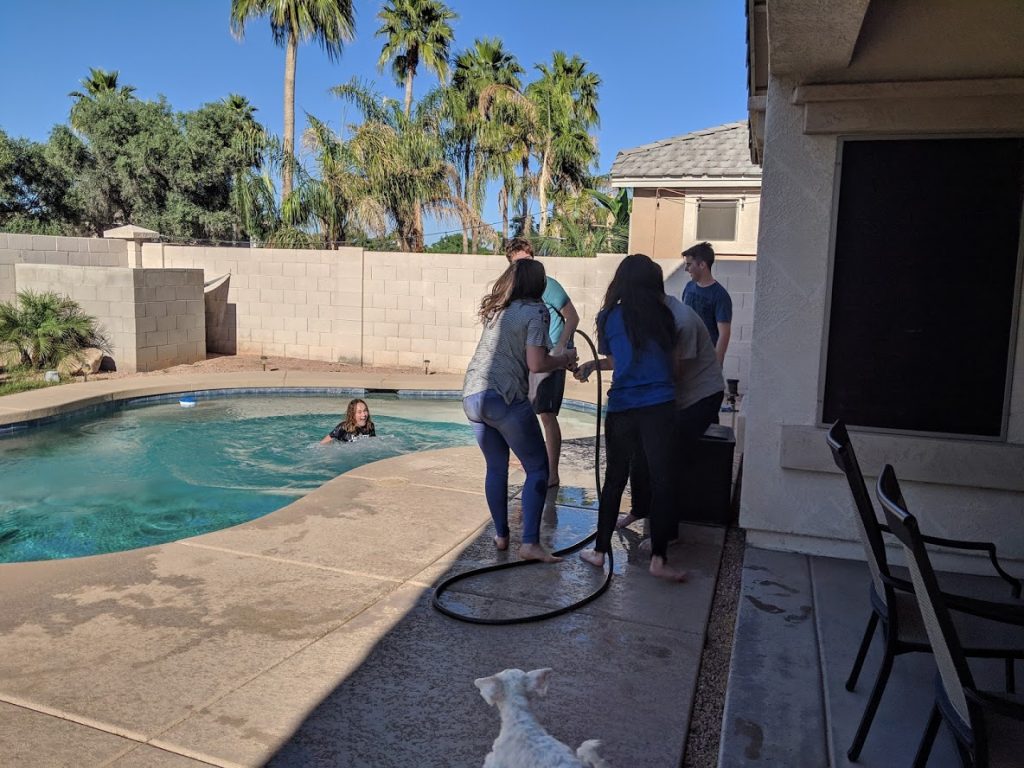 When things started getting extra soggy (poor Alayna) they decided to change into their swim suits.
The water was a chilly 72 degrees so even though they came to swim it was cold! There was more wrestling to push each other in than actual swimming! 😛
Alayna and Brynne really didn't want to get thrown in again! haha!
These two looked like they were playing one of those carnival games. Hehe!
The girls tried their hardest to get the boys in.
It never went in their favor though.
Sammy's trying to get in on the action too!! haha!
It got really physical at certain points! I don't know how they weren't all bruised and battered.
Have you noticed the bday boy is missing from all of these pictures? They don't even try to get him in anymore. He's so strong he's impossible to move! LOL!
And when he comes after you…Derek says it's best to just let him do it! I was dying laughing!
The kids had a great time and hung out for the rest of the evening. They played Aftershock, Guesstures and filled up on ice cream and snacks! It was fun! He has a great group of friends. I like all of them and that's not something a lot of parents can say about their teenage kid's friends. 😉
Happy Birthday Eli!