Washington DC Trip- Day 5 – International Spy Museum, National Archives, Ford's Theater, American History Museum
We have seen so much already but we weren't done yet!!! First stop for the day was the International Spy Museum! This place was really cool. We spent hours there! Everyone loved it except Alayna. Not sure why but she said she was bored. I think it's possible that she doesn't quit understand how the technology the spies had back then was ground breaking!! She has never known life without technology, cell phones, internet, small devices. But the rest of us loved looking at everything they had on display! Jared and I especially were blown away!!! But we are "old"..LOL! We DO remember life before the internet and hand held devices! 😛
When you get to the museum you watch a short video that gets you excited about what spies did and still do. You then go into a room and choose your new "identity". Then you are free to browse the museum. At the end you can see how things turned out for you….however…I never saw that part at the end. 😛
Alayna's.
Jared's
Walker's
Eli's…..Now, I don't know if the boys knew they both chose the same guy? I think it's funny though! 😛
Vanessa's
There was sooo much to see. I'm just going to let you look at your leisure. 🙂
This freaked out my claustrophobic side. I would have to be pretty desperate to wedge myself in a car like that!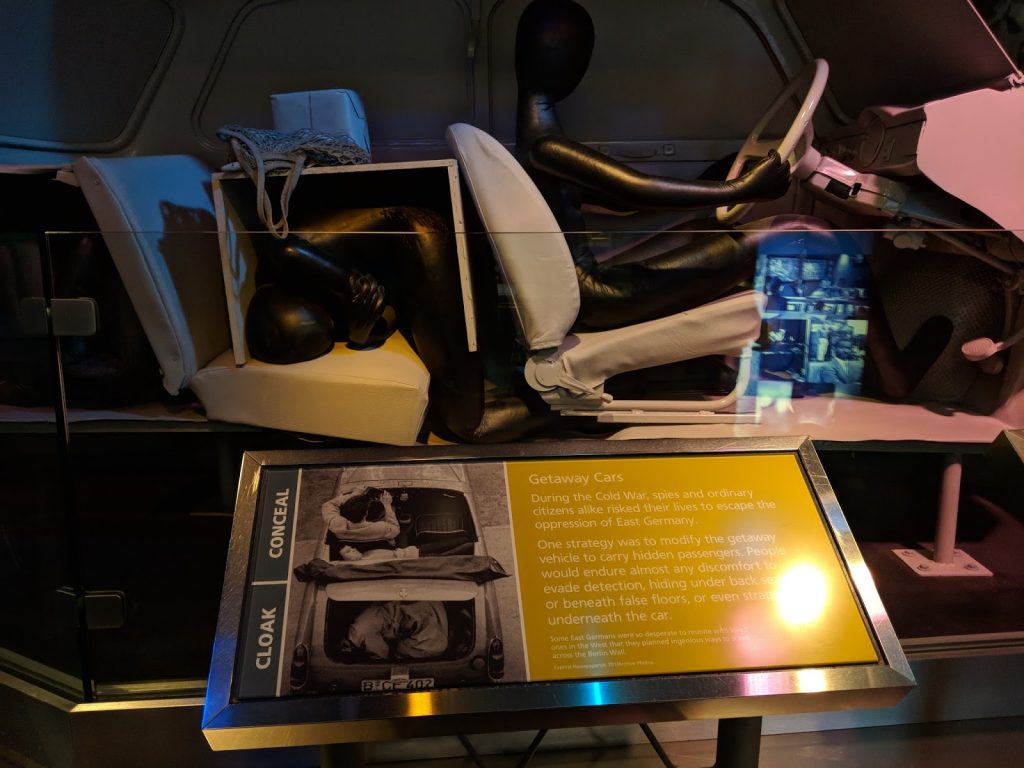 The woman above is undercover in all of those disguises. It's all the same woman. Pretty neat!
This is clever and gross! 😛
I mean….look at how teensy that camera is! Wowzers!
It's a little difficult to read the sign. But basically this mailbox was used as a signal site. The spy Aldrich Ames (a former CIA officer turned KGB mole, who was convicted of espionage in 1994) used it to communicate with his Soviet handlers during the cold war. There were so many marking on the mailbox that the neighbors began to complain! Haha!
This is pretty clever too!
Again..my claustrophobia would make me a terrible spy! 😛
This letter extraction device is genius! I don't know why but I'm captivated at it's simplicity and it's ingenious!
We were all freaking out about this one….that tube is BIG!!!! OUCH!!!! LOL!!!
A girls' got to do what a gorls' got to do I suppose! Yikes!
The ring on the left is awesome!
Spy cars! This one is from one of the 007 movies.
I can only imagine the amount of man hours that went into dismantling this space! Crazy!
Can't even trust the school kids!
To be a spy you have to be pretty good with putting things in your rectum apparently. What a way to go!
The Trojan Horse.
That camera is almost as big as that poor bird!
Women spies.
Alayna tried her hand at her spy physical abilities.
If she hung on for a minute she got a prize…sadly she didn't quite make it that long. 😛
We had some time to kill between the Spy Museum and Ford's Theater. So we dashed over to the National Archives.
At the National Archives we saw the Constitution, the Bill of Rights, and the Declaration of Independence. The room they hold them in is very dim. They only allow a certain amount of people in at a time for crowd control purposes. They don't allow any light of any kind. Don't even THINK about trying to sneak a picture either! They have guards standing right next to them and have eagle eyes like you wouldn't believe. Some guy next to Jared and tired to sneak a pic and the guards yelled at him pretty good! Yikes!
The room they are in is really neat. There are giant mural paintings on the wall depicting the people involved in these historic documents. They were gorgeous! I so wish I could have gotten pictures but I also didn't want to go to jail! Haha!
They keep the room so dark and under temperature controlled glass cases to help preserve the documents. I was very surprised to see how badly faded they are already. Especially the Constitution. The bottom half of the page with signatures is illegible. Most of the names can't be read because the ink is gone. Makes me sad.
I was so glad to be able to see all three of these documents that established our country and still hold up today. We are so blessed to live in this nation as free people. Grateful to our forefathers for their wisdom, faith in God, and bravery to unite and work tirelessly to bring these crucial principles to pass.
Off topic a little bit. But I just want you to notice the contrast between Jared and I. LOL! He walked around DC like this most of the time. It was FREEZING there!!!! Crazy man!
We actually had time to run over to the American History Museum to get a quick look at the Star Spangled Banner!
And of course the Bat Mobile! 😀
I love quilts. This one was made by children in Arizona a very long time ago!
The Star Spangled Banner was on display much like the Constitution, the Bill of Rights and the Declaration of Independence. NO photography was allowed and it was lit very dimmly.
One thing that surprised me is that it is huge!! In its original state it was 30'x42′ but pieces were clipped & given away as memorabilia by the Armistead family & it's now 30'x34′. Mary Pickersgill stitched the flag from a combination of cotton and dyed English wool bunting, assisted by her daughter, two nieces, and an African American indentured servant. The flag was taking too much space in their home so they took to the neighborhood brewery to lay it out to finish it.
We needed to get going to make our next reservation. On the way we spotted Trump's Hotel. It used to be an old Post Office! I don't know any post office's that look like that anymore! It is stunning!!!
A friend of mine was here in DC in 2011 and she said you can go up the elevator to the top for a stunning view of the sights from the clock tower! Beautiful architecture!
I wish we had known! I would have loved to do that as well! It's just impossible to hit everything to do and see in such a short amount of time. 😉
Ford's Theater is where Lincoln was shot. They have a really nice museum full of artifacts from that night. You can go into the theater and they recount the events leading up to and immediately following his assassination. I love history. This was right up there for highlights on this trip!
Killing time waiting for our ticket reservation.
Like I mentioned before they have a really great museum downstairs. The reservation I had made didn't actually have the museum as apart of our tour. I was so bummed. However, the stars aligned and we were able to go down anyway. We didn't ask questions. We were excited we got to do it! 🙂
They have the blood stained pillow, clothes, gloves, he was wearing that night.
Life mask, calling card, theater tickets, glasses case.
Medical kit. Looks so barbaric to me.
Booth's Diary.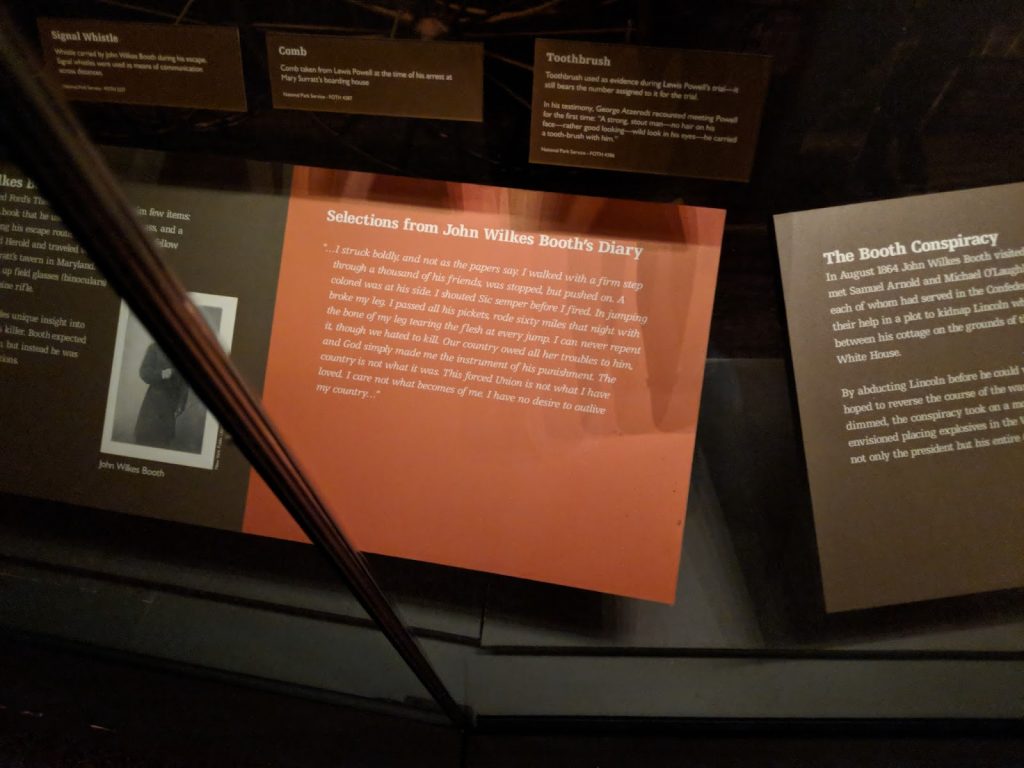 Booth hurt his leg jumping from the balcony. This was his boot they cut off.
He had all of these guns and knives on him that night.
The actual gun used to assassinate Lincoln.
What happened to Booth after the assassination?
Soldiers from the New York State volunteers surrounded a tobacco barn on Garrett Farm near Port Royal, Virginia. Inside the barn were John Wilkes Booth and David Herold, one of Booth's accomplices. Herold surrendered. Booth refused to surrender, was shot, and died several hours later. He died in the early morning hours just before sunrise on April 26, 1865, twelve days after he assassinated President Lincoln. His body was wrapped in an army blanket and placed on a tugboat for transport to the Washington Navy Yard about 80 miles north of Port Royal, Virginia.
There was an autopsy performed on April 27 and a handful of people, who knew Booth by sight, identified his body during the autopsy. The doctors removed a small portion of Booth's spine containing the bullet that tore through his body. This bone fragment is on display, today in a museum on the grounds of the Walter Reed Hospital.
White House platter.
Hand written note by Abraham Lincoln.
A part of our reservation was to hear the park ranger recount the events leading up to, during and after the shooting. The ranger acted as one of the audience members who was there that night and also a sheriff at the time. It was VERY well done! We absolutely loved it!
Approximately 1,700 people attended on the night of the assassination. We will never know the exact count due to bench seating in the balcony (the Family Circle) section of the theatre.
There were three prices for tickets that evening; they are
· Family Circle – 25cents
· Dress Circle – 75 cents
· Orchestra Level – 1 dollar
With the exception of State Box, where the President and his guests were seated, the boxes were not in use that evening. A ticket for the upper boxes was ten dollars and a ticket was six dollars for the lower boxes.
Secret Service was not assigned to protect the president until 1901. There was a lone Washington, DC police officer assigned to escort the President from the White House to Ford's and back. Lincoln did not seek any form of personal protection but Secretary of War Stanton had two military units escort President Lincoln's carriage on its travels in the city.
Why is there a picture of George Washington on the State Box?
The picture was placed there to decorate the box when Lincoln came to the theatre that evening. The original which was being damaged by constant ultraviolet and visible light and subject to environmental fluctuations was removed in early August 2015 and replaced by an exact replica. The original print will be available for periodic exhibition in the future.
My kids are such goofballs! But also the cutest goofballs! 🙂
Well….maybe not so cute in this one! Hahaha!!!!
I didn't realize you could go over to the Peterson House where they took Lincoln or we would have done that. Oh well…
It was time to go and squeeze in more sightseeing for the day. We went back to the American History Museum to see Lincoln's top hat and explore some more.
This thing terrified Eli. He HATES needles! Haha!
So ornate!
Other's in the group sat and rested for a while. 😛
The First Ladies' dresses worn to their husband's inaugurations. Alayna took these photos. 🙂
Caroline Scott Harrison. 1889-1892.
Eleanor Roosevelt. 1933-1945.
Jacqueline Kennedy. 1961-1963.
Mamie Eisenhower. 1953-1961.
Ivanka Trump. 2017- Present.
Alayna said this one was her favorite. 🙂
Edith Roosevelt. 1901-1909.
They had so many more dresses on display than this. Some of the older dresses were extraordinary to see! The boys didn't care much for this area but I loved it!!! 🙂
We finally made it over to see Lincoln's top hat and learned more about after his death.
After the American History Museum we ran back over the the Air and Space Museum so Alayna and I could have matching Smithsonian Cherry Blossom sweaters. 😛
We like to be twinners. 🙂
It was good we went to the Air & Space museum. As we were coming inside the battery in the scooter was on it's last few lights. So we asked security if we could charge it. They took us down to the parking garage and let us charge it for a while. We rested and shopped and looked around for a bit.
We stopped at the Hard Rock Cafe for dinner and waited 2 hours to eat. It was terrible. We were so hungry and tired from the day. It was seriously loud in there which wouldn't normally bother us but the music was something to be desired and we were exhuasted.
On our way home Alayna rode the scooter. It started to rain a bit and we were losing little lights on the charge meter fast! We were laughing about the comedy of errors of the night and a little bit nervous that it might not make it back to the hotel.
We get all the way up the elevator and off on our floor and then it died!!! I mean we couldn't have timed it any better!!!!! Another tender mercy from the Lord showing us His hand was over us through our trip!!! It was humbling!!! <3