Family Temple Day- Tucson Temple Open House- June!
We did family temple day with a day trip to Tucson!
The new Temple is open for tours and we wanted to go see it! I'm so grateful that our kids have been able to go to 3 temple open houses now! They have seen the Gilbert, Phoenix, and now Tucson. Jared and I never had opportunities to tour temples when we were youths. In fact, neither one of us ever went through a temple until we went through and received our endowments. 🙂
I love that the kids get to do this. I think it helps them feel close to the temple and it will help them when they get to participate in the ordinances there when they are of age.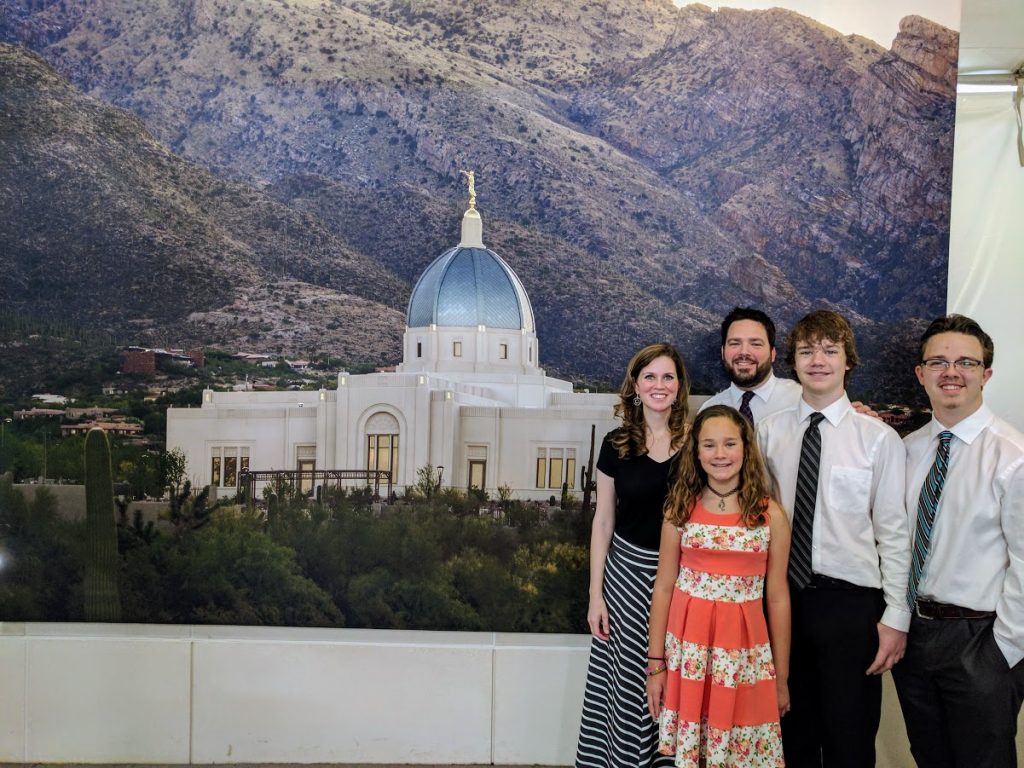 I'm totally obsessed with the zinc dome on this temple. It is so beautiful!!!!
"The Tucson Arizona Temple was initially announced by LDS
Church President Thomas S. Monson during the church's October 2012 general
conference, along with a temple for Arequipa, Peru. Construction began in
Tucson following the Oct. 17, 2015, groundbreaking by President Dieter F.
Uchtdorf, second counselor in the First Presidency.
The temple will be dedicated on Sunday, Aug. 13, 2017. Once dedicated, the Tucson temple will be the sixth
operating temple in the state of Arizona, along with temples in Mesa (1927),
Snowflake (2002), Gila Valley (2010), Gilbert (2014) and Phoenix (2014).
The interior art glass of the celestial room suggests paddle
cactus leaves and ocotillo plants in green and orange shades.
One of the unique features of the exterior of the Tucson
Arizona Temple, which sits on seven acres of land, is the blue dome constructed
of imported tile from Germany topped with an angel Moroni statue."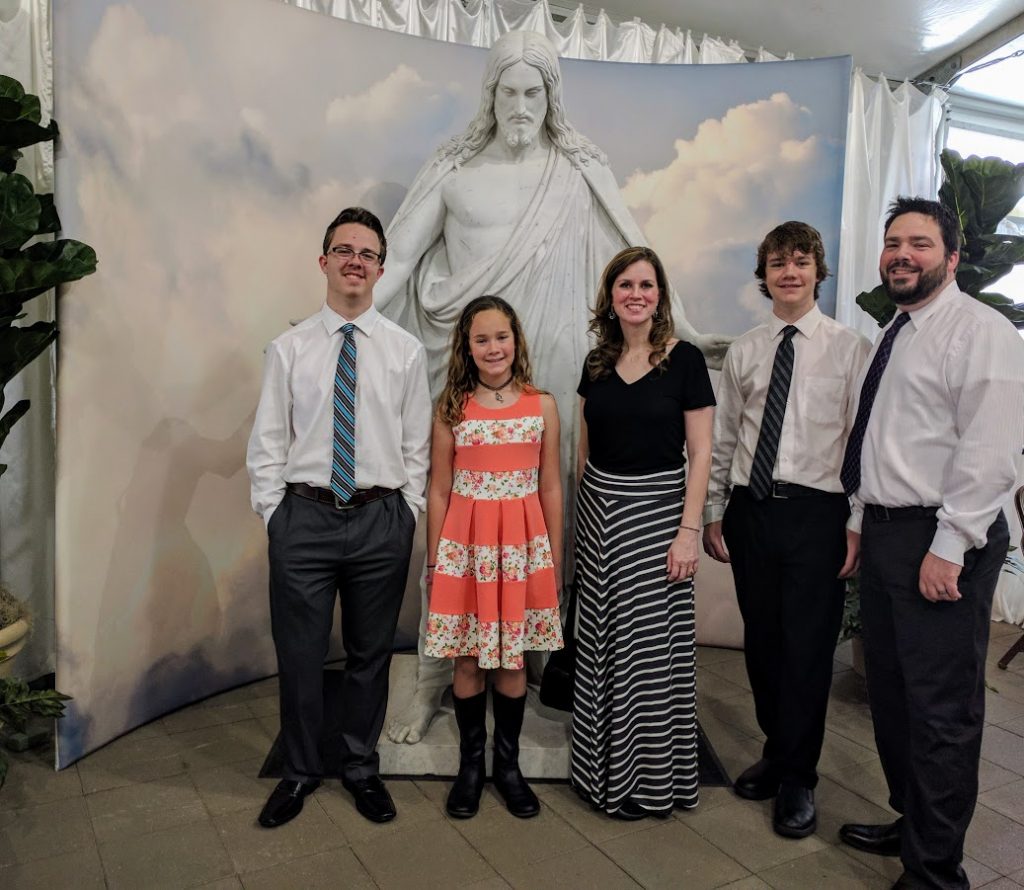 The tour was about an hour and a half from the Stake Center where we parked, the bus ride, tour and walking the grounds for a few minutes.
It's a smaller temple like the Phoenix temple. Each one is unique to the area it's built and brings in that area's culture.
Usually the Celestial Room and Sealing Rooms are my favorite. But honestly, they had some stunning paintings all throughout that just took my breath away. I WISH I could have a few of them for my home!!! They were just gorgeous!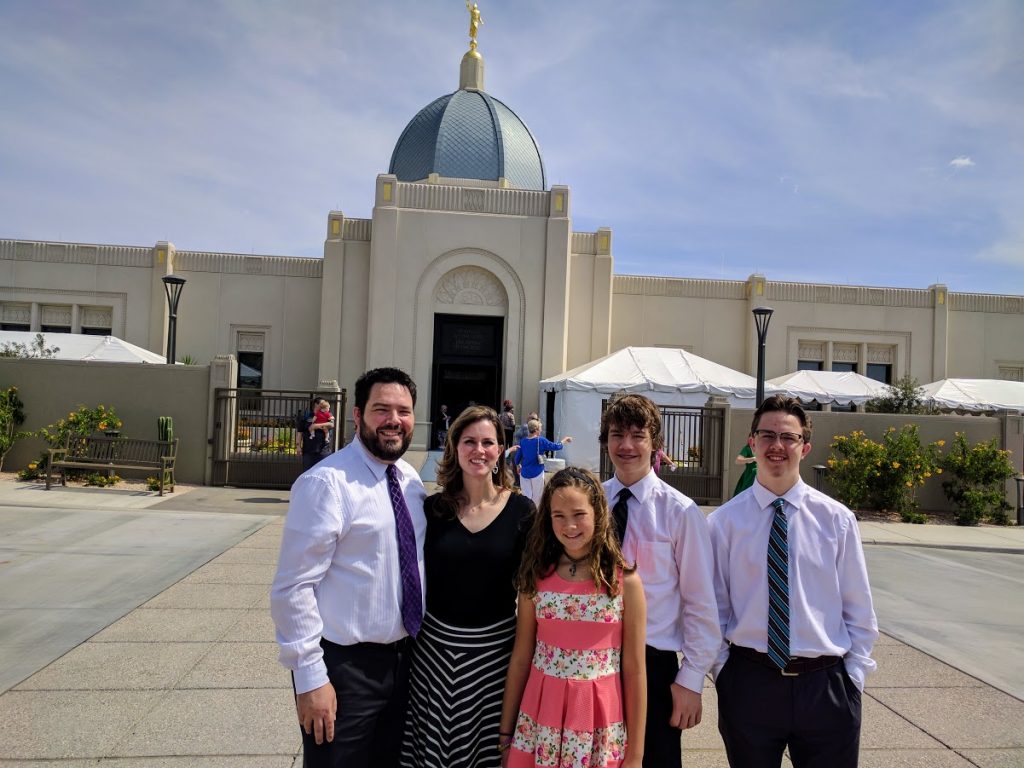 It was really hot and really sunny. We did our best to get some shots outside.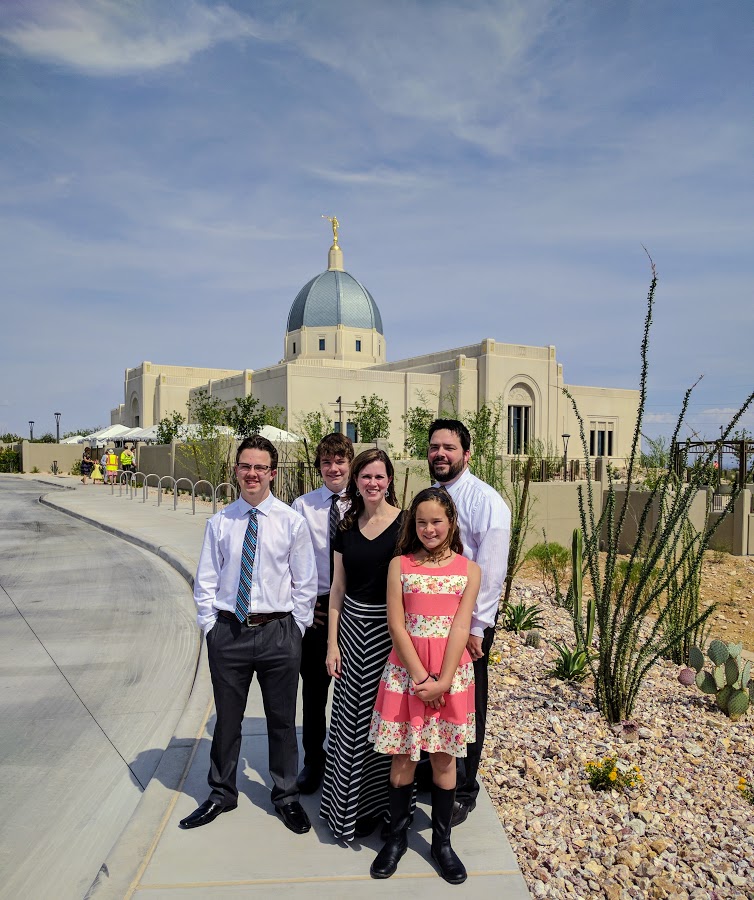 I'm pretty squinty though…LOL!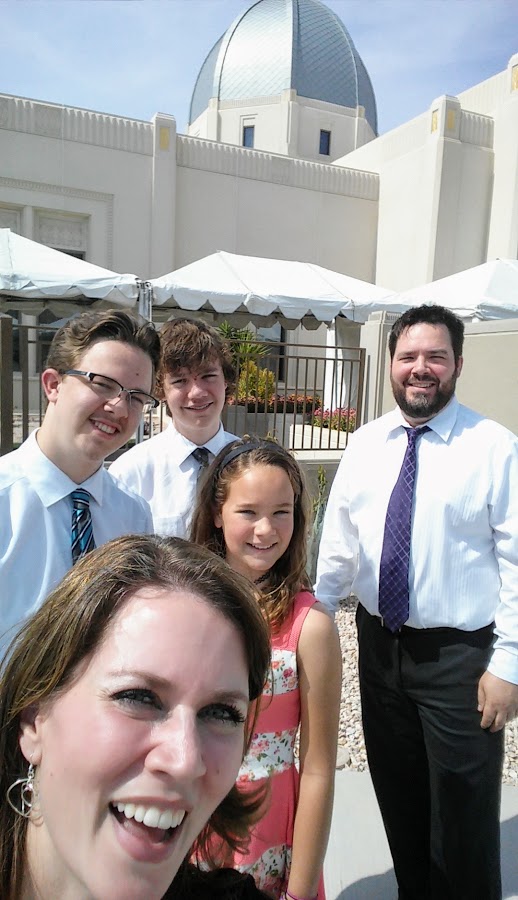 And our family temple day wouldn't be complete without our family selfie!!!
We stopped at Dairy Queen afterwards. It was oppressively hot and we needed some cold ice cream to cool us down! 😛
It's about a 4 hour drive round-trip. We spent more time in the car than on the tour but I loved spending the day with my family. I love trips! It's been a very very long times since I've been well enough and able physically and mentally to even venture out. This little trip filled my heart and soul in just the way I needed! It was a perfect day with these amazing people I love with all my heart!