This is how Christmas Eve started out….LOL!!
We went shopping the day before with the kids so they could buy gifts for each other. It's a tradition we do every year. Alayna and I thought Sammy could use a few little gifts in his stocking so we picked up a couple of things. One being this bone.
The little stink somehow found it in my room that night and snuck it out, chewed off the tag, and was running around all morning squeaking it hoping someone would play catch with him! Haha! He's not very sly in hiding his naughtiness! 😛 I still have no idea when and how he found it! But he was pleased as punch with himself!
We were planning to take family pictures on our way over to Mom and Dad's like we did last year. The weather had other plans in store….guess we'll have to figure out some other time.
It was a pretty wet drive to Grandma and Grandpa's but we got there safe. The grandkids usually play an instrument, sing, or display some talent they have been working on. Not many wanted to participate this year. Alayna has been working hard on her piano and she played beautifully! She played, "Joy to the World" and "What Child is This?".
The grandparents spoiled everyone. Christmas is Mom's holiday. She goes all out.
Love this goofy guy of mine! <3
These two are pretty special too! 😛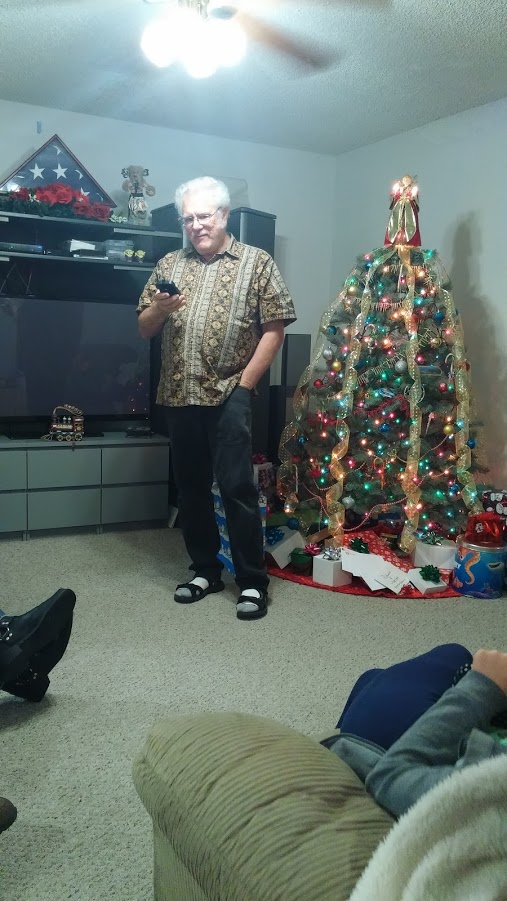 Grandpa's version of Trivial Pursuit! 🙂
The past couple of years my parents have been trying to put Christ in Christmas which touches my heart. They aren't very religious. It's not something they talk about very much. However, they realized one of my nephew's didn't know who Jesus was a few years ago, and they have made it a point, at least at Christmas, to make sure we get a bit of history and understanding of who our Savior is and why we celebrate this day.
Last but not least…no Christmas celebration is complete without all the grandkids dancing with Grandpa doing "his dance". I'd try to explain it but…you really just have to be there! LOL!!
It was a nice evening with all the family. Grateful we are blessed to live close to see everyone on special holidays and throughout the year. Family really is what it's all about!! Even if they are a little goofy! 😀