Disney Trip Summer 2015 – Day 2
The next day we were planning to go to the beach. We had promised Alayna we would go but when we went to the parking garage and started the van…it wouldn't start. (Remember that whole prompting thing I was talking about? I really need to learn to listen better….) Jared tried it a few more times and finally got it to turn over and start up. We just had the battery checked a few months ago so we knew it wasn't the battery. It had to be the starter.
I was too nervous to drive 30 min. to the beach and end up stranded so we decided to go ahead and head to Downtown Disney to pick up the tickets from Keahon, do some shopping, and see if we could find an auto repair shop close by.
Jared Googled auto repair shops and found one that was 1.5 miles away from where we were. We were so thankful it was so close and within walking distance! (Blessing #3).
While the kids and I shopped, checked out Downtown Disney, the Disneyland Hotel and had lunch, Jared ran the van over so they could get working on it right away.
When we were at the Disneyland Hotel we ran into Goofy!! Alayna was so excited! 🙂 Now we were starting to feel the vacation begin! 🙂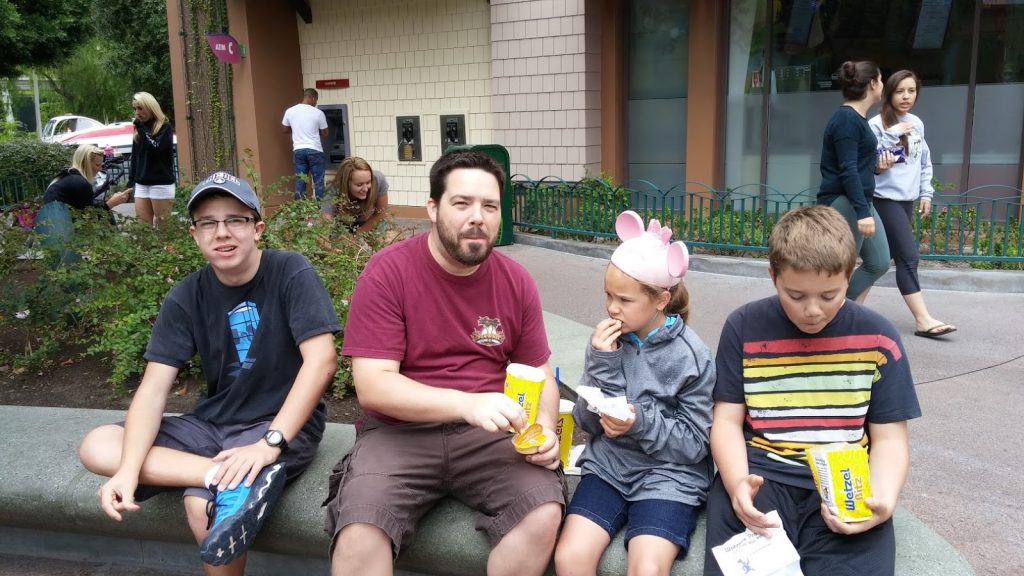 Jared walked back to meet us and we all needed a yummy snack. 😛 We did some more window shopping and went to the Grand California Hotel to look around in there too. We all were reminiscing the time we got to stay there for one of our trips. We wish would could do that again! It was wonderful!! 🙂
After a few hours we decided to head back to the hotel, also within walking distance thank goodness. (Blessing #4). On our way back, the auto shop called and said pretty much what the first shop had said in AZ. The resistor and connectors were melted and needed to be replaced. The starter was bad and needed to be replaced as well. He also said that the compressor in the a/c is weak and needed to be replaced as well. Jared and I just looked at each other and saw dollar signs floating in the air! This was not going to be an inexpensive fix. We went ahead and told him to move forward with all of the work. We knew we didn't want to drive back to Sun Baked AZ on Sunday with out working a/c.
He hung up with the repair shop and we kept walking to the hotel. In a bit of daze I might add..LOL! I got this overwhelming feeling saying, "The compressor is OK. It's the most expensive item to replace. Wait until you get back home to AZ and get another opinion if it still isn't working properly." (I decided I should listen this time!!!)
So I called Dad since he was a mechanic for over 25 years to get his input and he said as long as the electrical part is fixed and safe we can wait on the compressor. So that helped me feel even more confident in my decision.
We called the shop back and told them to hold off on the compressor repair. They told us it was weak and as long as we are driving it will run cold. If we stop at a light or if we are stuck in traffic it won't run as cold or be cold at all. We told them we understood but we felt we could deal with it until we got home.
So, with all of that behind us and the bill to fix the van cut basically in half we were ready for some relaxation!!!!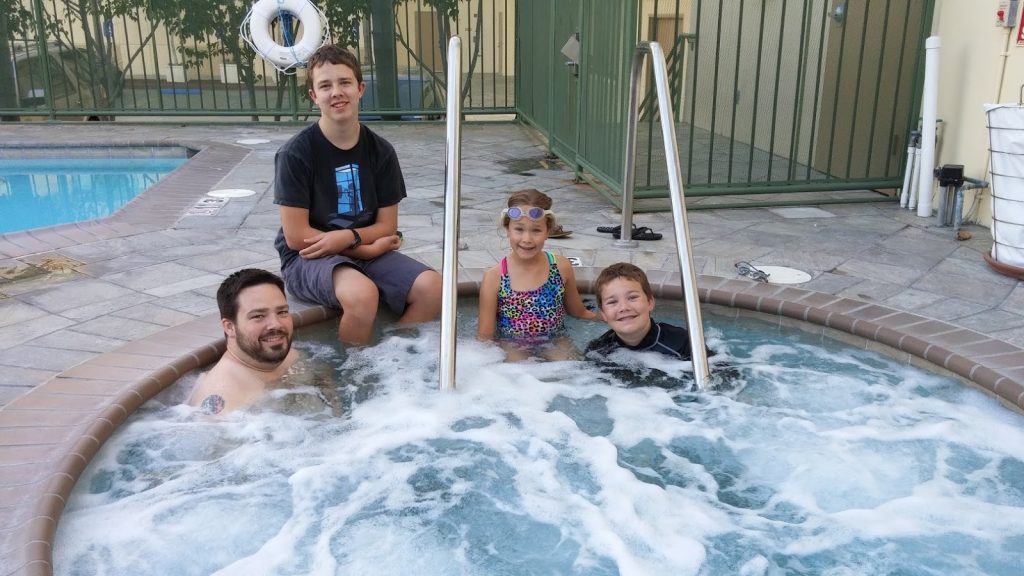 Alayna was still not happy she was going to have to miss the beach so we took her and the boys down to the pool/Jacuzzi. 🙂
It was pretty chilly that day. It was very overcasty and the wind was blowing pretty good. The beach probably wouldn't have been too much fun anyway. They were happy as clams to jump between the two pools, getting hot in the hot tub and cooling off in the swimming pool. 😛
We were there for a couple of hours and we met a family from Perth Australia and they were teaching us all sorts of cool things about where they live. 🙂
It was a great way to end the day! We all were really looking forward to the next day. We were going to go to California Adventure! 😀