Alayna had her 1st Grade Program last night! Since it was the day before Valentine's Day it was themed after the holiday. 🙂 It was called "Best Friends Forever!"
She was so excited to perform for the family. We arrived super early and got a front row seat, which NEVER happens! We sure were grateful though! Grandma and Grandpa Morrison came and we enjoyed every minute of it! 🙂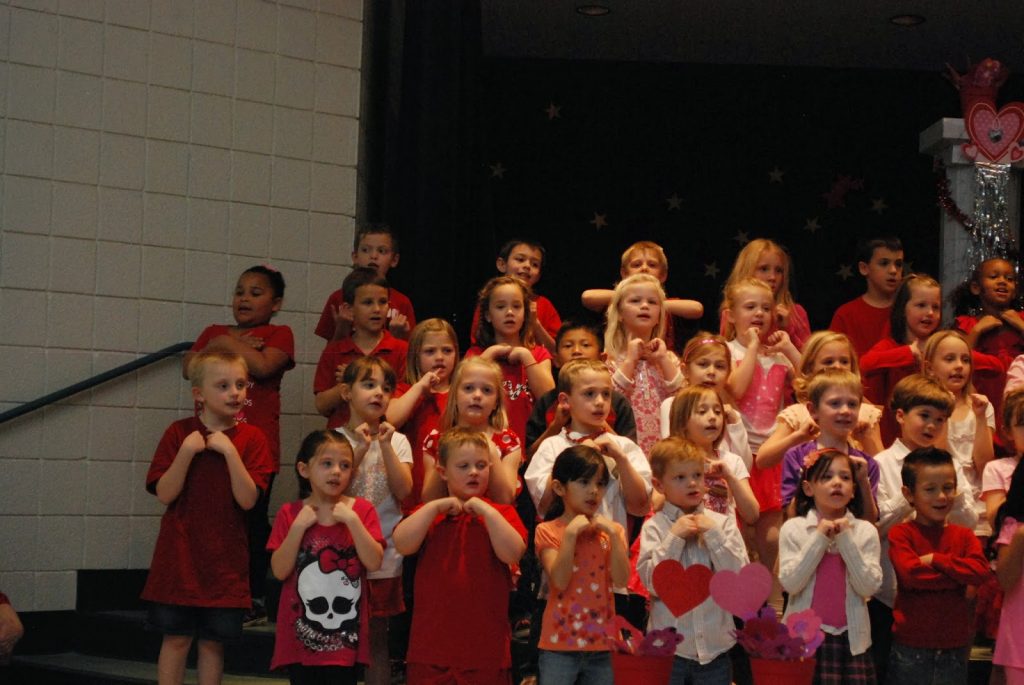 One thing you need to know about this girl of ours is she LOVES to sing. She is ALWAYS singing around the house, in the car, in the shower, out in the backyard…you name it! She practiced very hard for her program and she knew every word to every song. It was awesome!
A few of the 1st graders had parts and told cute little jokes through out the performance. Our Little Valentine was one of the lucky kiddos! 🙂
She's racing into place…probably not exactly what the Music Teacher had in mind though..LOL!
As each student spoke their part they chose a paper flower and when they were finished placed it into a bucket to later present to the Principal as a gift.
Here comes her big moment…
She's gathering her thoughts….
She's trying so hard to remember her lines…and getting shy… 😛
A quick look over to Mom and Dad for support.
She delivers her jokes:
Barrett : "What the magnet say to the paperclip?"
Alayna: "I find you very attractive!"
Barrett: "What did the elephant say to his girlfriend?"
Alayna: "I love you a TON!!"
The audience applauds and giggles!! She did it!! 🙂
She's relieved and so were we! Sometimes it's hard being the parent…you hold your breath as you watch your little ones give it their best and you just pray it all works out ok for them! You finally breathe when they are finished and are so proud of them no matter what!
Great job Honey we are so proud of you!!! 🙂
It was a cute little performance and we had front row seats. It was a great way to start our Valentine holiday! Love you Laney Bug!