Walker went to his 1st dance!!
We were at my Mom's house helping her get ready for a garage sale and he nonchalantly tells me as we are carrying tables, and nick knacks to the driveway, that tonight the school is having a dance.
My heart skipped a beat and I tried to stay calm and asked first of all, why are you just now telling me, we don't have enough time to finish helping Mom and get you ready for the dance. And second, this is your first dance!
I said well, do you want to go?
He said, I don't know…shrug…
I said, if you want to go you should go!
He Ho'd and Humm'd for a bit and then said…Ya I think I wanna go.
So that ended our service to Mom and we ran home to get changed and over to the school. I know I was more excited than he was. I was doing everything possible not to bounce out of my seat!! LOL!
We get to the school and it dawns on me the milestone of it all and I quickly grab my super ancient cell phone and snap a quick picture to document the occasion! 😛
He turns to me and says….Oh brother, you're not one of THOSE mom's are you??
I start to laugh and say..If you don't know I'm one of those picture taking, document my children's lives moms by now..you don't know me very well!!! 😀
So I got the picture!
His expression cracks me up…he totally thinks I'm a dork!
A couple of hours later we picked him up. Let's see if he had a good time…..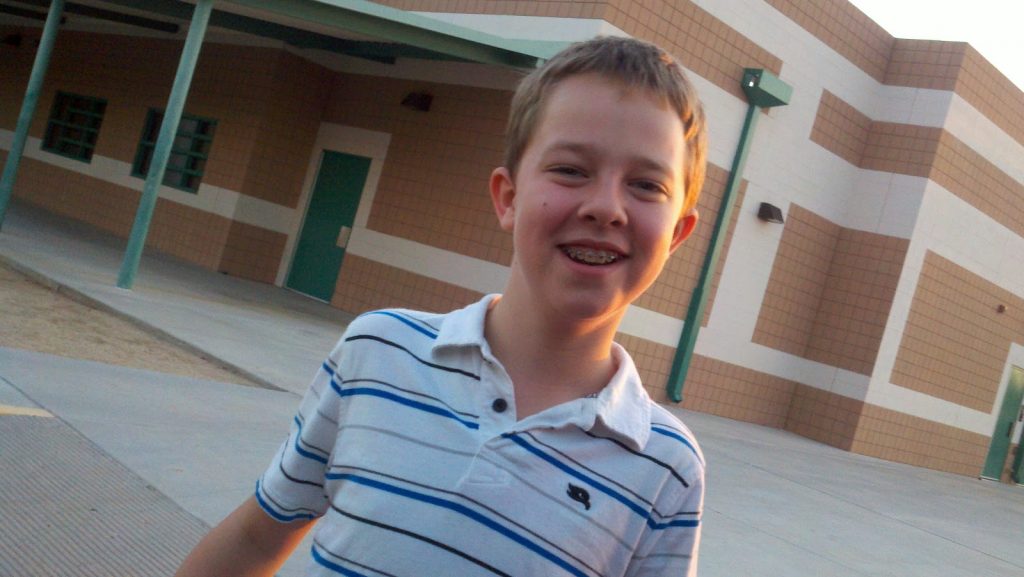 I think that face says it all!
He had a blast! The term "dance" is very loosely used at the Jr. High level. Yes they have the gym where they are pumping some awesome tunes and most of the boys and girls are standing against the wall. They also have the other side of the gym open for basketball, and several food concession stands in the common area.
When he got in the car we asked how it went and what he did. To sum it up he busted some smooth moves on the dance floor and then proceeded to try one of everything at the food stands!!! Hehehe! Boys!!