One of the main reasons I wanted to go to Hawaii was to visit Pearl Harbor. I wanted to pay my respects to those who fought and died for our country and to learn first hand what had happened that tragic day.
They have done a beautiful job with the visitor center. The grounds are kept immaculate and there is a reverence felt by everyone.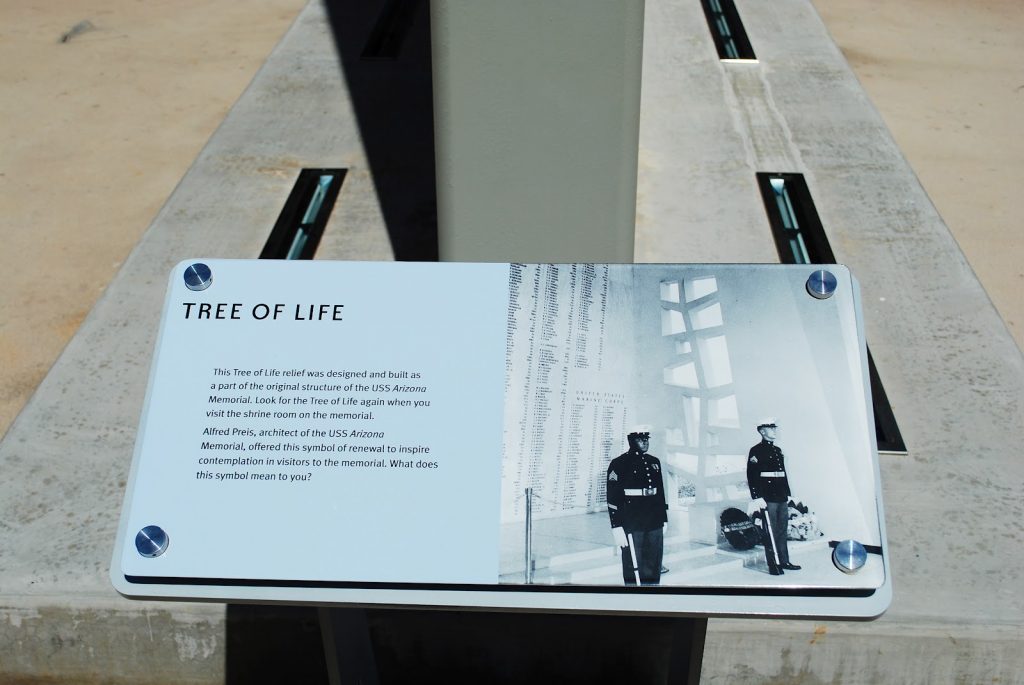 (click to enlarge)
Before you take the Navy Shuttle Boat Ride over to the USS Arizona Memorial, they show you a short film with actual footage from the Pearl Harbor Attack. It was heart wrenching. I cried…..
There were several warnings that came before the attack happened. But because of human error of one kind or another the Japanese were successful in their efforts against us.
Nothing really prepares you for what you see at the Memorial. The USS AZ is massive in size, and it is almost completely submerged underwater, rusting and riddled with decay. She's laid in her final resting place for 70 years now. She stands not only as reminder to those few that are left who have come through the war, but also to us who have been blessed by those who have fought for our freedom then, and now. She is also more than a reminder of the events of that terrifying day. She is a tomb for those soldiers who were not fortunate enough to escape the warfare.
At the visitors center they have recorded several soldiers who were there that day recounting their stories of survival and the stories of the their fellow men that did not make it. They witnessed horrifying sights, sounds, and smells…These men and women will never forget. Nor should we.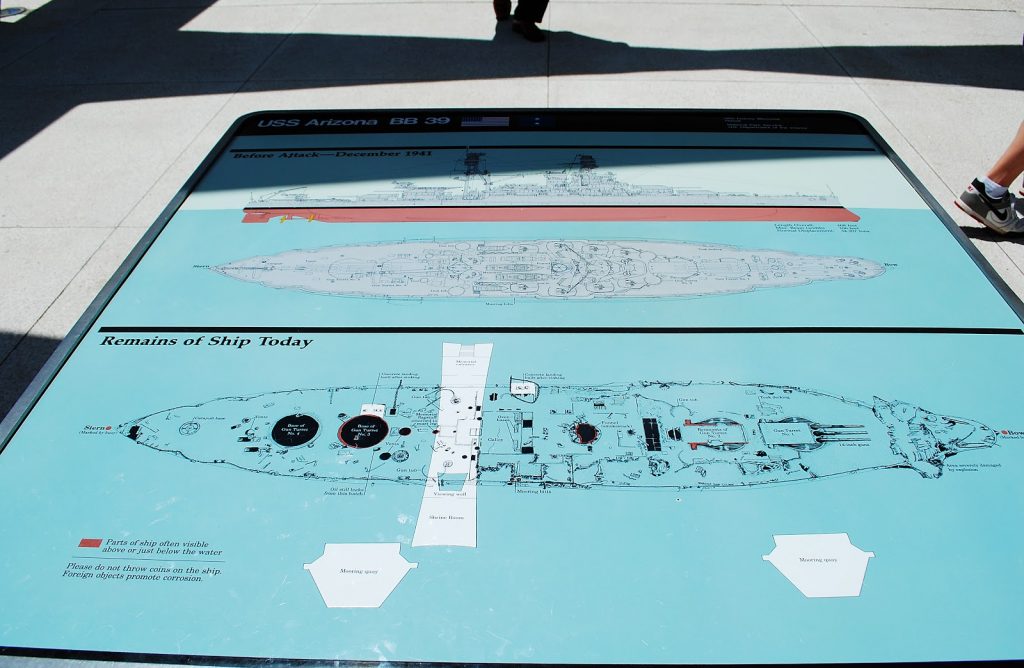 (click to enlarge)
This is the map of the ship and memorial. The memorial surrounds the ship. It does not actually touch the ship.
Base of Gun Turret No.3
As you walk to the end of the Memorial you enter a room filled with the names of those who lost their lives on December 7, 1941. As you read one name after another after another you begin to think about how they were sons, brothers, husbands, and fathers. They each had plans, hopes and dreams beyond the stations they held on that day. My heart aches for every one of them.
Some of the servicemen that survived Pearl Harbor have later requested that at their passing they would like to be interred with their shipmates. Here you can see one of the men that recently passed and his wishes were granted. The sense of brotherhood pierces my soul.
Behind us you can see the USS Missouri Battleship. More on this ship to come.
A better view.
This is the view heading back to the visitor center from the Memorial.
Seconds after we took this picture the boat hit a good size wave which went over the top of the boat and SOAKED the first half of the passengers. Jared and I still got a good spraying but nothing like the poor folks and baby at the front!! Poor little baby…he was NOT happy!
Since 9/11 you know how security has been heightened just to fly…Well, multiply that by 10 when you go visit Pearl Harbor/USS Missouri. Our tour guide sufficiently scared the pants off of us if we were even 'thinking' about breaking one of the rules. Don't even think about bringing a bag of ANY kind!!
I love all the U.S. flags in front of the ship! So patriotic! 😀
Aboard the USS Missouri.
The spot where they signed the document that officially ended the war.
The USS Missouri is ENORMOUS! They told us you could be on the ship for 16 hours straight and still not see the entire ship!!!
It's our tradition to take at least one smooching picture on our vacation! 😛
Oh and a tip for you future travelers…They were going to charge us $40.00 for this picture at the site. It did come with several prints and a magnet..Woohoo! LOL! We looked at it and debated if we should shell out that kind of cash for nerdy pic. We left and were planning to go back to get it but my foot was just NOT holding out that day so we left. We later looked online to see if we could order it. Ya..it was only $15.00 online! So if you have to have your cheezy tourist pics like we do…check the website before you pay at the location! 😛
I love learning about our history. Jared and I both came away humbled and grateful for being able to experience these places in person. My heart goes out to the men and women who have fought and continue to fight for our country and the freedoms we enjoy each and every day!